Attracting birds to your backyard will be simple once you learn the ins and outs of their diet.
When it comes to bluebirds, adding some mealworms to your feeders instead of seeds should do the trick. This means that finding the right feeder for these little fellas involves getting one that can fit mealworms inside.
Some other things you need to look out for are the size of the birds (and feeders for that matter), their habits, and other creatures who love the same type of food.
Luckily there are all sorts of feeders out there, so you're bound to find the perfect one for your bluebirds.
Here are just a few of them!
Our Top Picks
These feeders stand out from the others due to their attractive design, simplicity, and benefits they offer to the bluebirds, such as easy access to food.
This feeder allows you to attract various birds, depending on the type of food you place in it. You can also use it to get more bluebirds in your yard.
It is made of highly durable materials, so you won't have to replace it anytime soon.
This bird feeder is simple to use, doesn't leak thanks to its design, and comes with a hook so you can place it whenever you want.
The company even makes donations to protect birds, so you'll be helping the wildlife in more than one way.
| PROS | CONS |
| --- | --- |
| Protects the birds | It isn't that attractive |
| Suitable for all kinds of birds | |
| Easy to assemble | |
| | |
This Kettle Moraine cedar bluebird is a great addition to any yard as it looks amazing and feeds your flying friends at the same time.
Simply hang it wherever you want!
Its hinged roof makes it easy to clean and refill, while cedar makes it more organic and blends it into any environment.
The plexiglass viewing windows simplify the refilling process because you'll always know how many mealworms you have left inside.
| PROS | CONS |
| --- | --- |
| Durable | Holes may be too small for larger birds |
| Easy to refill and clean | |
| Plexiglass windows | |
This bird feeder is perfect for many birds, not just bluebirds, so if you want cardinals, robins, catbirds, and orioles, you can get this product.
It includes a dishwasher-friendly, removable mealworm dish, bluebird feeder, and fast release thumb for quick dismantling.
These features make it simple to clean and refill.
This feeder also keeps squirrels out, so you won't have to worry about them stealing your bird food. However, the holes may be a tad too small for male bluebirds, so you might want to spread them a bit.
It is made of quality metal so it's sturdy and durable, allowing you to enjoy the visiting birds for years to come.
If you're not happy with this bird feeder, you can return it within 30 days and get your money back.
The feeder is also giftable, so you can order it for your bird enthusiast friends.
| PROS | CONS |
| --- | --- |
| Easy to clean and refill | Male bluebirds may be too large for fit through the holes |
| Sturdy and durable | |
| Keeps squirrels away | |
| | |
This see-through feeder comes with a dome top that gives it its unique appearance and sets it apart from other products.
But the large dome serves another purpose; it keeps giant birds out so they won't eat all the food you have for the smaller ones.
The tray is perfect for seeds, suet, fruit, and mealworms, so you can attract all sorts of birds, not just bluebirds.
The feeder is made of polycarbonate, a UV-resistant, durable material that lasts.
It is easy to assemble and you just have to hang it where it'll attract the most birds. Cleaning and refilling is equally simple, so you won't have to go through much trouble to make your garden wildlife-friendly.
| PROS | CONS |
| --- | --- |
| Perfect for all kinds of small birds | It may leak when there's rain |
| Keeps the large birds out | |
| Easy to install, clean, and refill | |
The mesh tray and stainless steel roof make this feeder suitable for various settings, not to mention it's easy to refill and clean.
The materials make it sturdy and long-lasting, while the built-in hanger makes hanging simple.
You can also adjust the height of the roof, so you don't have to worry about large birds eating all the food you put out for bluebirds.
| PROS | CONS |
| --- | --- |
| Durable | Usually accommodates only one bird |
| Keeps larger birds away | |
| Easy to install, clean, and refill | |
This feeder is perfect for anyone who has had issues with rain wetting the mealworms they put out. The enclosed design will keep them dry and fresh for longer and prevent rain, snow, and wind from messing with them.
It also comes with a flexport that prevents any scattering, mess, and clogging. It will provide more support for birds and allow them to feed in a more natural position.
Flexports also fit small and large birds, so your male bluebirds won't feel left out like they would with some other products.
It can hold up to 3.5 oz of mealworms and feed various insect-eating birds such as bluebirds and woodpeckers.
The feeder is made of plastic, so it's not the most durable option, but its removable lid makes it simple to clean and refill.
| PROS | CONS |
| --- | --- |
| Suitable for various insect-eating birds | Made of plastic |
| Flexports provide more support | |
| Easy to install, clean, and refill | |
Buyers' Guide To The Best Bluebird Feeders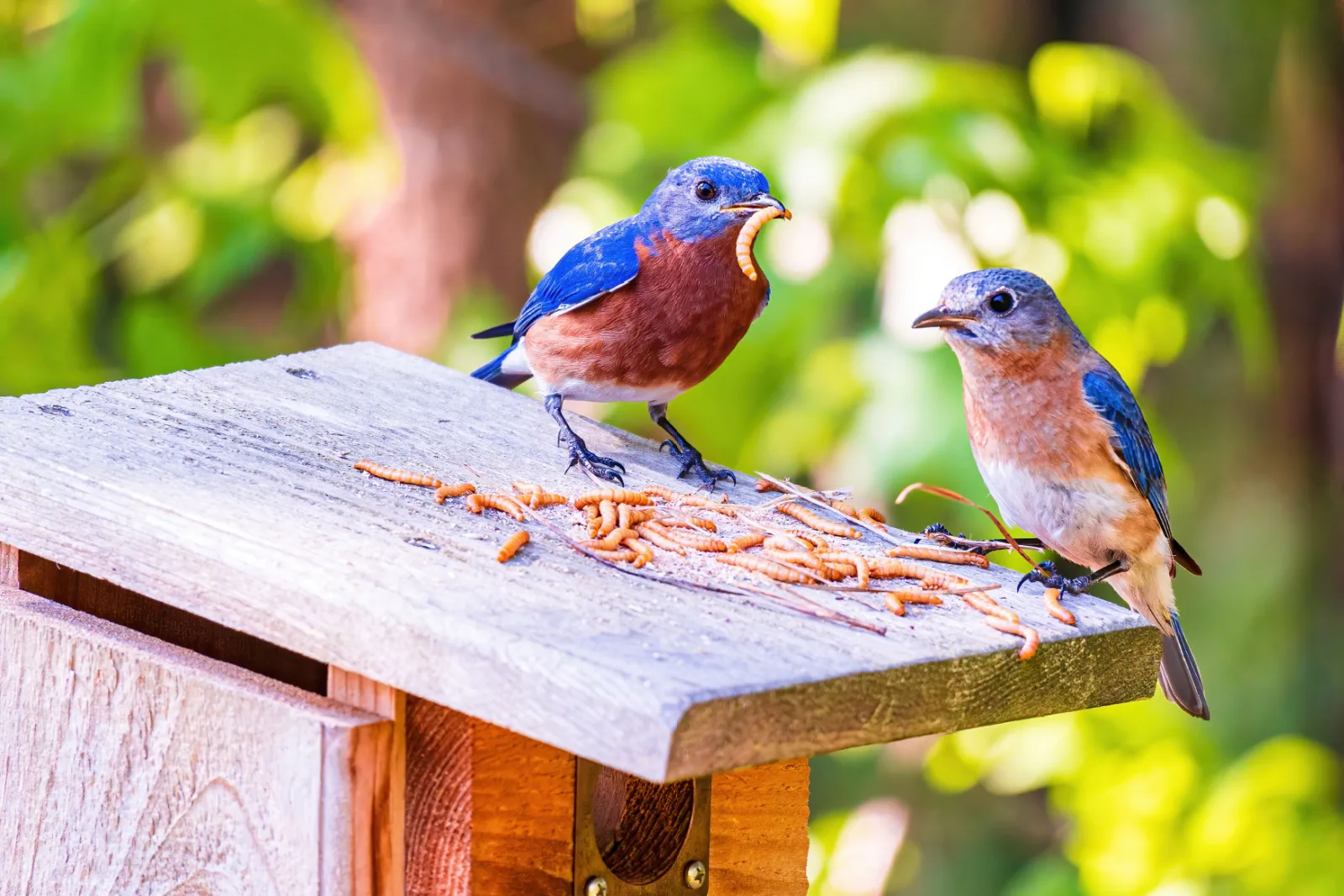 If you're looking for a bluebird feeder, you should know a thing or two about where to place them and how long to keep them there.
Knowing which feeder and food to get is also important, so I'll tackle all these questions in the following sections.
Where (Not)To Place Bluebird Feeders
The first thing you need to understand if you want to attract cardinals, bluebirds, robins, or other bird species is their perfect environment.
Bluebirds like feeders with plenty of room for flying in between them, as well as some shade, so you shouldn't keep them close to your house or concrete structures.
Another location to avoid are windows and any kind of glass. Birds cannot perceive these things and their accident rate will go through the roof if you place the feeders there.
Of course, you shouldn't place the feeder somewhere with predators close by because we want to provide the bluebirds with a buffet, not turn them into one!
So, Where Can We Place The Feeders?
No feeder is good if the bluebirds can't tell it's there. These birds build their nests high up and they're not afraid of heights.
If you want to attract them in the best possible way, hang the feeders at least seven feet high if that's an option. It'll stand out that way and there'll be a better chance of the bluebirds catching a glimpse of it.
Erva Bluebird Feeder
If you're thinking of getting an Erva bluebird feeders, here are some benefits that can stir this product your way:
• They're a reliable buffet for bluebirds and other small birds.
• They'll keep the food safe from starlings, squirrels, and other large creatures.
• Cats will try, but won't be able to get to the bluebirds once they hop inside.
• Erva feeders provide excellent visibility, so you'll be able to see the comings and goings of birds wherever you are.
There are many other bird feeders out there but Erva feeders only allow small birds to enter, keeping them and the food safe from large birds, cats, and squirrels.
Mealworm Bluebird Feeder
Bluebirds will migrate once their food becomes scarce, and if you want to prevent that from happening, simply install mealworm bluebird feeders.
These things can be an excellent food source for your flying buddies if you refill them regularly.
The species that don't migrate due to cold temperatures will stay in your garden all year this way.
Food For Feeders
Why do I mention this when we all know that bluebirds love mealworms?
Because that's certainly not the only thing they eat!
These birdies are always on the go, so they require high-energy meals such as suet and suet cakes in addition to mealworms.
Bluebirds will also munch on high-sugar foods like fruits and berries, so you have plenty of options to feed them even if you run out of their favorite insects.
Just make sure you don't leave an entire apple or pear in the bird feeder since these little creatures won't be able to eat it. Slice it into tiny pieces, give them some raspberries and blueberries, and they'll be more than happy to come back for more.
I hope this article was helpful!
Until next time!