Positive Bloom is an Amazon Associate and we earn from qualifying purchases through these links at no extra cost to you.
Did you just install a brand new lawn in your backyard? If so, then you need to know that applying proper fertilizers is the key to maintaining and establishing your new sod.
Sods have become quite trendy when it comes to landscaping, because you can basically do a complete makeover of your garden by simply laying sod on prepped soil.
It is important to figure out the new sod care, as you will need to fertilize and water the new sod because the solid root system needs to develop in order for you to have an established lawn after the sod's installation.
Different types of grasses can be used, therefore, you will have to apply fertilizer that is appropriate for your specific grass type. However, almost all fertilizers contain phosphorus to promote root growth and development.
Check out these 6 best fertilizers for the upcoming season!
What Is The Best Fertilizer For New Sod?
After lots of research, we have selected 6 of the best fertilizers for your new sod. Carefully read the instructions displayed on the packaging, and you'll have the best lawn in the neighborhood!
1. Dr. Earth 100531519 Super Natural Liquid Lawn Ready to Spray 32oz Fertilizer, White
This is one of the most convenient lawn starter fertilizers that can be found online. Not only is it easy to use (you just spray it), but it can also establish any type of grass and at any time of the year!
If your goal is to have a healthy lawn with an intense green color quickly after planting, then the Dr. Earth Super Natural Liquid Lawn is fertilizer for you. After you have applied the fertilizer, make sure to water new sod to keep the soil moist, and continue fertilizing it throughout the season.
Bear in mind that you will have to start mowing frequently from now on, so I would suggest you invest in a mower if you don't have one!
It is suitable for new sod, newly planted grass seeds and for reseeding. This fertilizer won't affect your soil's pH, and you can use it in any soil type: it will work just fine! You can also use a sprayer to apply it, or you can do it by hand.
I swear my lawn was dying and applying this fertilizer definitely brought it back to life and now I can't stop talking about it!
2. Sod Fertilizer – Covers 600 Square Feet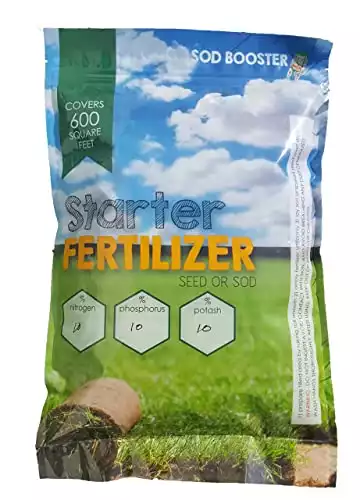 Here is yet another favorite type of fertilizer among homeowners : it is easy to apply, works well with any grass types, and promotes healthy growth!
Sod fertilizer contains all the necessary nutrients to promote new growth of sods — it is actually used in sod farms as well. It is a perfect mixture that encourages turf development first, and can also be used for grass seeds.
This kind of fertilizer is probably the easiest to measure, because it contains the amount that is well-suited for completely covering an entire pallet of sod. For instance, if you have installed five pallets: then apply five bags; or if you have installed only half, then apply half of the package — convenient and easy!
It should be applied directly to the soil before planting, so that it settles well and provides the nutrients that quickly green up your sod. If you are planting during the colder season, it is not recommended to apply it as it is not the growing season, and it can just lead to chemical build up in the soil.
3. Scotts Turf Builder Weed and Feed 3; Covers up to 5,000 Sq. Ft., Fertilizer, 14.29 lbs.
Scotts Turf Builder Weed And Feed
• More powerful clover and dandelion control
• Both fertilizer and weed killer
• Safe for warm and cool-weather grasses
• Customer review: 4.4/5
Pros:
Easy to spread and use

2-in-1 fertilizer and herbicide

Covers up to 5000 sq ft (464.5 sq m)
Cons:
Takes about two weeks until you see results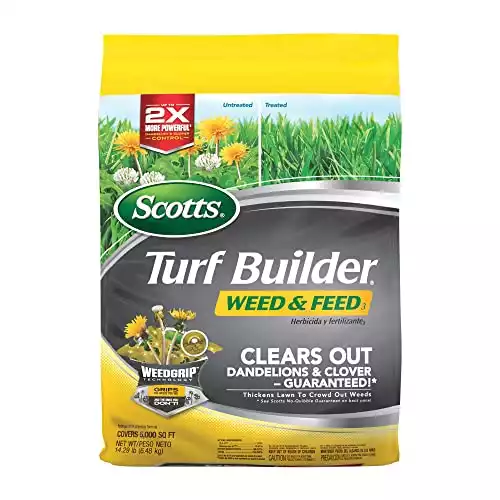 I am definitely a fan of Scotts products — what can I say? They are simply the best!
This Scotts Turf Builder Weed and Feed can cover up to 5000 square feet, and the easy spread already makes your job easier!
It is suited for these types of grasses: Zoysia, Fescue, Ryegrass, Centipede, Kentucky Bluegrass, Bahiagrass, and Bermuda grass.
It works as a fertilizer and weed controller at the same time, though it is not capable of killing crabgrass. This kind of fertilizer is well-suited for any season, however, there are certain varieties that are only used as spring and fall fertilizers.
Not only does it crowd out annoying weeds, but it also promotes thicker and lusher growth of your grass. You won't have to worry about picking dandelions constantly during the season once you have applied this fertilizer!
4. Penterra Soil Penetrant and Wetting Agent – Promotes Water Movement and Root Absorption to Deter Erosion and Improve Nutrient Uptake for Hardier Landscaping and Water Conservation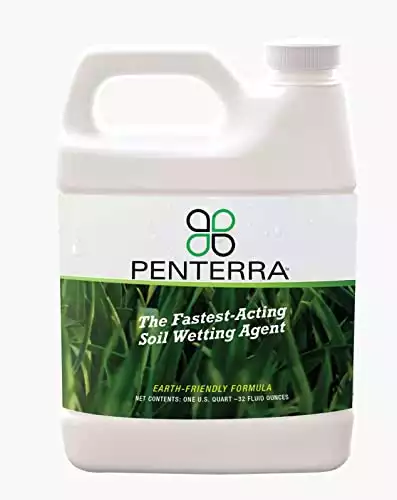 If you are looking for a liquid fertilizer that is able to loosen up soils that are too compact for proper root system development (such as clay), then Penterra Soil Penetrant and Wetting Agent is the perfect fertilizer for you!
When it comes to this fertilizer application, it differs a bit from the previous ones: liquid fertilizers are usually diluted with low amounts of water because their ingredients are sometimes too strong — the best way is to follow the instructions on the packaging.
This fertilizer can solve issues like dry spots in the lawn, promote easier uptake of water by the roots and shoots in the soil, and improves your soil's structure and keeps it hydrated.
This exact type of fertilizer is used on many famous sports fields, golf courses and resorts — trust me, your grass will definitely glow after using this fertilizer!
However, I would recommend that you use this fertilizer after the seeds have germinated, that is, if you are planting new grass seeds.
5. Dr. Earth Super Natural Liquid Lawn Fertilizer 32 oz RTS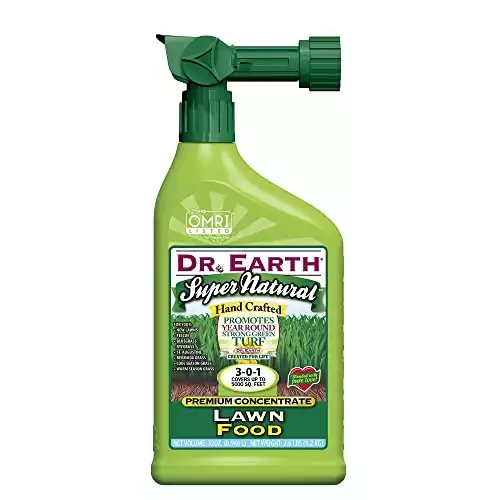 We have to recommend yet another liquid fertilizer!
Not only are these fertilizers very sustainable and can be used for a long time, but they are also not toxic, so you won't have to worry about your kids and pets rolling on your new lawn!
It contains a special formula that feeds turfgrass, and makes your lawn look absolutely gorgeous and vibrant. It can be used at any time of the year, so it is suitable for cool-season grasses as well as warm-season grasses.
Dr. Earth Super Natural Liquid lawn fertilizer is convenient for established sods, and can be applied to grass seedlings too.
This fertilizer has a kind of funny smell — but don't worry, it will pass in a matter of days! I am sure you can put up with it if you want to have the best lawn ever!
6. Scotts Turf Builder Thick'R Lawn Bermudagrass – Covers 1,200 sq. ft., Combination Seed, Fertilizer and Soil Improver, Fill and Repair Gaps in Thin Lawns and Enhance Root Development, 12 lb.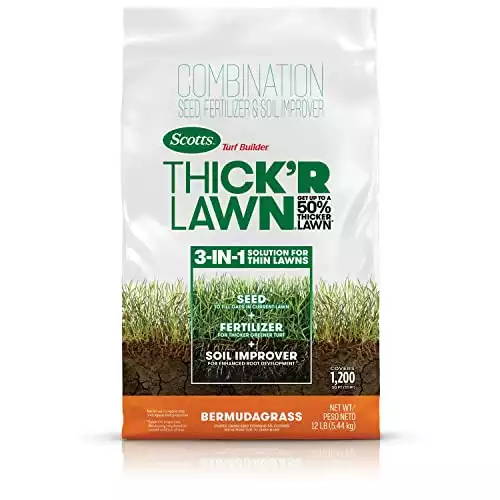 This is one of the granular fertilizers that should be applied in the late summer or early spring; you can also use a spreader to make your job easier. Add an appropriate amount of water after fertilization, you can even invest in a sprinkler!
It helps to fill out the patches because it contains grass seed and will definitely make your lawn 50% thicker than before. This fertilizer also encourages the roots to grow big and strong.
It is well suited for Bermudagrass, though you can try and apply it to different types as well!
Frequently Asked Questions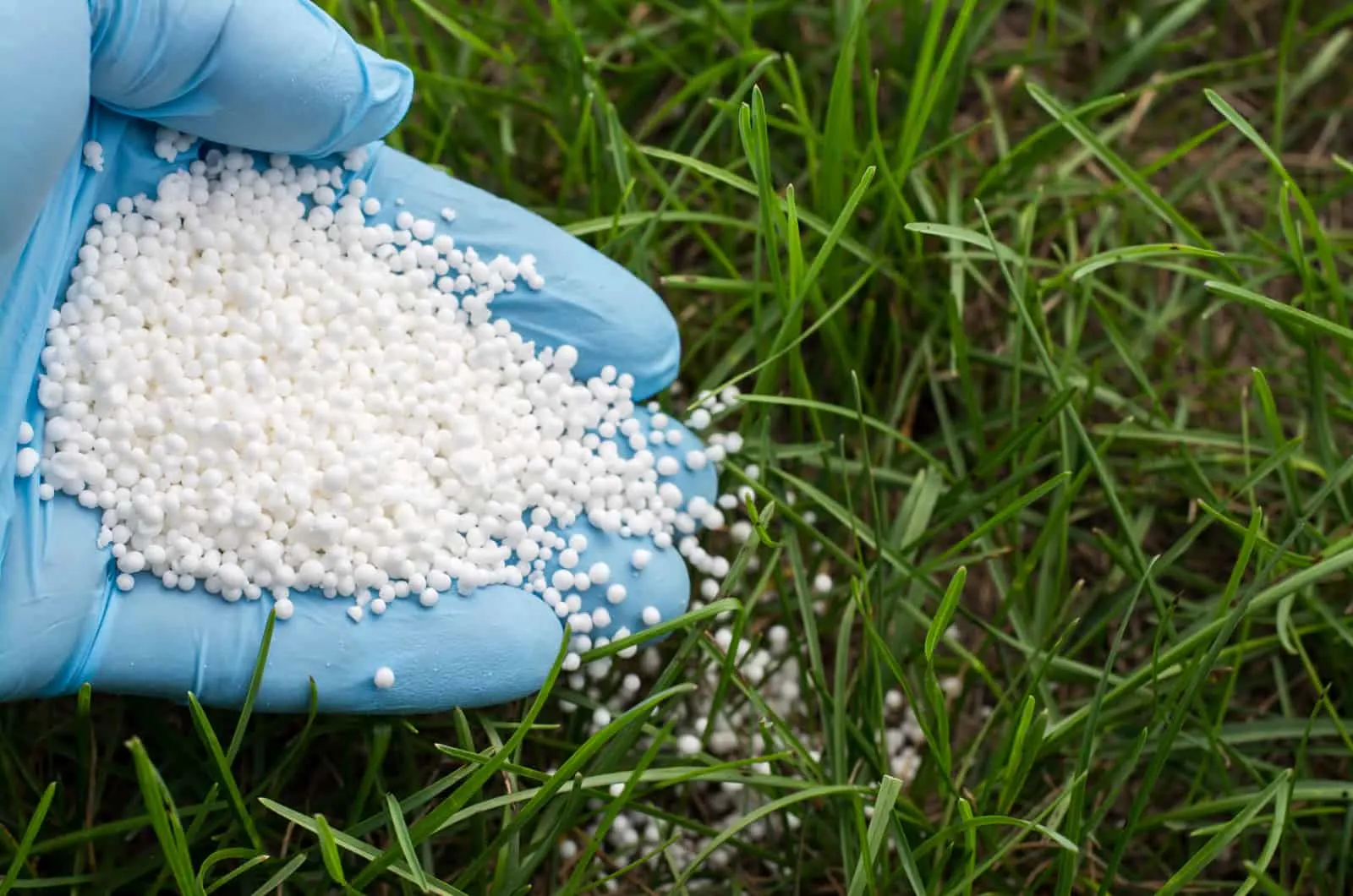 1. When can I fertilize my new sod?
The first time you should fertilize your new sods is 6 weeks after planting — after this time, the roots should have grown deep and the lawn should be established.
However, sometimes the roots might struggle to develop, which is why you should start fertilizing the sod after 4 weeks. It also depends on the type of the grass; for instance, if you have laid St. Augustine grass, then you should start fertilizing after a month.
The best way to know when to fertilize your new sod is to do soil testing, which will let you know what chemicals are in the soil and what chemicals are required to promote growth and development.
2. How often should you fertilize new sod?
This also depends on your grass type and also the type of fertilizer that you are using. For example, if you are using a liquid fertilizer, then it should be applied once a week.
Slow-release nitrogen fertilizer should be applied once during the growing season, because it has enough nutrients, which will be released throughout the season.
Other types of fertilizer are applied about 3 or 4 times during the growing season, at least once a month — though you should follow manufacturer's instructions on the packaging.
3. What should you do after fertilizing new sod?
You should continue taking care of your new sod by frequently watering it and not letting the soil dry out. You should not mow the lawn immediately after fertilizing, because it would cause too much stress to the roots and blades.
I would suggest you wait at least a day or two after fertilizing to mow your lawn.
To Sum Up
It can be hard to choose the right fertilizer, especially with so many different options out there!
I would recommend that you take these points into account when choosing a fertilizer for your sod: what type of sod have you installed, what kind of soil do you have, and how much fertilizer do you need.
The best fertilizer for new sod is the one that contains different nutrients, like nitrogen, potassium, iron, phosphorus, and carbon — all of these will encourage root development, and make your grass look lusher and more vibrant!
Like this post? Share or pin it for later!