If you want to surround yourself with flowers and vegetables on cold winter days, or you just want additional space to start your tomato and pepper seeds, consider getting one of these greenhouses.
They have everything you need: space, cold protection, and a great appearance.
And there's something for everyone; a shed-sized greenhouse or a small cold frame that fits just a couple of plants or many propagation trays.
These five choices are some of the best on the market, and it's up to you to decide which one fits your needs best!
5 Best Greenhouses
These greenhouses offer you everything you could wish for your plants: frost protection, ventilation, attractive designs, and high quality materials.
Of course, they do differ in their characteristics, and that's where you and your preferences come into play.
And finally, whichever you pick, make sure to install a proper greenhouse watering system because that will make your job a lot easier and you'll be able to focus on more important things.
WACASA Polycarbonate Greenhouse
Size: 6.2'L x 8.2'W x 6.4'H
Cover material: polycarbonate
Door style: sliding doors
Pros:
Ventilator

Reinforced warming room

Solid frame
Cons:
Moderately difficult to assemble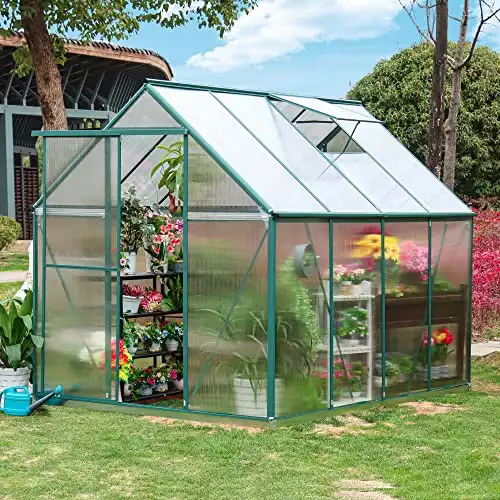 This greenhouse is made of heavy-duty materials and has an aluminum frame which ensures its durability and sturdiness, making it one of the best options for the price.
It is resistant to rust and corrosion and able to withstand all kinds of weather. It is perfect for the winter because it has a reinforced warming room, keeping your plants safe from frost.
This outdoor greenhouse has sliding doors for easy access and gutters which easily drain rain and snow. And the best part about them is that you can attach a hose to them and try rainwater harvesting.
The WACASA greenhouse has roof vents you can adjust anyway you like to provide your plants with proper ventilation.
It is perfect for all kinds of plants, whether you want to grow vegetables over winter or simply start some seedlings to get a head start on the season.
Home Complete Greenhouse
Size: 56.3''L x 56.3''W x 76.7''H
Cover material: polyvinyl chloride
Door style: zipper door
Pros:
Suitable for indoors and outdoors

Easy to assemble

8 shelves
Cons:
The cover and zipper aren't high quality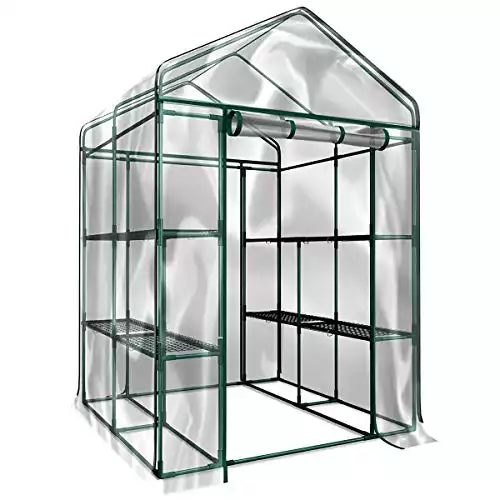 If you need a roomy greenhouse with plenty of shelves, then this walk-in eight-shelved greenhouse is the best option.
You can use it both indoors and outdoors and it's perfect for starting seeds and propagating cuttings.
It has clear PVC, which allows you to see everything that's going on in there while providing protection to your seedlings against frost and harsh outdoor conditions.
One of my favorite things about it is that it is incredibly easy to assemble and requires no tools whatsoever. The instructions are straightforward, while the package includes everything you need for the assembly.
You'll quickly get secure shelves with no risk of tipping over, which will extend your growing season.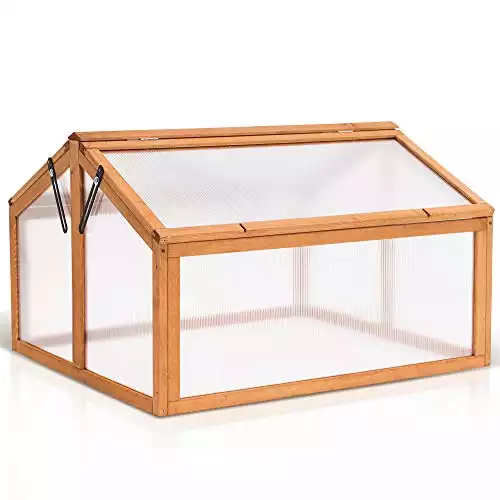 The wooden frame of this greenhouse will give your garden a rustic appearance and more than enough room to start seeds or harden off seedlings before transplanting them.
The polycarbonate cover keeps your young plants safe from frost, while hinged lids allow for easy ventilation and access to plants.
This transparent cover also allows natural sunlight to reach your plants, reducing the need for artificial lights.
The roof has a groove design which allows for optimal drainage and prevents water from accumulating on top of it.
This cold frame is an ideal way of extending your growing season as it allows you to start the seeds, propagate cuttings, nurture young seedlings, and even keep a couple of potted plants in it.
However, the product isn't that sturdy and may become weather-beaten in a couple of years, so you might need to make some adjustments later on.
VEIKOU Greenhouse
Size: 71.7''L x 72''W x 76.6''H
Cover material: polycarbonate
Door style: swing doors
Pros:
Adjustable roof

Ventilator

Lockable doors
Cons:
No accessories (gutters, inside hooks, etc.)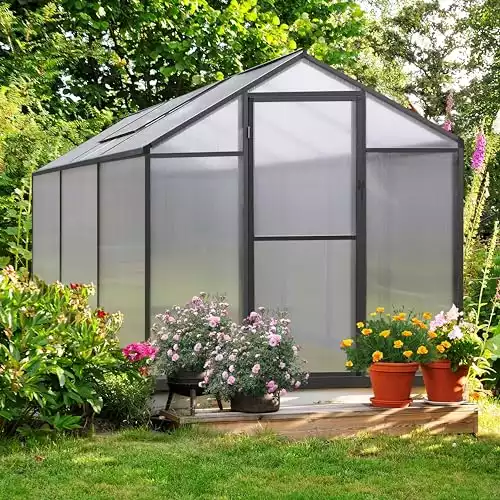 This greenhouse has thickened polycarbonate panels, which allow the insides to stay warm during colder months and yet still allow enough light to pass through so that plants can grow. The sliding system allows these panels to be installed more easily.
This walk-in greenhouse is made of powder-coated aluminum, which provides sturdy construction and durability, and resists harsh weather conditions.
This greenhouse has two doors with locking systems and single-door designs. It also contains an adjustable roof, meaning you can adjust the angle to fit your preferences and plant requirements.
Finally, it offers great ventilation for your plants, allowing you to reduce humidity and create a perfect environment for your plants.
Topline Greenhouse
Size: 27''L x 19''W x 27''H
Cover material: polyvinyl chloride
Door style: no door
Pros:
Suitable for indoors and outdoors

Lightweight

Doesn't take up too much space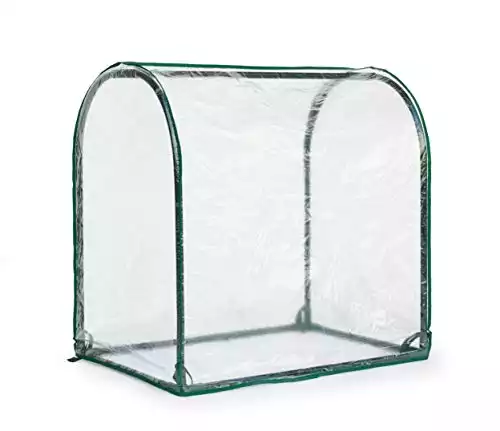 This budget-friendly greenhouse is perfect for hardening off seedlings, increasing humidity in arid climates, and protecting delicate plants from harsh weather.
It doesn't take too much space and is perfect for starting seeds. And the best part is that you can use it both indoors and outdoors due to its size.
On the other hand, it is larger than you'd think and surprisingly sturdy once you assemble it correctly.
One con is that it doesn't have a door, but it's rather lightweight so lifting it up isn't that cumbersome.
3 Things To Consider When Buying A Greenhouse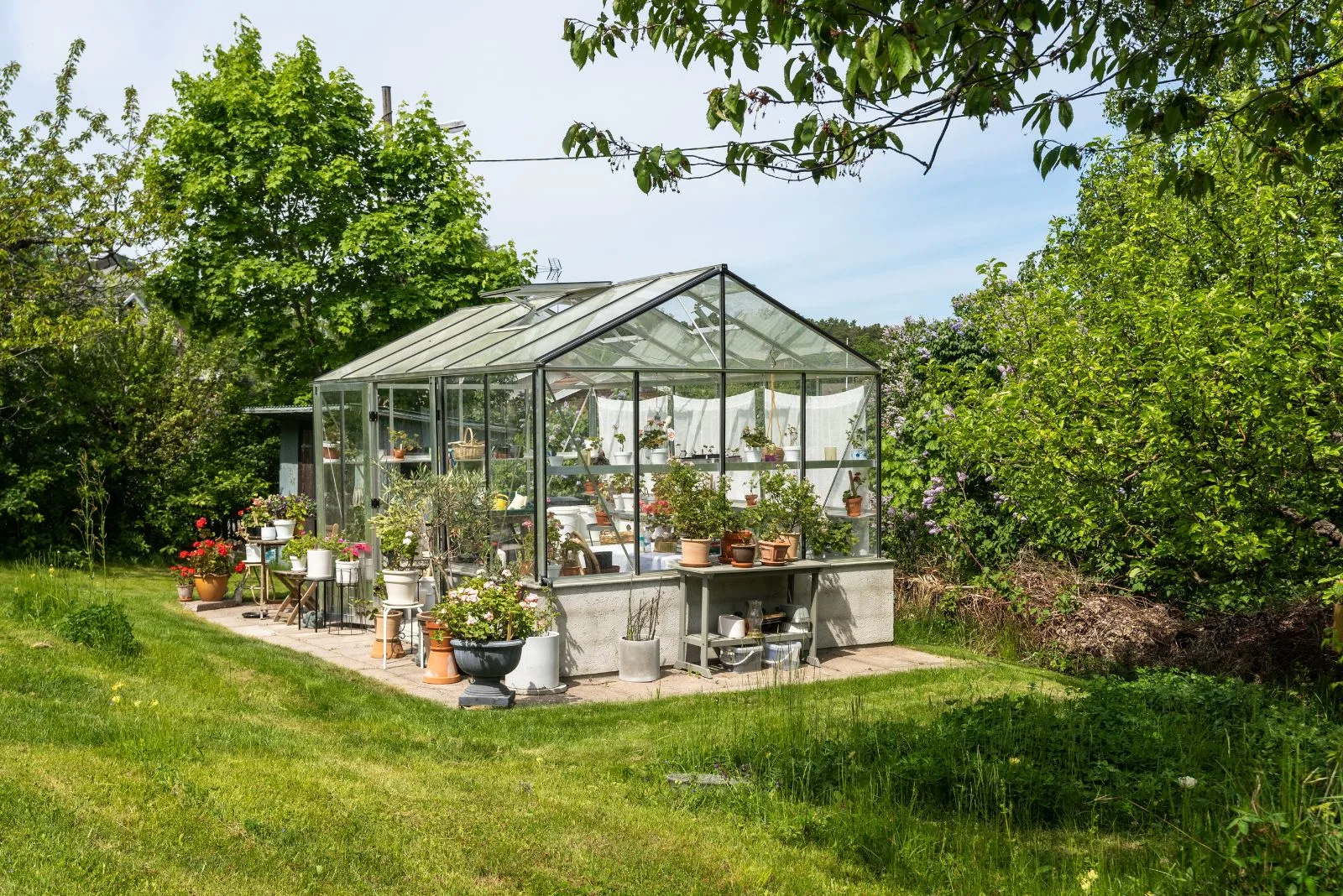 There are many helpful tips for the greenhouse beginner in terms of maintaining temperature, proper humidity levels, etc.
But it's also important to know some of the technicalities that can help you choose the right greenhouse, such as how much space you have, your local regulations, and the weather conditions in your area.
Here's how these things can help you pick the right greenhouse for your plants!
1. Space
Do you have limited space options when it comes to setting up a greenhouse? Do you want to take it down once you're finished with growing plants in it or will you let it stay in the same place all year long?
If you want to assemble and disassemble your greenhouse frequently, you might want to opt for smaller, lightweight, easily-stored varieties that will make this easier.
And if you'll keep it in the same place year round, you can go for any variety you like, big or small.
2. Local And Zoning Regulations
Owning a permanent greenhouse structure seems amazing, especially if it goes with your outdoor decor. But sometimes neighborhood and local regulations include a lot of red tape that only allow you to grow a couple of veggies in your greenhouse.
Therefore, make sure you know what you're getting yourself into, research the regulations, and go for an option that doesn't pose a lot of trouble for you.
It will be a lot easier to disassemble a temporary greenhouse than tear down a permanent one.
3. Weather
Wind is the crucial factor here. If you live in a windy region, I wouldn't recommend lightweight greenhouses with weak structures.
Polycarbonate panels and aluminum frames is the minimum you should opt for if you don't want your greenhouse to be blown away.
Make sure that the latches are sturdy enough and can be secured because you don't want the wind damaging your ventilation and roof top.
And if you live in a rainy region, try to get a structure with rain gutters, install some collectors, and you'll be able to harvest your own rainwater and save on your water bill.
The Strongest Greenhouse Panels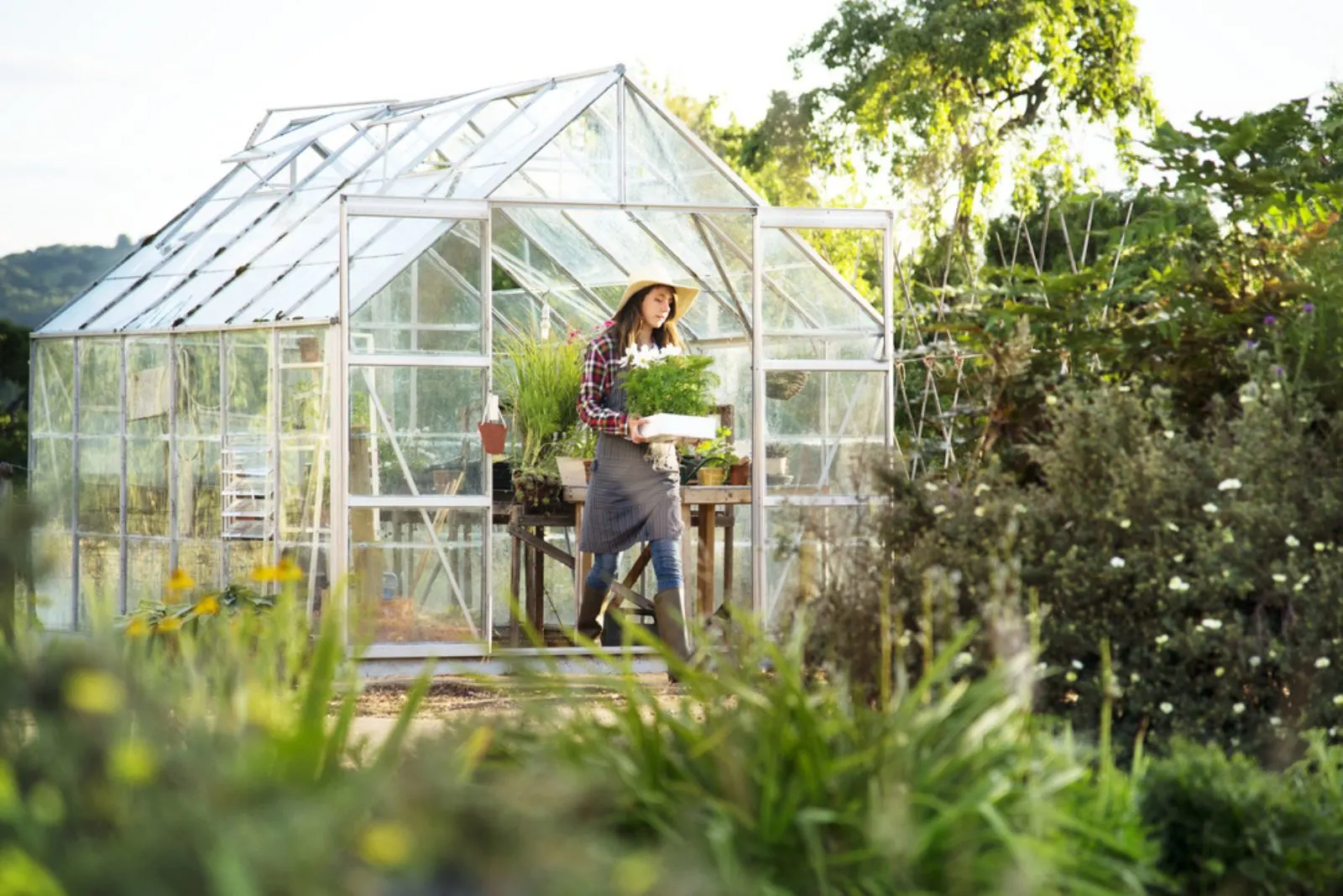 Contrary to popular belief, glass panels aren't the sturdiest choice. If you want strong greenhouse panels, opt for polycarbonate ones.
They are much sturdier, won't break too easily, and are clear just like glass, allowing natural sunlight to penetrate and support plant growth.
However, these panels can turn yellow over time and filter light in a greater way, which is why you should look out for this.
Additionally, if you don't need strength but just something to cover your greenhouse with, I'd go for polyvinyl carbonate (PVC) because it is affordable, durable, lightweight, flexible, and can handle huge amounts of snow.
It will even resist yellowing caused by UV rays and ensure your plants get all the natural sun they need.
The Best Color For A Greenhouse
I'd say that the best color for a greenhouse is no color, or rather clear sheets and panels. These products will allow the natural sunlight to penetrate, ensuring your plant gets enough light to photosynthesize and thrive.
Colored sheets and panels will filter some of the light out, making it likely you'll need to use grow lights more often.
Optimal Greenhouse Size
Choosing the right greenhouse size really depends on the free space you have in your garden and the number of plants you want to grow.
If you want to try growing all the easy plants for greenhouse starters, you're much better off with a large greenhouse where ventilation, cooling, and heating are easier to control.
And yet, if you only want to propagate some cuttings and start some seeds, go for a smaller variety and ventilate it yourself (lift it up now and again or open its doors). This option is also suitable for small patios, balconies, or tabletops, making it ideal for tiny apartments.
Generally, 6' x 4' or 6' x 8' is more than enough for a household greenhouse and will allow you to grow many flowers and vegetables.
Final Thoughts
Now that you want to buy a greenhouse and are exploring your options, a little pep talk could come in handy. This is the perfect time to do it because there are many vegetables you can grow in your greenhouse in fall.
Setting up a budget, measuring the space you have, and picking the right size are all things that can help you choose the best greenhouse possible.
Just make sure to choose the one that will keep your plants warm during fall and winter (if that's what you're going for), install some heaters, and think of the ventilation because they can get rather humid.