What's the fastest way of turning your garden or patio into a charming rustic setting? Scattering some terracotta planters here and there, of course!
It's not easy finding the best one because you have to get the size, drainage, and quality just right. The ones in the article below are high quality planters that come in all shapes and sizes, so you're bound to find at least one that fits your current needs.
Bear in mind that you will have to clean them more frequently than plastic pots, but they're totally worth it because they'll give your plants all the drainage in the world, and even maintain soil temperature.
Here are my top choices so far!
This fun and whimsical design is ideal for all settings, whether you want to turn your home decor into a boho design or add some character to your modern outdoor garden.
Since this terracotta planter is quite large, it's perfect for smaller plants and spaces, so it can easily fit on any coffee table or bring some fun to your office.
It comes with a drainage hole and a plug, meaning you can use it as a regular planter or you can put a smaller one into it to bring more style to your living room.
BASE ROOTS Terracotta Pots
Size: 5"H x 4.5"W
Unique design
No saucer included
Pros:
Handmade with speckled glaze

Durable and stylish

Drainage hole and plug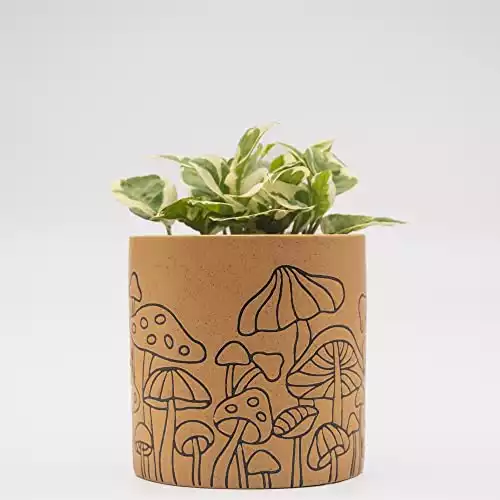 The timeless and cylindrical design of this container is ideal for contemporary minimalistic designs.
The colors are seamless, so they blend easily into any decor and emphasize the natural beauty of plants.
You get two planters to exhibit your succulents and other smaller green buddies.
They come with drainage holes and a removable mesh and plug, so you can use them as regular pots or turn them into planters for your smaller containers.
Bees & Buds Terracotta Pots
Size: 6''H x 6''W + 5''H x 5''W
Timeless design
No saucer included
Pros:
2 planters

Drainage hole, mesh, and plug

Durable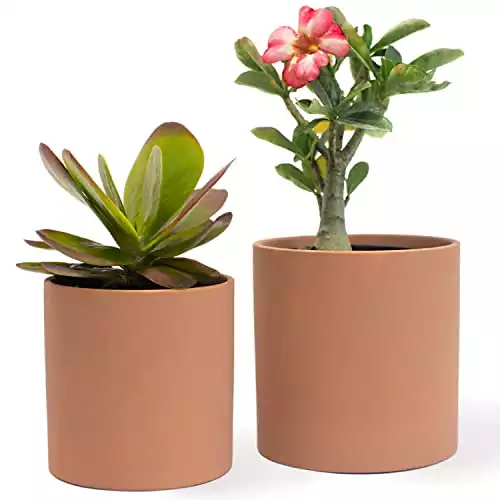 These terracotta pots come in three sizes, so you can use them for succulents, newly propagated tropical plants, or even medium-sized arrowheads.
The smooth matte finish gives it a touch of urban style, while the cylindrical shapes make it perfect for indoor and outdoor spaces.
The high quality material is durable and the porosity of it is perfect for all plants.
D'vine Dev terracotta planters come with drainage holes, saucers, a net to keep the soil in and allow the moisture to come out, and even scratch pads.
The saucers are easily detached, and if there's any damage to your newly arrived pot, the supplier is quick on replacement.
D'vine Dev Terracotta Pots
Size: 4.2''H x 4.2''W + 5.3''H x 5.3''W + 6.5''H x 6.5''W
Urban design
Saucer included
Pros:
3 planters

Drainage hole, mesh, and scratch pad

Durable and weather-resistant
Cons:
Quickly gets covered in white build-up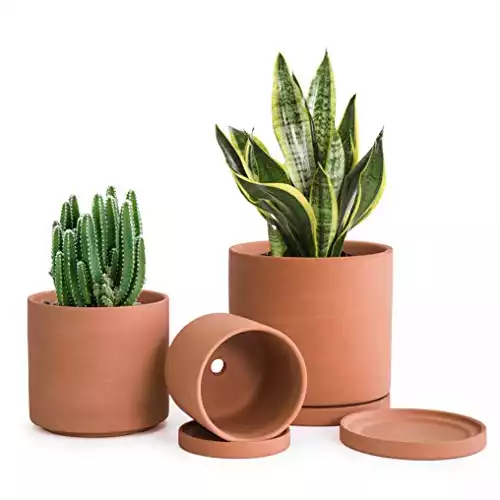 You can choose between five different shades when it comes to buying these pots, from the classic earthenware terracotta color to black.
They also look like your regular terracotta pots, only they're smaller and suitable for succulents, cactuses, flowers, etc.
Yishang terracotta pots are baked at 1922°F and are extremely durable, lightweight, and crack-resistant.
The planters won't even break quickly in cold weather!
They come with saucers that will keep your home and patio clean, while the drainage hole and overall planter porosity provides everything your plants need to regulate moisture.
P.S. You get six planters per package, so I'd say it's a fairly good deal if you have a lot of plants or plan on propagating your favorite ones.
Yishang Terracotta Pots
Size: 4.7"H x 5"W x 5.5"D
Classic planter design
Saucer included
Pros:
6 planters

Drainage hole

Durable and crack-resistant
Cons:
Saucers and pots may be different colors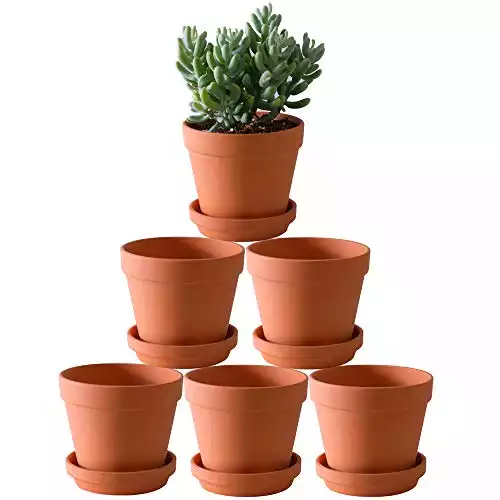 Vensovo terracotta pots have taken it to a whole new level and offer up to 11 different shades of these planters, which means they can fit in pretty much anywhere.
The classic planter design reminds of large terracotta containers, although these are more suited for smaller plants, such as succulents and herbs.
The planters are baked at 1796°F, which gives them great durability and crack-resistance, even during winter.
They're perfect for both indoor and outdoor settings, and come with drainage holes to keep your plants moist, and saucers to keep your floors, patios, and pathways clean.
And the best part is that they're multipurpose. Use them for planting, of course, but also turn them into unique decorations for weddings and baby showers, school projects, and more.
These pots also come in a pack of six, and are perfect for newly propagated plants that need a bit more space to grow.
Vensovo Terracotta Pots
Size: 4''H x 4''W
Classic planter design
Saucer included
Pros:
6 planters

Drainage hole

Multipurpose and durable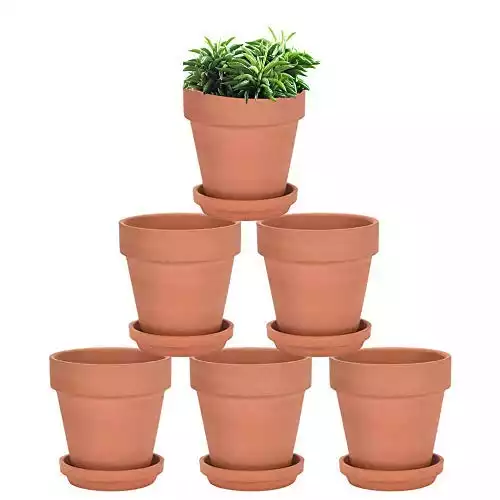 Yes, terracotta pots can turn into self-watering containers given the right conditions. And D'vine Dev has them.
These planters don't require drainage holes because the porosity of the pot allows it to absorb moisture from the glass cup whenever the plant needs it.
Simply fill 2 fifths of the cup with water and you can forget about watering your green buddies until all moisture is gone from it, which takes about a week or so, depending on the plant.
The narrower bottom allows this plant to sit nicely in the glass cup and give your home a modern look with a slight rustic note.
These pots are perfect for succulents, small spider plants, herbs, and similar plants. Just plant your green buddies in a designated planter and then place it in a glass cup with water.
This package comes with 2 pots, and the supplier will quickly replace them if there's been any damage during transport.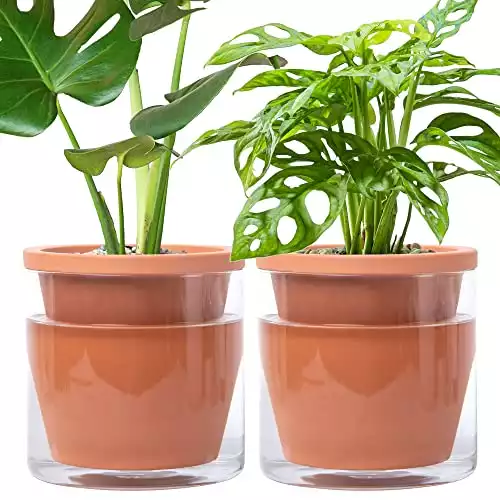 This large, yet shallow terracotta planter is the go-to container for a small succulent garden. Plant a couple of these beauties in it, and they'll thrive.
The classic design and matte finish make it perfect for modern decor, although it can find its place in more relaxed and rustic settings.
This planter is fired at high temperatures, which makes it quite endurable. And since it's porous, it encourages root growth, prevents overwatering, and makes your plants healthier.
It comes with a drainage hole that reduces the risk of root rot and contains a gorgeous bamboo saucer that will complete the look and fulfill its purpose of keeping your tabletops clean from any runoff.
Use this Thirtypot terracotta planter for indoor and outdoor plants, herbs, succulents, etc.
Thirtypot Terracotta Pots
Size: 3.4''H x 8''W
Classic design
Saucer included
Pros:
Matte finish and bamboo saucer

Drainage hole

Durable and decorative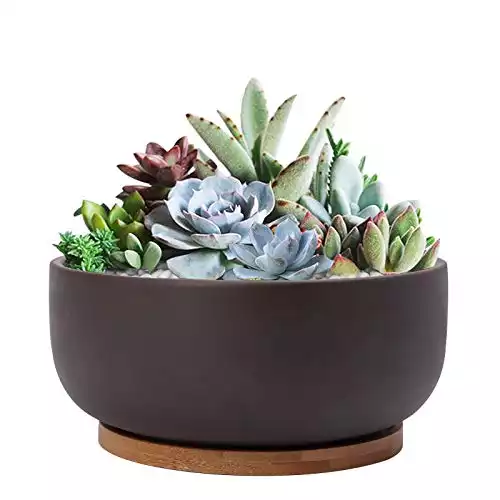 These black boho pots are perfect for modern and minimalistic home decor. The smooth and matte finish is what keeps them attractive, while their natural porosity makes them ideal for all sorts of plants.
These planters come with drainage holes, but no saucers, so they're not the best choice for direct planting if you don't improvise a tray to collect water. But if you place your plant in a smaller container, you can put that into this one, and all your worries are solved.
And yet, if you want to reap all the benefits of this terracotta planter, you can simply keep it outdoors where some small water leakage won't be an issue.
Finally, it comes in two sizes, so you can keep your baby and young-adult plants in it, creating a perfect decoration.
P.S. The pots are highly durable and can withstand a good deal of harsh sunlight and cold winter temperatures.
JOFAMY Terracotta Pots
Size: 5.2''H x 5.6''W + 4.3''H x 4.7''W
Bohemian geometric design
No saucer included
Pros:
2 planters

Drainage hole

UV and cold-resistant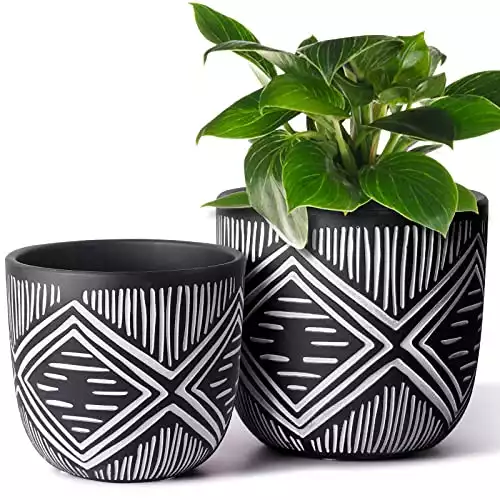 This gorgeous turquoise planter with a handcrafted bee pattern is everything a whimsical house owner or a modern decor needs.
The 1832°F firing process and the glazed finish give this planter a glossy style and make it more durable in the long run.
This terracotta pot is perfect for both indoor and outdoor use because it is resistant to weather wear and tear, such as UV radiation, winter temperatures, etc.
You can use it as a regular container or a planter you'll place a smaller pot in. That's because it has a drainage hole, but also comes with a removable mesh and a silicone plug.
P.S. You get three different-sized containers to fit your large, medium, and small plants.
YBX YIBOXUAN Terracotta Pots
Size: 6.9''H x 7.3''W + 4.9''H x 5.5''W + 3.5''H x 3.7''W
Unique design
No saucer included
Pros:
3 planters

Drainage hole and removable mesh and plug

Durable and weather-resistant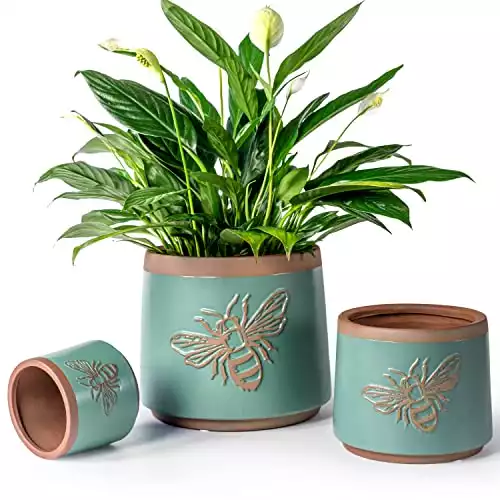 This red terracotta pot features a unique white design, which makes it a great vintage addition to the contemporary, minimalistic, or boho home decors.
It is perfect for small plants, succulents, and herbs you grow on your kitchen counter.
This Jucoan terracotta planter is baked at high temperatures, making it durable and porous enough to allow for proper drainage.
Speaking of drainage, it features a hole in the bottom through which water can flow freely, preventing overwatering and root rot. And to make matters even better, it comes with a saucer, so it won't stain your furniture or have you looking for some tray that will taint its appearance.
The package includes 2 pots that you can use indoors and outdoors, thanks to their great durability and gorgeous design.
Jucoan Terracotta Pots
Size: 5.25''H x 5.25''W
Vintage design
Saucer included
Pros:
2 planters

Drainage hole

Suitable for indoor and outdoor use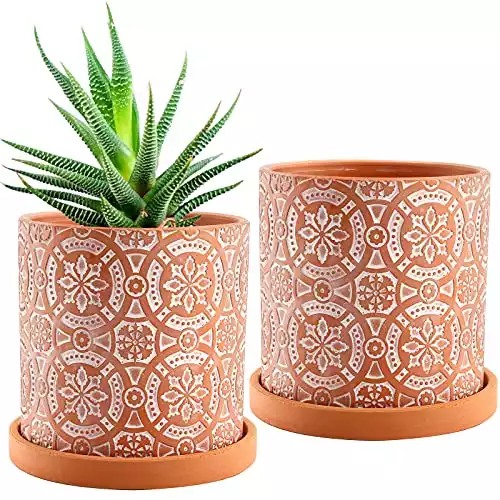 Benefits Of Using Terracotta Planters
There are a couple of things to know before using terracotta pots, such as preparing yourself to clean them from white build-up caused by fertilizers.
However, they abound in benefits, such as providing your plants with ideal drainage. That's because they're porous and don't retain moisture in (or rather on) their walls but allow it to evaporate more easily than in plastic pots.
Terracotta planters also have some insulating properties, which means they can withstand harsh outdoor conditions, such as UV radiation and cold. (Just think of root tiles; most of them are made of the same material).
This insulation means that the temperature within the pot is regulated, so your plants won't suffer that much during hot and cold weather.
Are Plastic Pots Good For Plants?
Just because terracotta is an excellent choice for plants, it doesn't mean you should immediately discard all of your plastic planters.
They are affordable and lightweight, which makes moving your green buddies around easy.
One thing about them is that they aren't great insulators, so they won't keep your plants safe during colder or hotter weather.
Additionally, they do retain a bit more moisture since they aren't porous, so make sure to grow water-loving plants in them or wait a bit longer to irrigate your green buddies.
Other Uses For Planters
The good news is that you don't have to use pots (plastic, terracotta, or some other material) just for planting.
You can use them as decorative containers for storing trinkets or jewelry. Turn them into unique decorations for baby showers and weddings, or even a makeshift seating area if you have extra-large planters.
There are numerous options; you just need some creativity and time.
Final Thoughts
I hope that you can find at least one planter that will perfectly fit your indoor or outdoor garden, whether it's the size, design, or some other unique feature.
All of these pots are quite durable and will withstand harsh weather conditions, while keeping your plants healthy and thriving.