Positive Bloom is an Amazon Associate and we earn from qualifying purchases through these links at no extra cost to you.
Have you been thinking about what our gardens would look like without tillers? Before tillers, gardeners used shovels and different tools to break new ground. Of course, they became experienced, but tillers made the job much easier, and gardens now look prettier.
Bearing that in mind, it's a great idea to invest in a good tiller. I've tried many, and some are more than excellent.
There are three power sources of tillers: manual, electric, and gas. Therefore, the power source is the first thing to think about when purchasing a new tiller.
When you're purchasing a new tiller, the other essential things you have to bear in mind are the power, weight, dimensions, durability, storage, price, and if it's easy to adjust (if adjustable handles are included).
Too many things to digest? That's why I've decided to help you find the best tiller for breaking new ground.
If you're starting a new garden or you just want a suggestion for a great tiller, you should keep reading.
Let's start!
Best Tiller For Breaking New Ground: Top Picks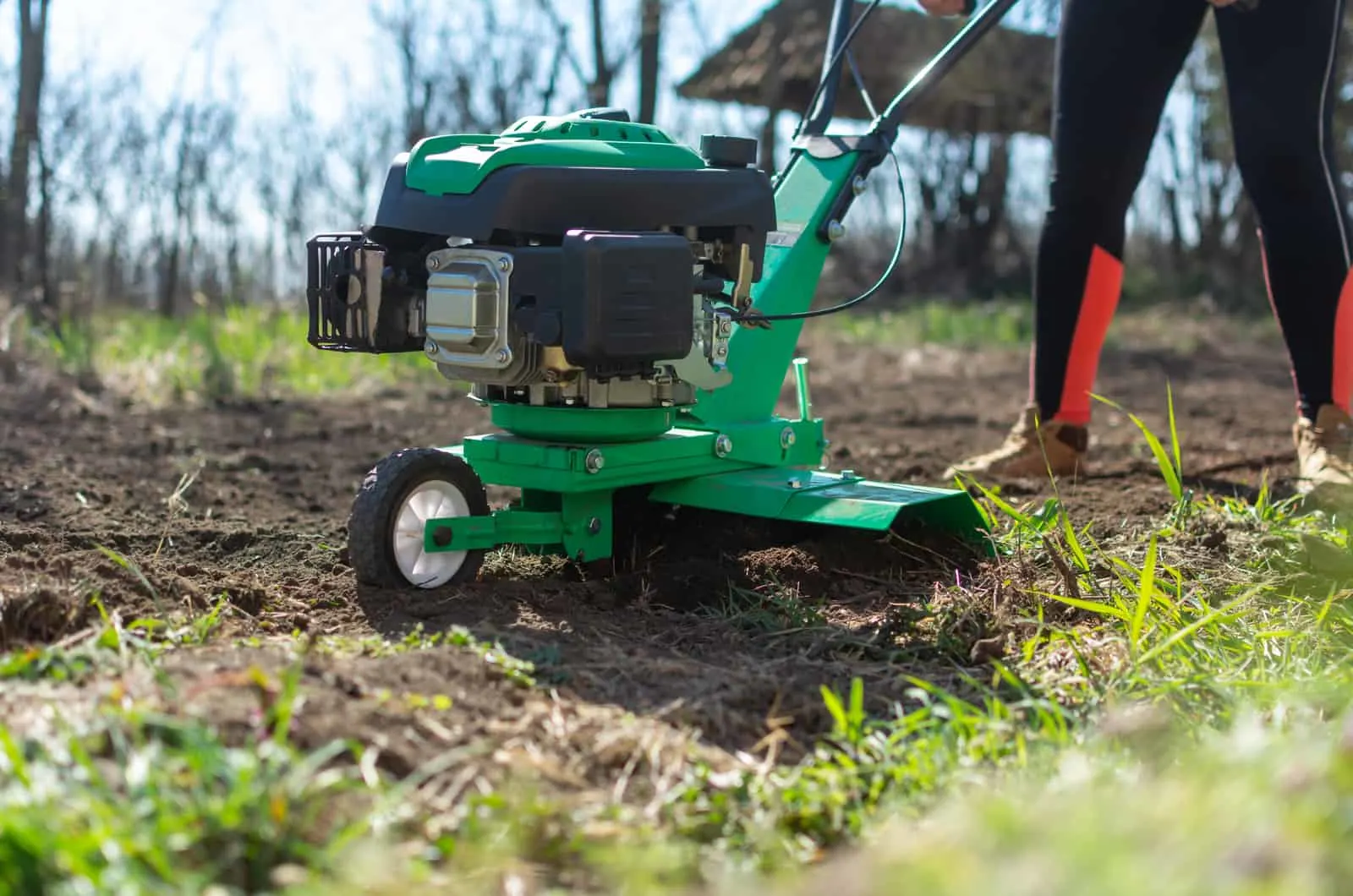 Each tiller has features that make it stand out. So, how to choose the best one for yourself?
You know your garden best, which means that I can give you the best offers and you should choose the one according to the power, size, weight, price or any other features that suit you best.
The list below consists of 8 tillers, including electric and hand tillers; you'll find plenty of information about each product. When choosing a tiller, check the dimensions, power, tines, etc.
Some tillers are suitable for smaller gardens, some for larger ones. Types of soil also matter, so pay close attention, and you won't have any issues when purchasing a tiller.
Let's see what we've got!
Sun Joe TJ604E Electric Garden Tiller/Cultivator
• Dimensions: 55 x 43 x 43 inches;
• Product weight: 27 pounds;
• Tilling depth: 8 inches;
• Tilling width: 16 inches;
• Warranty: 2 years;
• Customer Reviews: 4.6/5;
• Power Source: Corded-electric;
Pros:
Strong motor

Lightweight

Eco-friendly
Cons:
More effort when tilling deeply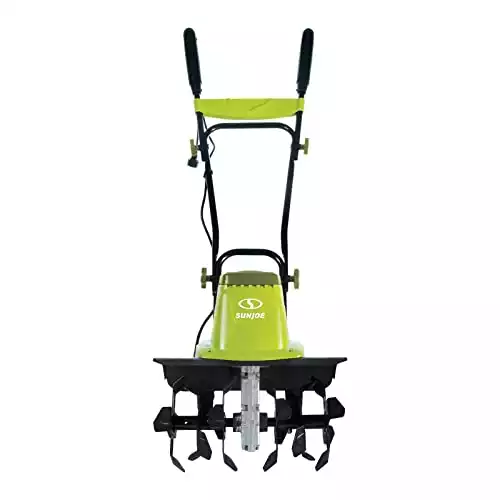 Many gardeners will tell you that you're not a real gardener until you try Sun Joe products.
If you've been using Sun Joe products, you'll know what I'm talking about.
Do you want to ensure aeration and prepare the soil for sowing? Then the Sun Joe TJ604E rotating rear tine tiller is a perfect choice for you.
Don't worry about the power and gas; a fascinating, fully electric 13.5 amp motor slices through the soil at 370 RPM, so it won't disappoint you. It's called the beast for a reason!
This is the best rear tine tiller and is excellent for heavy-duty activities. It's great for large gardens and landscaping.
The wheels can be adjusted to three positions.
You won't have to worry about storage either. The handle is foldable, and the product fits into the smallest storage area.
The tines are made of alloy steel which means that they're durable and easy to maintain. They are also dual rotating, so you won't have any issues if you have a larger garden.
You'll quickly get rid of any weeds and you won't get tired quickly; this product weighs only 27 pounds. It might be surprising that such a lightweight tiller can do well even in hard soil? It can, and is also great for flowerbeds!
It isn't loud (I love this feature way more than the others) and it doesn't release emissions into the atmosphere.
The only thing that you might not like is the extra strength you need to use when tilling deeper.
LawnMaster TE1318W1 Corded Electric Tiller
• Dimensions: 22.44 x 18.3 x 12.67 inches;
•Product weight: 24 pounds;
• Tilling depth: 9 inches;
• Tilling width: 16 inches;
• Warranty: 2 years warranty;
• Customer Reviews: 4.6/5;
• Power source: Corded-electric
Pros:
Breaks hard ground

Collapsible handle

Powerful engine

Durable steel tines
Cons:
Lightweight framework; tiller might bounce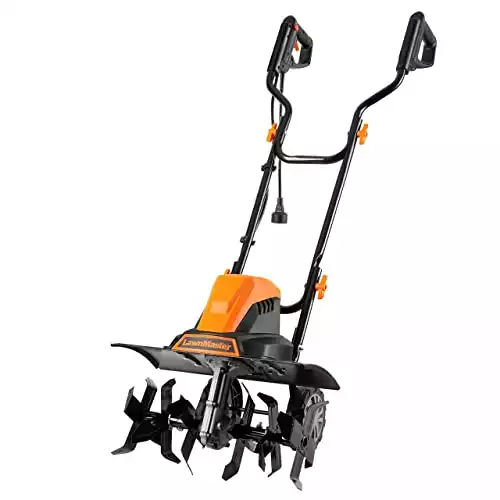 Easily assembled and maintained, the LawnMaster TE1318W1 won't let you down.
If you know how to handle a lawnmower, you won't have any issues with this machine.
This 13.5-Amp powerful tiller is the best electric tiller for breaking ground. Breaking hard ground won't be a problem anymore.
It weighs 24 pounds, so you won't have any problems completing the tilling of a large area.
This type of tiller has 6 durable steel tines capable of tilling 16 inches in width and 9 inches in depth.
You switch this tiller on by pressing the button (which locks afterwards) and squeezing the lever simultaneously.
The LawnMaster's motor runs at 390 RPM, so you don't have to worry that it'll start tilling before you're ready. It works great in tight spaces, making it capable of tilling raised beds, and it has a collapsible handle for easy storage in small spaces.
Its powerful engine will help you tilling any type of soil.
The framework is lightweight so you might have problems with the bouncing tiller.
LawnMaster TE1016M Electric Tiller 10-Amp
• Dimensions: 22.1 x 16.3 x 15.2 inches;
• Product weight: 30.3 pounds;
• Tilling depth: 9 inches;
• Tilling width: 16 inches;
• Customer Reviews: 4.6/5;
• Power source: Corded-electric
Pros:
Easy to assemble

Foldable handle

Eco friendly
Cons:
Tiller height options don't work

Not suitable for wet soil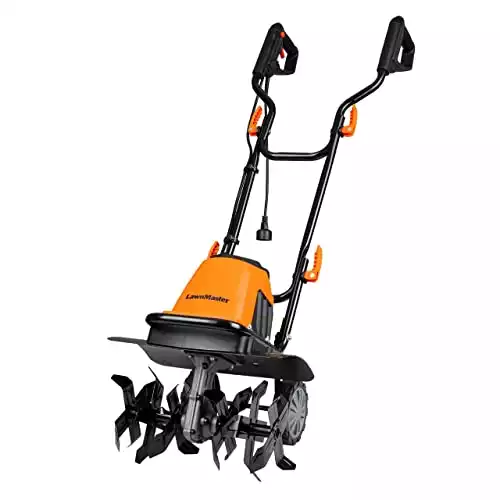 Another amazing tiller from LawnMaster is the TE1016M model. You can loosen dirt before planting and cut through the roughest terrains if you purchase this tiller.
This is an efficient and clean alternative to gas-powered tillers as it is environmentally friendly.
The anti-block mechanical clutch on a two-stage gearbox, powerful 10-amp motor, and 6-steel blade cuts meet all the requirements of new grounds.
Additionally, this tiller runs at 280 RPM when free-spinning; therefore, breaking new ground has never been easier.
Due to its lightweight feature, this tiller can be used by gardeners of all ages.
The drawback of this tiller is the tiller heights, as the advertised options may not work.
Greenworks Corded Tiller, 27072
• Dimensions: 33 x 15 x 15 inches;
• Tilling depth: 5 inches;
• Tilling width: up to 10 inches;
• Warranty: 4 years warranty;
• Customer Reviews: 4.5/5;
• Power source: corded-electric
Pros:
Breaks rocky soil

Forward rotating tines

Low-maintenance
Cons:
You may lose ring pins while using the tiller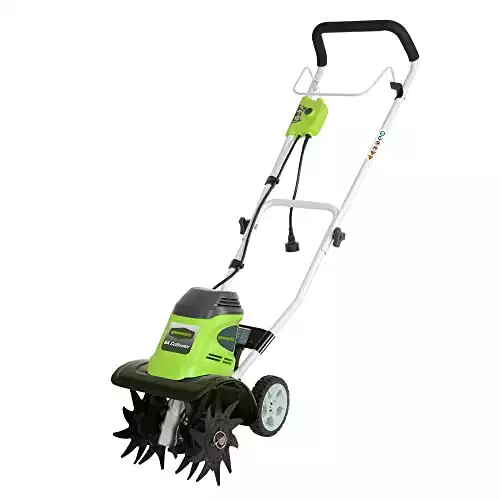 Looking for a tiller for breaking rocky soil? Meet the Greenworks Corded Tiller, 27072.
The Greenworks tiller does well even though it's electric, especially if you were satisfied with the gas engine cultivators before.
You'll get great results with an 8 Amp motor without using other gardening tools. It has 4 (8 inch long) forward rotating tines for the best performance when digging into the ground.
The folding handle is just another great feature of this affordable tiller. The electric power source is low-maintenance, and the 29.3 pounds weight makes it easy to store.
The Greenworks tiller has adjustable wheels, allowing a height for a range of tilling depth (up to 5 inches) or even for cultivating.
You'll need about 15-30 minutes to assemble it, which means that your garden will get a great tiller in no time!
The drawback of this tiller might be the ring pins; you can lose them during the tilling process if they are not well assembled.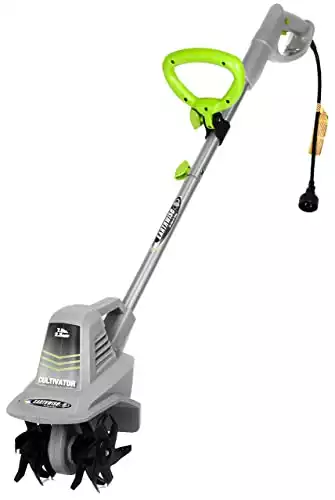 If you want a durable, lightweight tiller for breaking new ground in medium-sized gardens and flower beds, then this Earthwise electric tiller is a perfect choice.
A single lever switch and soft ergonomic grip make this tiller a great, eco-friendly alternative to gas-powered equipment.
If you think you don't have enough space to store a tiller, don't worry; this tiller weighs only 8.8 pounds, so storage isn't an issue at all.
You can also use this tiller for removing weeds.
However, it may take some time to assemble it, and the tiller may bounce during tilling.
Sun Joe 24V-X2-TLR14-CT Cordless Front Tiller/Cultivator
• Product Dimensions: 55 x 14 x 43 inches
• Product weight: 22.6 pounds
• Tilling depth: 7 inches
• Tilling width: 14 inches
• Customer Reviews: 4.3/5
• Power source: Battery powered
Pros:
Powerful motor

Lightweight

Easy storage
Cons:
Trigger handle may be hard to use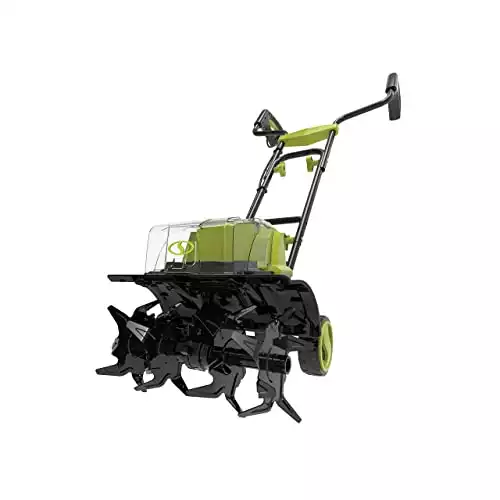 The cordless front tiller/cultivator by Sun Joe has all you need; it's powerful, durable, adjustable, and easy to use.
This tiller has a 500 watt power, brushless motor that runs cooler and lasts longer than tillers with brush motors.
It has 4 steel tilling blades that make it capable of tilling 7 inches deep and 14 inches wide, so it will control weeds, slice through the soil, and prepare plant beds in no time.
You can adjust the height to 3 positions. Its easy-glide wheels enable maximum mobility in medium-sized gardens or yards.
Although the trigger handle is designed for safety, it can be hard to use, especially if used for a longer time.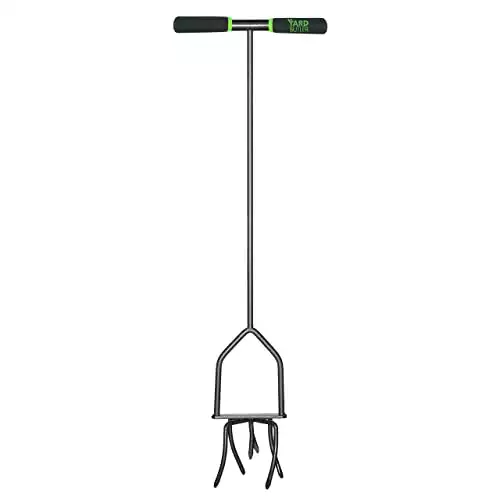 If you are looking for a hand tiller that will last for a lifetime, the Yard Butler Twist Tiller should be your choice.
Loosening, tilling, turning, and aerating the soil; this handheld tiller does it all in no time!
This tiller promotes the free flow of air, water, and fertilizer.
The Yard Butler aerates the soil, promoting the free flow of water, air, and fertilizer for a healthy and beautiful garden and yard.
This heavy-duty hand tiller can last for a long time due to its powder-coated, durable steel construction. It's 37 inches tall and 7 inches wide, making it easy to store. It weighs only 4.5 pounds, which reduces back stress and is suitable for gardeners of all ages.
If you need to mix peat moss amendments or fertilizer and prepare a raised bed for planting or removing weeds, use this hand cultivator.
Of course, one of the best things about hand tillers is that they are quiet, and you'll only hear the sounds of nature.
This hand tiller may not be suitable for hard soil as the prongs may bend.
FAQs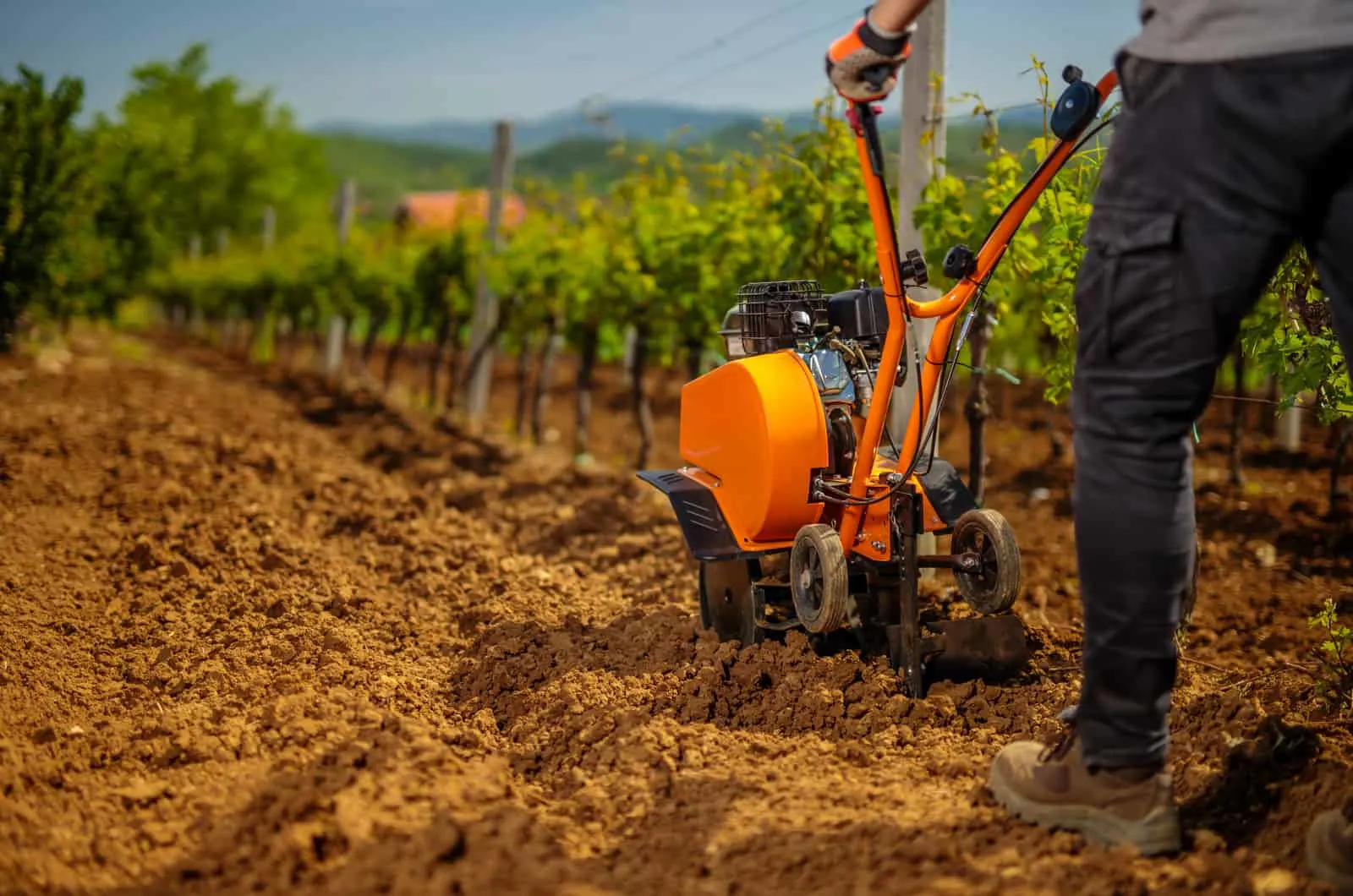 Can I use a tiller to break up roots?
A garden tiller can be used to break up roots but consider a few things. First, the garden tiller will do well for smaller roots. However, the amount of roots you can break depends on the tiller depth and blade size and the root type, depth, and size. The biggest problem is that the tiller might jump if the roots are larger. Therefore, if you are unsure about the size, depth, or type of the roots, you may want to skip tilling as it can be dangerous.
Can you break ground with a front tine tiller?
You can break ground with a front tine tiller. Still, remember that front tine tillers are suitable for smaller gardens and preparing new soil but can't go deep like rear tine tillers. However, they are easy to store, lightweight, cheaper, and easier to handle. If you are about to purchase a tiller and you can't decide which type to buy, I suggest a rear tine tiller for breaking new ground.
Wrapping Up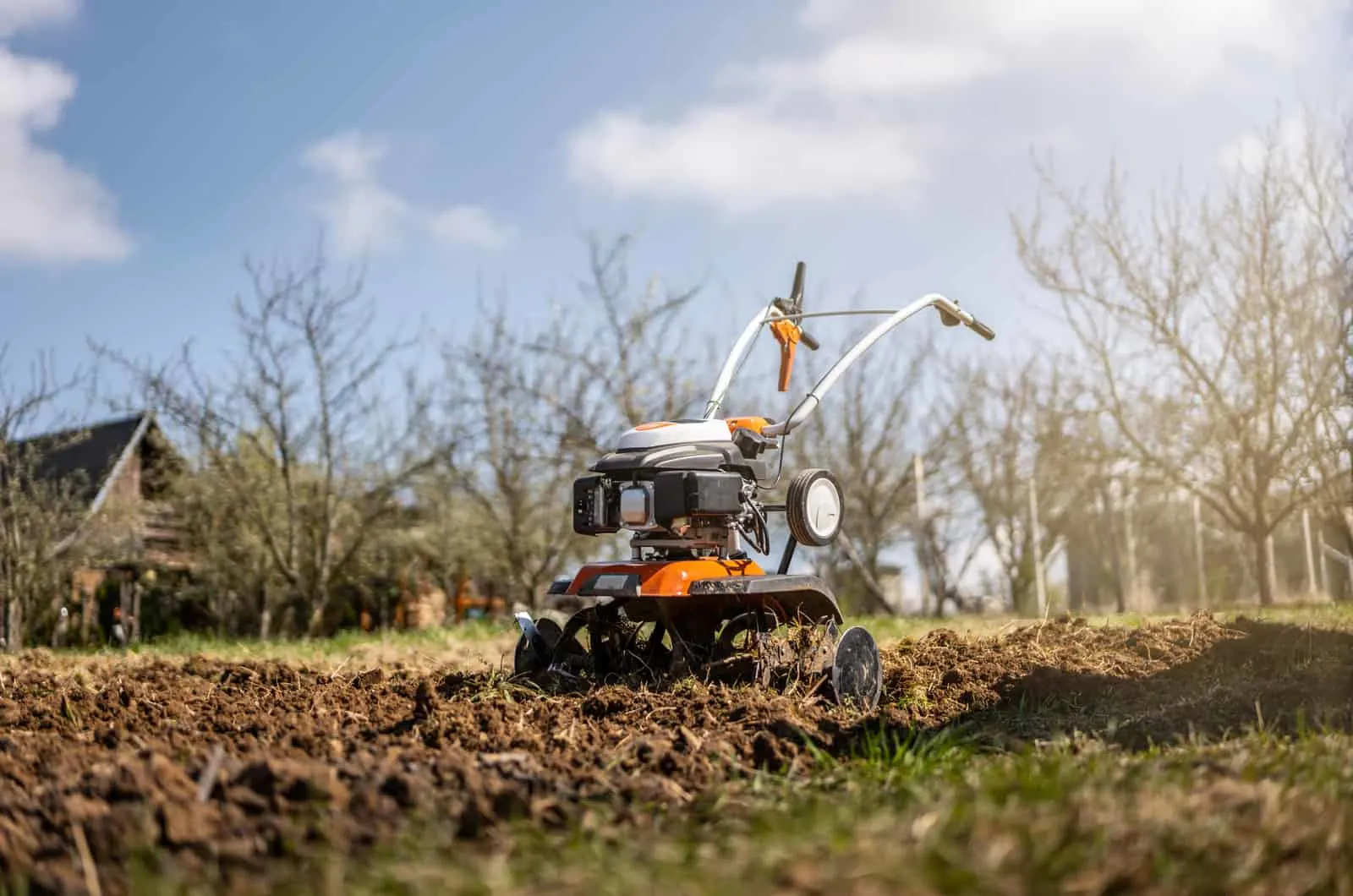 Tilling new ground isn't hard if you use a good tiller. There are a few things you have to take into consideration if you want to break new ground; the tiller should be powerful, affordable, easy to handle and store, and shouldn't be too big or weigh too much.
I made a list to help you choose the best tiller for breaking new ground.
The list isn't long, but you don't need too many options, and you can quickly decide which one works best for you.
Each tiller on the list has pros and cons, but the great thing is that there are way more pros, so whichever you choose, you won't be wrong!
Until next time!