Positive Bloom is an Amazon Associate and we earn from qualifying purchases through these links at no extra cost to you.
Having a weed-free lawn is a tough job, but this article will definitely help you. Bermuda and centipede grasses are warm-season grasses, so it might be a bit trickier to get rid of those grassy weeds.
Finding the best weed killer for bermuda grass and other warm-season lawn grasses can be quite challenging, as we all know that herbicides shouldn't be applied in higher temperatures.
However, we have gathered a list of amazing lawn weed preventers and weed killers that work great on small and large areas. They're also great for golf courses, etc.
Remove the ugly chickweed, nutsedge, and spurge with our favorite weed control chemicals that won't harm your grass.
Best Weed Killer For Bermuda Grass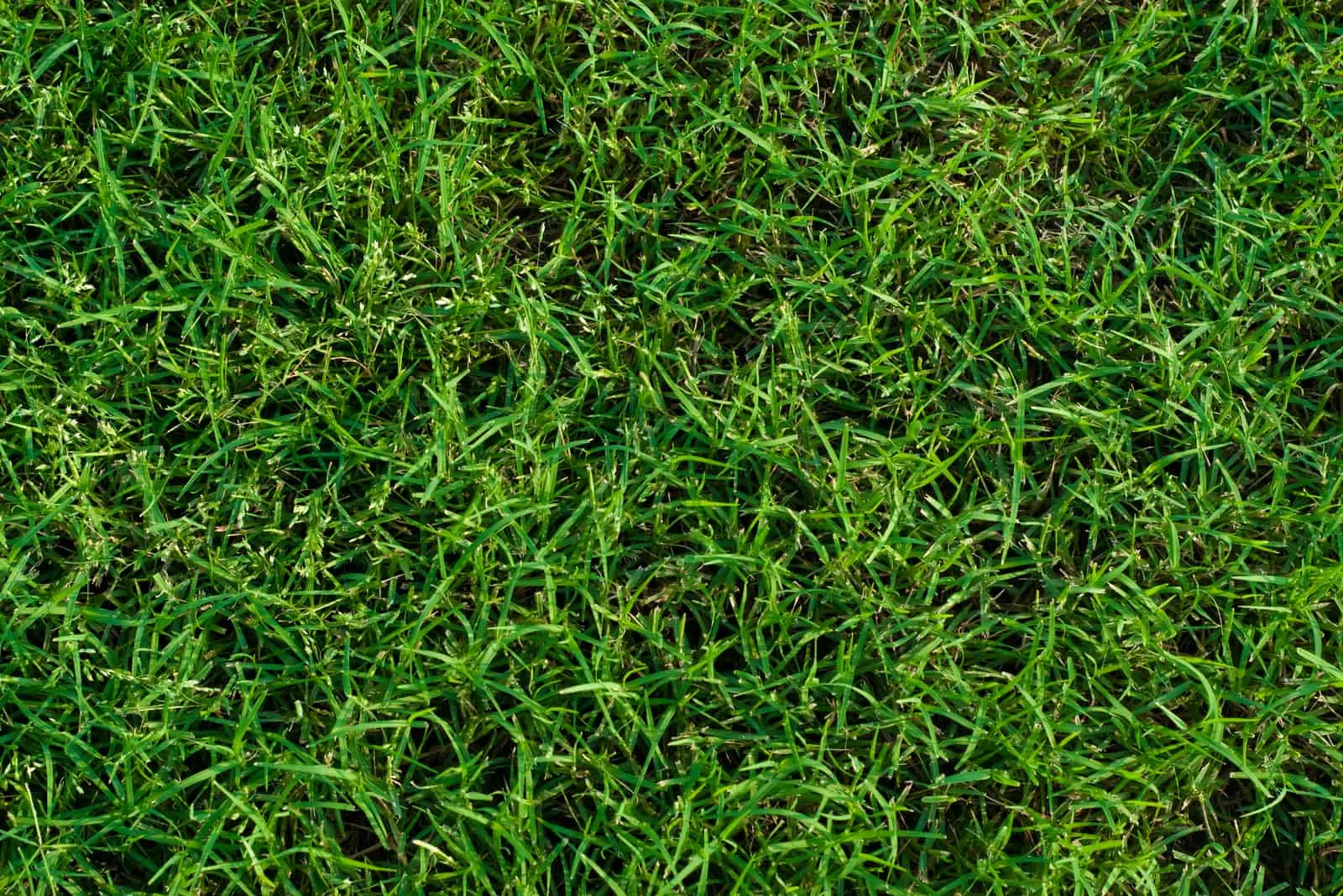 Not every homeowner is a fan of dandelions growing on their bermuda grass lawn, so we gathered this list of herbicides that will prevent them while keeping your precious lawn safe. We included both pre and post-emergent weed killers that can get rid of common weeds very quickly.
You simply have to follow the instructions and avoid spraying the lawn when temperatures are high, which can cause a lot of damage. Other than that, you're good to go!
Let's look at our top picks!
Southern Ag Surfactant For Herbicides
• Improves the results of herbicides
• Can be used with almost all herbicide sprays
• Customer review: 4.6/5
Pros:
Speeds up the weed-killing process

Easy to mix and use

Adheres to leaves more easily

Speeds up the natural process of herbicides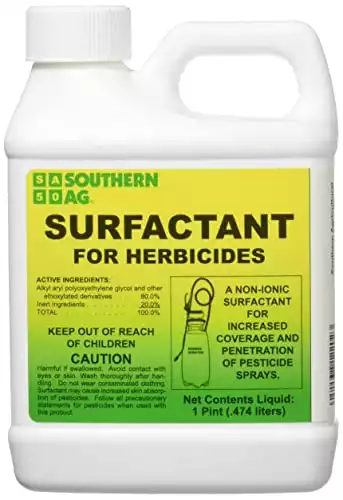 Southern surfactant herbicide is a wetting agent that increases the penetration of herbicides, reduces water tension, and improves the overall effectiveness of weed killers. You can use it with almost all herbicide sprays, including Brush killer and 2,4-D.
With most herbicides, you don't have to mix more than one teaspoon of surfactant per gallon of water, but if you use it with MSMA herbicides or roundup, you should mix one tablespoon per gallon.
We love this product because it speeds up the effect of herbicides. You simply spray the lawn in the afternoon, and by morning the weeds are all dead and gone. You can also get rid of different types of stickers in the grass with this herbicide.
Prodiamine 65 WDG Herbicide
• Pre-emergent grass and broadleaf weed control
• Active ingredient is prodiamine
• Customer review: 4.6/5
Pros:
Easy to use

Highly effective

It can last a long time
Cons:
Pricey

Can reduce root growth and density of bermuda grass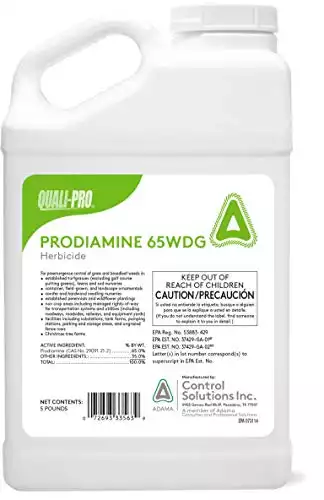 The good news is that you need very little of this product to make it work, and if your lawn isn't too big it can last for years. Generally, you should use 0.4 oz (11 g) per 1000 square feet (93 square meters) once a year, but we spray our lawn with herbicides at least twice a year.
You don't have to worry about burning your turfgrass, simply cut the amount in half and use 0.2 oz per 1000 sq ft.
Not all types of grasses react the same way to prodiamine, and it can reduce the root density and growth of bermuda grass, which reduces its ability to take the nutrients it requires. Your fescue lawn may react even worse, while zoysia is pretty resistant and can tolerate prodiamine twice as well.
However, it will kill all broadleaf weeds around it, and you can say goodbye to annual bluegrass and crabgrass. Simply apply it in the early spring and enjoy a weed-free summer. Fill your sprayer again in the fall, and reapply the herbicide for best results.
Here's a video that will help you with your first application of Prodiamine 65 WDG:
Roundup Ready-To-Use Grass Killer III
• Non-selective lawn weed killer
• Comes with a sure shot wand
• Ready to spray
• Customer review: 4.5/5
Pros:
Ready to use

Kills weed to the roots

Easy to use

Works quickly
Cons:
May kill your grass if you don't use it during the dormancy period

Treats only up to 400 sq ft (37 sq m)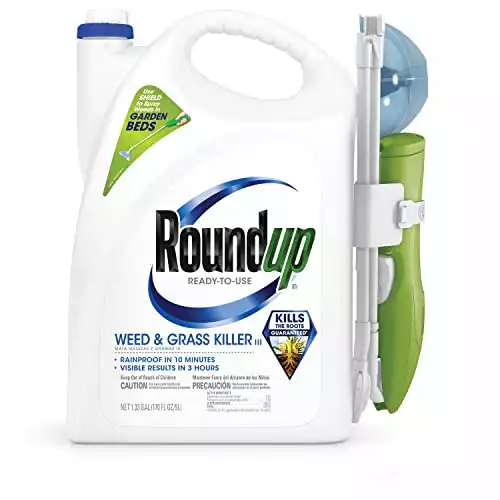 You can definitely use this product to kill weeds in flower beds, vegetable gardens, and around trees, etc., but if you want to use it on your bermuda grass lawn, you have to be extra careful.
One of the active ingredients is glyphosate, so you should only use it when your bermuda grass enters dormancy or else you'll kill it.
If your lawn is green all year round, it means that it doesn't enter winter dormancy and this product will definitely kill it. However, it comes with a protective shield so you can limit the spraying area and the damage done to your lawn.
It is rainproof within 10 minutes of application, and after three hours you should see the results. It kills many different types of weeds and is our favorite goosegrass killer that somehow persists in winter.
It might not be as safe as BioAdvanced lawn weed and crabgrass killer as you can't use it when your lawn is still green, but it works like a charm in winter.
Syngenta Tenacity Herbicide
Pros:
Post and pre-emergent herbicide

It can be used any time you seed

It controls over 40 weed species
Cons:
It can harm warm-season grasses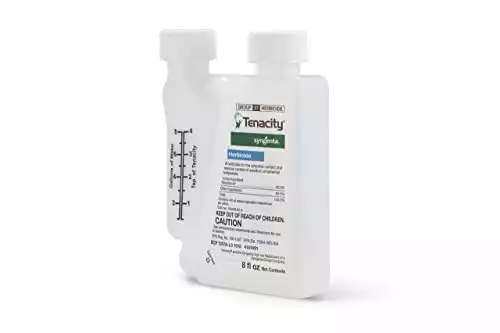 This herbicide works best with a surfactant, but will still work on its own. It contains over 40 monocot and dicot species, including yellow foxtail, crabgrass, sedges, etc. It can be used both as a pre-emergent and post-emergent herbicide due to mesotrione, its active ingredient.
It is safe to use on both established and newly started turf, but when it comes to bermuda grass you should use it when it enters dormancy to reduce the possibility of damage.
It works by inhibiting the process of photosynthesis, and you can use it on fescue, ryegrass, Kentucky bluegrass, and other cool-season grasses, as well as bermuda grass and St. Augustine grass.
This video offers some great tips for using this product:
Scotts Turf Builder Weed And Feed
• More powerful clover and dandelion control
• Both fertilizer and weed killer
• Safe for warm and cool-weather grasses
• Customer review: 4.4/5
Pros:
Easy to spread and use

2-in-1 fertilizer and herbicide

Covers up to 5000 sq ft (464.5 sq m)
Cons:
Takes about two weeks until you see results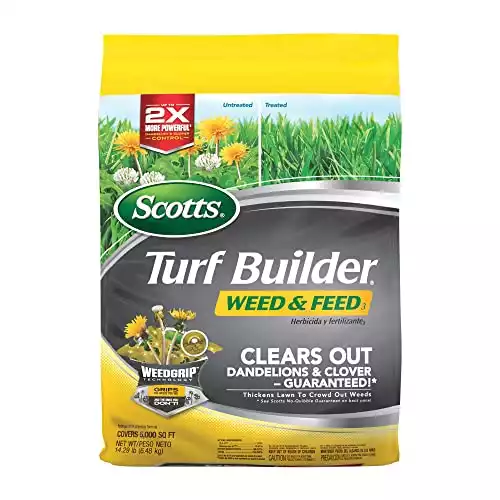 If you're into lawn care, then you probably know how annoying weed seeds can get after they germinate. However, Scotts turf builder weed and feed is a fantastic way to remove clover and dandelion from your lawn and keep it nice and fresh.
It also fertilizes your lawn to make it mesmerizingly green, and although you'll probably have to mow it more frequently, I'm sure you won't mind once you set your eyes on its incredible color!
You can use it twice a year on your bermuda grass or any other Florida grass type, you just need to simply follow the instructions on the package. The good news is that you can order it on Amazon, so you'll never run out!
Always use it on a damp lawn for the best results.
Southern Ag Amine 2,4-D Weed Killer
• Selective herbicide
• Ideal for different kinds of turf
• Pre and post-emergent herbicide
• Customer review: 4.4/5
Pros:
Easy to mix and use

Ideal for a variety of ornamental turfs

Economical

Highly effective
Cons:
It takes two weeks to kill weeds

Can stunt bermuda grass growth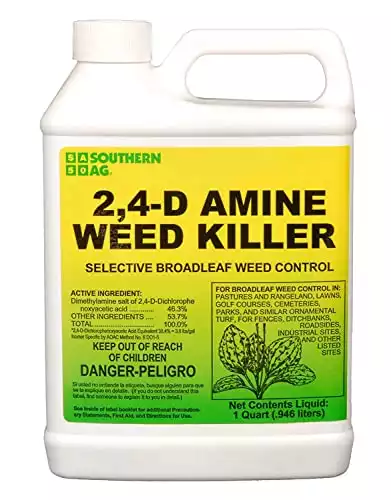 A great thing about this herbicide is that it contains the chemical 2,4-D, which kills both broadleaf and grassy weeds. You can experiment with different herbicides like Dicamba and Quinclorac, but they all do pretty much the same job.
Southern Ag Amine 2,4-D weed killer is ideal for pastures, golf courses, lawns, parks, and other ornamental turfs. It is rather economical, and 2-3 tablespoons can get you a long way by covering up to 1000 square feet (93 sq m) when dissolved in 3-5 gallons (11-19 l) of water.
It is a pre-emergent and post-emergent herbicide, and the best way to apply it is with a fan-like nozzle and low-pressure sprayer.
SedgeHammer Turf Herbicide
• Kills nutsedge
• Selective weed killer
• Ideal for both cool and warm-weather grasses
• Customer review: 4.4/5
Pros:
Easy to mix and use

Effective broadleaf weed killer

Economical

Safe for your lawn
Cons:
It takes about five weeks to kill weeds completely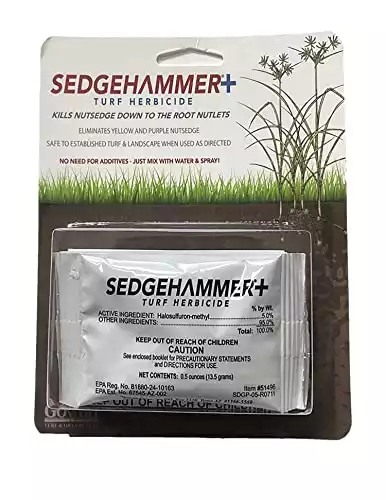 SedgeHammer herbicide effectively kills nutsedge once it emerges on your lawn without damaging it. It's ideal for all kinds of grasses, including bermuda grass, St. Augustine grass, Kentucky bluegrass, etc.
You just need to mix half an ounce (14 g) with a gallon (3.8 l) of water and spray the weeds thoroughly. Purple and yellow nutsedge and other broadleaf weeds won't stand a chance.
You need to follow the instructions to know when to spray your turf with this herbicide, but in general, you should avoid doing it when your lawn is damp or it's about to rain. You must also bear your mowing schedule and the growth stage of the weeds in mind before applying it, but the instructions on the package can help you with all of that.
You can apply this herbicide two days before or after mowing, and not more than four times a year. (But, to be honest, who has the time to spray herbicides on their lawn more than three times a year?)
You should avoid coming into direct contact with this chemical, but as soon as the treated area dries, you and your pets can safely play on weed-free grass.
Quinclorac 75 DF Selective Herbicide
• Effective against a variety of weeds
• Active ingredient is quinclorac
• Ideal for different grass sites
• Customer review: 4.4/5
Pros:
Economical grass

Easy to use

Doesn't hurt tolerant grasses
Cons:
Can hurt sensitive grasses like Bahia grass and St. Augustine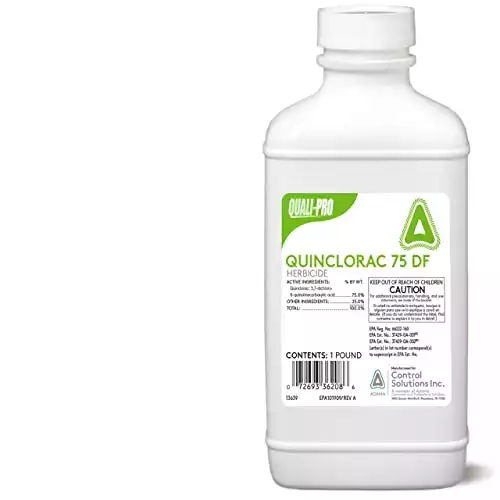 You've probably heard of Quinclorac, and for good reason! It takes less than two weeks to kill crabgrass completely, and you can see the effects within 24 hours. It is a post-emergent herbicide that bermuda grass can tolerate quite well.
However, it can lead to the yellowing of bermuda grass, but don't let it worry you. Simply apply some nitrogen fertilizer and your lawn will be as good as new.
You should dissolve 0.36 oz (10 g) of this herbicide in a gallon (3.8 l) of water and spray it onto the weeds. You'll notice that the weeds start looking ill after 24 hours, and after ten days almost all of them will be dead and gone.
Don't mow the lawn two days before applying this herbicide for the best effect. There are many don'ts when using this weed killer, and the next one is that you shouldn't water the lawn 24 hours after spraying this herbicide.
However, you should give your lawn about half an inch (1.25 cm) of water within the next 2-7 days, or if the forecast predicts rain you can just sit back and watch the crabgrass wither away.
Finally, you shouldn't apply more than 0.73 oz (20.7 g) per 1000 sq (93 sq m) ft yearly.
Here's a video on how to use it:
Image: Herbicide Consumer Concentrate
• Post-emergent selective weed killer
• Works on cool and warm-season turfs
• Treats up to 6000 sq ft (557 sq m)
• Customer review: 4.3/5
Pros:
Kills grassy weeds

Ideal for cool and warm-weather turfs

Easy to mix and use

Safe for bermuda grass
Cons:
It takes up to five weeks to kill some weeds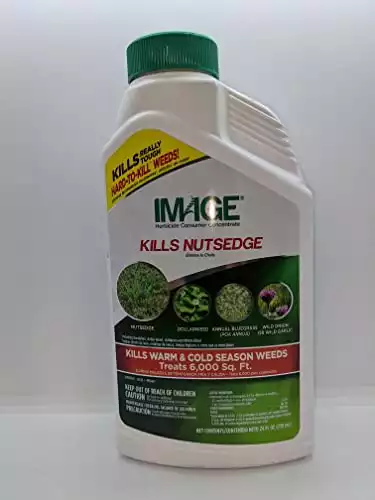 This Image herbicide is ideal for southern turfgrasses and kills nutsedge, annual bluegrass, and other grassy weeds. What more can we ask for?!
This herbicide is quite effective, but it can take up to five weeks to kill weeds. However, you can reapply after six weeks of the original application if you're not happy with the results.
It will eventually get the job done and destroy hard-to-kill weeds such as dandelion and crabgrass in dormant bermuda grass.
You can use this herbicide for spot treatment or for treating a larger area, but the mixing differs dramatically depending on which. If you use it for spot treatment, you should dissolve 2.5 fl oz (74 ml) in a gallon (3.8 l) of water. However, if you want to treat the larger area, you should mix 0.8 fl oz (23.6 ml) of Image weed killer in a gallon (3.8 l) of water to cover 200 sq ft (18.5 sq m).
Pennington UltraGreen Weed & Feed Lawn Fertilizer
• 2-in-1 fertilizer and weed killer
• Kills over 250 types of broadleaf weeds
• Covers up to 5000 sq ft (464.5 sq m)
• Customer review 4.2/5
Pros:
Ideal for cool and warm-season grasses

Promotes growth

Easy to spread and use
Cons:
May hurt St. Augustine grass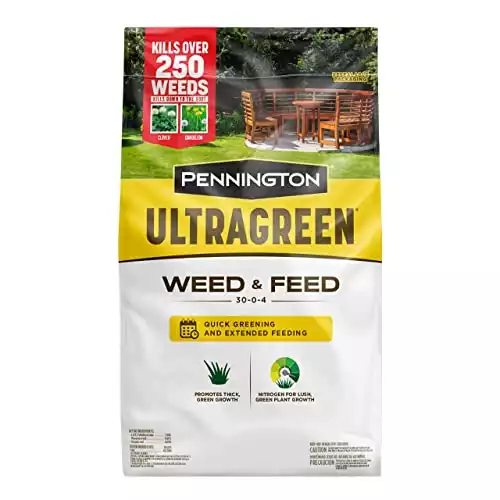 This weed and feed lawn fertilizer is highly effective. Simply spread it in spring between April and June, and your lawn will look lush green and your weeds will no longer exist.
It's great for both southern and northern types of grass, but St. Augustine isn't a big fan of it.
Mow your lawn one or two days before applying this product, and ensure that it's moist. You can water it a day or two before treating it with this weed and feed fertilizer so that it remains damp until the next watering.
When your lawn is ready, apply the fertilizer, preferably in the morning while the dew is still on the grass. Remember that you shouldn't use this product if the temperatures are consistently above 90°F (32°C).
Finally, don't water your lawn 1-2 days after the application so you don't wash off the product.
After that, get back to your lawn-irrigation routine and enjoy!
To Wrap Up
We reviewed some of the best herbicides on the market that will work wonders on your bermuda grass. The good news is that each of these products works, but you'll have to decide what the best weed killer for bermuda grass is based on your lawn's needs and your preferences.
We also presented an excellent surfactant that can speed up the effects of your herbicides immensely, so you'll have a green and weedless lawn in no time.
We have to add that even though all these products are great, they aren't 100% safe, so you have to be very careful with the time of the application and the amount you use. Thankfully, the instructions for all these herbicides, fertilizers, and surfactants are thorough, so you shouldn't have any problems.
Good luck with keeping your front yard looking healthy and as gorgeous as ever!
Until next time!
Like this post? Share or pin it for later!