What are the first things that come to your mind when I say "Black and white?" Uptight, bland, ordinary. But that doesn't have to be the case when it comes to plants.
Black and white flowers will make your landscape or home design unique and charming, and also allow those other colors to really pop!
Let this list be your guide to perfect indoor and outdoor decor, whether you want a vintage feel or a garden that stands out.
Come and check it out!
1. Anemone De Caen 'Carmel White'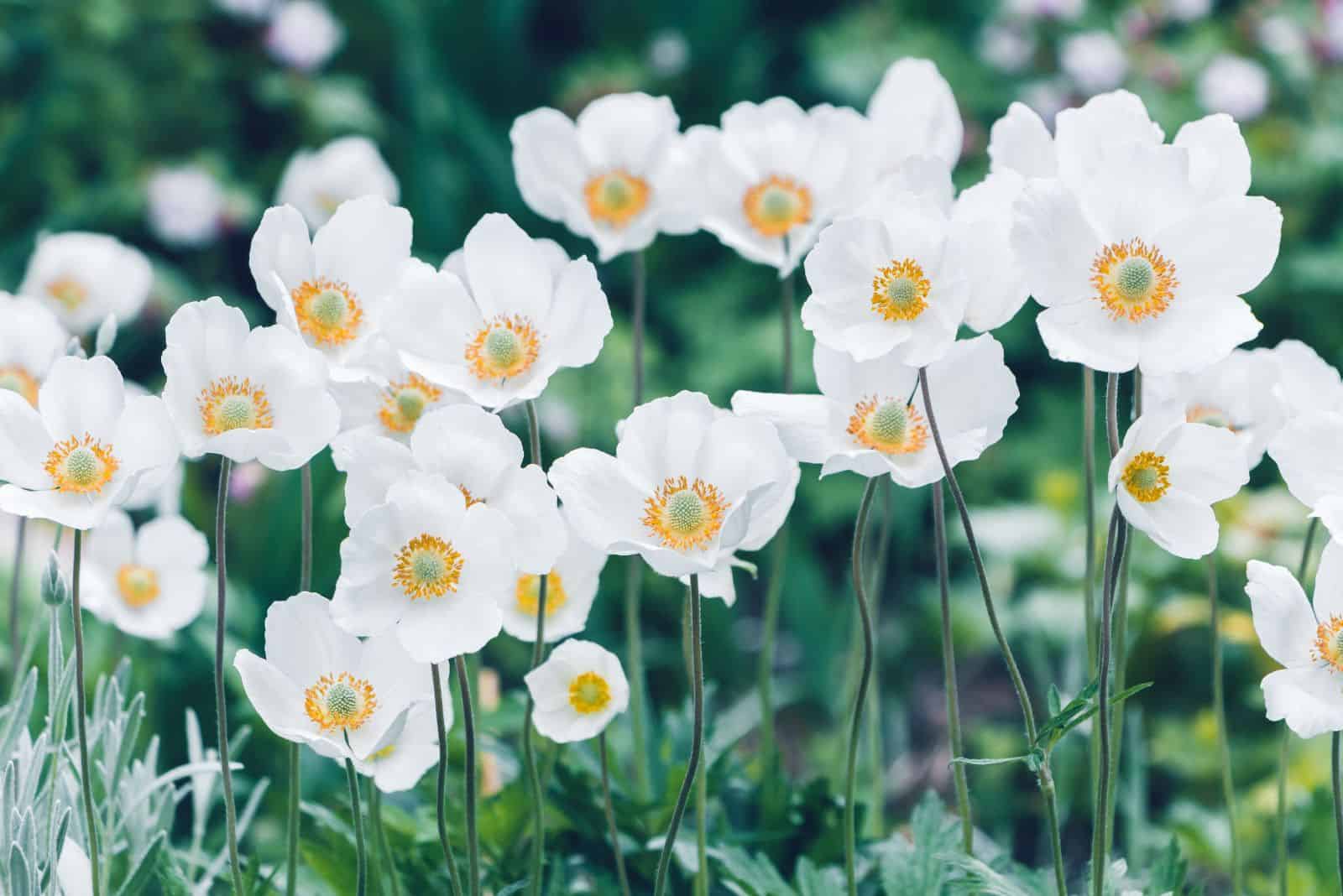 I always say, "If you want a wildflower garden but don't know where to start, plant some anemones!".
And what better way to up your game than by getting a floral embodiment of elegance.
This anemone has all-white petals with a dark blue, almost black, center and reaches no more than 16 inches in height. Combine it with red roses or similar brightly colored flowers, and you'll bring out the best of them both.
The best thing about them is that you only have to water them and prune their leaves a bit once they get established. Just make sure to plant them in fertile and well-draining soil!
Best feature: They're highly disease and deer resistant.
2. Asian Pear Flowers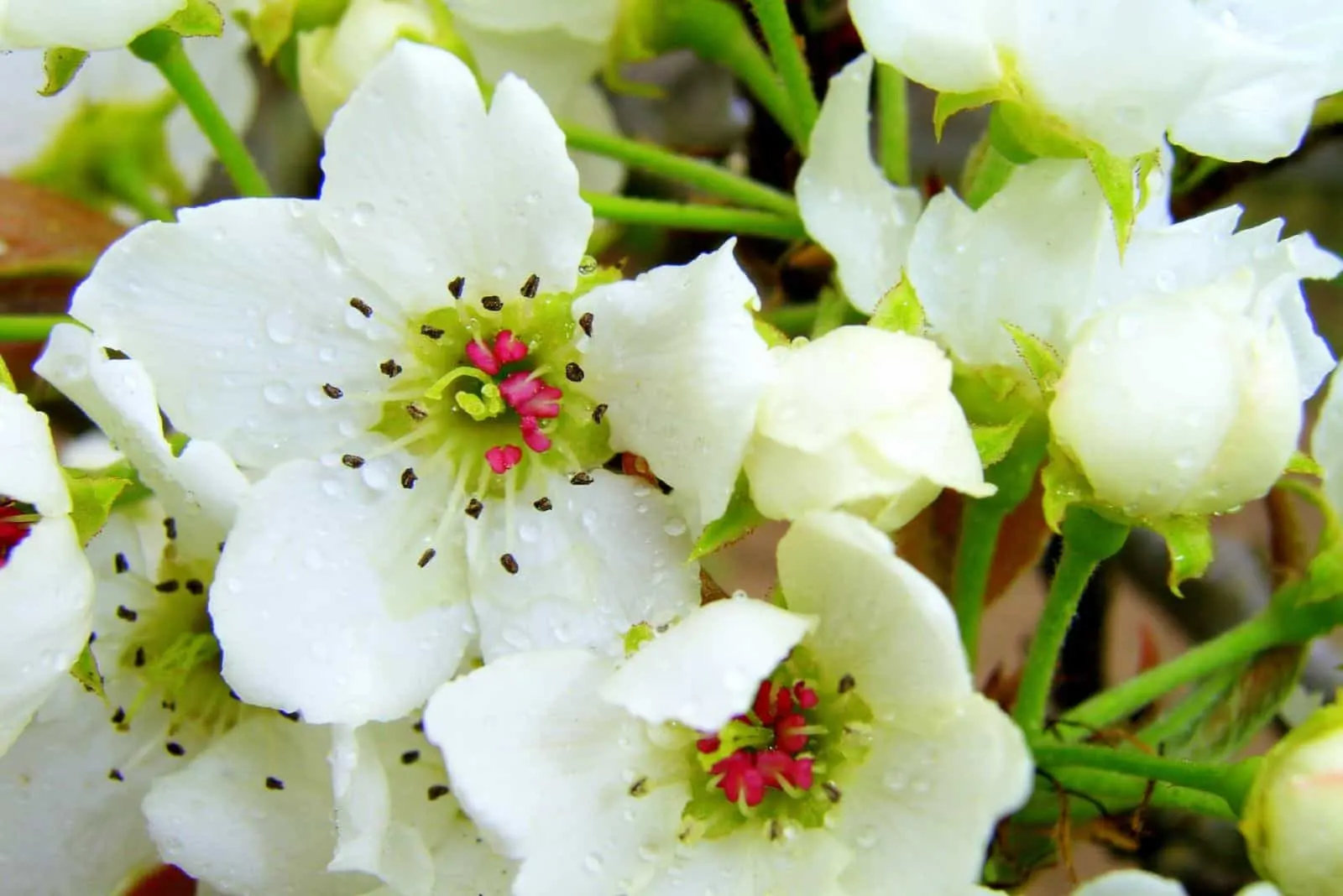 If you can't decide whether to focus on your orchard or landscaping, this fruit will help you achieve both without any fuss.
The Asian pear will flower from mid-February to late-April and adorn your yard with tiny cup-shaped flowers. The blossoms are completely white with contrasting black tips on stamens, which only makes them seem purer.
Since this is a fruiting tree, it will require some extra care on your part. You'll have to plant it close to another Asian pear tree to ensure proper pollination. Don't be stingy with the water and give your plant as much sunlight as possible to really see it thrive.
Best feature: The tree will yield the sweetest fruit between August and October.
3. Crazytunia Black and White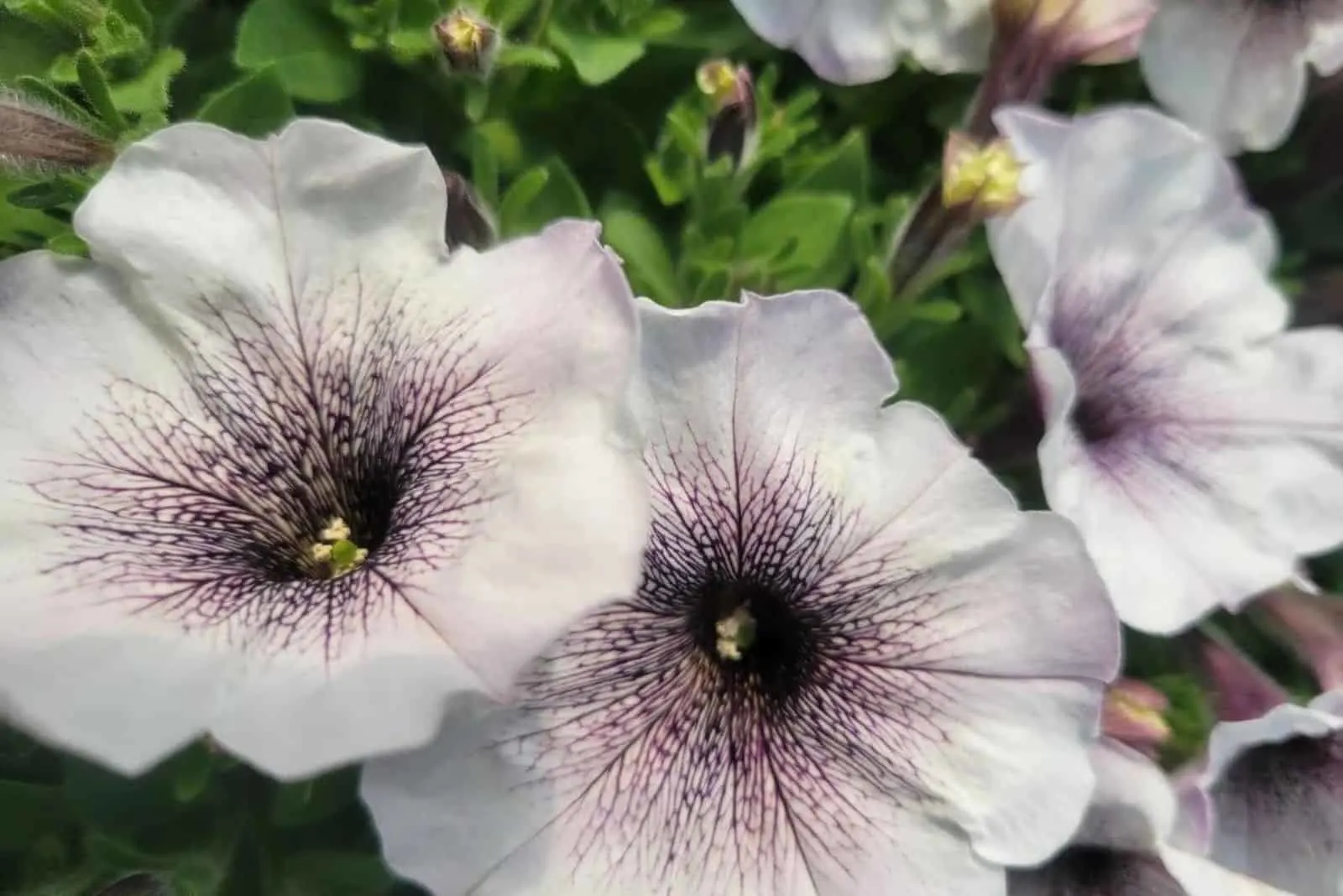 Despite their name, these petunias will introduce calm to your garden. Its large trumpet-shaped flower heads are snow-white with dark crimson webbing towards the center.
This short shrub is perfect for pots, hanging baskets, or flower beds, and will display its unique flowers in the summer.
Just make sure to keep it in a sunny location, water it about once a week, and keep it in well-draining and fertile soil.
Best feature: These black and white petunias are low-maintenance plants perfect for pots and hanging baskets.
4. False Shamrock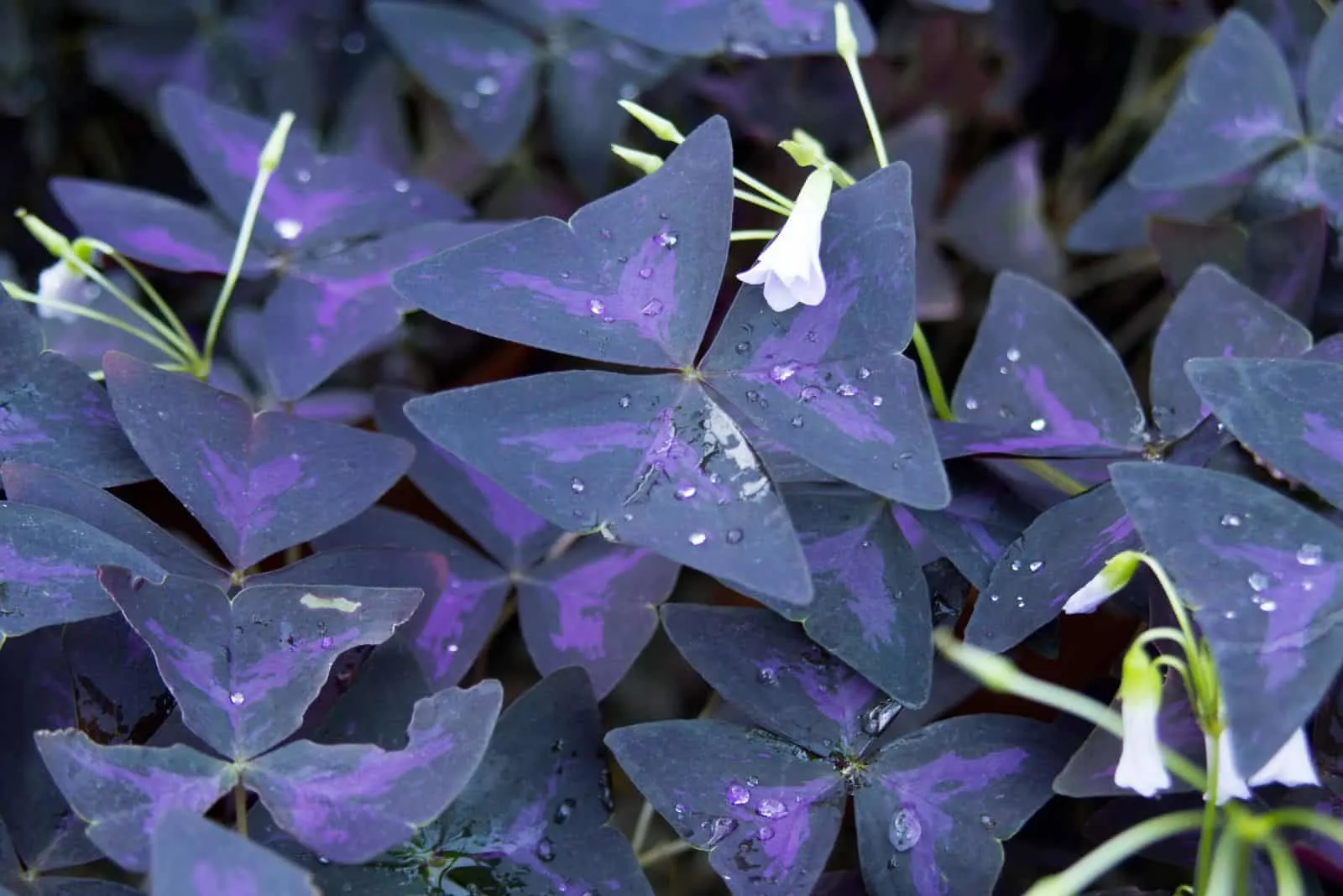 This plant isn't really black and white, but its deep crimson leaves provide a unique contrast to the tiny white flowers. You can also find it on the list of plants suitable for east-facing windows, making it perfect for both indoor and outdoor settings.
It is an ideal border plant and flowers in spring and summer. However, you must protect your kids and pets from this plant because it's toxic. It contains oxalic acid, which can cause all sorts of gastrointestinal issues.
Its attractive looks makes it hard to say no to, so if you want one or two to decorate your yard or home, remember to keep them in dappled sunlight and loose, well-draining soil.
Best feature: The false shamrock will appear dead in unfavorable conditions, but will revive itself as soon as the situation changes.
5. Flower-Of-An-Hour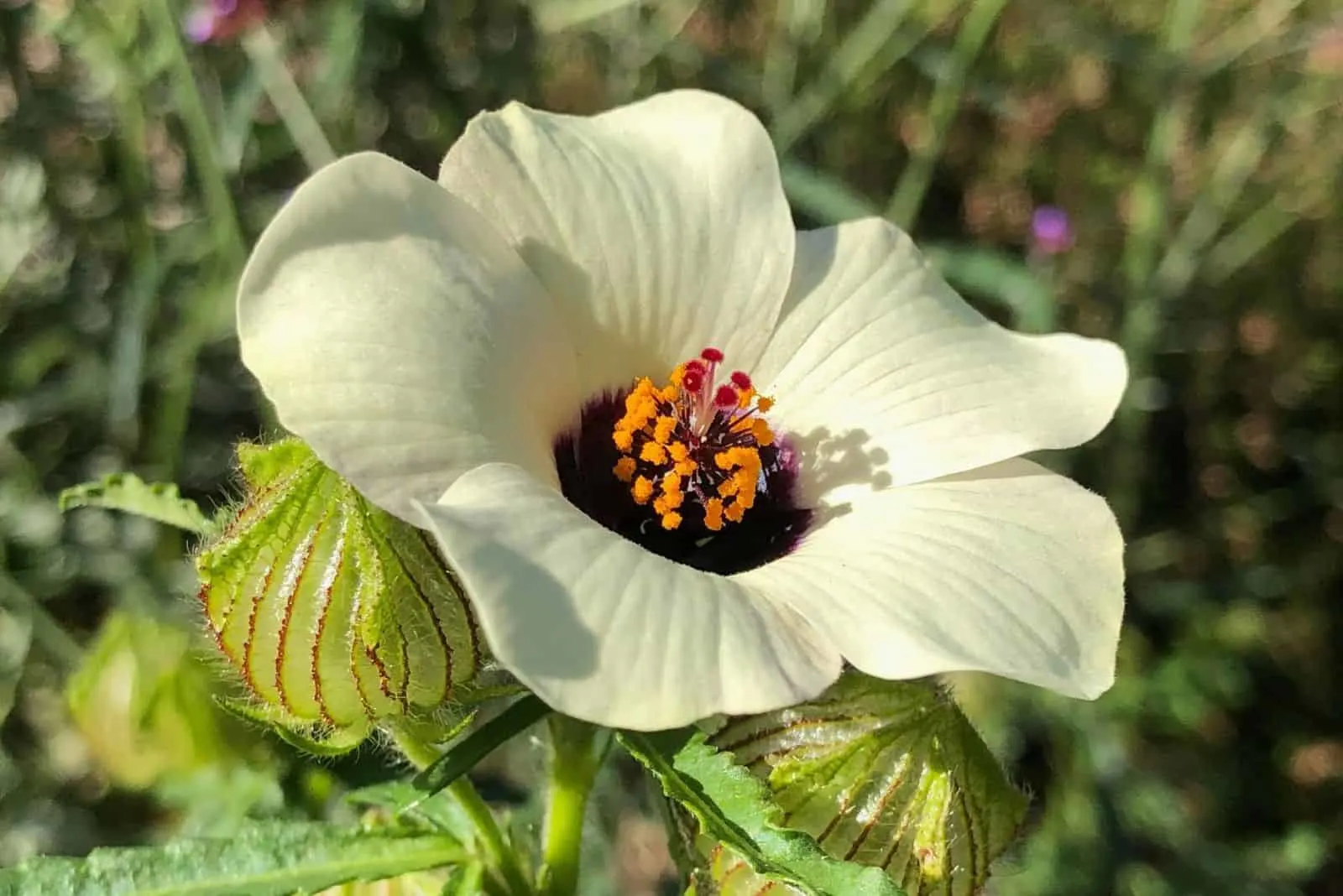 A funny rhyme isn't the only appealing thing about this plant; its pure white cup-shaped blooms, and deep purple, blackish center also add to the allure.
The flower-of-an-hour has a vining habit, so it's perfect for your vertical landscape. And since it grows quite fast and can tolerate various soil types, it's not an uncommon sight in rock gardens.
Just make sure this gorgeous hibiscus gets plenty of sunlight and water, and you'll get a garden you've always dreamed of.
Best feature: The flower-of-an-hour attracts bees, bumble bees, and even butterflies, so it's perfect for a pollinator garden.
6. Foxglove 'Pantaloons'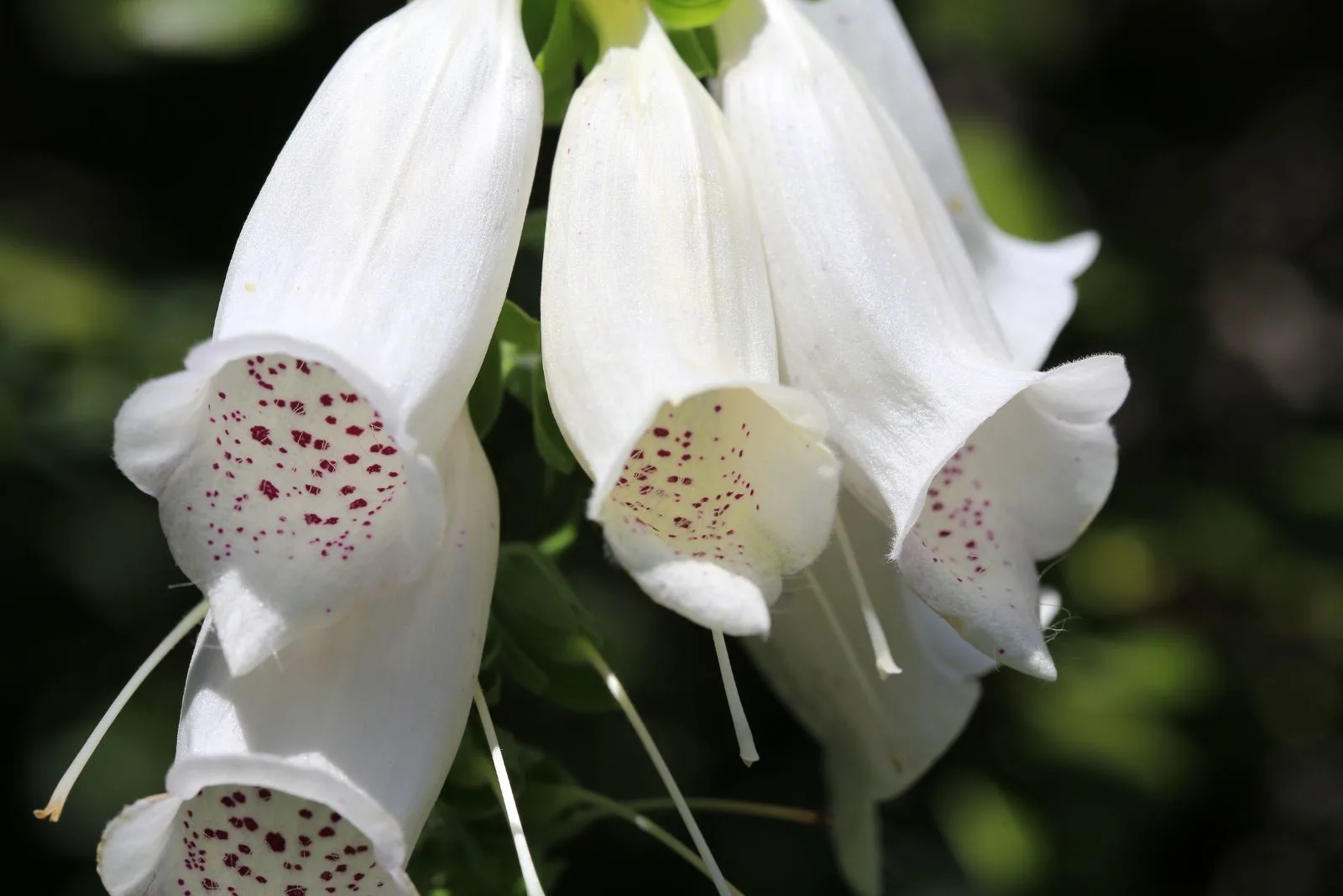 Foxglove is just one of the flowers that attract butterflies and hummingbirds, which makes it perfect for a pollinator garden.
It grows 3-4 feet tall and can be an eye-catching piece of your woodland design. Just combine it with other wildflowers and it'll reach its full potential.
Its bell-shaped cups are white, while the insides are flushed with deep burgundy shade, almost appearing black at times.
The pantaloons foxglove will stay in bloom for many weeks during the spring and summer, breathing life into your garden. You just have to ensure it gets partial sun or put it in a shadier location with well-draining and moist substrate.
Best feature: In addition to attracting various pollinators, this plant looks great in flower arrangements and can last up to a week when cut.
7. Nemophila 'Snowstorm'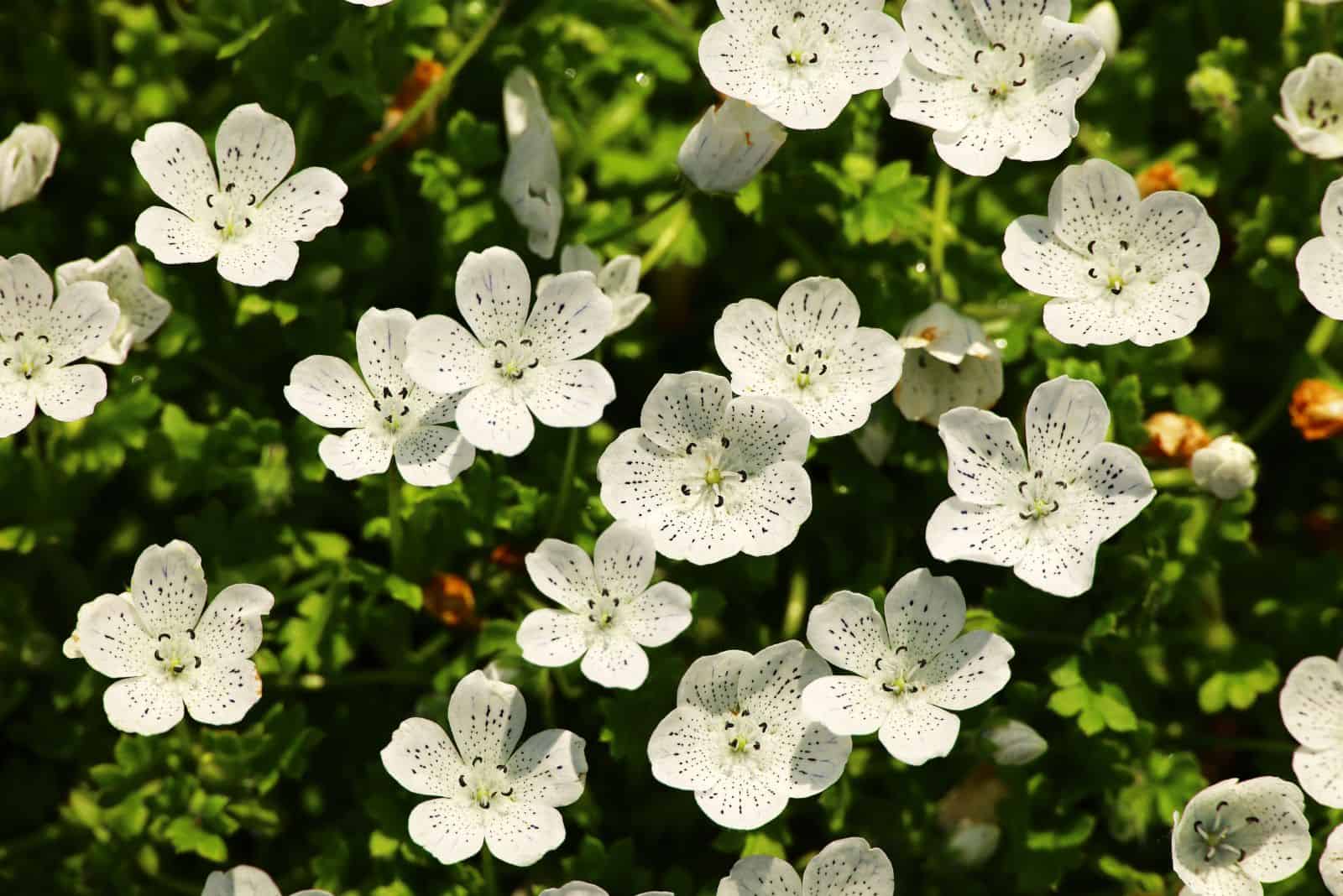 A snowstorm nemophila is a perfect way to add more depth and texture to your garden, especially if you combine it with taller plants.
It yields crystal white blossoms speckled with blue-to-black dots, and veins with almost translucent lines of the same shade.
This nemophila produces these gorgeous flowers in summer, so you can combine it with foxglove and black and white crazytunias for a richer black and white display.
It thrives in full sun or part shade and needs nutrient-rich, moist, and well-draining substrate to produce ample blossoms.
Best feature: The nemophila 'Snowstorm' is a perfect plant for flower bed edges or container gardens and attracts native pollinators.
8. Oriental Poppy 'Royal Wedding'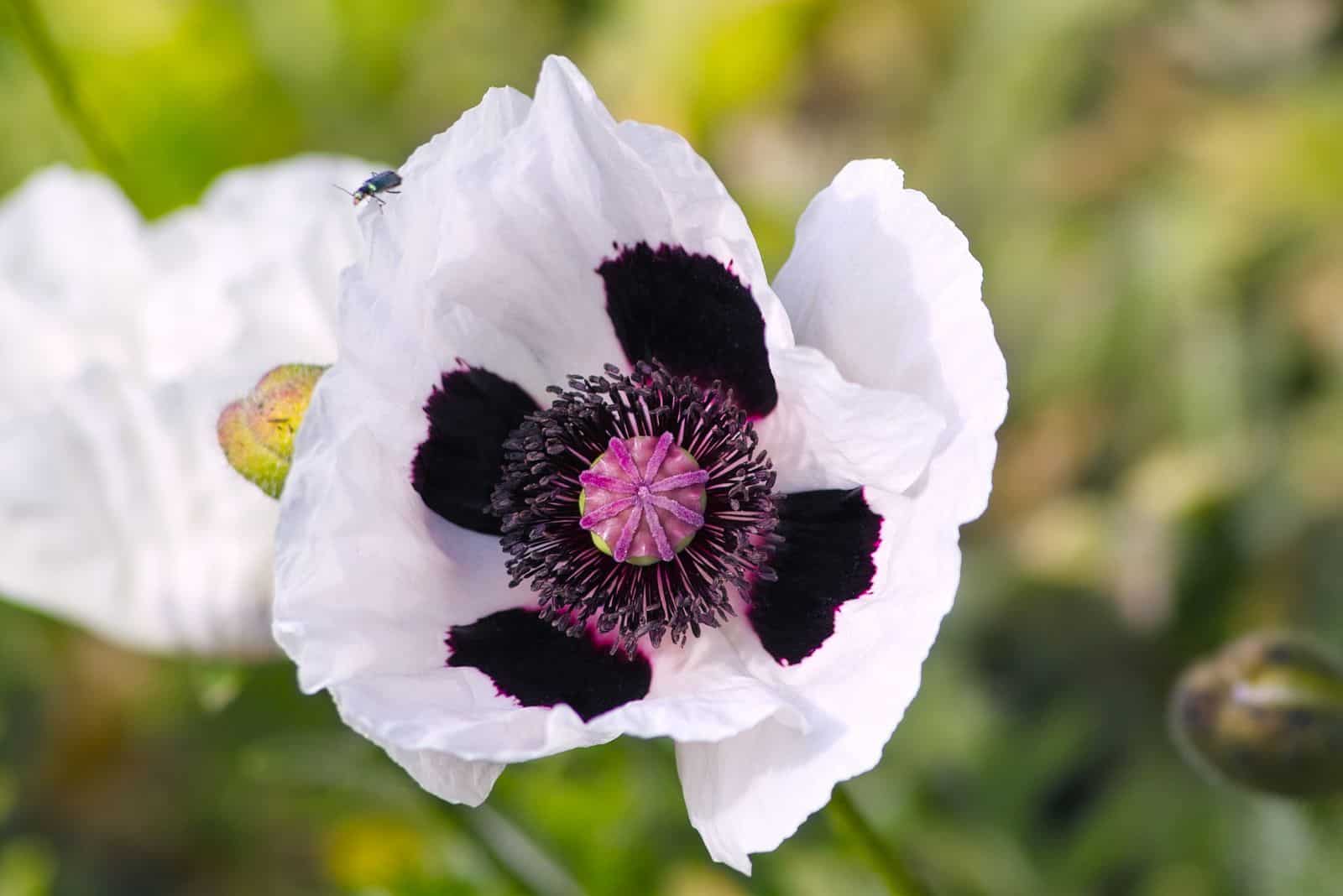 When I think of poppies, my mind goes to red flowers in fields of rye. But today I'll talk about the black and white ones, which leave an even more striking impression.
The 'Royal Wedding' is a cultivar with a classic poppy-shaped cup. However, its snow-white petals, and deep purple and black-dotted center distinguish it from other species.
If you take care of it properly by planting it in a sunny location and keeping it in nutrient-rich and well-draining soil, this poppy will bloom in spring and late summer.
Unfortunately, it doesn't do well in heat and humidity, so don't be surprised if it doesn't last into the summer.
Best feature: This oriental poppy attracts beneficial insects such as bees and hummingbirds, while repelling deer and rabbits at the same time.
9. Pansy Giant White Black Face
Pansies are one of my favorite ornamentals because they're one of the best types of flowers you can sow directly outside. It is a fuss-free plant that will bloom from May to September, depending on your climate.
The giant white black face pansy looks just like any other pansy (at least when it comes to flower shape), but this plant is truly unique in terms of color.
The white petals have a deep purple-blue, almost black blotch right in the middle, revealing some unique facial structures.
It does best in partial sun, although it can handle full sun in colder climates and heavier shade in hotter regions. Plant it in a fertile and well-draining soil, and you'll notice its rapid growth in no time.
Best feature: The plant doesn't require deadheading to produce ample blossoms, provides a warm home to various pollinators, and looks stunning in hanging baskets.
10. Rhododendron 'Sappho'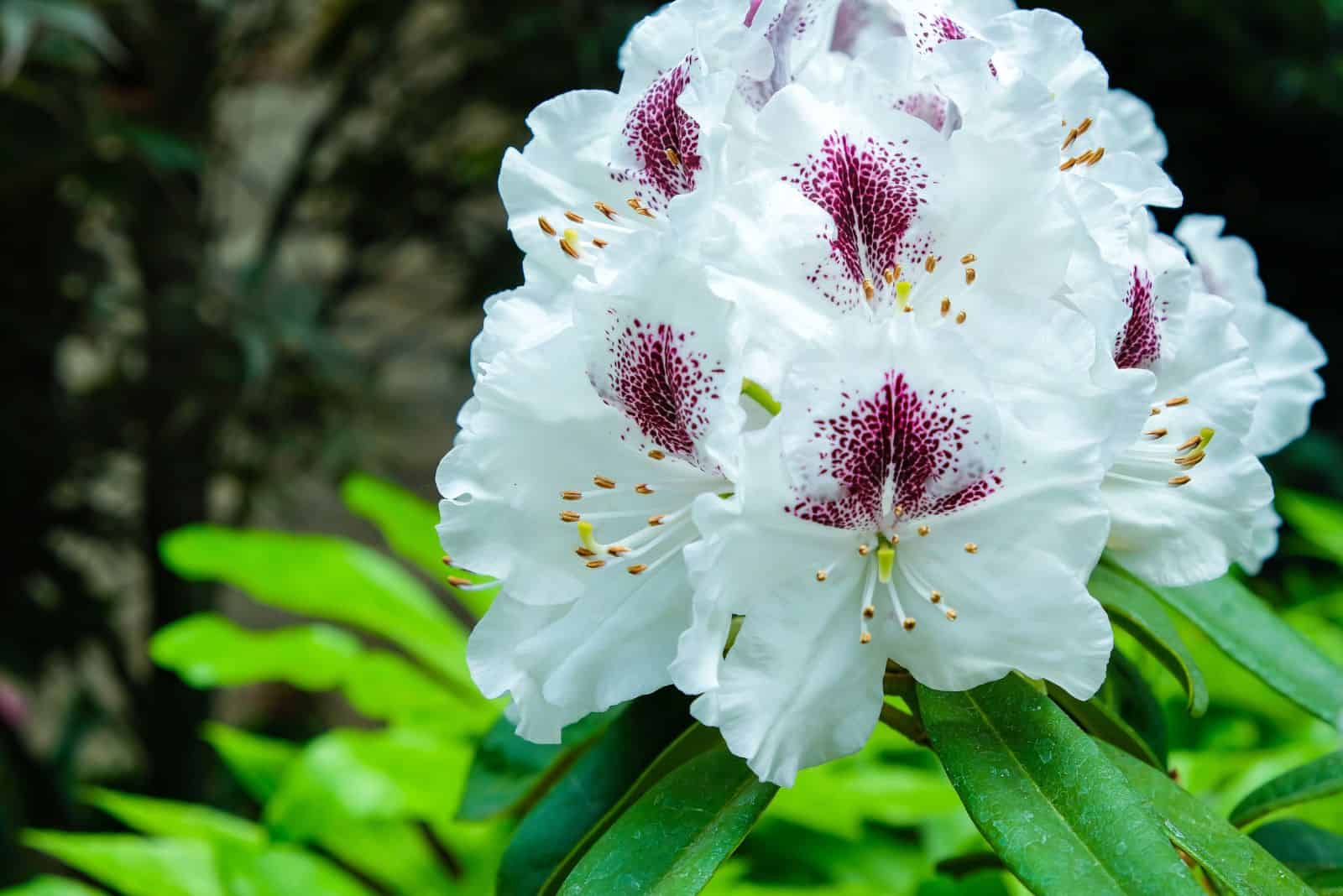 No garden is complete without a shrub; and the same goes for a black and white design.
And if you don't want to jump off topic, then planting a black and white rhododendron could be exactly what your garden needs.
This shrub produces large white funnel-shaped blossoms with wavy edges splashed with dark magenta spots.
The rhododendron 'Sappho' flowers in clusters, bearing massive bunches perfect for pollinator gardens and borders.
It will tolerate sun or some shade, but its preferred location is in dappled sunlight. Plant it in a loose, well-draining substrate and don't forget to water it frequently.
Best feature: This rhododendron will attract pollinators and your neighbor's gaze as soon as it flowers. It's also the perfect plant for a woodland garden style.
11. Silver-Laced Primrose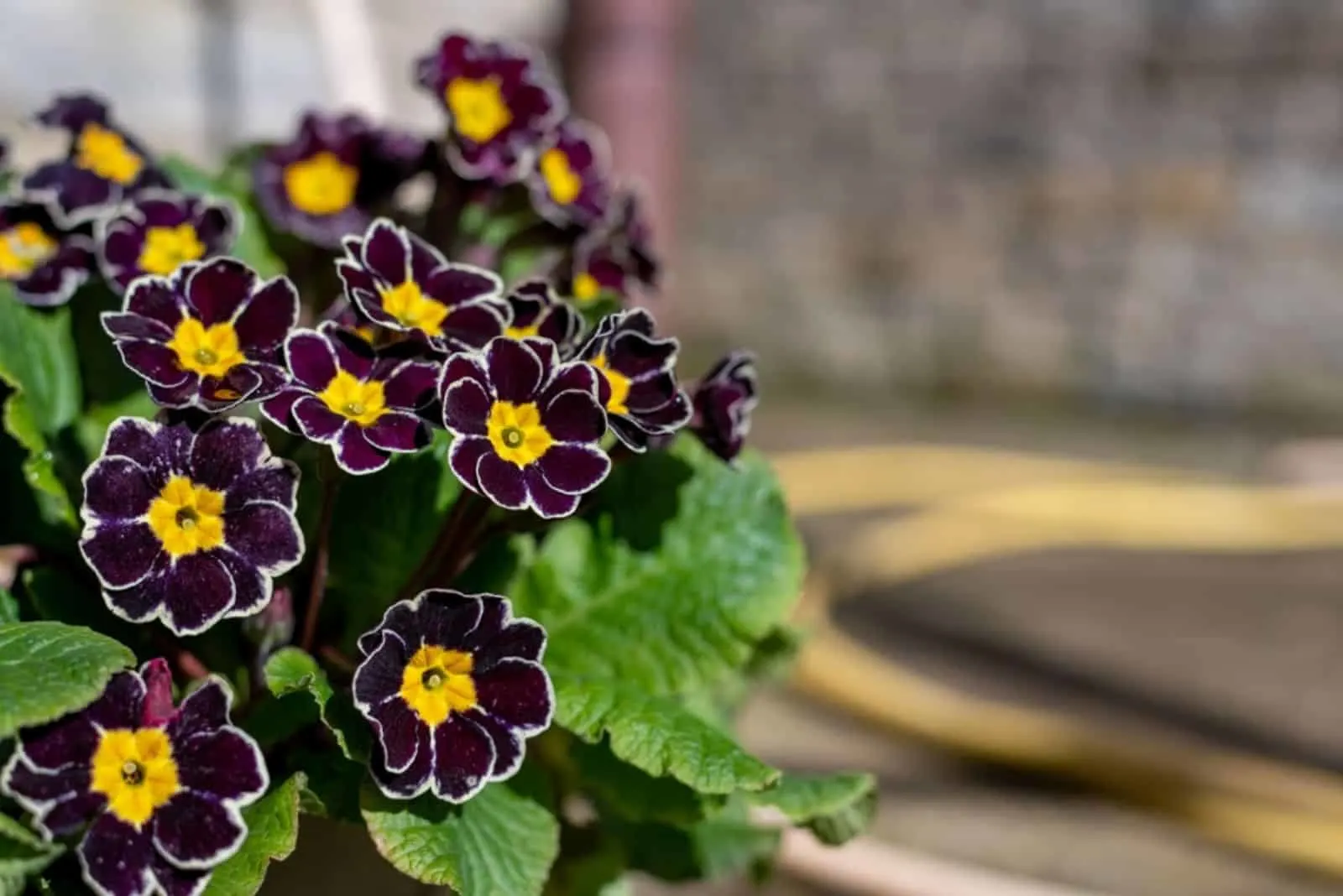 If you want to give your garden a slightly vintage appeal, then planting some black and white primroses is the way to go.
A bright yellow center suddenly transitions to black blocks on petals, ending in a white rim around them. That's how black and white adds a burst of color to your garden!
Another feature that makes them even more desirable is their size. This primrose is low-growing, so you can plant it as a ground-cover in your flower beds or let them burst from containers.
All you have to do to achieve this is planting it in a location with dappled sun and moist soil.
Best feature: Flowers are mildly fragrant, but their real super power is repelling deer and rabbits.
I hope you enjoyed this article.
Until next time!