Nothing compares to stunning garden displays during summer! The vibrant colors and fragrances of annuals make all growers want more of these plants in their gardens.
Today I'll show you 11 colorful annuals that will bloom nonstop and transform your garden into a never-ending tapestry of beauty.
You'll also learn the growing requirements of these charming plants so you can keep them happy and healthy all summer long.
Let's dive straight in!
1. Petunias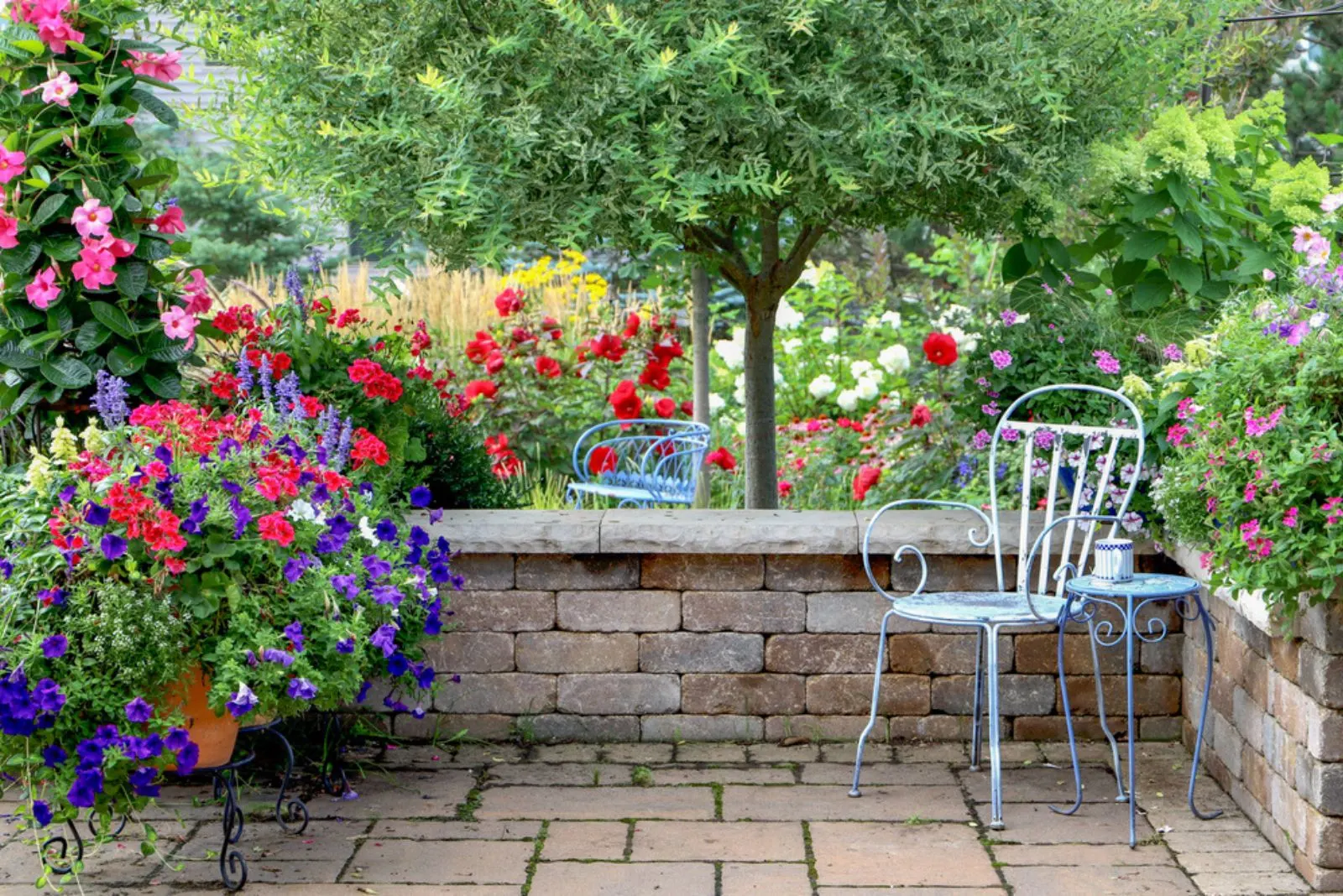 We'll start with a very popular flower among gardeners, the petunia. It comes in different shapes and hues, so there's at least one variety everyone will love!
The trumpet-shaped blossoms can be painted in soft pastels or more vibrant colors. Their soft petals will add a touch of intricacy and elegance to your outdoor space.
Their cascading growth habit makes petunias perfect for hanging baskets, so if you don't have much space and you want a container garden, this colorful annual is a great choice.
Most varieties reach 12 inches in height and spread 4 feet wide, making them perfect for borders.
These plants enjoy full sun and grow best in free-draining soil types. Remember, a healthy and happy petunia will attract pollinators to your garden!
2. Marigolds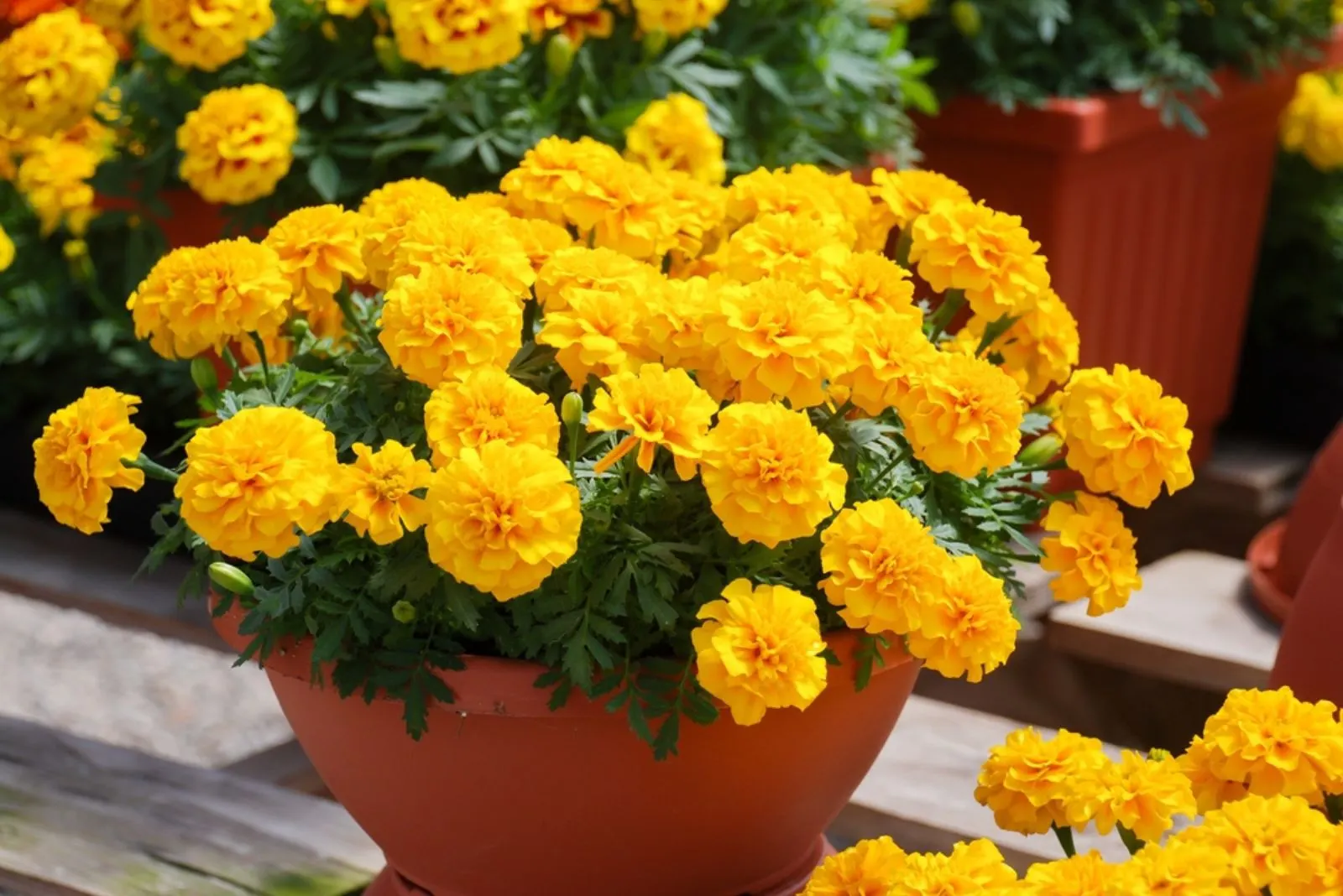 I haven't seen a summer garden without marigolds yet. The fiery orange, sunny yellow, and red hues of the blossoms make these plants perfect for every garden design.
If you are looking for a border plant, French marigolds will do the job. They typically don't exceed 12 inches tall and the blossoms will adorn your garden until the first frost.
You can also choose taller varieties such as African marigolds for a focal point.
They are a feast for the eyes, but the story doesn't end there. This is a hardy species and, similarly to petunias, grows best in direct sunlight. It's susceptible to overwatering, so avoid planting them in compact soils; choose free-draining soil types instead.
These blossoms will help you fix pest problems because their scent repels various insects. Best of all, they'll attract beneficial insects and pollinators.
3. Salvias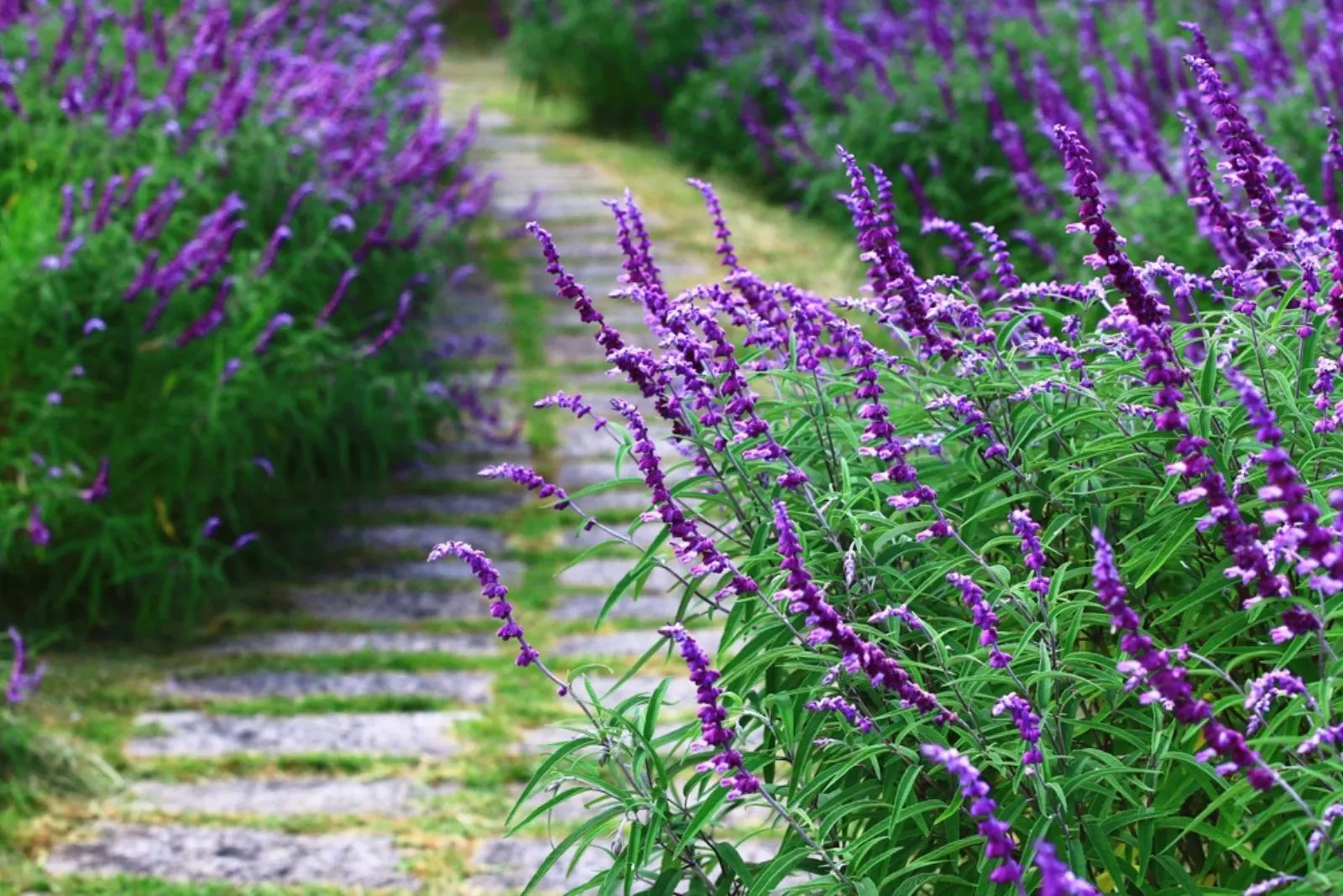 Nothing can stop salvias from blooming all season long – not even harsh sun rays. You can choose between dwarf varieties such as Salvia marcus, or tall ones such as Salvia 'Joan'.
These plants are magnets for butterflies and hummingbirds, so if your garden needs more pollinators, salvias will take care of it.
The lovely scent of salvia will make time spent in the garden even more beautiful.
If you decide on these amazing plants, make sure not to waterlog the soil. Amending the soil with well-draining materials will help you avoid this issue.
4. Zinnias
These are one of the most popular nonstop bloomers. Their daisy-like blossoms come in various hues, such as yellow, purple, white, and even green.
These plants generate an abundance of blossoms during the flowering season. This zinnia growth stage can last from two to five months.
Deadheading will help you prolong the zinnia flowering season. Find a sunny spot, promote soil drainage, and use water sparingly. These are drought-tolerant plants, so it's better to keep them without water than overwater them.
5. Geraniums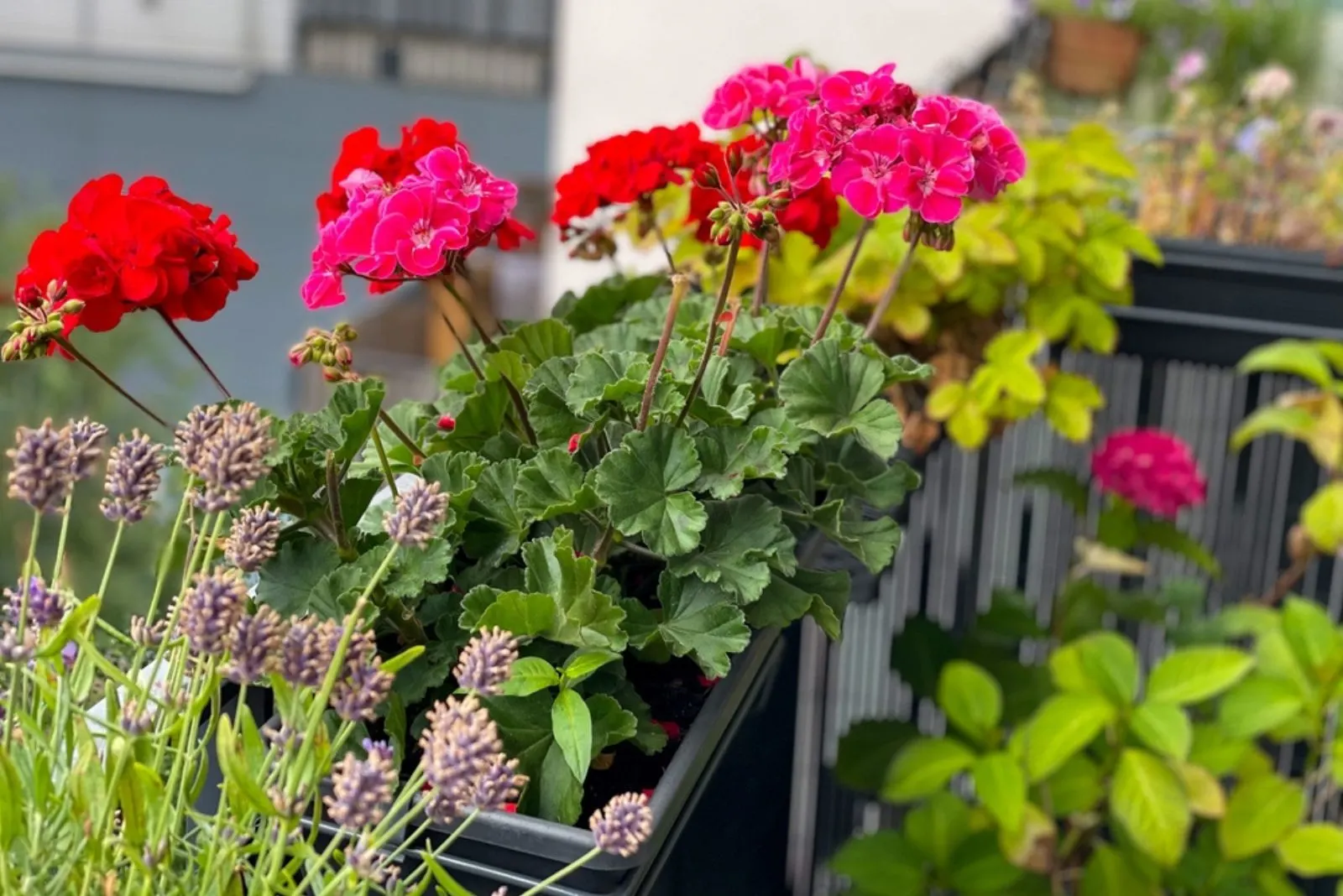 Strong sun rays and long periods of drought weaken many flowers. This is not the case with geraniums, which will thrive under all these conditions.
Gorgeous geraniums come in various hues, including red, white, orange, and pink, adding a pop of color to gardens worldwide.
If you decide on geraniums, I highly recommend feeding them approximately twice a month during the growing season. From my experience, a combination of all-purpose fertilizer and deadheading gives an abundance of lovely geranium blossoms all season long!
Remember that geraniums are excellent companions and your garden will highly benefit from them, especially because of the pollinators they attract.
6. Cosmos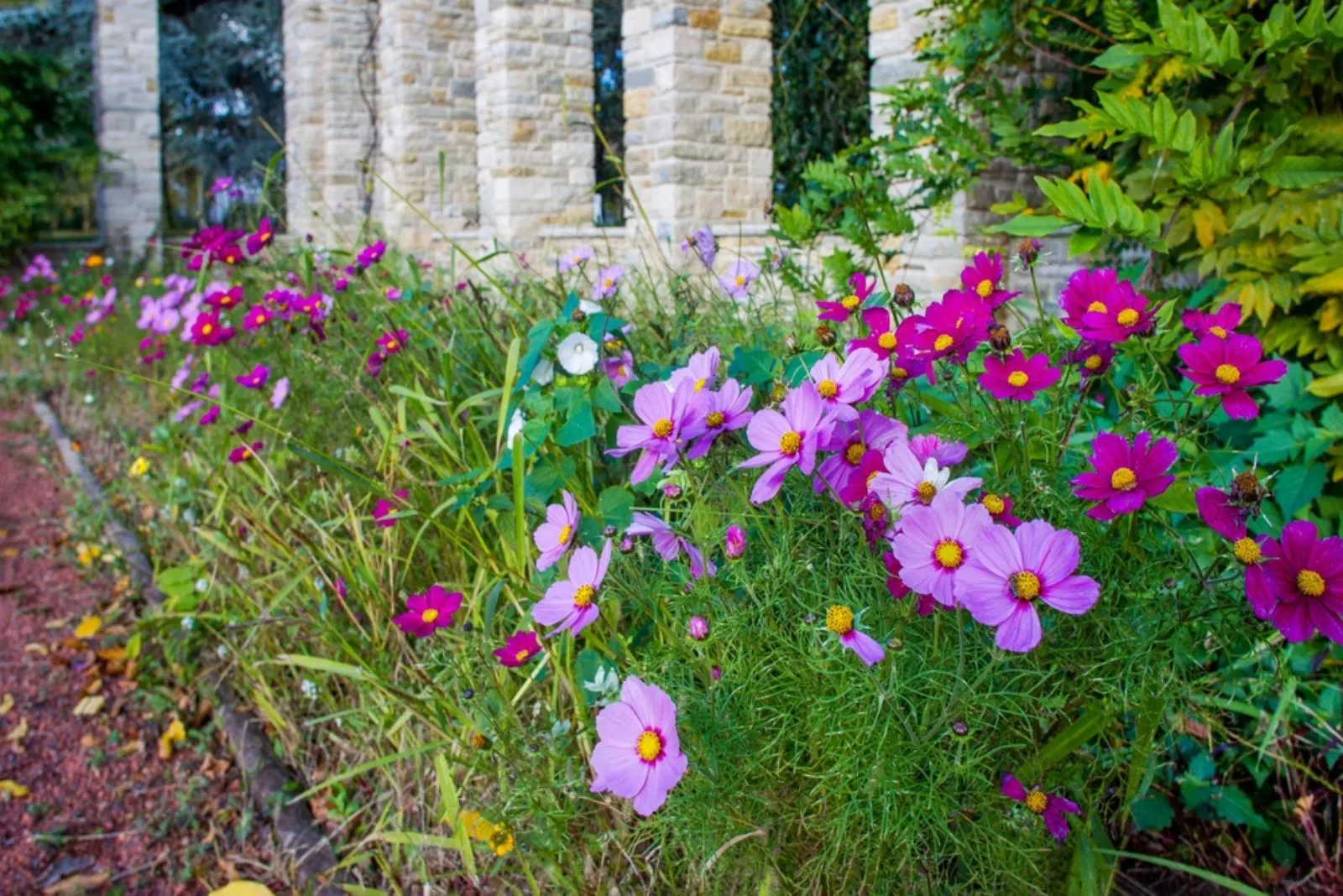 Many gardeners have specific designs in mind when choosing flower species. For instance, if you want a cottage garden, some cosmos should be your number 1 choice!
Daisy-like blossoms and feathery foliage will add a touch of elegance, and captivating colors will add vibrance to your outdoor space.
Cosmos looks amazing in flower beds and borders, but they're also perfect for container gardening.
7. Verbena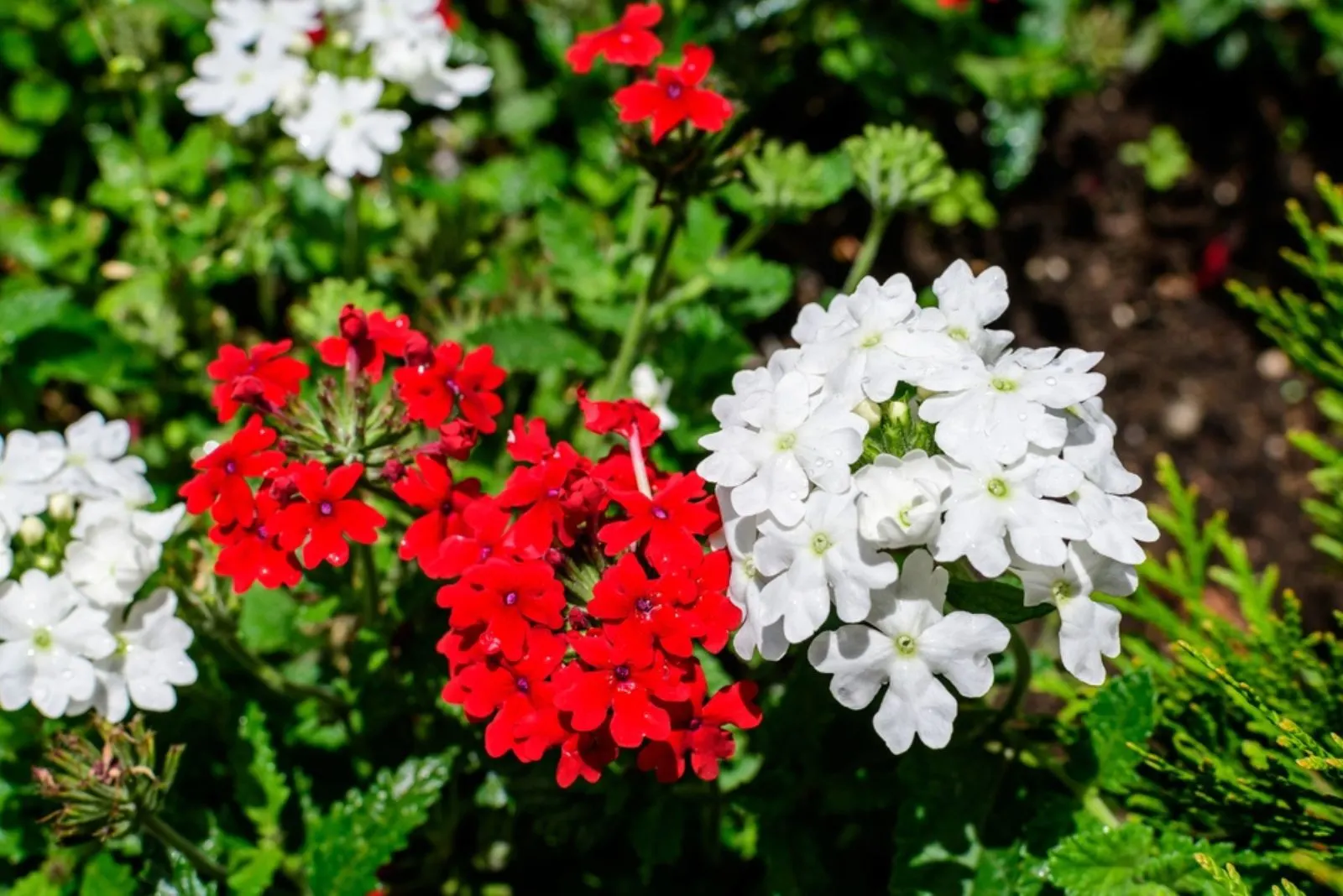 The Verbena is a splendid, versatile annual flower that adorns gardens worldwide and is often the first choice of beginner gardeners. It's a very hardy plant species and can thrive on a little bit of neglect.
Its tiny blossoms form into clusters and combine amazingly with the slender, cascading foliage.
If you plant it in free-draining soil and provide it with at least 8 hours of full sun a day, your garden will be full of lovely blossoms in various shades all summer long!
8. Nasturtiums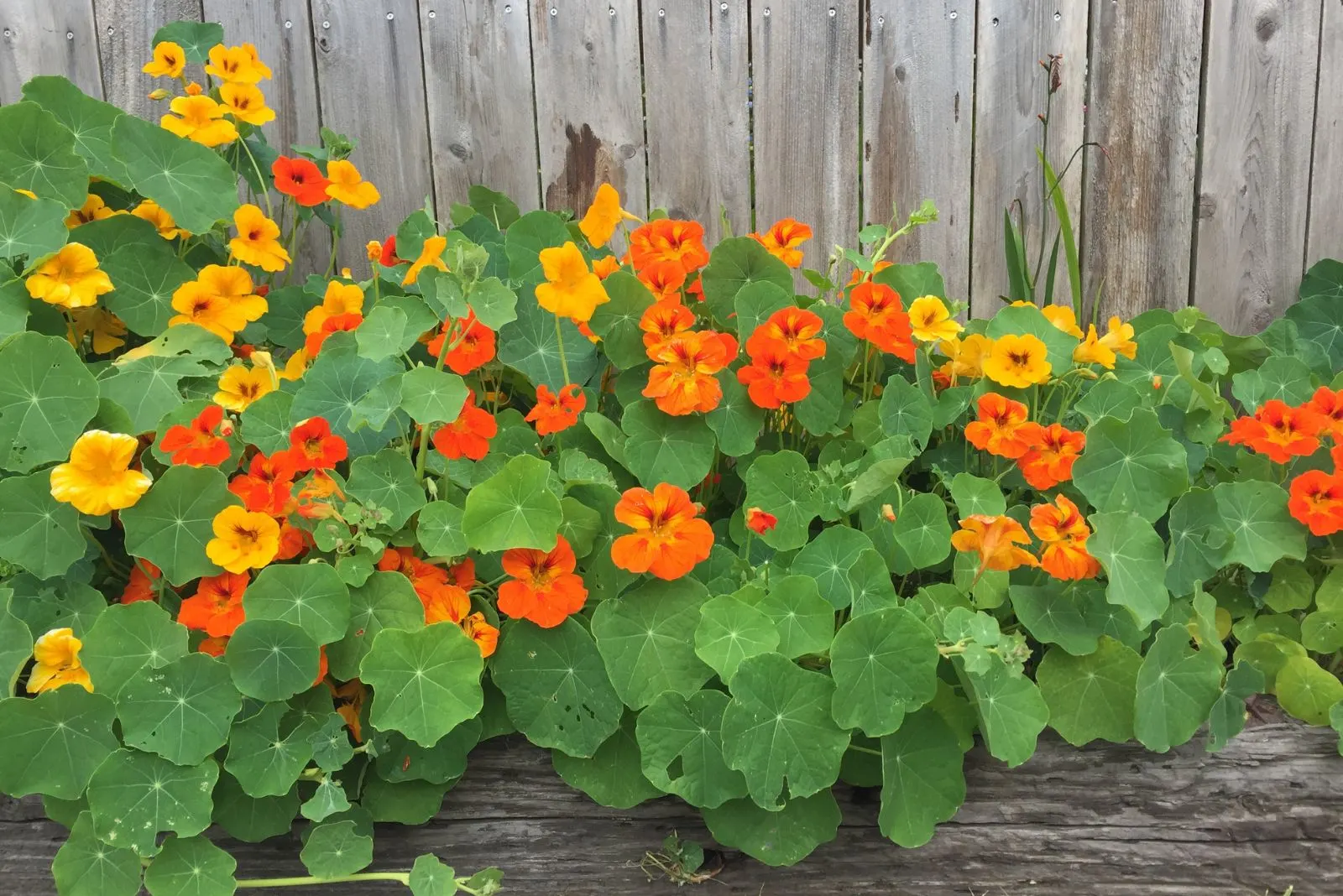 What's so special about nasturtiums and why do gardeners love them so much? Well, there are a couple of reasons for it.
First, these flowering plants look absolutely gorgeous. Their trumpet-shaped blossoms come in orange, yellow, and red and will fit into every garden design.
Second, these plants have a long flowering season, which means your summer garden won't lack color throughout the entire season.
Third, nasturtiums make amazing companions because they repel pests and attract pollinators.
9. Lantana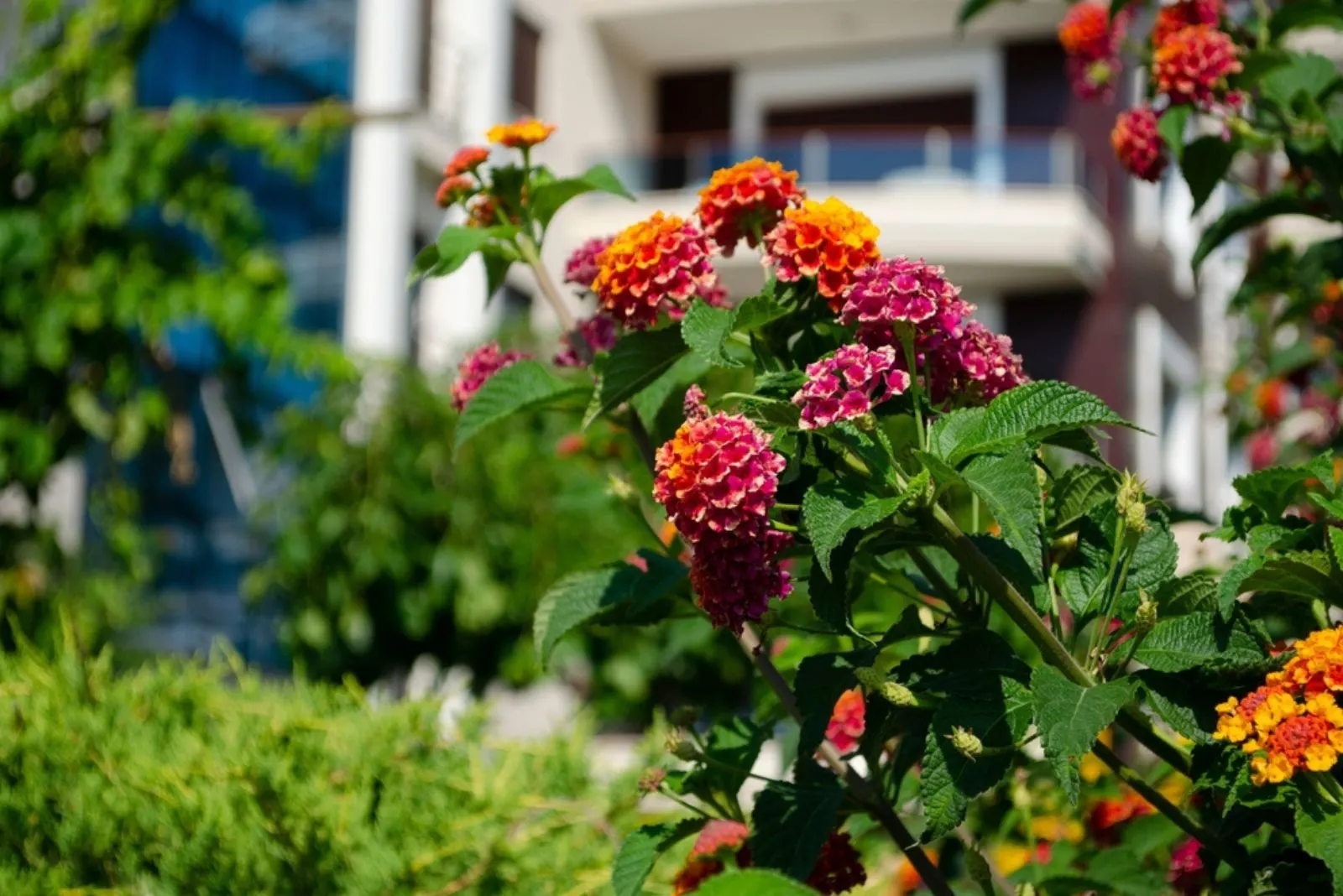 Lantanas thrive in all conditions. Drought or heat can't kill them, making them perfect for beginners and those who live in warm climates.
What else do you get if you decide on this flower? Well, nothing will add more vibrance to your garden than lantana flowers. This is due to their colors, which range from pure white for simple gardens to various shades of orange, red, pink, and yellow for more colorful outdoor spaces.
Your garden will become a target of many pollinator species and as an added bonus, you will have fewer pest problems because the leaves of these plants repel them.
10. Celosia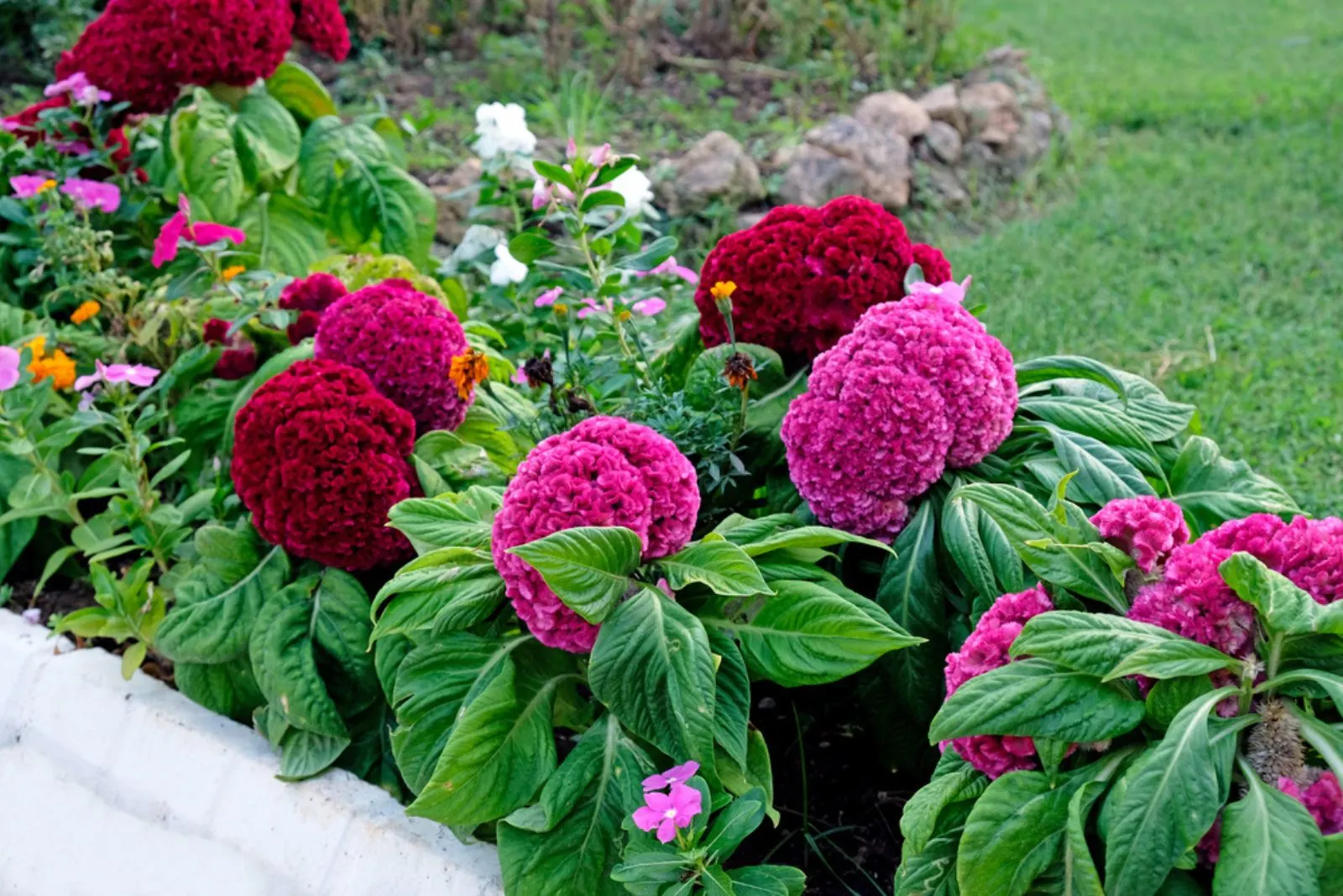 If you have a larger garden and a lot of space for new flowers, then the celosia should be your choice.
These flowering plants can spread up to 3 feet wide, so ensuring a lot of space is crucial. If you give them enough room, they'll reward you with gorgeous feathery plumes.
Celosias keep generating blossoms all summer long, and only need full sun and free-draining soil for healthy growth.
Some of the best celosia varieties for all garden types are Silver's Cockscomb, Dragon's Breath, and Century Mix.
11. Lobelia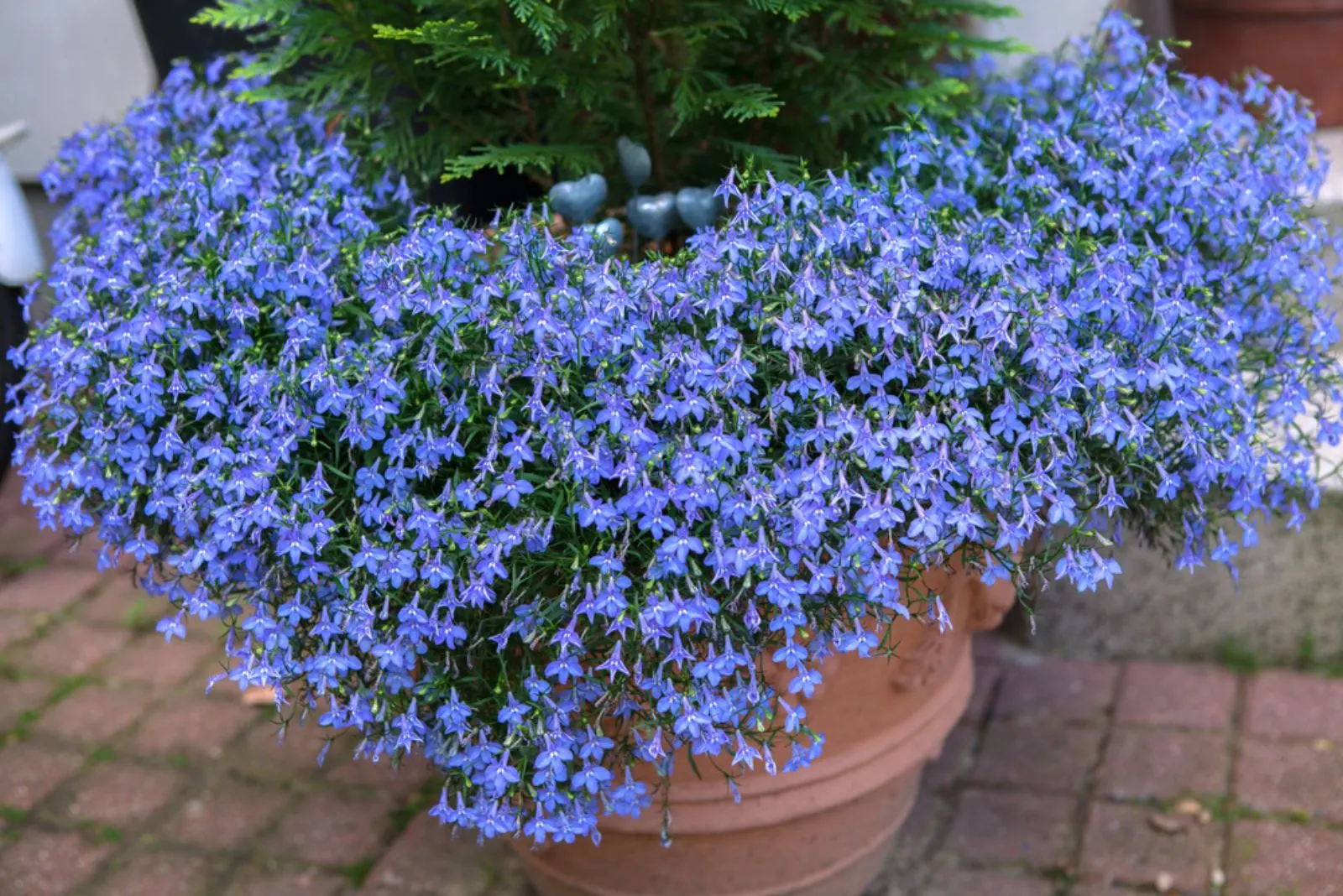 This plant adds a continuous splash of color, attracts pollinators, and thrives in both full sun and partial shade.
Your garden will be full of tiny delicate blossoms that come in pink, blue, white, and red. This plant is perfect for flower beds, borders, and hanging baskets.
If you want a colorful garden all summer long, just plant these 11 annuals and enjoy the view!
Until next time.