Positive Bloom is an Amazon Associate and we earn from qualifying purchases through these links at no extra cost to you.
It gets more difficult to bend over as we become older, and kneeling is the only way to reach those low-lying flower beds.
Undoubtedly, kneeling will help you to perform the most challenging gardening tasks, but there's one problem; kneeling comes with knee pain.
Luckily, one thing can help you to maintain your garden and avoid knee pain: a garden kneeler.
I've made a list of the best multifunctional and comfortable garden kneelers for senior citizens.
Let's see!
Garden Kneelers For Senior Citizens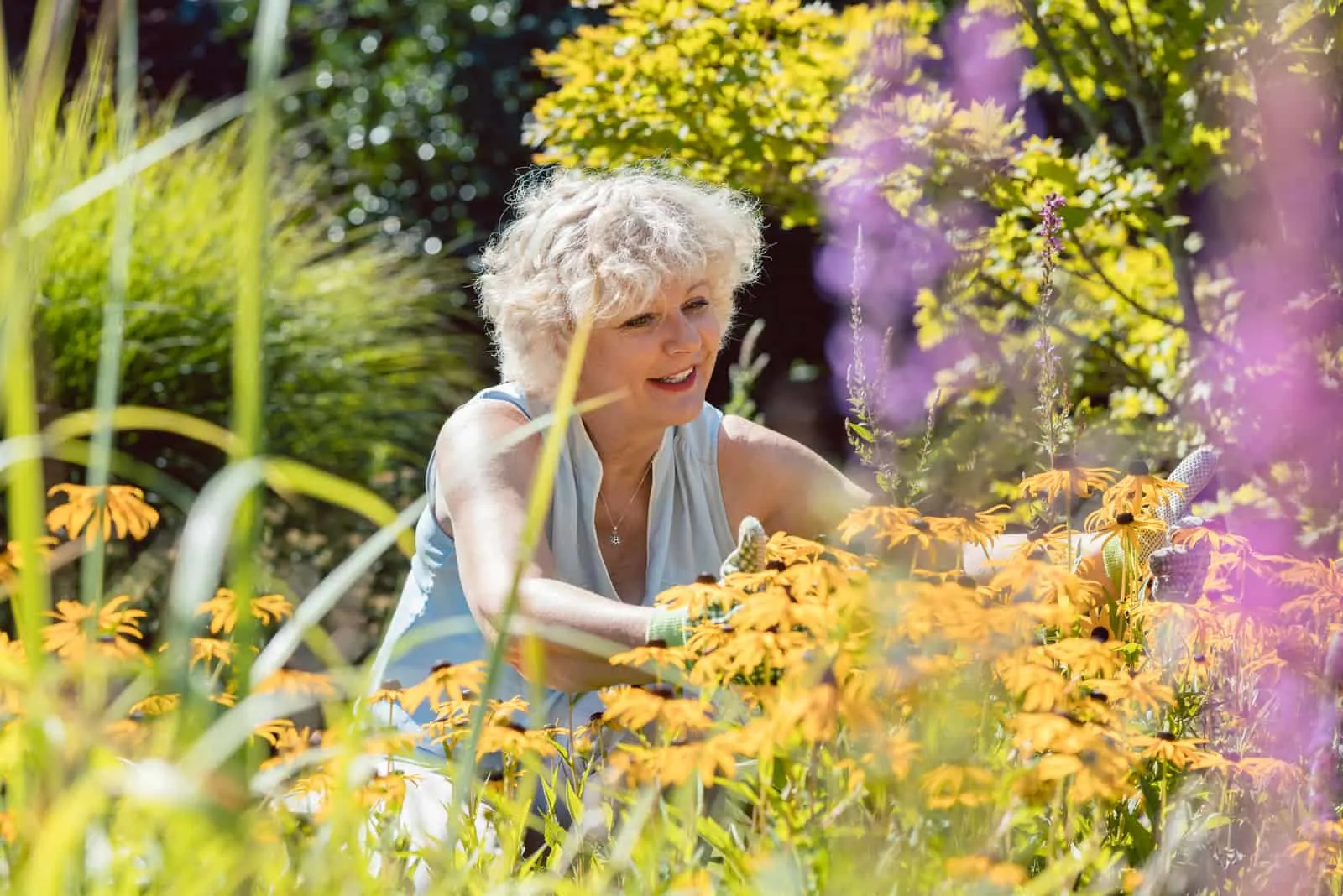 When purchasing a garden kneeler, you should know about a couple of features that are essential for a functional kneeler.
First, the kneeling pad should be soft to relieve any pain. Garden stools and kneelers need to be made of a high-quality, constructive material. In the buying guides for garden kneelers, you'll find the importance of size, portability, storage, and if the kneeler is easy to assemble.
Some kneelers designed for gardening are multifunctional, meaning they can double up as stools or garden chairs.
Additionally, some kneelers are already assembled, so the manufacturers have taken care of it if you are not into DIY assembly.
Bearing all this in mind, check out our list of the best garden kneelers from Amazon and choose one for yourself!
If you are looking for a multifunctional kneeler, this TomCare item is a great choice.
Many refer to it as a two-in-one kneeler, since it can be used as both a kneeler and a gardening seat when it's flipped upside down.
You can use it when kneeling and as a seat, if you need a rest after weeding or even fishing. It has four large and three small tool bags to store all your gardening tools.
Don't worry about cleaning the tool bags, as they can be easily wiped down at any time.
The kneeler is easy to store as it is portable and has a foldable stool.
The Eva foam pad is so comfortable, so you don't have to worry about knee pain, even if you are kneeling for an extended period. Just grab the steel legs when you stand up (they make great handles).
The weight capacity is 330.69 lbs. The height of 11.5 inches protects your clothes from grass and dirt.
The only drawback is that the cushion may break when you're standing up.
TomCare Garden Kneeler Seat + Garden Stool
• Product dimensions: 23.1 x 11.5 x 5.4 inches
• Weight: 5.7 lbs
• Frame Material: Metal
• Seat Material Type: Plastic
• Weight limit: 330.69 lbs
• Customer reviews: 4.7/5
Pros:
Lightweight

Comfortable

Easy to fold

Easy to maneuver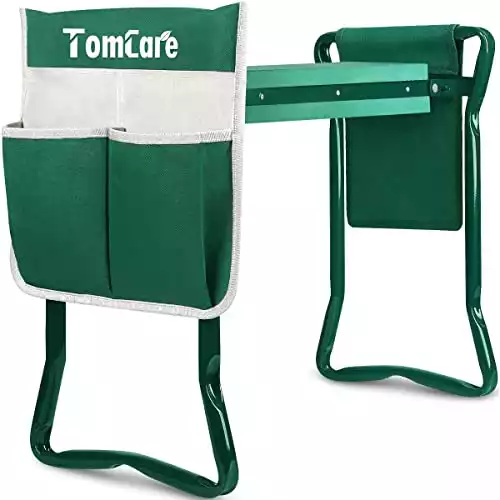 This garden seat's metal and plastic construction, with a raised knee pad, is enhanced with an EVA kneeling pad.
When you're kneeling, this lowers the tension on your knees. The metallic frames also allow it to handle heavy loads without buckling.
The attachable pouch on the side of the kneeler allows you to keep your tools within easy reach. Furthermore, the metal frames may be utilized as handles for support, allowing you to stand without help.
This garden seat is lightweight despite the metal framework. You can easily move this kneeler around the garden and away from home. It's simple to put together and set up, and the design is foldable.
Although it is stated that the product handles 300 lbs, it can break at a lower weight.
Abco Tech Garden Kneeler And Stool - Foldable Garden Seat
• Product dimensions: 24 x 11 x 6 inches
• Weight: 6.49 lbs
• Frame Material: Metal
• Seat Material Type: Plastic
• Weight limit: 300 lbs
• Customer reviews: 4.7/5
Pros:
Lightweight

Comfort

Easy to fold

Easy to maneuver
Cons:
Doesn't handle the 300 lbs weight limit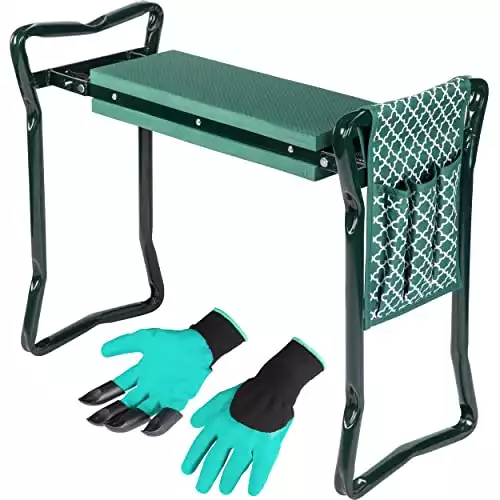 The XCSOURCE garden stool and kneeler cushions are broader and made of EVA foam, so they're really comfy to use.
It's easy to move about on the broad seat if you need to access various sides of the same patch.
When set on the ground, the metal frames are robust and solid, so you won't worry about falling over when changing angles.
Without folding, the garden stool can comfortably support up to 300 pounds. This feature makes the product great for storage, and due to its lightweight, it's easy to move it, whether from one end of your garden to the other or from the house to the garden.
You can place two pockets on either side of the handles. This puts your gardening accessories within easy reach, preventing you from misplacing them or moving around with cumbersome tools in your hand.
The handles are well-made, so when you need to stand up from a kneeling position, you can easily lay your weight on them to function as a support.
The kneeling pad is 19.29 inches high, so some users may find it too high.
XCSOURCE Garden Kneeler and Seat
• Product dimensions: 22.83 x 10.82 x 19.29 inches
• Weight: 7 lbs
• Frame Material: Metal
• Seat Material Type: Plastic
• Weight Limit: 300 lbs
• Customer reviews: 4.8/5
Pros:
Lightweight

Easy to use

Easy to fold
Cons:
Users may find the seat too high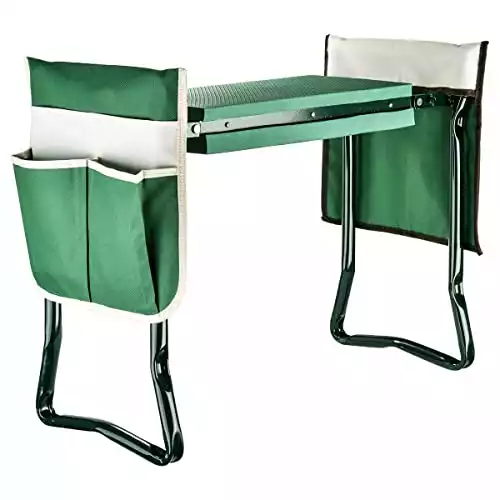 The garden kneeler bench from VIVOSUN is a fantastic way to relax while gardening.
It doubles as a seat and a comfortable knee cushion, allowing you to get down and dirty with your flowers. The plush cushioning on your knees will relieve tension, and the seat will ease any pressure on your back.
The kneeling bench is easily folded and stored or moved to any location in your garden.
There are two tool bags made of oxford cloth material, which have ample storage compartments. It's the ideal spot to keep a water bottle and gloves, or it can be used as gardening tool storage.
You can use this kneeler as a seat in the garden but also at a fishing counter. Additionally, you can lay it flat on the ground and use it as a kneeling pad.
VIVOSUN Garden Kneeler Seat Foldable Garden Bench
• Product dimensions: 10.6 x 23.6 x 18.89 inches
• Weight: 7.24 lbs
• Frame Material: Metal
• Seat Material Type: EVA
• Weight Limit: 330 lbs
• Customer reviews: 4.8/5
Pros:
Lightweight

Easy to fold

Sturdy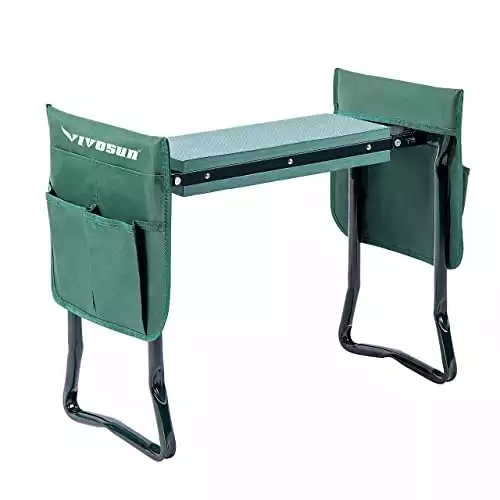 This type of kneeler from Fitness Club makes a perfect choice if you prefer extra-large pouches (12.6 " x12.6 ") and an easy-to-use kneeler.
The Fitness Club kneeler is made of metal and plastic, making it highly durable.
It can withstand a weight of up to 330 pounds without folding or breaking. A double-sided foam pad is included. You can either sit or kneel on it when gardening, depending on your needs.
This garden kneeler is small and lightweight, and you won't have to exert yourself carrying it around the garden. This also means that you can safely store it without it taking too much room up in your kitchen or garage.
Fitness Club Garden Kneeler and Seat
• Product dimensions: 11 x 22 x 19 inches
• Weight: 5.5 lbs
• Frame Material: Metal
• Seat Material Type: Fabric
• Weight Limit: 330 lbs
Pros:
Long-lasting pouches

Deep pockets

Easy to fold

Easy to store
Cons:
A foam pad may be overly firm

It could be too high to comfortably sit on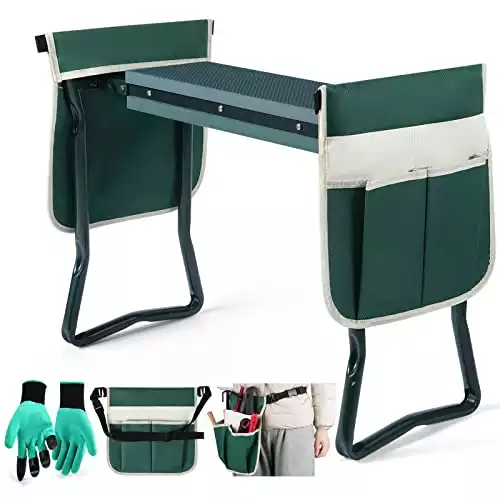 You can use a kneeler from LUCKYERMORE as a kneeler or seat. There is no need for assembling. Simply pull it out, and you're ready to start working in the garden!
This type of garden kneeler folds up quickly and compactly, making it simple to transport and store. When crouching down and rising, the sturdy steel frame will support your arms.
A detachable tool pouch with a pocket is included as a bonus. It's ideal for storing your tool kit in a convenient location. This garden kneeler is a fantastic gift idea for gardening-loving relatives and friends!
The soft EVA foam cushioning on this garden kneeler makes you more comfortable after a long kneel and helps you avoid injuries. This EVA pad is 6 inches in width and 0.8 inches in thickness. This LUCKYERMORE product has a two year warranty.
LUCKYERMORE Garden Kneeler and Seat
• Product dimensions: 22.5 x 10.6 x 18.5 inches
• Weight: 5.7 lbs
• Frame Material: Metal
• Seat Material Type: EVA
• Weight Limit: 330 lbs
Pros:
Lightweight

Foldable design

Easy to move around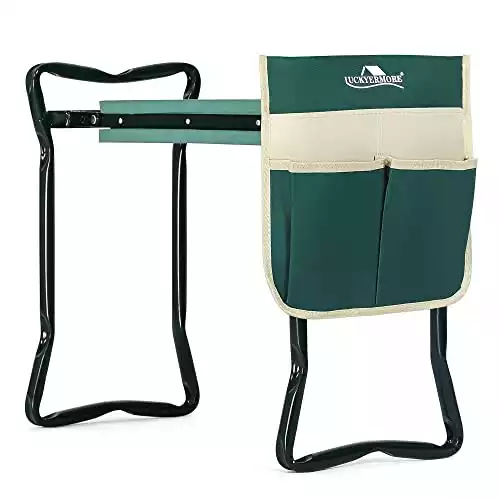 Are you looking for a perfect gift for your gardening-loving grandparents? iKKle has the one. A multifunctional kneeler can be utilized to wash cars, sort clothes, or queue.
The handles of this garden stool are designed to assist the elderly in getting up and standing independently. You can also transport the folding garden bench anywhere because it only weighs 7.48 pounds.
This heavy-duty gardening kneeler is a true back saver.
iKKLE Garden Kneeler
• Product dimensions: 23.7 x 11.5 x 5.7 inches
• Weight: 7.48 lbs
• Frame Material: Metal
• Seat Material Type: Fabric
• Weight Limit: 330 lbs
• Customer reviews: 4.8/5
Pros:
Easy to use

Sturdy

Lightweight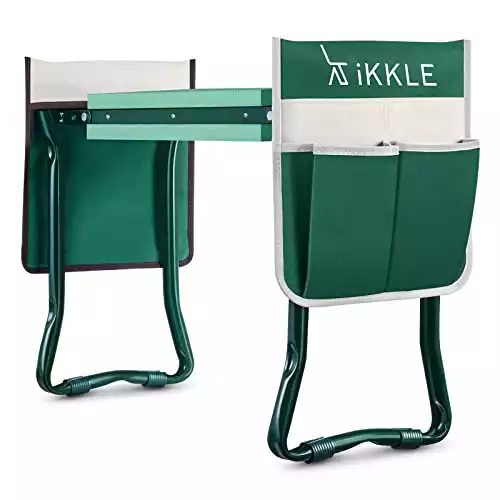 If you don't want to spend a fortune but want a perfect gardening gift, A Gorilla Grip garden kneeling pad should be your choice.
The foam material utilized in its manufacturing provides more support than other kneeling pads in its category.
While kneeling, the 1.5 inch thick pad provides support and reduces knee pain.
It's made of high-density foam and is covered in a rugged, water-resistant material that resists scratches and moisture, making it long-lasting.
It's perfect for use in a muddy garden since the water-resistant material is easy to clean and dries quickly.
This lightweight, foam kneeling pad includes a carrying handle, making it easy to carry from place to place.
Gorilla Grip Water Resistant Garden Kneeling Pad
• Product dimensions: 17.6 x 11.14 x 1.65 inches
• Weight: 11.7 ounces
• Material: High density foam
• Customer reviews: 4.7/5
Pros:
Durable

Versatility

Thick foam

Easy to clean and water resistant

Affordable
Cons:
Some users may find it stiff at first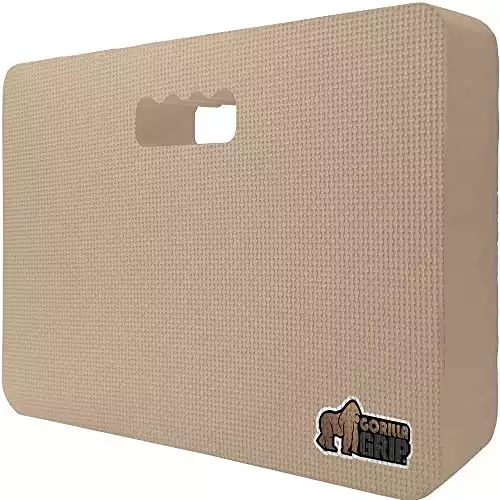 If you're looking for a comfortable and thick kneeling pad, consider purchasing this kneeling pad by Red Home. It is designed to relieve discomfort whilst kneeling; all your gardening work will be done in no time.
It's designed to provide the ideal balance of back support and comfort; it gives you the comfort and support you need, whilst keeping you steady.
It is made of non-recycled, high-density material that will last for a lifetime. When used outside, this kneeling pad is intended to endure impacts from stones and rough ground and will not break down or compress with time.
This kneeler is easy to clean and dries fast, thanks to the minimal absorption material.
It's small enough to take anywhere, and the built-in handle makes it easy to carry.
Red Home Thick Kneeling Pad
• Product dimensions: 17.99 x 10.98 x 1.5 inches
• Weight: 12 ounces
• Material: High density foam
• Customer reviews: 4.7/5
Pros:
Portable

Multi purpose

Durable
Cons:
May be too stiff for people with sensitive knees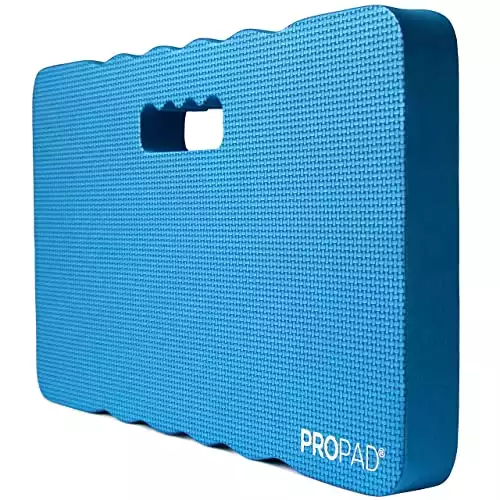 This product from Happy Picnic has it all, size, thickness, and lightweight, so it's great for senior citizens.
The extra-large, super-thick but lightweight, shock-absorbing knee pads effectively protect knees from hard and uneven surfaces.
The cover is removable, so don't worry; it's washable if you get it dirty. It's dirt-proof but also attractive.
The Happy Picnic knee pad is ideal for gardening, housework, pet shedding, picnics, and other outdoor activities, amongst other things.
Happy Picnic Gardening Kneeler Pad
• Product dimensions: 17 x 9.8 x 2.7 inches
• Weight: 8.2 ounces
• Material: Polyester
• Customer reviews: 4.6/5
Pros:
Cover is removable

Thick foam

Comfort
Cons:
Some may find the material slippery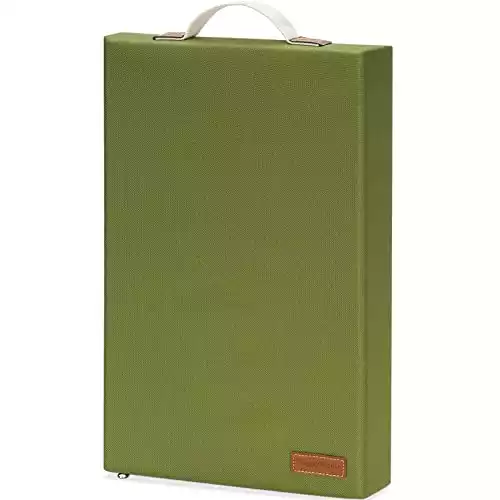 The Navy Penguin kneeler has two foam layers; one side is EVA foam (38-40 degrees density) and the other, elastic EVA foam (15-20 degrees density).
Due to its moisture-resistant technology, the Navy Penguin pad features an easy-clean surface, allowing it to endure various activities.
You can use it for gardening, baby bathing, floor scrubbing, cleaning, and many other household chores.
FAQs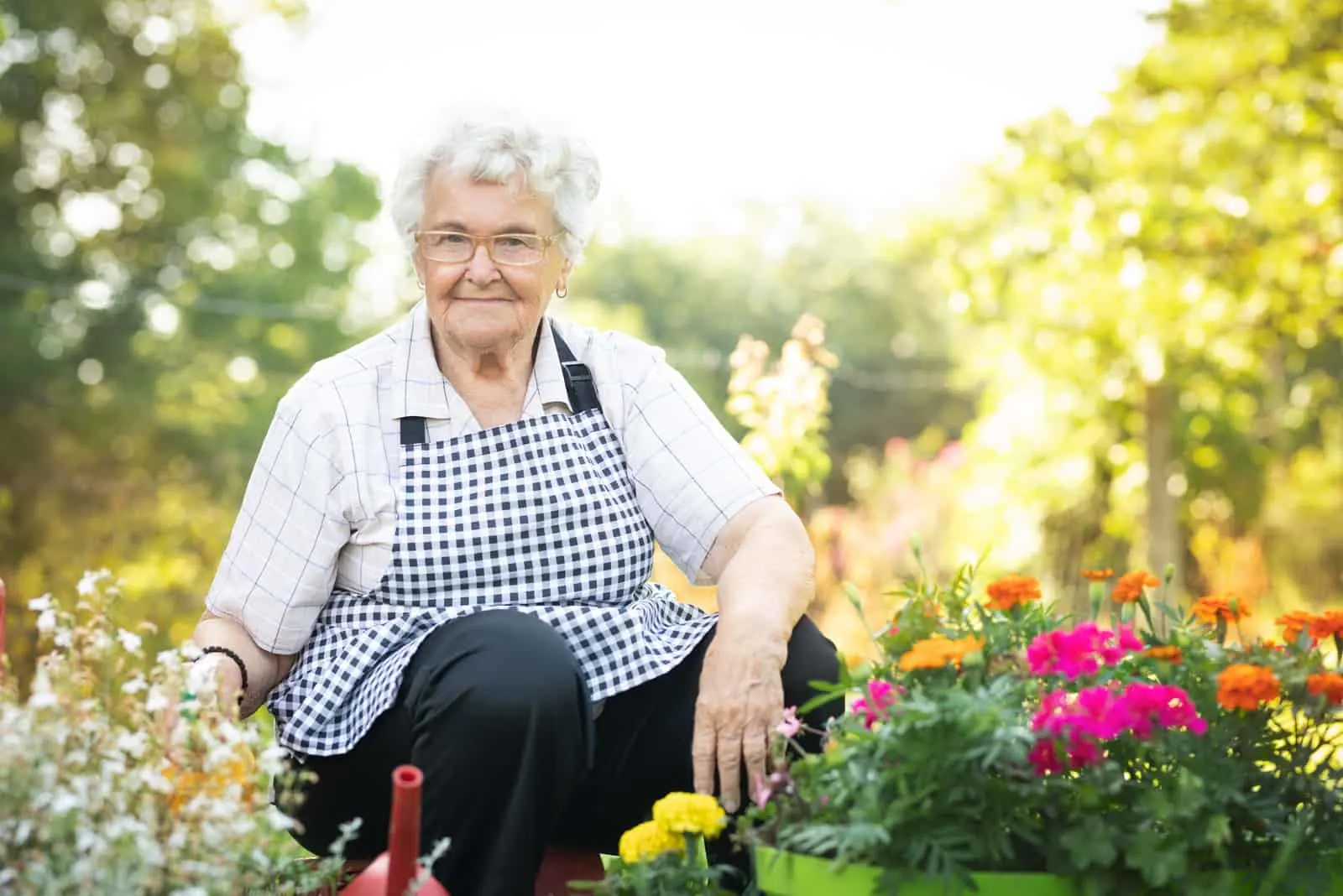 Are garden kneelers worth purchasing?
Doctors recommend outdoor activities, especially for seniors, so garden kneelers make their gardening jobs way easier and more enjoyable. If you have bad joints, arthritis, or simply want to ease your outdoor activities, kneelers can be very helpful.
Are all garden kneelers the same?
All garden kneelers are not the same. There are actually three types: the first one is a garden kneeler and seat and these are perfect for using as a seat or a kneeler when folded. They often come with storage space for your gardening supplies. Pay attention to the frame material (those made of steel are the best) and seat type (look for durable plastic).
The second type is a kneeling mat; they are thick, waterproof, and have a carrying handle. Their covers are of great importance, from polyester and fabric, to neoprene.
The third type is a knee pad; you can wear them anytime, not just when gardening. Please pay attention to the size (it should fit your knee) and the material, like memory foam.
What are the benefits of a garden kneeler?
First, garden kneelers ease your gardening work; you can easily lower your body to the ground. If you have arthritis or stiff joints, they will undoubtedly help you.
Why is kneeling better than sitting?
Kneeling engages your core muscles, eliminates slouching, stimulates greater mobility, and lowers the risks linked with more extended periods of inactivity.
Wrapping Up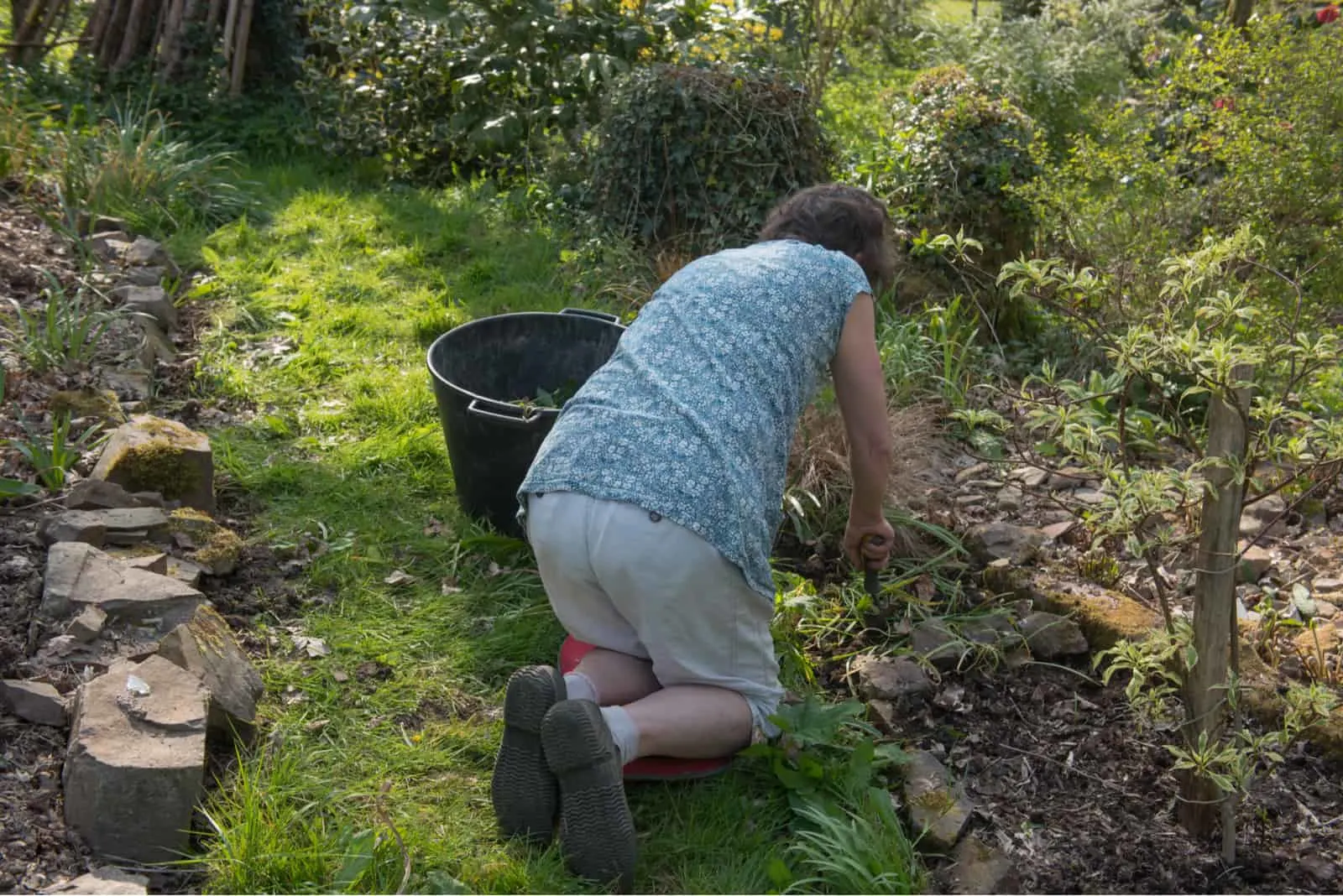 Like me, if you are in love with gardening, bear in mind that it may be harder to perform your garden work as time passes.
Luckily, the manufacturers recognized the need for elderly gardeners and designed garden kneelers for senior citizens.
They come in different sizes and shapes and can be made of different materials. That's why it's essential to pay close attention when purchasing one, as it should suit your own needs perfectly.
We've provided you with the best ones, so don't hesitate, choose one for yourself and make your garden works more enjoyable.