Lucky bamboo is one of those houseplants everyone seems to have in their living room, whether they're into feng shui or they just love what it does to their space.
But did you know that this plant actually belongs to the genus Dracaena (the same as the snake plant) and is not real bamboo?
However, it still grows super fast, which is why many gardeners propagate it on their own.
The process is fairly simple and almost always successful, but you will have to put a little bit of time and effort into making it happen.
Here's how to do it!
Lucky Bamboo Step-By-Step Propagation Guide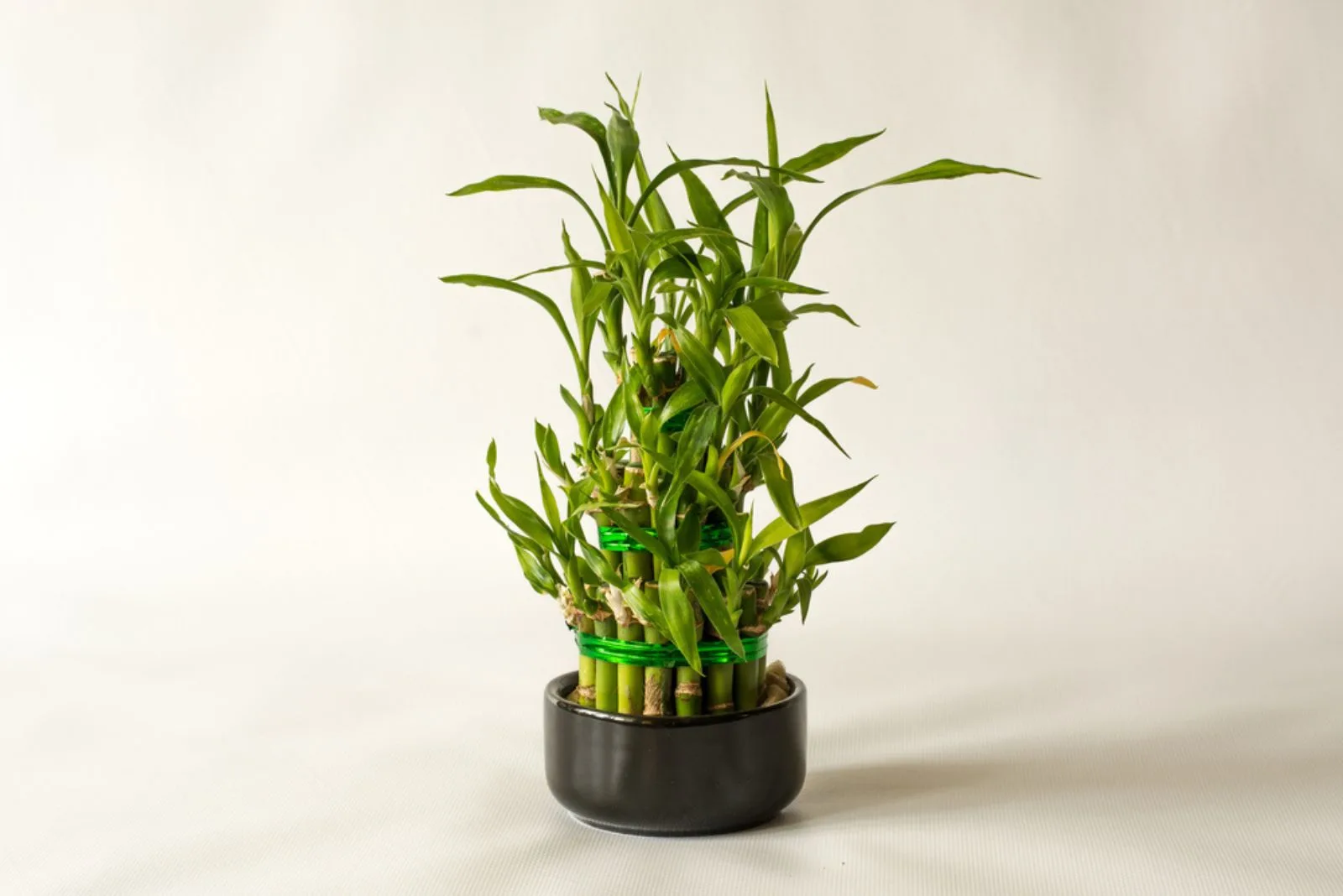 When propagating Dracaena sanderiana – lucky bamboo – all you need to do is take healthy cuttings and place them either in soil or water.
Of course, there's a bit more to this process, so I'll discuss it in detail in the following sections.
Take The Cutting
The first thing you need to do when multiplying your lucky bamboo is take the cuttings. Make sure that they're healthy and long. They need to have at least two nodes because that's where the roots will grow.
Take sharp and sterilized pruners and cut a suitable stalk. Make sure to also take a small part of the main stalk so that you get more new stems from it.
Remove the bottom foliage, leaving at least one set of healthy leaves at the top.
Once you do all this, it is time to place it in your favorite propagation medium – soil or water.
Plant It In The Soil
Soil propagation has both benefits and drawbacks. The good news is that you don't have to worry about putting your plant through too much stress when transplanting it because you're not moving it from water to soil.
The disadvantage? You'll have to put in more effort than with water propagation. The medium has to be constantly moist and the humidity high in order for your plant to root.
Additionally, it's more difficult to get the watering just right – too much and too often will destroy any chances of you getting a new lucky bamboo. Luckily, a light, aerated, and well-draining potting mix should help you avoid this issue.
If you've decided on this propagation method, here's how to do it:
Step 1. Dip the cutting into rooting hormone to speed up the process and reduce the risk of fungal diseases.
Step 2. Place it in a nursery pot with drainage holes and a seed-starting mix (or some other light and porous medium). Push it deep enough so that it can stand upright.
Step 3. Place the planter in a spot where it can get plenty of bright indirect sunlight.
Step 4. Water it thoroughly and keep it moist. You can place a humidity dome or a plastic bag over it to maintain optimal air moisture. Just make sure to remove them once in a while if they don't have holes so that your plant can get oxygen.
Step 5. Ensure the potting medium is moist until your plant has grown about 2 inches. Then, reduce the watering and irrigate your plant only after the top 1-2 inches of substrate have dried out.
Or Place It In The Water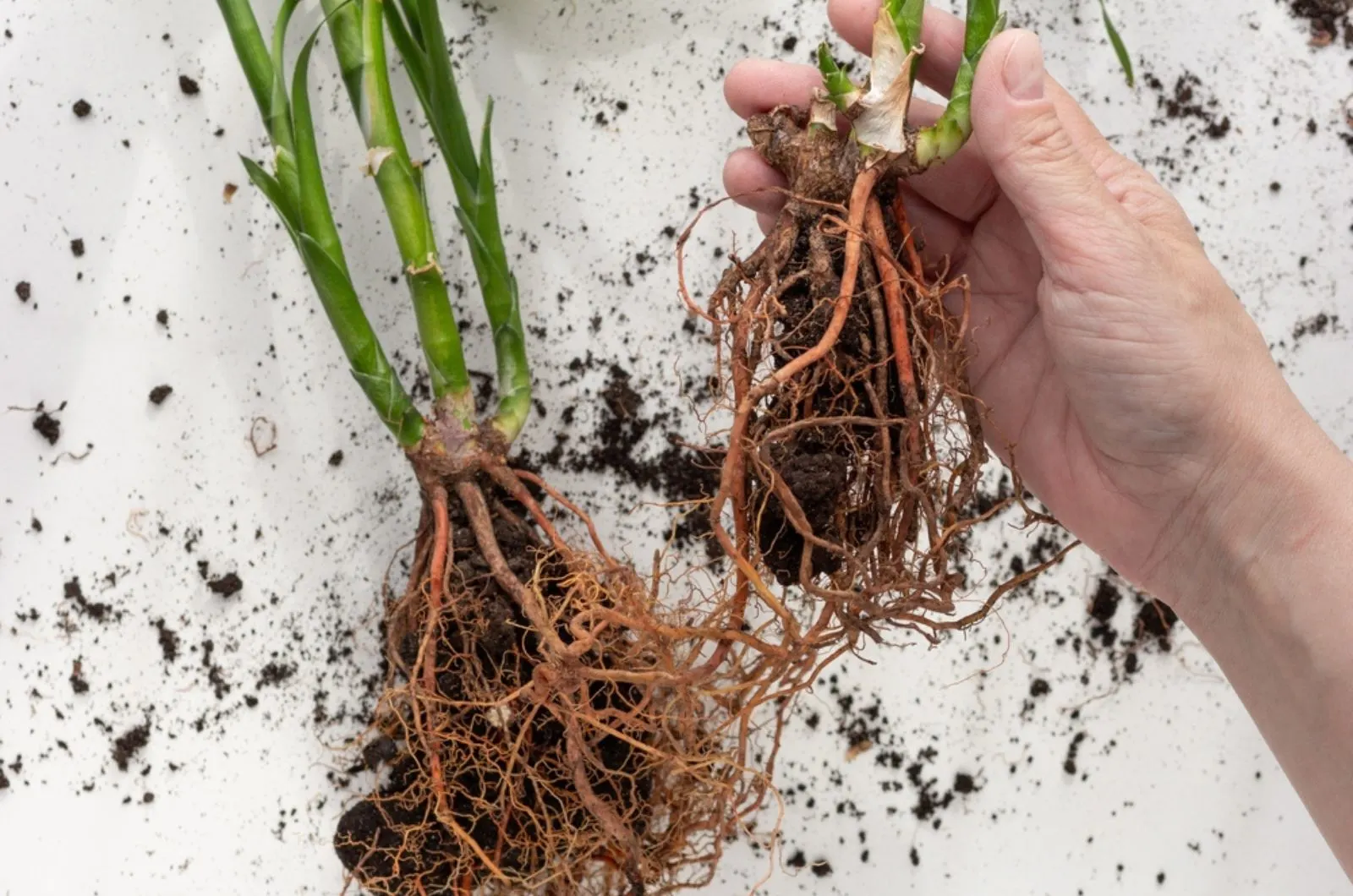 Just like soil propagation, multiplying lucky bamboo in water has its pros and cons. This technique is faster and requires less effort because you don't have to worry about watering and humidity.
However, it does carry an increased risk of dying when moved to soil.
If you opt for this method, here are the steps you can follow:
Step 1. Fill a glass vessel with distilled or rainwater. You can also use tap water, but make sure to leave it in the open air for at least 24 hours for chlorine to evaporate before placing the cutting in it.
Step 2. Place the cutting in the vessel, making sure the bottom half and at least one node are submerged. Keep the leaves out of water or they may rot and contaminate it.
Step 3. Put the vessel in a spot that gets a lot of bright indirect sunlight.
Step 4. Replace the water once a week or whenever you notice that it gets murky.
Step 5. Once your lucky bamboo develops roots that are about 2-3 inches long, you get two options. You can leave your plant to grow in water or move it into a soil medium.
Here are some more tips for taking cuttings and multiplying lucky bamboo:
How Long Before Propagated Lucky Bamboo Takes Root?
Lucky bamboo can take anywhere between 2-6 weeks to develop roots, whether you opt for water or soil propagation.
Multiplying this plant in water is faster and usually takes 2-4 weeks before the roots develop. There's no resistance in this medium, so the roots can grow quicker and more freely.
The added bonus is that you get to witness the entire process!
Soil propagation takes more time and you're likely to see the first roots developing within 4-6 weeks. That's because this medium creates resistance and the roots have a harder time pushing through.
On the bright side, the soil will act as an anchor to your lucky bamboo and keep it upright. Just don't forget to keep it moist.
Final Thoughts
Propagating lucky bamboo yourself is a rewarding and money-saving process. You'll get to see the entire process, and how cool is that?
Just keep in mind that your new plant won't immediately look like the parent one. It might take several months or even years for it to develop thick and hard stalks.
But once the roots develop and you notice some new growth, care is pretty basic and all you've got to do is wait.