If you live in a desert climate, you don't have to say goodbye to having an amazing and unique landscape. There are many ideas you can implement to improve the looks of both your back and front yards.
And you can do it with very little money!
Below, you will find 21 awesome and inexpensive desert landscaping ideas that can help you transform your garden.
It includes using things you already have, building things you never thought possible, creating dry stone streams, planting cactus and succulent plants all over the place, and more!
18 Front Yard Inexpensive Desert Landscaping Ideas
The perfect desert landscape does exist, and you only need a bit of imagination and patience to get there.
You can grow many types of plants, such as drought-tolerant trees, ornamental grasses, succulents, and cactuses.
You can also utilize rocks, introduce water features, and reuse old things to improve your outdoor space.
I have put together a list of 18 inexpensive desert landscaping ideas for your front yard that you can draw inspiration from without emptying your bank account!
1. Create A Succulent And Cactus Garden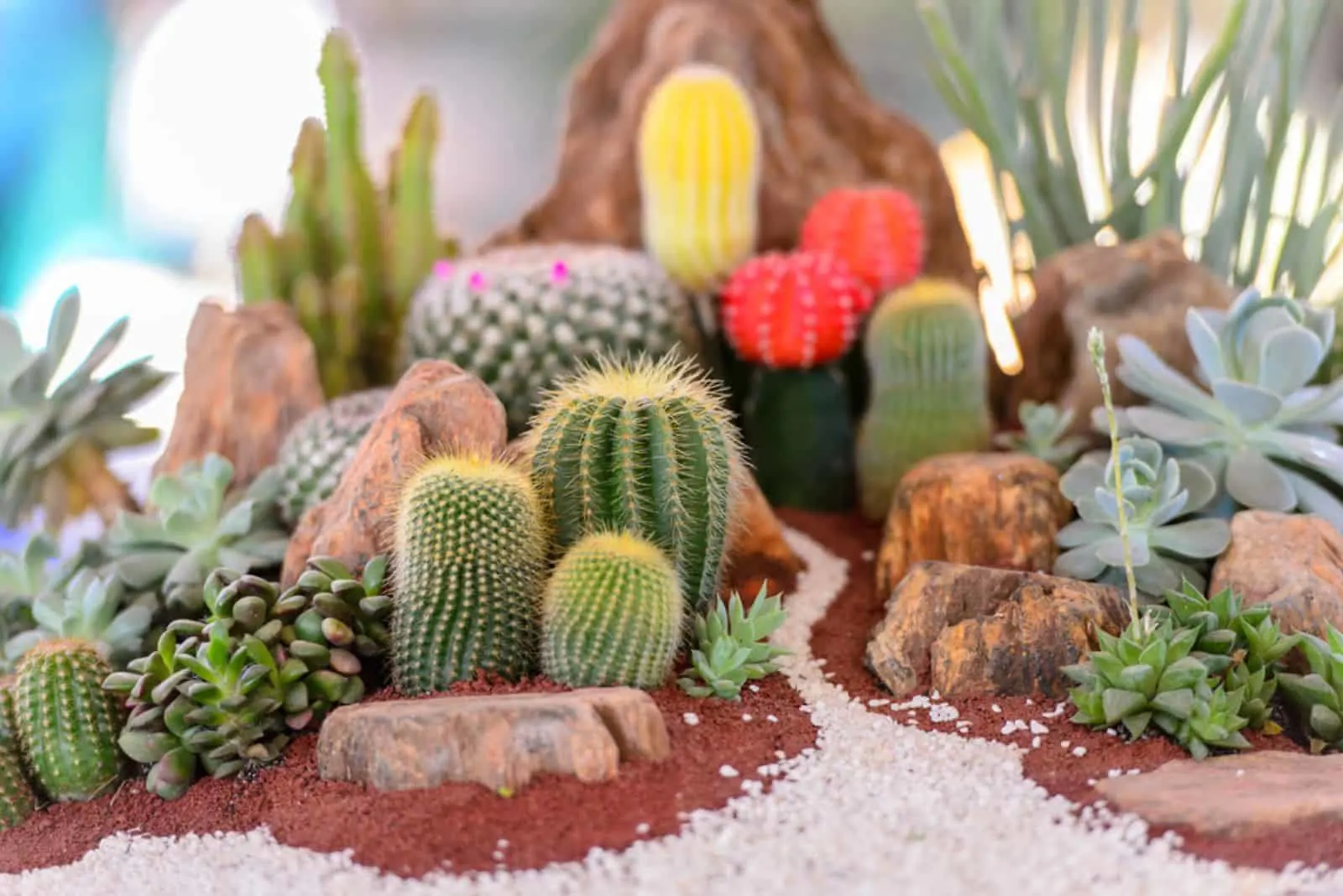 A lovely desert garden can contain many things other than sand. You can plant different types of cactus and succulent plants, and below, we will show you a couple of ideas on how to do that.
Agave
Agave plants are a signature of almost every desert garden. You can plant a couple of them here and there or make rows of agave that follow a central pathway.
You can also use this plant to single out the beauty of one central piece, such as a large tree. Plant them around your pool and fill the empty spaces with smaller succulents.
Aloe Vera
A succulent garden is a staple of every desert landscape design, and planting aloe veras can help you with that.
These plants are cheap and very easy to care for. However, if your aloe vera foliage bends, you should look for the underlying causes immediately.
The most common reasons are inadequate watering and light conditions, but you should still inspect everything that might be wrong before treating this unsightly state.
Yucca
Combine yucca with other perennials, such as agave, to get that xeriscape look you've always longed for.
This plant also flourishes in full sun, so you don't have to worry about where you grow it.
You can plant it on its own, but a fuller look will give your home a curb appeal everyone is jealous of.
Golden Barrel Cactus
This variety is one of the best plants you can use at the base of tall trees to create an authentic desert look. You can also group them in threes, line them in rows, or whatever else you can think of.
The options are endless!
Star Cactus
The star cactus is perfect for pots and can add texture to your desert garden design. Its unique appearance makes it a great focal point for smaller gardens.
You could also combine any cactus with a saguaro, but this variety is expensive (about $100 per foot), so you might prefer other, more budget-friendly options.
2. Plant Drought-Tolerant Trees
Trees might seem like a pricey investment, but they last for a long time. You can mulch them with white stones to make a modern desert garden or combine them with nude-colored rocks for a more authentic appearance.
You can combine different trees or plant just one as a centerpiece.
3. Make A Rock Garden
Creating a rock garden is one of the best and cheapest ways of improving your landscape design.
You can use large boulders as part of the decor, fill the cracks with medium-sized rocks, build patios with river rocks, create terraces, and much more.
Complete the look with some drought-tolerant plants and a little body of water, and your garden will shine!
4. Install A Rocky Pathway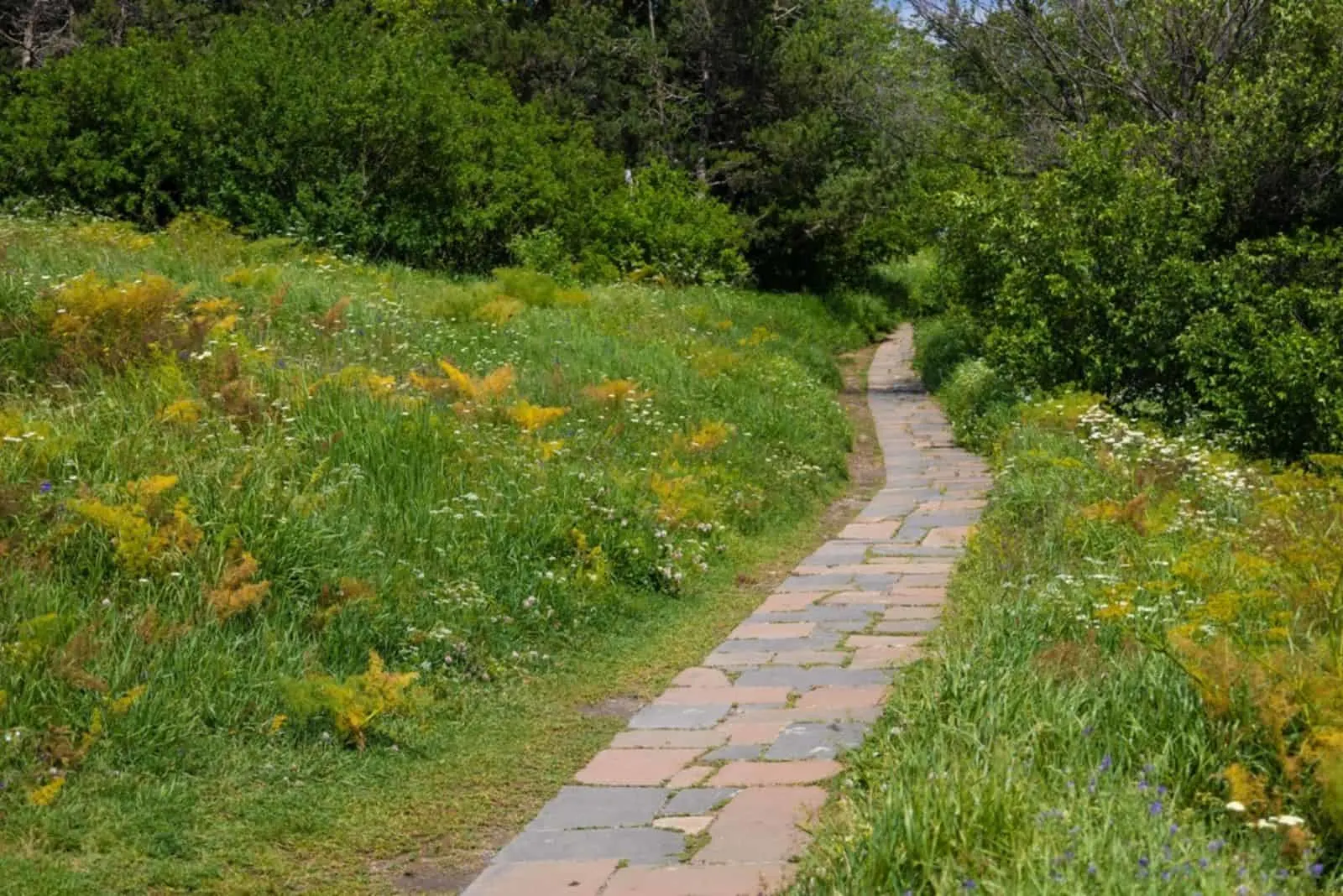 Building a rocky pathway is cheap and simple. Take some larger pieces too, and fill the cracks with small rocks.
You can also just use small rocks and create stepping stones of wood or another material you can find at home.
Frame it with some plant life or add a few desert species to spruce up the entire design.
5. Build A Patio In Your Front Yard
Patios are essential elements of almost every landscape design, so why not make one for your desert garden?
Understanding the benefits and drawbacks of a pea gravel patio could help you solve the dilemma once and for all and decide whether this material is suitable for your climate.
For instance, it could get hot very quickly and be uncomfortable to walk on, but it is also cost-effective, spreads easily, is suitable for fire pits, and more.
You can also use rock tiles, flagstone pavers, wood planks, and any other natural material that comes to your mind.
6. Use Artificial Turf Or Groundcover
You don't have to give up on your dream of a green lawn just because you live in an arid climate. Of course, you won't be able to use the real thing, but artificial grass can get you a long way.
And if you think that an artificial lawn won't do your desert garden justice, you can always consider getting groundcovers such as star jasmine or some inorganic materials and using them in a special way.
Combining them with desert plants or flagstone pavers would spruce up your yard in an instant!
7. Make A Dry Creek Bed
Dry stream beds are one of the cheapest ways to landscape your yard, although they can be challenging to make.
You should first lay a bed liner, then place large boulders at the sides and fill the "stream bed" with medium and small-sized rocks.
Add some greenery and dirt to make the "banks" seem more natural, build slopes, etc.
8. Make Use Of Sidewalls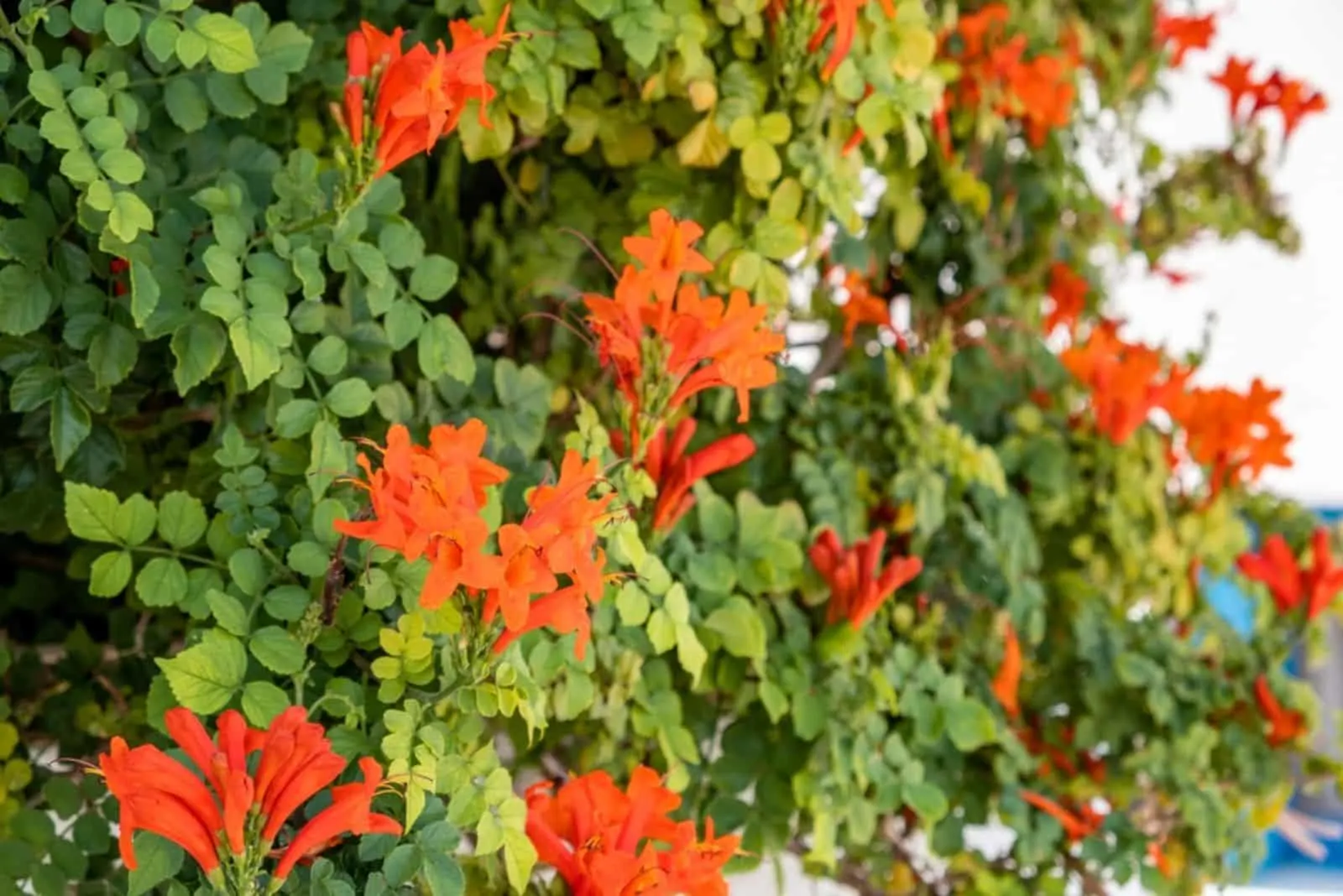 No matter how small your front yard might be, you can always do something with the space you have and create your own Palm Springs garden.
And one of the best ways is by using sidewalls. You can also grow vines, such as jasmine, lady banks' rose, cape honeysuckle, etc., on sidewalls.
9. Pergola In A Drought-Tolerant Garden
If you want to create a place to relax, consider building a pergola. This construction can provide you with much-needed shade during hot summers and transform the looks of your landscape.
Build it above your patio to create the best space for Sunday lunches!
Here's a video that will help you build your first pergola:
10. Reuse Old Things
Yard landscaping doesn't always have to be time-consuming, pricey, or complex. There are many simple DIY landscaping ideas you can do yourself or with a friend.
For instance, showcasing old items such as tires, cinder blocks, wheelbarrows, whisky barrels, water cans, old bicycles, etc., is an easy way to improve your outdoor decor.
Fill them with desert plants, paint them interesting colors, and scatter them around your garden to quickly add more texture and more spirit to your desert garden.
11. Consider Incorporating A Fiberglass Planter
Fiberglass containers are perfect if you've opted for a more classy decor. They are somewhat expensive, but they last for a long time, so they'll pay off eventually.
They aren't sensitive to UV rays, you cannot break them, and they won't corrode!
You can place them near sidewalls, on your patio, or use them as "guardians" of your front door.
12. Use Large Containers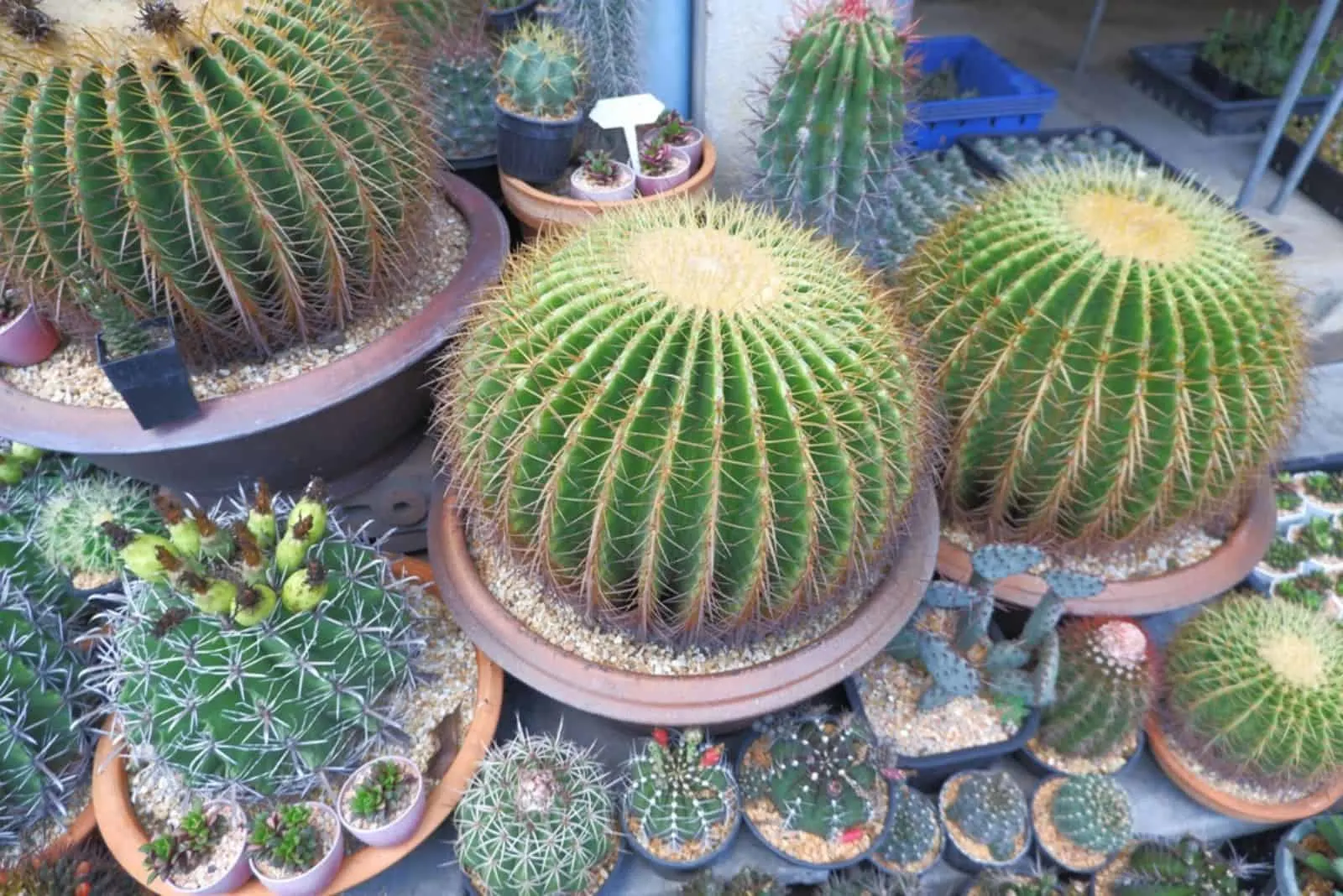 Large containers can help you quickly and cheaply fill empty spaces in your desert garden.
Be careful when choosing the best pot for cactus plants because enormous planters can lead to overwatering and root rot.
You can grow larger species in them or build a construction that will fill the pot and leave less room for soil and plants.
13. Zen Front Yard Desert Landscaping Ideas
There are many inexpensive zen garden ideas that we can also use in desert climates.
For instance, incorporating rocks and sand is an excellent way of creating a cheap, desert-zen front yard. You can also create a meditation area, build sand towers, add sculptures, and more.
14. Make Slopes And Dunes
When we think of a desert, we don't usually imagine it as a valley adorned with sprays of flowers. Instead, we picture a vast sea of sand rising and falling and burning.
If you want to recreate this image (without the burning part, of course), you can add more texture to your garden by building rocky mounds that mimic the desert dunes and turn your garden into a unique landscape.
15. Install A Fire Pit
Fire pits are great desert decor that keep you warm during cold nights. They also make for a great entertainment area, so if you want to create a delightful garden, you can't skip fire pits!
Place them on your patio, near a pool, or anywhere else in the garden you see fit, put some chairs around it, and you've got yourself a cozy area for you and your loved ones.
16. Make A Desert Oasis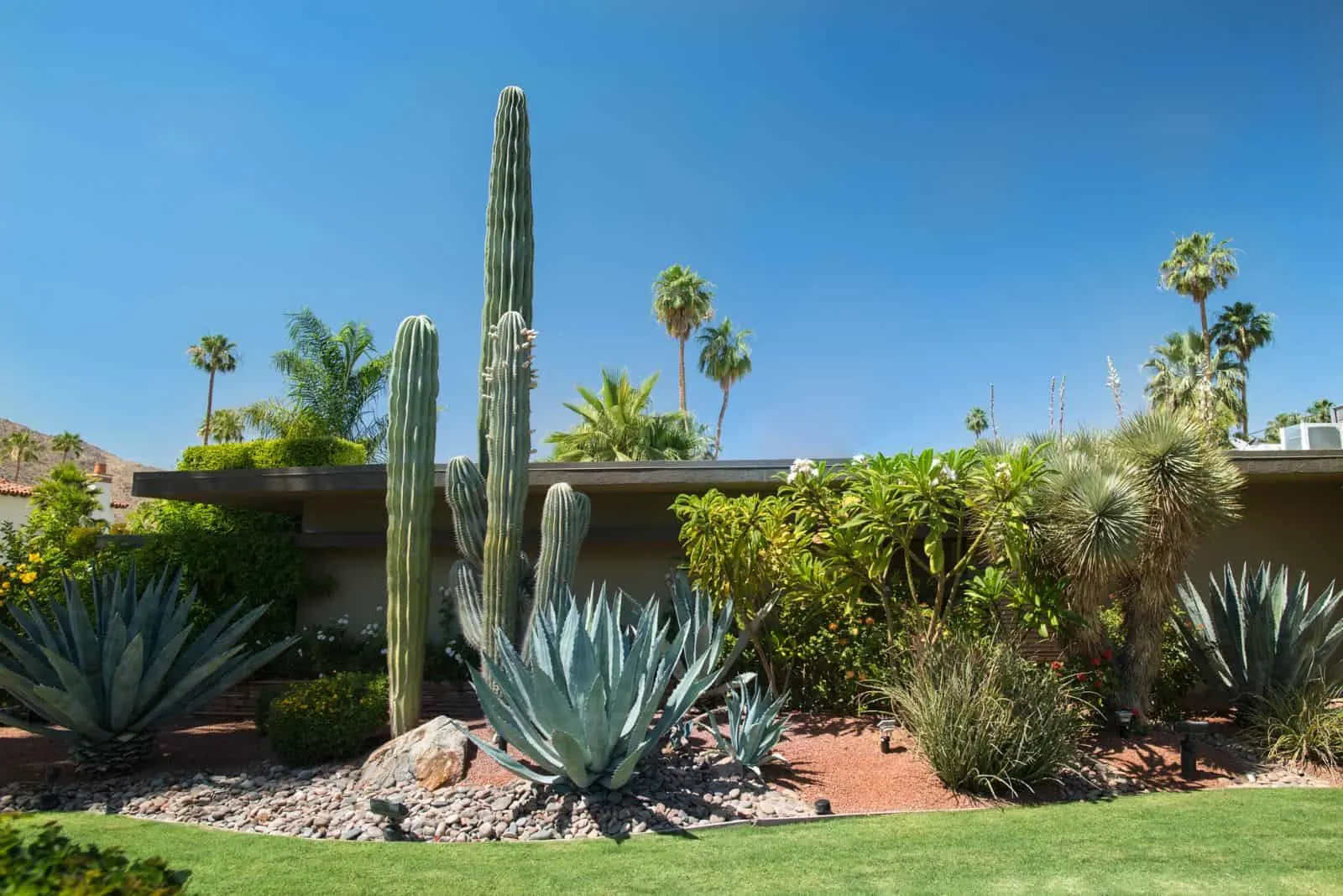 Making oases seems like a lot of expensive work, but it doesn't have to be. You can create a small body of water, plant a couple of palm trees, and decorate it with grasses and other desert plants.
17. Add Water Features
Large bodies of water seem contradictory to desert gardens, but they can accentuate the existing beauty tremendously.
You can create small ponds with or without slopes, install bird feeders, create an artificial spring, well, etc. Play with round and rectangular shapes, use large rocks to create waterfalls, grow plants all over the place, and enjoy your new relaxing area.
18. Incorporate Raised Garden Beds
One of the best budget front yard landscaping ideas includes building raised garden beds. They're perfect for plants that need drainage and can add more structure to your garden.
There are materials and hacks that can help you fill a garden bed cheaply, such as buying soil in bulk, using cardboard as a bed liner, making your own compost, etc.
Depending on the size of your garden, you can create smaller or larger beds, plant various desert plants, mulch them with white stones, and perhaps plant a tree or two to get more texture.
Desert Backyard Ideas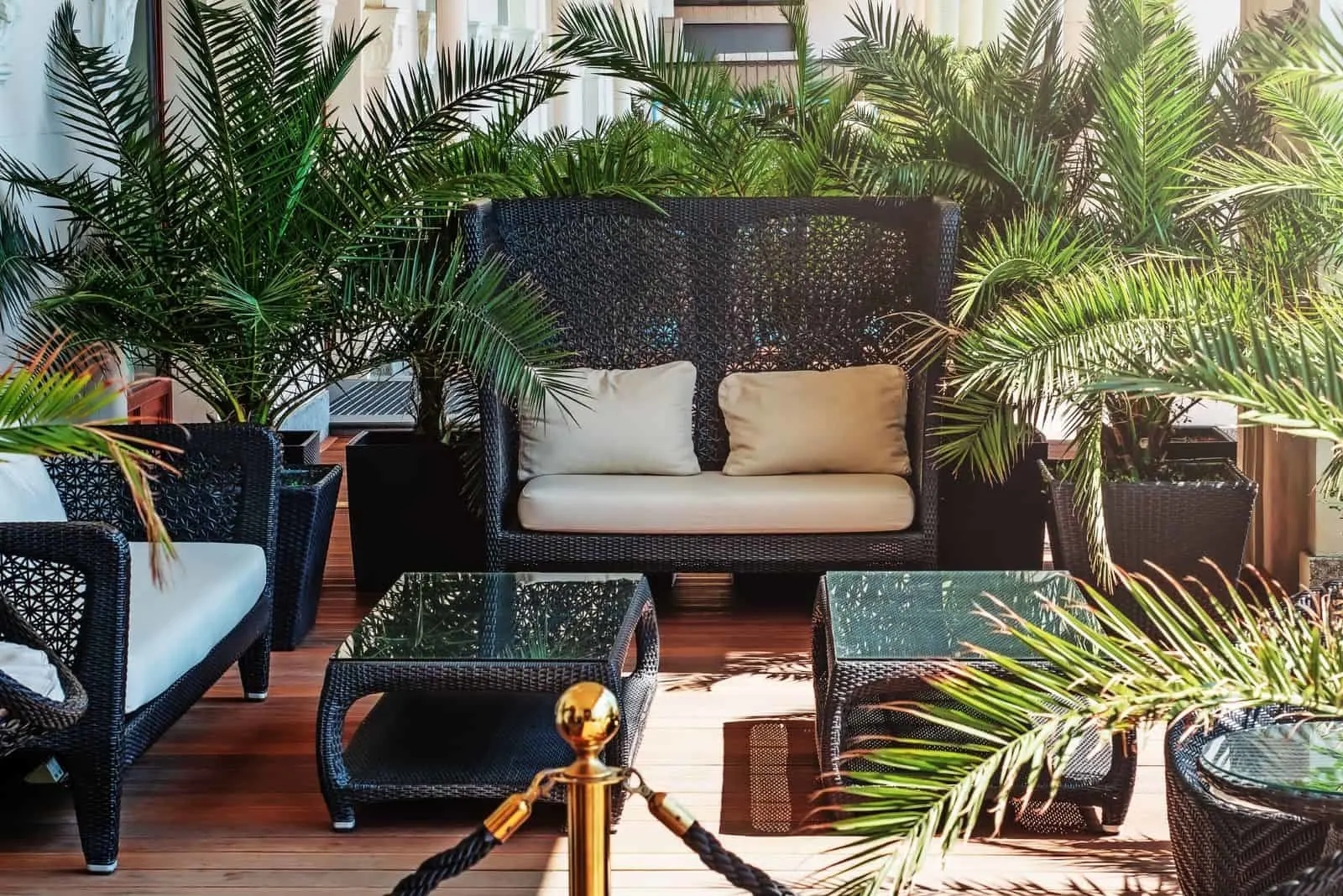 Even though we can use all the concepts we discussed above in backyards as well, certain things look better in either the front or back of the house.
Below, you will find three cheap backyard ideas for small yards that'll spruce up your back garden.
1. Create A Seating Area
You can place a small outdoor couch and a couple of chairs around a fire pit if you have more room or just a rocking chair if your space is limited.
You can also install a comfortable bench near some water or create a seating area on your patio.
2. Incorporate String Lights
Once you install string lights in your backyard, you'll wonder how you ever lived without them. They bring magic into cool desert nights and fill them with awe!
Place them on a pergola or combine them with lanterns for more festive decor.
3. Plant Ornamental Grass And Wildflowers
Backyard ideas on a budget frequently include planting inexpensive plants, and what can be cheaper than wildflowers and grasses?
Play with shapes and colors, plant pampas here, blue fescue there, and fill your garden with some native wildflowers.
You can even use wildflowers to create a nice bed below a tree if you have it, and make a nice reading area!
FAQ
We covered various ideas regarding the desert landscape, but there are a couple left. Below, you can find the answers to the questions you frequently asked us!
What is the cheapest type of landscaping?
The cheapest way of landscaping is incorporating gravel and succulents. The material and plants are inexpensive, and you can easily propagate succulents, so you don't have to buy many in order to fill your garden with them.

Planting trees is another way of saving money when decorating your outdoor areas. It might seem like a pricey investment, but these plants last a long time and can provide shade for free when they mature.
What are the best low-maintenance landscaping methods?
Native plants, ornamental grasses, and succulents are the best choices if you want a low-maintenance garden.

You can also choose a tree from the list of low-maintenance trees to reduce the amount of work you have to do.

Planting perennials will generally make it easy to care for your garden as you won't have to plant them anew every year.

You should also consider getting some large boulders, rocks, and mulching to reduce your chores as well.
Final Thoughts
This article brought 21 amazing and inexpensive desert landscaping ideas you can try today. Get a couple of cactuses, succulents, and rocks, and the fun can start!
Reuse old things you have, play with textures, and use materials that last to save yourself money in the long run.
Plant native plants, create a small body of water, frame it with a couple of rocks, get a couple of chairs, and your desert landscape is all set.
Enjoy your new relaxation area, and until next time!
Like this post? Share or pin it for later!