For all the mystery novel lovers out there, Il nome della rosa is the first thing they will think of when you mention roses.
For poetry lovers, A red, red rose poem will be the first thought, and for me – well, the gorgeous flower with no alternative.
Don't worry, this article will not be about mystery or poetry, but rather about the beauty and elegance of one flower – the one and only rose.
Can you believe that the genus Rosa consists of over 100 species and thousands of varieties of roses? Italy is home to many flowers, including roses. I don't think there are any rose species that aren't grown in this beautiful country.
However, some roses stand out, so today I will talk about some Italian roses that will leave you speechless.
Let's get started!
9 Captivating Italian Roses
There are a couple of interesting facts about roses. These plants come in various colors, sizes, and shapes, and are mainly grown as ornamental plants. They are also grown for their scent in the cosmetic industry.
You can find many different rose-scented products like perfumes, candles, and skin products – the list is endless.
The rose is a traditional symbol of Italy, so it's no wonder there are so many species cultivated.
Who wouldn't like to grow at least one species in their garden?
Here are 9 impressive varieties of Italian roses and some tips for growing roses.
1. Gallica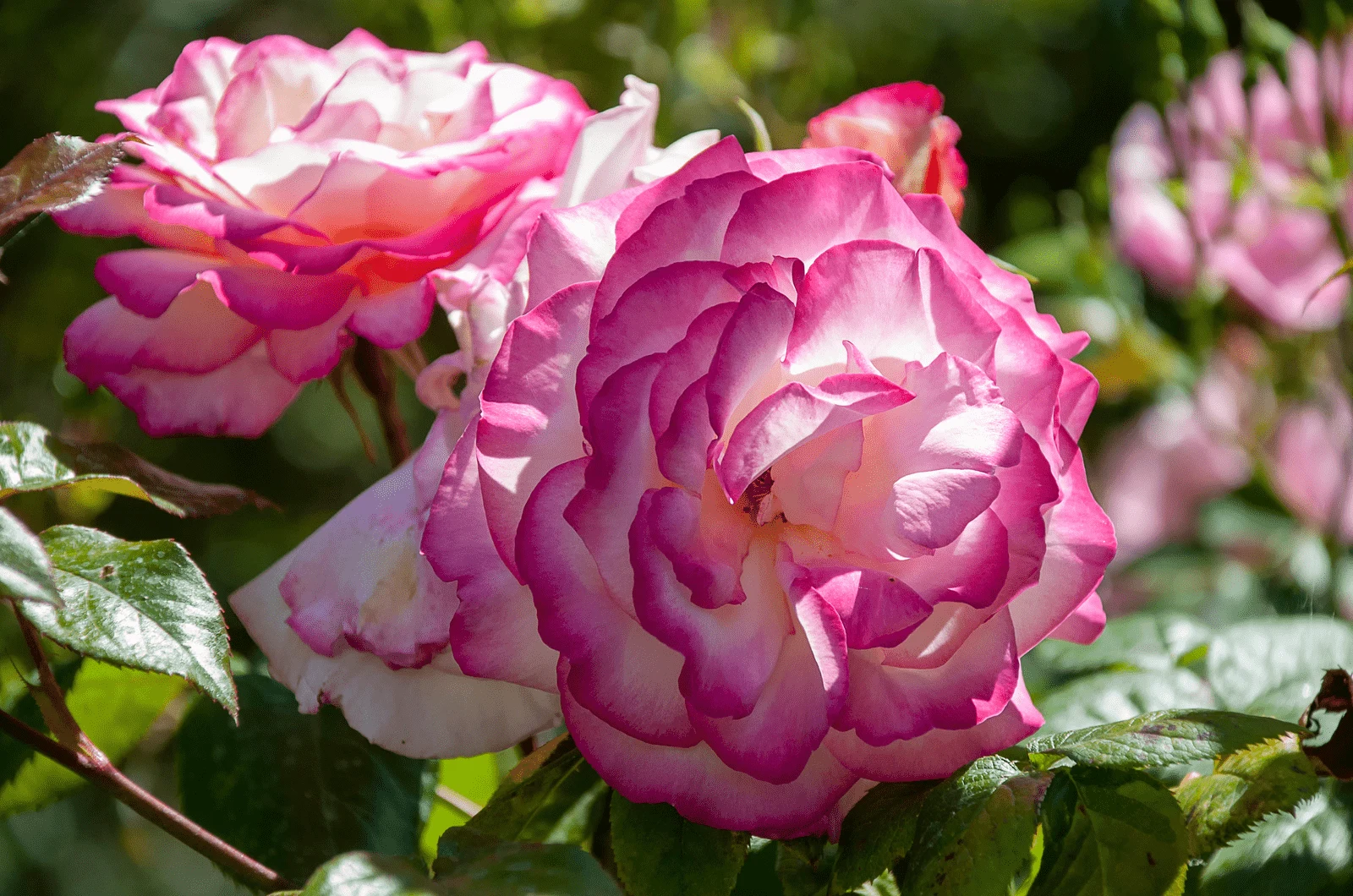 Gallica roses were first grown by the Romans and Greeks, so you can imagine how old these varieties are!
Due to their beauty, these roses became widespread in a very short time. Nowadays, you will find many Gallica varieties with Dutch and French names.
You can find Gallicas in many colors, from different shades of purple and pink to shades of red, like crimson.
Gallica species are compact and have a strong scent, which is why their oil is frequently used in the perfume industry.
The petals of these species are known for their astringent and antibacterial properties.
Here is a list of the most famous Gallica roses:
Gallica Versicolor
Also known as Rosa Mundi, this rose variety is a shrub and tends to grow in bushes. It produces pastel green leaves and semi-double blooms. The flowers are pink and have crimson streaks.
This variety can grow up to 3 feet tall and 3 feet wide, but you will need to wait for about 5 years until it reaches maturity.
This rose variety needs about 6 hours of full sun . It prefers well-draining and fertile soil, and, luckily, it tolerates poor soil so you will have enough time to fix it.
Duchesse de Montebello
The Duchesse de Montebello rose has an upright spreading growth habit. It has soft pink double flowers that you can see in summer.
This fragrant rose produces flowers that can grow up to 3 inches wide.
Just like the Versicolor rose, the Duchesse de Montebello prefers fertile and well-draining soil and at least 6 hours of partial shade per day.
Tuscany Superb
The Tuscany Superb is the most popular Gallica variety. This miniature shrub produces dark green leaves and semi-double flowers.
The flowers are dark-crimson and can grow up to 2.5 inches.
This rose is perfect if you grow in USDA hardiness zone 5.
All Gallica roses prefer alkaline soil and thrive in partial shade with at least 6 hours of full sun .
2. Alba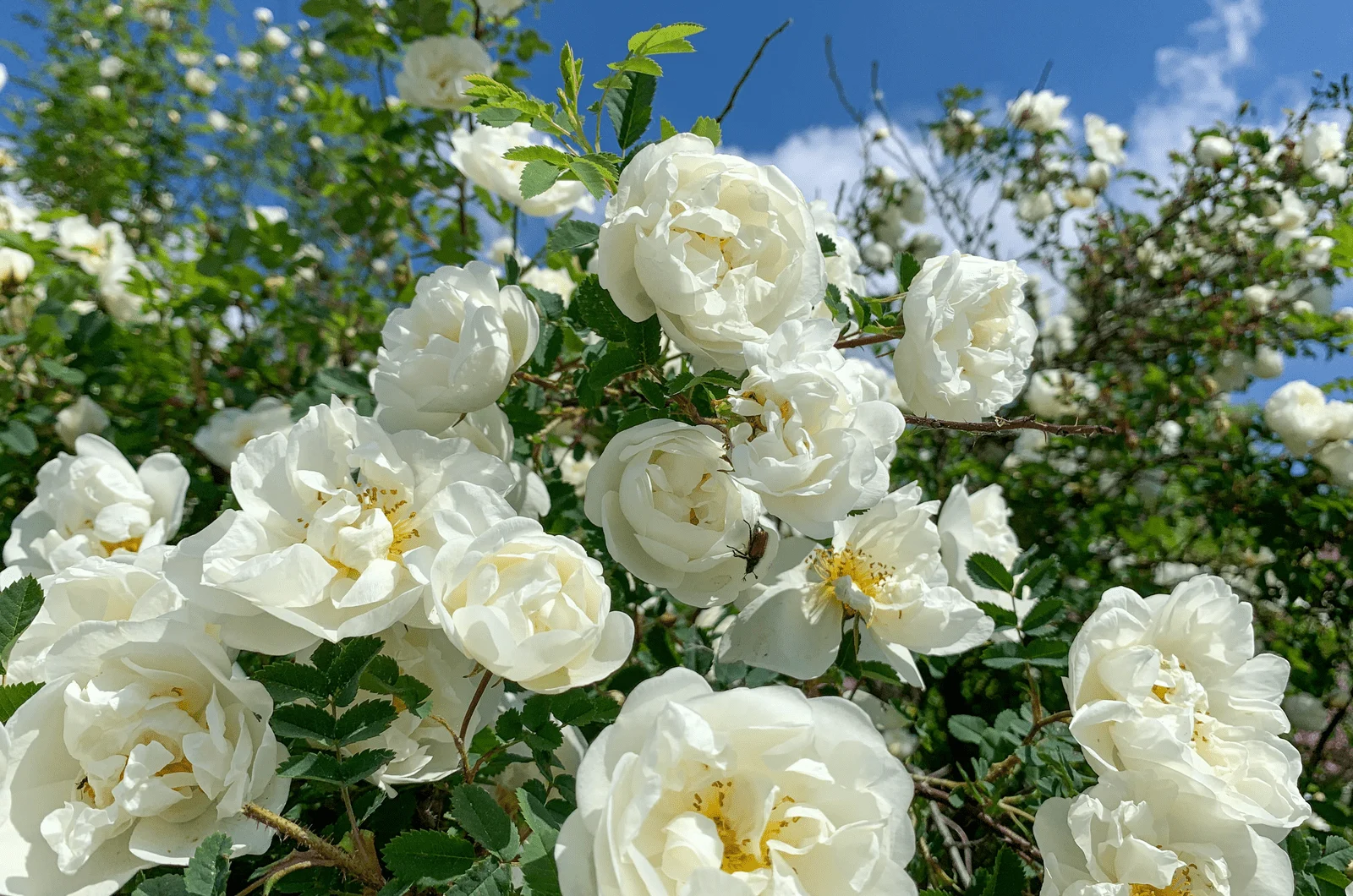 Another very, very old rose variety belongs to the Alba species. Alba roses are tall, bushy, and bloom only once a year.
You can find them in almost every Italian garden .
These varieties are perfect for beginners because they are disease-resistant , which I find is their best feature because you don't have to worry about prevalent diseases for rose plants.
Additionally, these hardy varieties can grow in shady and cold climates.
Therefore, no matter where you live, you can add at least one Alba variety to your garden!
Their flowers come in light shades of pink, and some may even be white. They are a perfect choice for all flower arrangements.
Let's look at some Alba varieties.
Rosa × Alba 'Alba Maxima'
The Alba Maxima is also known as the White Rose of York. Prickly stems and pale green leaves perfectly combine with double-flowered white flowers.
When a flower opens it can be about 3 inches in diameter, and clusters can have 6 to 8 blooms.
This shrub can grow up to 6 feet tall and produces oval-shaped red fruits in fall.
The Alba Maxima grows well in partial shade, and if you decide to grow this variety, apply well-rotted manure before the growing season.
Queen of Denmark
Don't get fooled by Königin von Dänemark – Italians love this Alba variety.
Who could resist such beauty anyway?!
This shrub produces grayish- green foliage and light pink, scented flowers.
This rose blooms in mid-summer and can grow up to 3 feet tall.
I suggest you apply fertilizer made explicitly for roses before the growing season.
Great Maiden's Blush
Rosa × alba 'Incarnata', or Great Maiden's Blush, is another beautiful rose variety.
This variety can grow up to 8 feet tall and 4 feet wide.
It produces light green leaves and flowers once a year. During summer, you can see fascinating light pink flowers.
For a thriving and healthy Great Maiden's Blush, you must apply mulch before the growing season.
3. Damask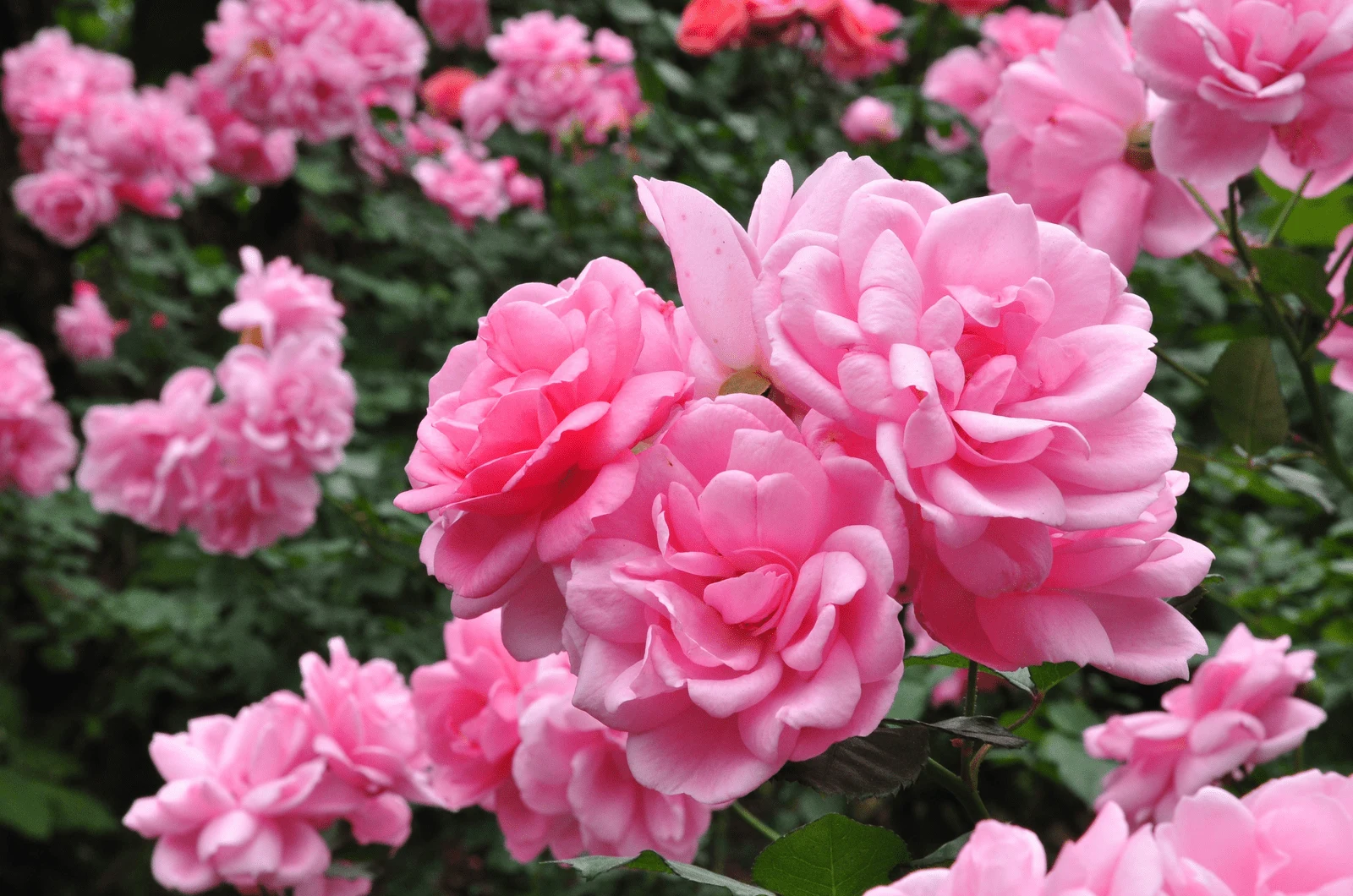 Damask roses are actually the oldest rose species!
Due to their long cultivation period, two varieties developed: Summer Damask and Fall Damask.
Fall Damask roses bloom twice a year, once during summer and once during fall.
On the other hand, Summer Damask roses only bloom in summer.
Damask rose varieties are available in various colors, from white and light pink to magenta.
These roses have a strong scent and are cultivated for essential oils and perfumes.
Here are some of the most beautiful Damask roses:
Madame Hardy
The beautiful flowers of Madame Hardy roses made this variety stand out and become a common plant in many gardens, including those in Italy .
The Rosa × damascena 'Madame Hardy' produces fully double white flowers with a button-like green center. It also has green leaves.
The Madame Hardy is a Summer Damask rose which only flowers once.
It can grow up to 3 feet tall, but you will need to wait for 5 to 10 years for this shrub to reach its full size.
Madame Hardy appreciates full sun and fertile, alkaline soil.
Celsiana
The Celsiana rose, or Rosa Amelia, is a small shrub that can grow up to 4 feet.
It is known for its semi-double pink flowers. However, as this rose matures, the pink color fades. An older Celciana has white flowers.
Ensure well-draining and fertile soil and a spot with partial shade, and your Amelia will thrive and bloom like never before.
Four Seasons Rose
The Four Seasons rose is a vigorous grower that can grow up to 4 feet tall.
It has thorny stems and light green leaves. Four Seasons roses produce clusters of fragrant, double, light-pink flowers.
The Rosa × damascena var. semperflorens starts blooming in summer and continues producing flowers throughout the fall.
If you want to propagate this variety, take the cuttings, plant them, and cover them with grass.
4. Centifolia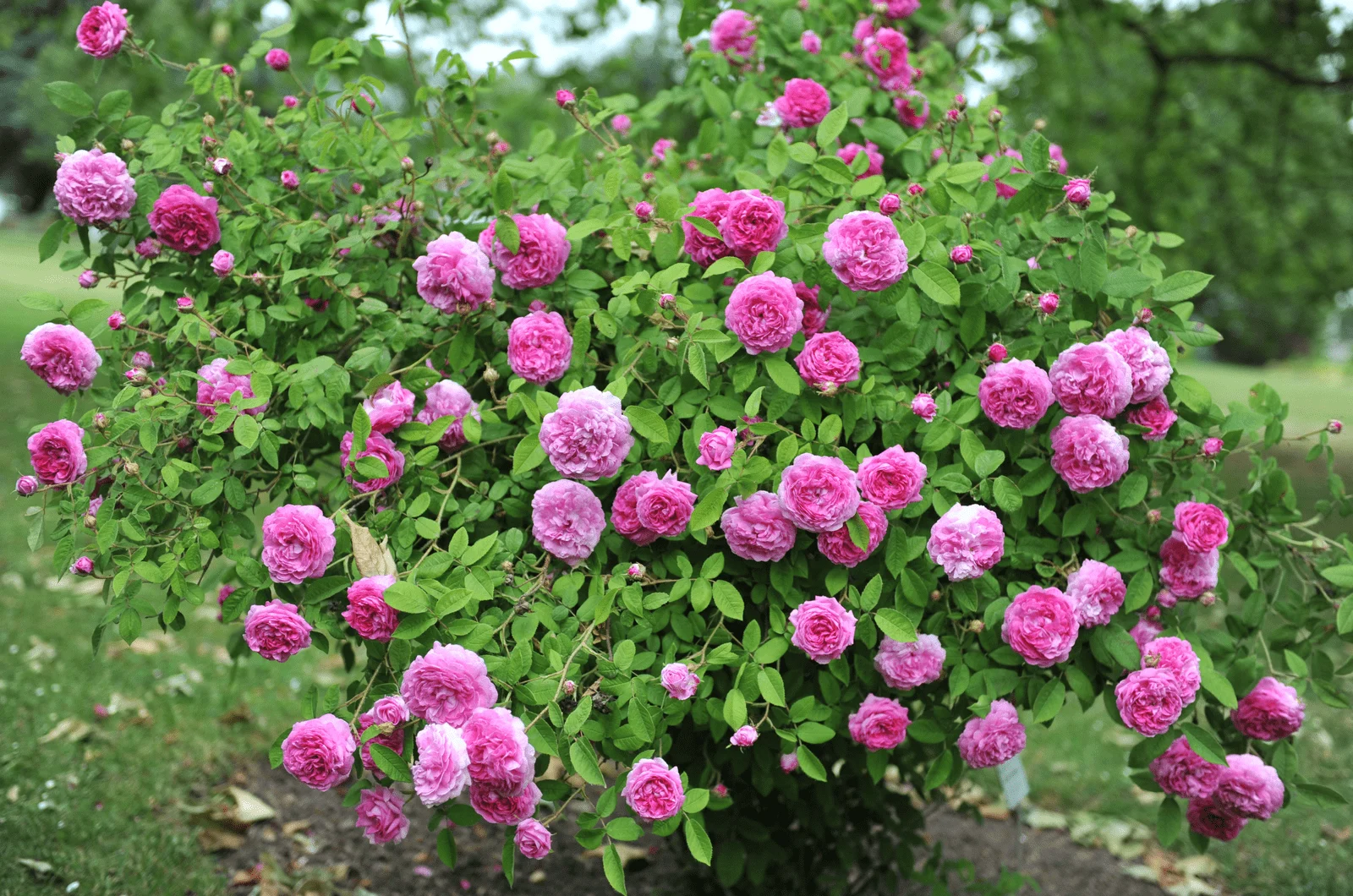 The Centifolia species has a very strange and, honestly, unattractive name: "cabbage roses".
The blooms of Centifolia roses resemble a cabbage head. To put it another way, they have tiny petals that firmly overlap, giving them a distinct feel.
You could stumble across "Provence" roses, which are similar and named after the French region where they were once produced.
Centifolia roses come in a wide range of colors, including white and pink. Their flowers can become so huge and numerous that they weigh down the stem, causing it to droop and nod off.
This particular rose variety is frequently utilized as an essential oil in popular perfumes because of its extraordinarily wonderful scent. However, take full advantage of it while you can as it only blooms once.
Here are some beautiful Centifolia varieties:
Cristata
The Rosa × centifolia 'Cristata,' otherwise known as the crested moss rose, produces greyish-green leaves and beautiful double flowers.
The flowers are primarily pink and can grow up to 3 inches wide.
The outer part of the Cristata flower has crested sepals.
This variety prefers full sun and well-draining soil rich in humus.
Fantin-Latour
The Centifolia variety, Fantin-Latour, has dark green leaves and pale pink flowers.
The flowers can grow up to 3 inches wide.
This variety blooms in summer and is suitable for USDA hardiness zones 5 and above.
You can also use this variety for hedging.
5. Bourbon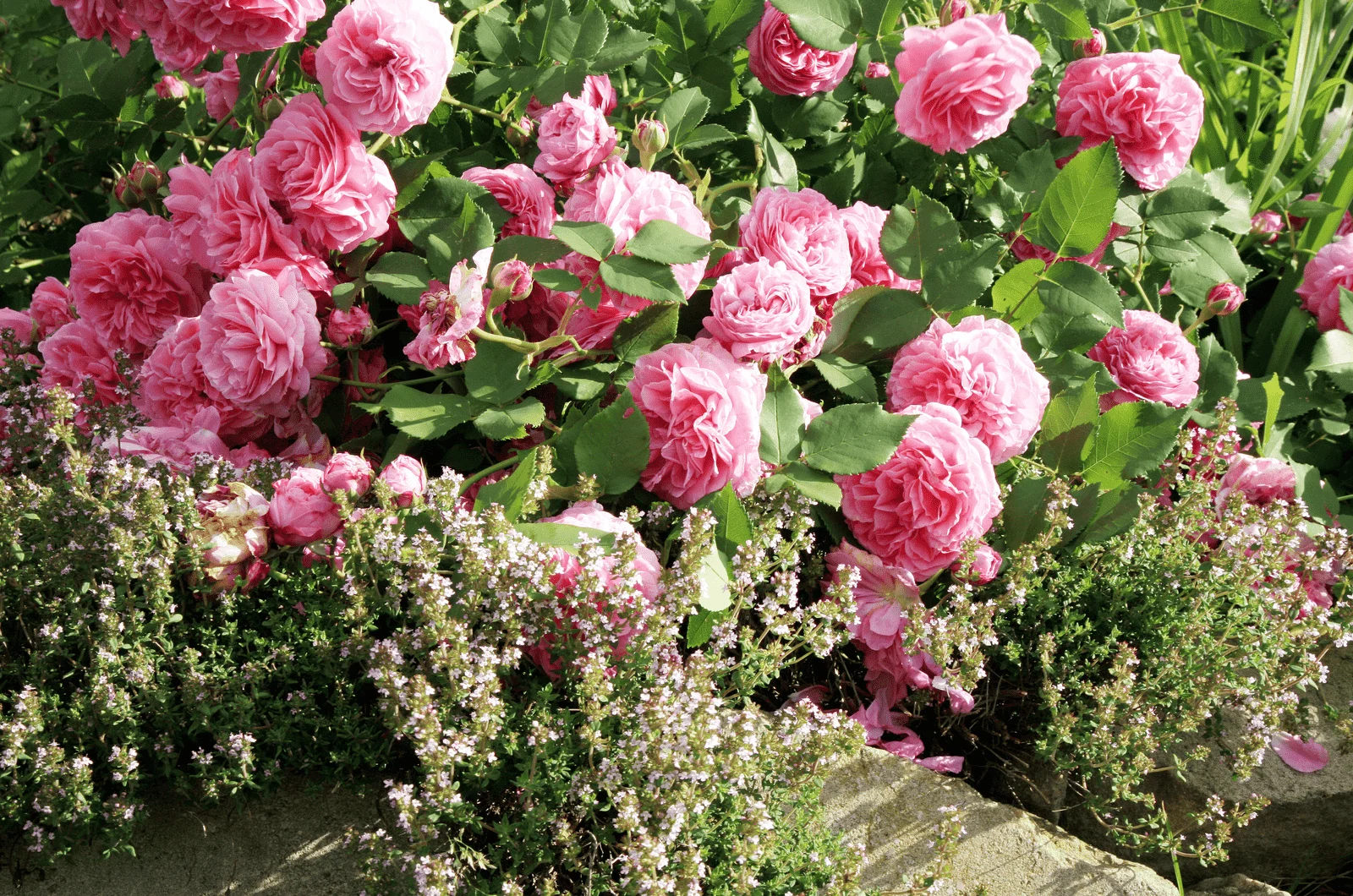 The name Bourbon rose first appeared in 1817 with the Iller Bourbon. In the beginning, many believed that these species were Damask and China rose hybrids.
These roses have lovely big blooms that come in a variety of colors, such as pink, red, and white.
Bourbon flowers have a powerful scent. However, compared to the famous whiskey, the scent isn't that strong.
Bourbon varieties are climbers, so if you decide to grow one I suggest providing a trellis so your Bourbon rose can bloom throughout the entire year.
Here are some magnificent Bourbon varieties:
Variegata di Bologna
For this Bourbon variety, blame Massimiliano Lodi. The name 'Variegata di Bologna' first appeared in 1909.
The Variegata di Bologna is known for its vibrant colors . The flowers are white or pale pink and have crimson streaks.
It thrives in various conditions, so this Italian rose is perfect for beginners.
Queen of Bourbons
The Queen of Bourbons, or Bourbon Queen, is a variety with cupped blooms that can come in various shades of pink.
You can grow it as a bush, and it will grow up to 6 feet wide and tall in this case.
However, this rose can also be a climber, so you will get a fantastic view if you support it with a trellis.
Another great feature about this rose variety is that it grows well in poor soil. You don't have to pay much attention to the soil of your home garden as this rose literally appreciates anything.
6. Tea Roses (Hybrids)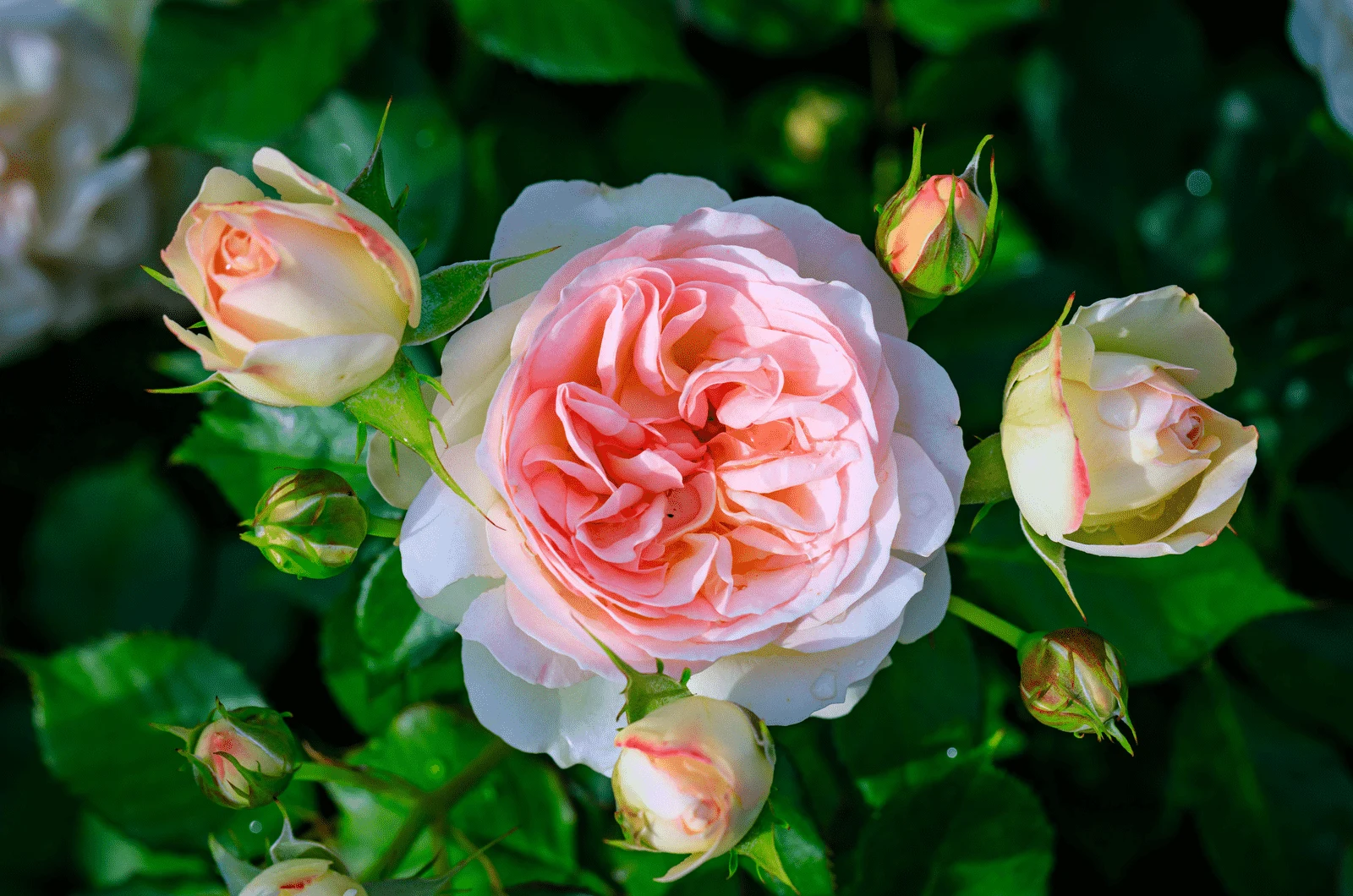 Undoubtedly, the most popular rose varieties are hybrid tea roses. You will see this rose as part of almost every Valentine's bouquet.
Each stem has only one rose, and a single flower can have up to 50 petals.
These roses come in various colors, but if you want to give a rose to your loved one, the red rose isn't the only one to choose from.
One hybrid is produced everyday, which is why we have thousands of varieties of tea roses!
Here are the most popular:
Beloved
The Beloved rose is a classic among roses. Most people think of this variety when someone mentions roses.
This hybrid has fully double flowers that come in a fascinating dark red. You will see 4-inch flowers throughout the summer.
You can gift it as a single flower, put it in a classic 12-rose bouquet, or use it as a focal point of different bouquets.
This hybrid was primarily created to endure even the hottest summer days.
This rose bush is disease-resistant , so you don't need to worry about common rose diseases.
Dark Night
Now, I want to present an amazing rose variety – the mysterious and elegant Dark Night rose!
The great thing about the Dark Night is that it produces flowers from early spring and summer until late fall.
What makes this rose stand out is its flower color ; the yellow undersides and the maroon front side of the leaves make this rose truly breathtaking.
The flowers maintain their color well and are supported by robust stems, so the Dark Night is an excellent choice for vases.
7. Groundcover Roses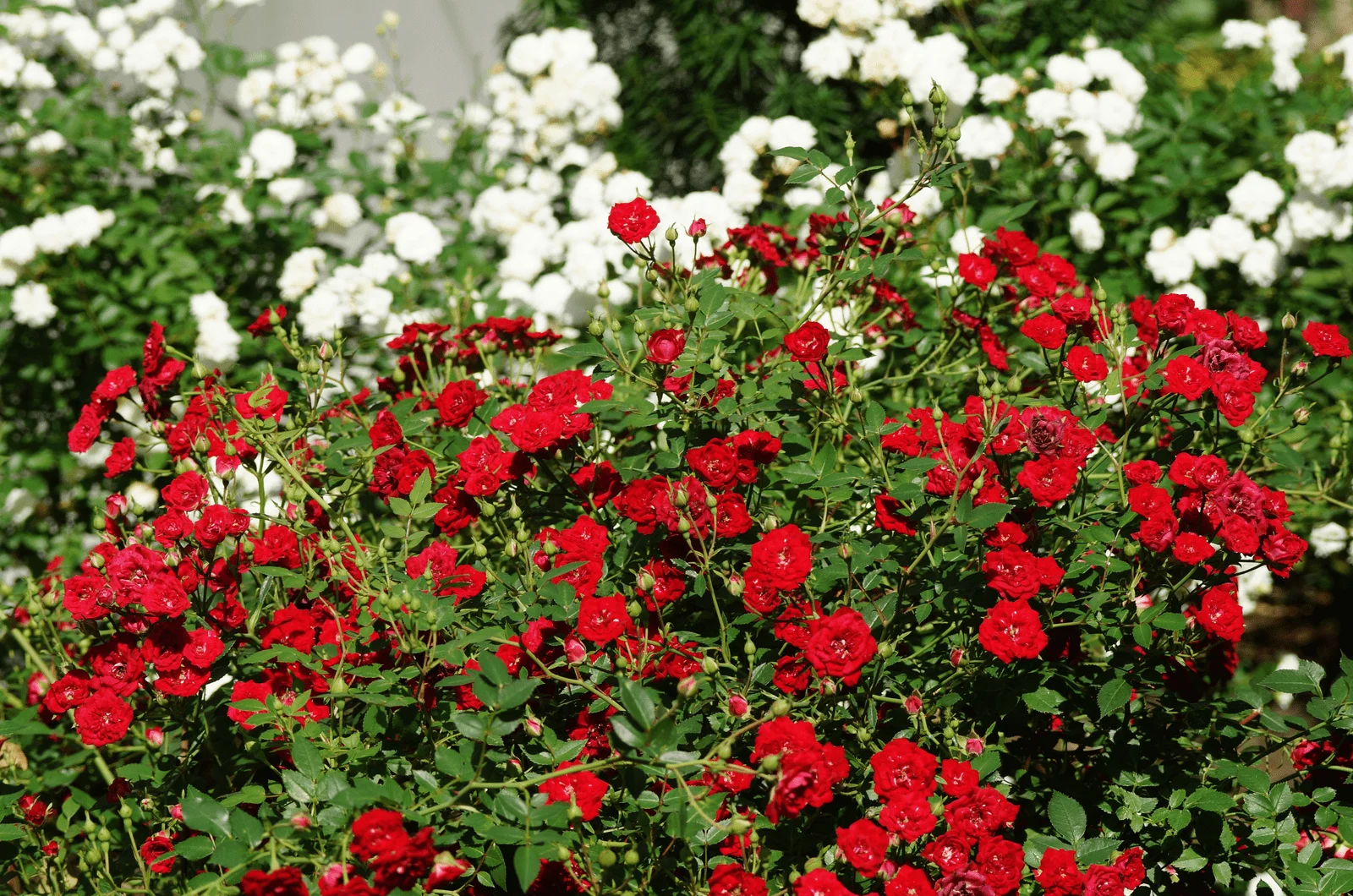 Groundcover roses seem to have it all: they are easy to grow, have a delightful scent and vibrant colors , and come in interesting shapes.
The great thing about groundcover roses is that you can fill any space in your home garden with this variety. They are pretty small and can reach up to 3 feet in height.
These are definitely the easiest-to-grow rose varieties available.
Are you a beginner in gardening and adore roses? If your answer is yes, choose one of the following varieties:
Fragrant Lavender Simplicity
It's simple to see why these easy-to-grow hedge roses are so popular, but, their low-maintenance requirements aren't the only thing that made them so.
The Lavender Simplicity is one of the most scented roses ever cultivated.
Their fully double lilac flowers, which have an average of 30 petals each, will make your entire home garden smell like citrus!
If you have a small garden or want to grow a rose in a pot, you can choose a smaller Fragrant Lavender Simplicity variety.
Happy Chappy
The vibrant hues of the Happy Chappy make it great for hanging baskets and pots. A Happy Chappy can be pink, yellow, or even orange.
This variety can grow up to 2 feet tall, but don't let the size fool you because this rose will definitely stand out from other flowers in your garden.
It grows well in various climates, so if you live in a cold or humid area, don't worry; anything makes the Happy Chappy, well, happy!
Rosa x Chewnicebell (Oso Easy Italian Ice Rose)
This variety is well known as a self-cleaning rose. The petals fall off by themselves when they lose their color.
You can actually find three colors on a single flower; orange, light pink, and yellow.
After the spent petals fall off, this rose always produces new flowers.
This variety will grow well wherever you plant it, which makes this a great variety for bouquets as you can cut it from early spring to late fall.
8. Floribunda Roses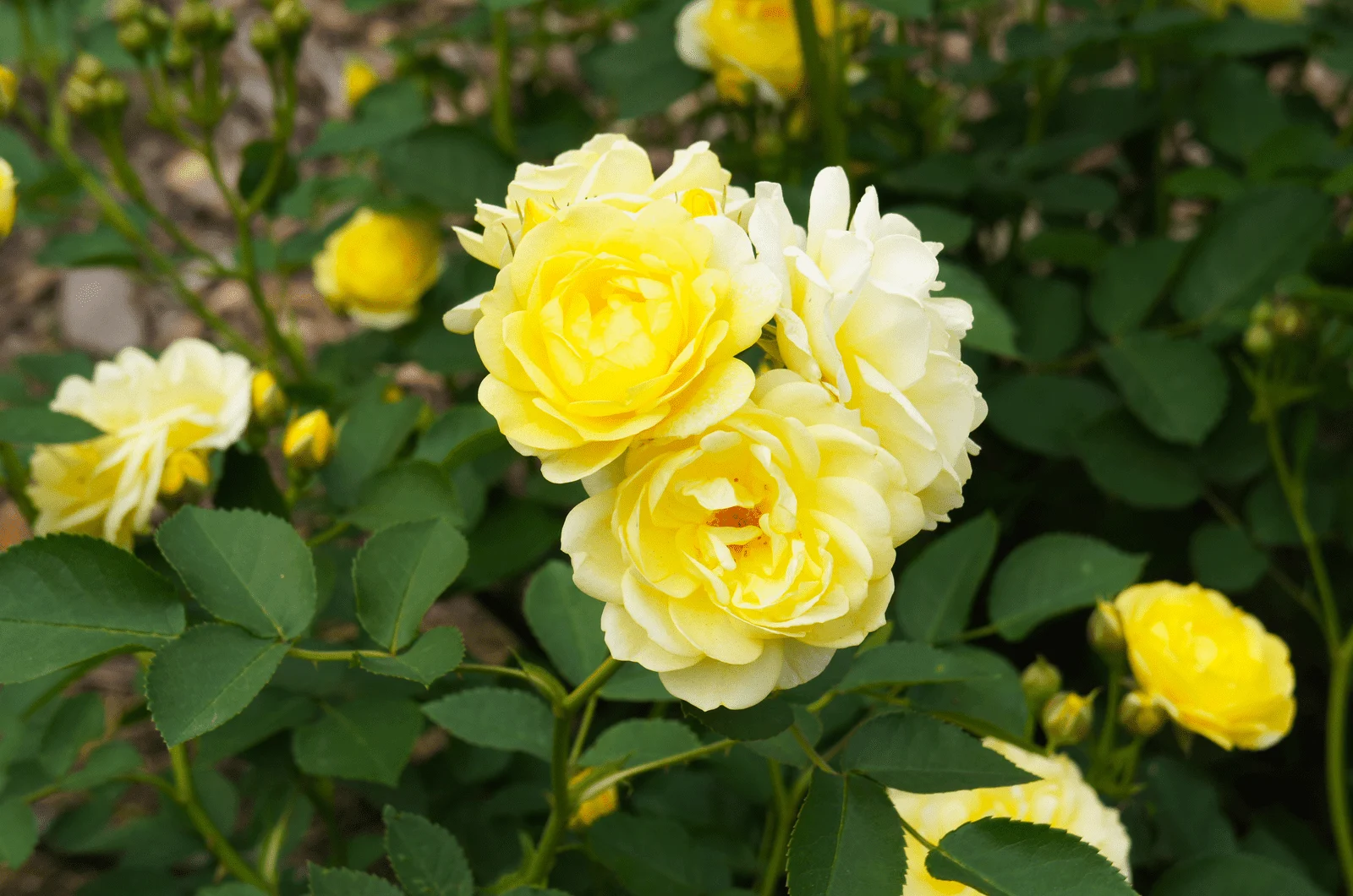 To begin with, these roses are recognized for their incredible abundance of blossoms in various colors.
You will see these roses in full bloom from spring to fall.
A great thing about growing floribunda roses is that they will inspire and encourage you to grow many other varieties.
Here are some of the best floribunda roses suitable even for beginners:
Iceberg
If there was an Oscar award for best rose, the Iceberg floribunda rose would definitely get it.
This free- flowering plant produces honey-scented double flowers.
You can find up to 15 flowers in a single cluster. The flowers are white, but when opened, subtle gold appears to add even more beauty.
This floribunda variety is perfect for landscapes, flower beds, and cut flowers.
Walking On Sunshine
Are you looking for a classic yellow rose ? I have the perfect variety for you! The Walking On Sunshine rose will undoubtedly bring joy to your home garden .
This variety produces dazzling yellow flowers that can reach 3 inches in diameter, and soft peachy petals that deepen as they mature, giving a stunning contrast to the dark-green leaves.
This rose can be grown in a variety of regions around the country. The Walking on Sunshine will make a great addition to your flower bed, and you can even use it for hedging.
9. Grandiflora Roses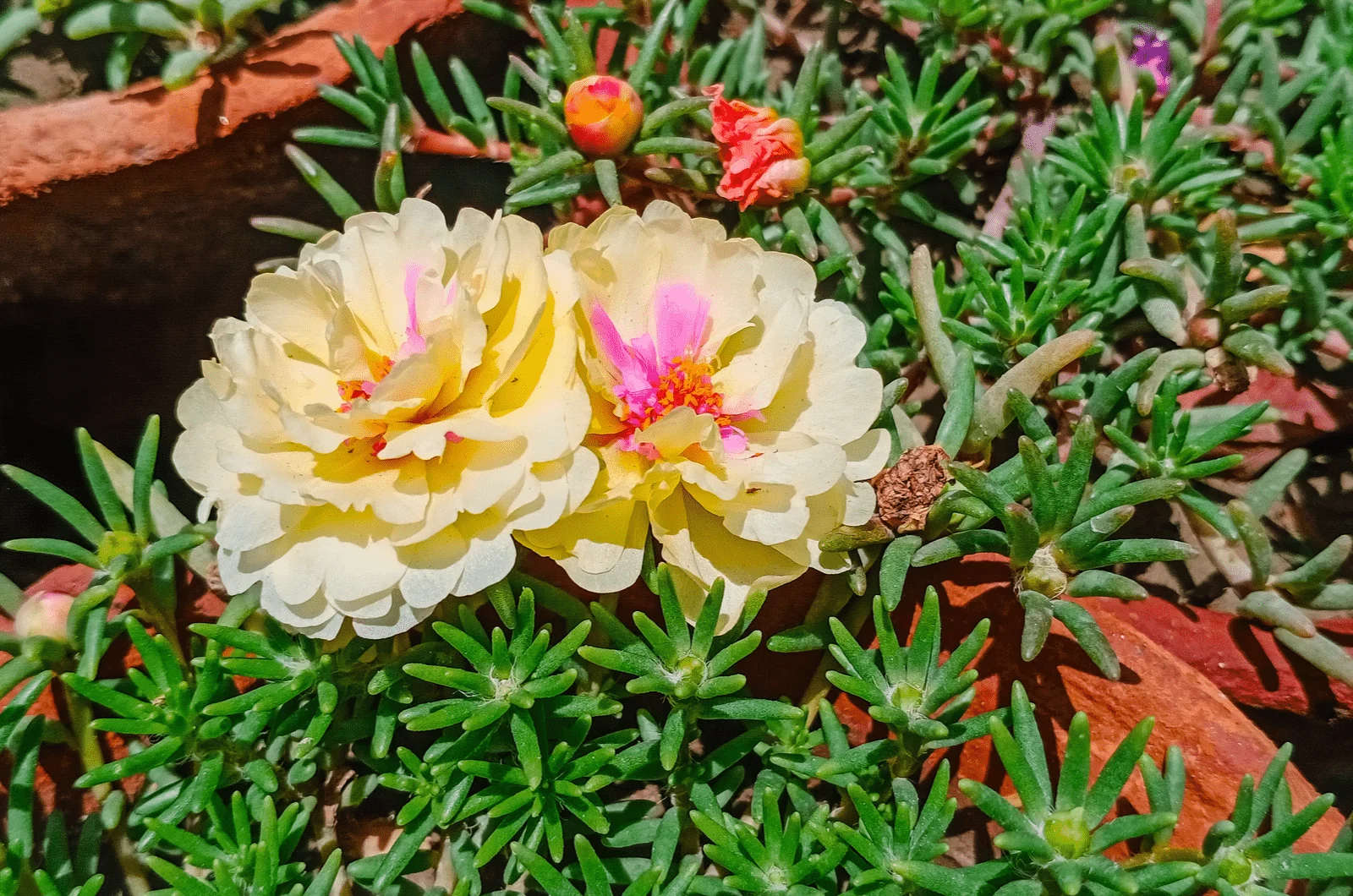 Grandiflora roses were developed from tea hybrid roses, but have floribunda characteristics.
Grandifloras are the ideal blend of the two, with stunning showy flowers that grow in clusters similar to hybrid tea rose, and a continual growth cycle similar to the floribunda.
The Grandiflora's shrubs are generally larger and taller than hybrid teas. While not as well-known as its close relatives, the Grandiflora is still a robust and vigorous plant worth considering for your garden or landscape.
Here are some of the best Grandiflora varieties:
Mother of Pearl
You don't have to be a pirate to have a unique pearl anymore! You can grow a rose of the same beauty in your garden; the Mother of Pearl rose.
Elegant green leaves and salmon flowers make this rose perfect for every garden.
Additionally, its refreshing scent adds a final touch to the beauty of each flower, or fiore, if you prefer.
The most common rose disease, known as black spot, is not a problem for Mother of Pearl, which is famed for its disease-resistance .
Sweet Spirit
The Sweet Spirit Grandiflora rose is a delightfully scented flower.
This amazing species thrives in locations with excessive humidity and intense heat.
This luxurious bush looks excellent even when not in bloom, and the scented flowers are a delightful complement to indoor spaces.
What Do Roses Symbolize In Italy?
Roses are very popular in Italy and are actually a traditional flower of Italy .
"Rosa" is an Italian word that refers to both rose flowers and the color pink.
Italians use roses as gifts but also for a variety of occasions, but their connotations vary based on their color.
Let's see what different roses represent:
• Red roses : love and passion
• Pink roses : sweetness and elegance
• Yellow roses : jealousy
• White roses : purity
• Blue roses: mystery
There is one rule in Italy when it comes to gifting roses; never give roses in even numbers because it is connected to grief. However, twelve roses represent marriage or a desire to stay with your beloved one forever (quite contradictory, right?!).
Other Breathtaking Italian Flowers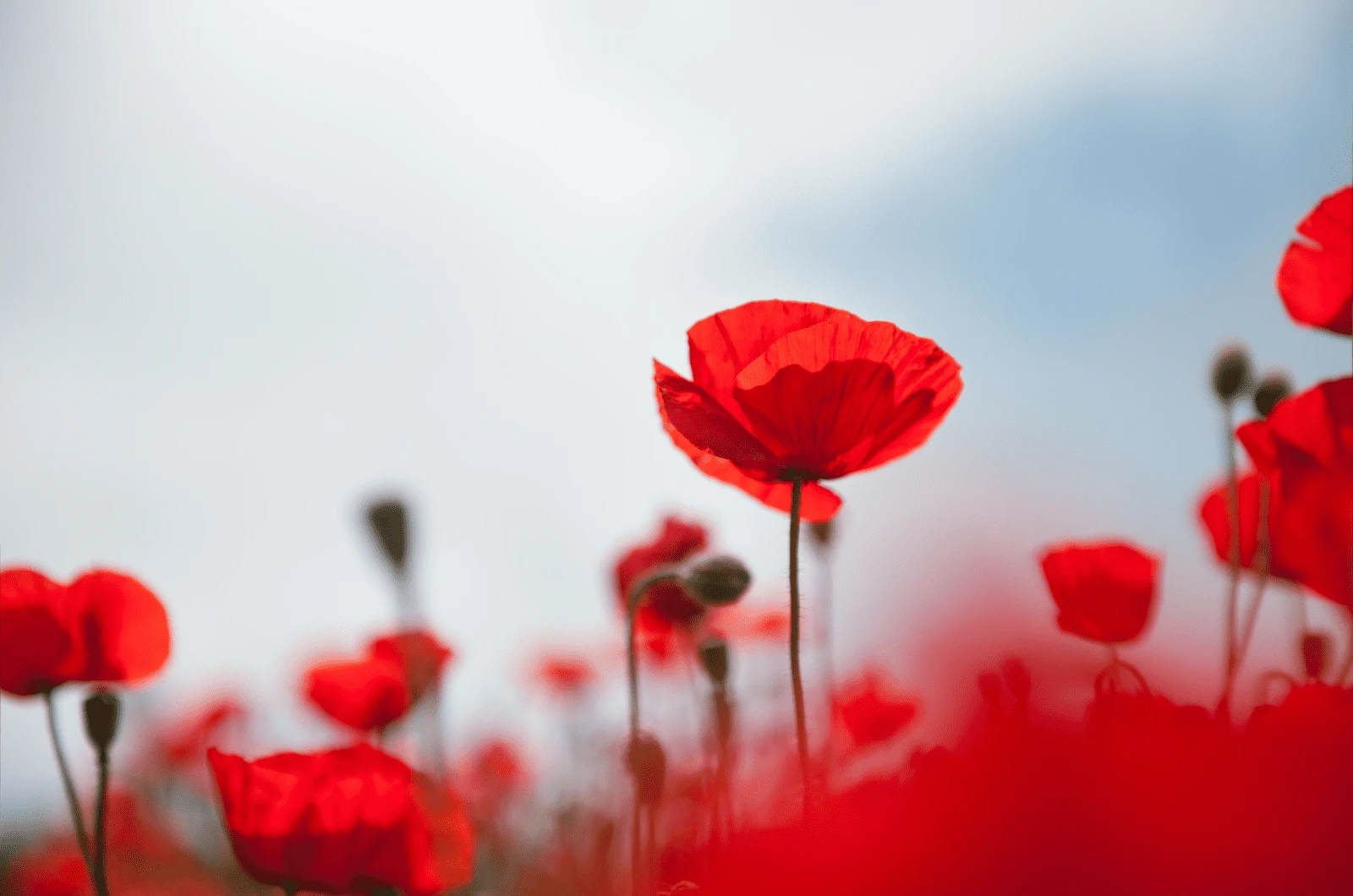 There are many Italian flowers , some of which are specific to certain regions. For example, sweet peas are commonly grown in Sicily and the sunflower in Tuscany .
I have made a list of the Italian flowers that really stand out.
Let's see!
White Lily
The Lily is the national flower of Italy , and represents purity and delicate beauty with its white blossoms. Lilium Candidum and Madonna Lily are two frequent names for this flower.
It is a part of the Liliaceae family and commonly known as lilium .
Lilies come in a variety of colors, each of which represents something different.
The white Lily , for example, symbolizes purity, whereas the orange lily symbolizes desire.
Peonies
Peonies are native to Italy . Interestingly, this is the only genus in the Paoniaceae family.
The peony is a flower that represents love, beauty, fortune, and romance.
These plants require at least eight hours of sunlight. When grown indoors, peonies are used as ornamental plants.
However, you can grow it as a hedge or develop it into bushes if you grow it outside.
Poppies
You may be astonished to learn that poppies are an Italian flower !
For example, Florence is known as the City of Flowers, and there are many flowers to be seen there. Still, I find poppies particularly meaningful as I previously assumed poppies had nothing to do with Italy .
They represent perseverance and rebirth.
Six petals of various hues, such as red, white, orange, purple, and pink, can be seen on the flowers.
Poppies blossom at the end of May, heralding the arrival of summer in Italy .
Poppies are associated with a Greek mythological custom in which they are utilized to ensure a good yield.
Chrysanthemums
The chrysanthemum flower belongs to the Asteraceae family.
These flowers are native to Italy and are thought to represent longevity.
However, because the symbolism is linked to death, chrysanthemum flowers are commonly seen at funerals.
This plant has a bushy look and is herbaceous. It's a low-maintenance plant that can reach 11 inches in height.
Buttercup
Buttercups are mostly found in Northeastern Italy . Buttercups are often mistaken for dandelions, although they are larger and more colorful.
Buttercups are symbols of innocence, joy, friendliness, and youth.
These plants are great for attracting pollinators like bees and butterflies.
Buttercups come in a variety of colors, including yellow, orange, pink, and red.
Carnation
Carnations are part of the Dianthus genus, which has over 300 species.
The Carnation is a flower that represents protection, healing, and intrigue, and it produces fragrant and grayish-green leaves.
Because of its incredible capacity to hybridize, the Dianthus genus produces a plethora of varieties.
Carnations are very popular flowers in Italy . They are cultivated in all temperate zones around the world and come in a variety of colors. Additionally, they come in a variety of sizes, ranging from 3 to 30 inches.
Mimosa
The Mimosa genus comprises about 400 species and is native to Italy .
The "don't touch me" flower is one of the most fascinating mimosa cultivars. The flower bends when you touch it.
You'll be gifted a mimosa with a yellow flower if you pay a visit to Italy on International Women's Day.
Yellow flowers are associated with feminism and unity.
Oleanders
For those who enjoy mythology, there is a fascinating narrative about oleanders . The oleander was given the scientific name "Nerium" by the marine god Nereus, who had two daughters, the Nereids.
Oleanders are sometimes called "Eriotz-orri," which means "death leaf."
They are highly toxic, which is why they are linked to death. They have poison that can cause different health issues and even a heart attack. They are one of the most lethal plants on the planet.
Except for skilled flower gardeners, I wouldn't suggest growing oleanders or giving an oleander flower bouquet as a present.
Orchids
Orchids represent love, elegance, and beauty.
Of course, the size and other properties of Italian orchids differ. Italian orchids can be as small as a few inches or as large as 9 feet tall.
The majority of orchid species are epiphytes with stunning evergreen foliage.
The primary hues of orchid blooms are yellow, white, and pink, which I find fascinating.
You can now discover a wide spectrum of shades as various colors can be added into hybrids.
Sunflowers
The sunflower is one of my favorite flowers! This Italian flower , commonly known as the flower of Tuscany , can thrive in a variety of environments and tolerate a wide range of temperatures.
Isn't that incredible? But that's not all, because it also generates a large number of seeds. This means that seeds are available for birds, pollinators, and humans.
This plant can reach a height of 6 feet and has a 3-inch thick stem.
Sunflowers have heart-shaped leaves and elongated yellow flowers , but when the plant matures it bends over because of its weight and produces pipe-like seeds.
FAQs
What is the most popular flower in Italy?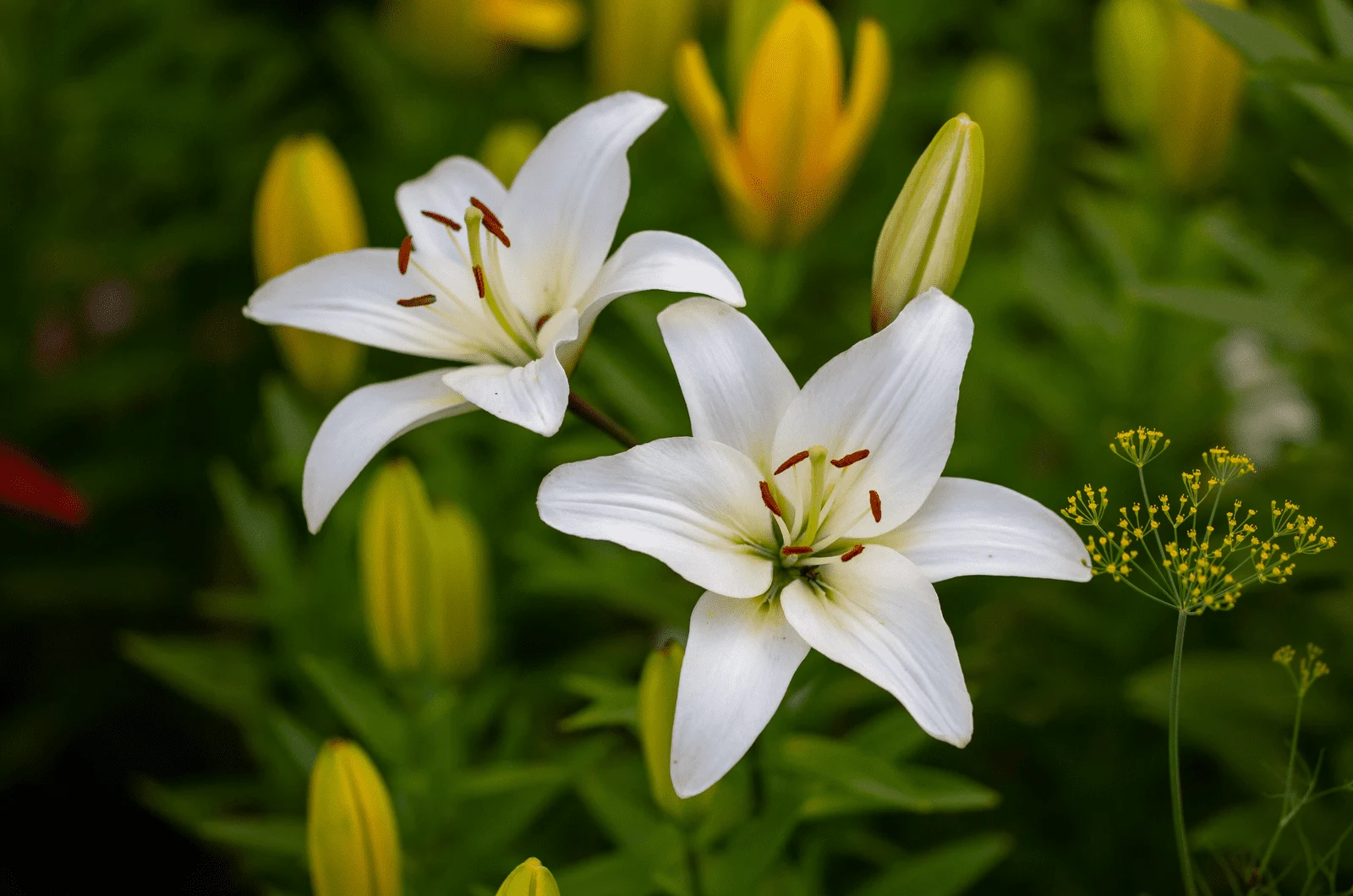 The most popular flower grown in Italy is the White Lily , the Italian national flower that represents purity.
What color is the Italian flag?
The Italian flag is green, white, and red, and three flowers can be grown to represent it: the Bells of Ireland, the white princess aster, and the red needle-petal aster.
What color are roses in Italy?
Italians are crazy about roses, so you can find a wide range of colors such as pink, red, white, salmon, blue, and orange.
Wrapping Up
Who doesn't like roses? If you are not a fan of the classic red rose , I am sure you will find another variety that tickles your fancy.
Italy is the home of many flowers, and roses are among the most popular.
Now that you know 9 magnificent Italian roses, I suggest you start growing at least one variety in your garden.
But be careful, as it is hard to stop at just one!
Until next time!
Like this post? Share or pin it for later!