Once the fall arrives, everything turns bronze, red, orange, and yellow. Well, not exactly everything – meet 'October Skies' asters, beautiful flowers with prominent purple colors that thrive in the fall season.
With its vibrant petals and mesmerizing fragrance, this native flower has recently gained many admirers!
Keep reading to learn more about its easy-care nature and how to cultivate a breathtaking display in the garden. So, without further ado, let's get started!
Origin & Features Of Asters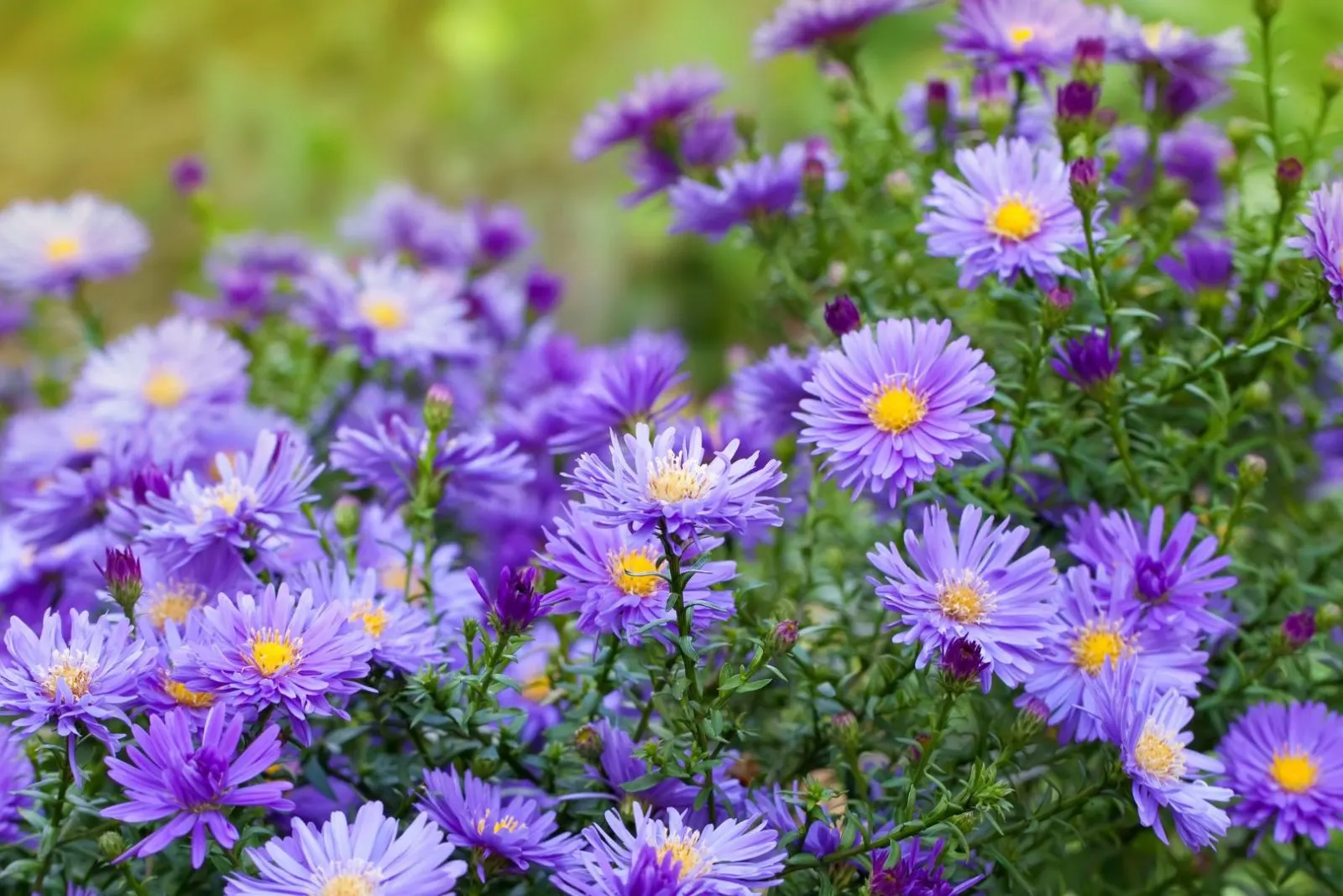 The 'October Skies' aster, otherwise known as Symphyotrichum oblongifolium 'October Skies', is a captivating plant that originates from North America. It is a delightful native perennial that produces vibrant flowers from late September to mid-October.
This variety was bred by the Primrose Path nursery as a sister seedling of the 'Raydon's Favorite' cultivar in Pennsylvania. Both of these cultivars are similar, although 'October Skies' is much more compact and has denser flower growth.
The plant reaches 18 to 24 inches tall and exudes a sweet aroma. With their fragrances and prominent flowers, these asters can attract numerous late-season pollinators.
Asters are definitely one of the prettiest perennial flowers that are also relatively easy to grow. If you want to have more pink hues in the garden, check out these 25 Gorgeous Pink Perennial Flowers For Every Season.
The Best Location For Asters
Asters are sun-loving plants and they prefer to grow in sunny locations. These perennials can grow in different soil conditions, including sandy and clay. However, well-draining soil is key to thriving asters.
Asters also prefer slightly drier conditions since they are drought tolerant. They can grow near Walnut trees as they are also salt tolerant. Asters also appreciate good air circulation, which helps reduce the risk of fungal diseases.
By providing these ideal conditions, you can ensure that your asters reach their full potential!
Landscape Ideas With Asters
With 'October Skies' asters, you can easily transform your landscape into a blue-flowering paradise!
You can combine them with other fall-blooming perennials like chrysanthemums and goldenrods to create a beautiful fall garden. Or you can create a butterfly garden by combining them with coneflowers or coral bells.
However, you can also brighten up your patios and balconies by growing asters in containers. Just remember to pinch the stems before July so that you have a more compact plant.
I would also recommend you check out this video: