Moonlight gardens are full of alabaster light and otherworldly fragrance, all set to a backdrop of the night.
Various shapes and sizes, a mesmerizing shimmer even during the daytime, and peaceful emotion are all parts of this interesting phenomenon.
And you can make one yourself with the right guidance and plants.
Let's learn how!
What Is A Moonlight Garden?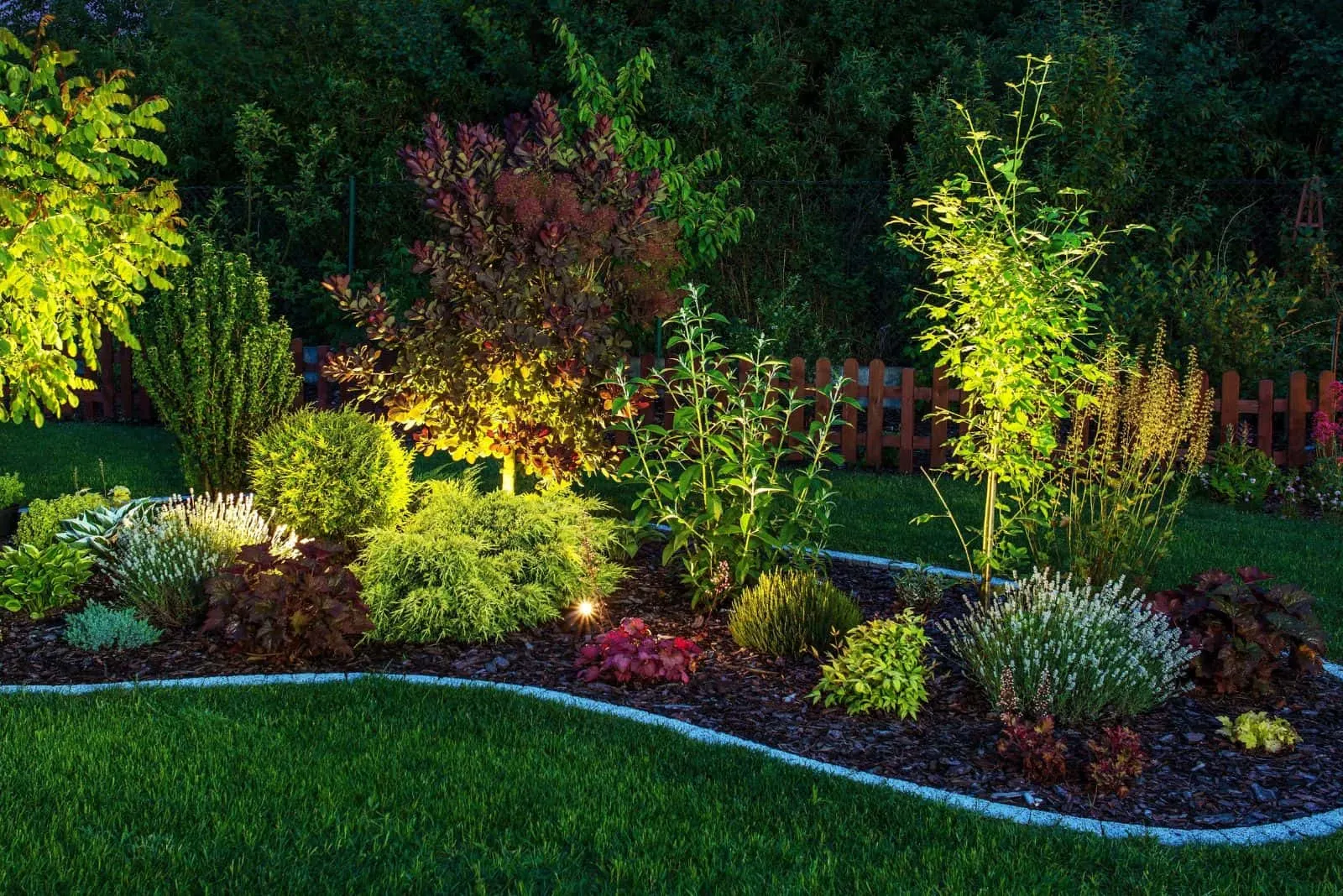 Moonlight gardens are meant to make the most of moonlit nights, sometimes only blooming or releasing scent after the sun has set.
We mainly picture them as a sea of white, creamy, and silvery shades shimmering in the night landscape.
And while they do usually consist of these colors, it isn't unusual to see some pastels. Lavender, chartreuse, gentle yellow, and blue all act as light-catchers that bring color to the bleached tones without disturbing the scenery.
Night Bloomers You Can Incorporate
Mother Nature gives us plenty to enjoy, and moonlight flowers are no exception.
The moonflower and its large pearly blossoms unfolding in the evening are a great option. The low-maintenance foamflower is ideal for woodland settings, and large casa blanca lilies are my personal favorite, especially when they open at night and glimmer under moonlight.
The heavenly-scented tuberose opens its white blossoms at night. And mock oranges are perfect white-green shrubs with a beautiful display during the day, and an even more gorgeous fragrance at night.
We can't forget the bushy night-blooming jasmine, with its exquisite fragrance and unruly growing habit. The white-red petals of night phlox bring a subtle show of color to your moonlight garden, hugging the ground in a unique manner.
The night gladiolus produces tall, eye-catching flower spikes of any pastel you can think of and smell incredible too.
Fill In The Gaps With White Daytime Flowers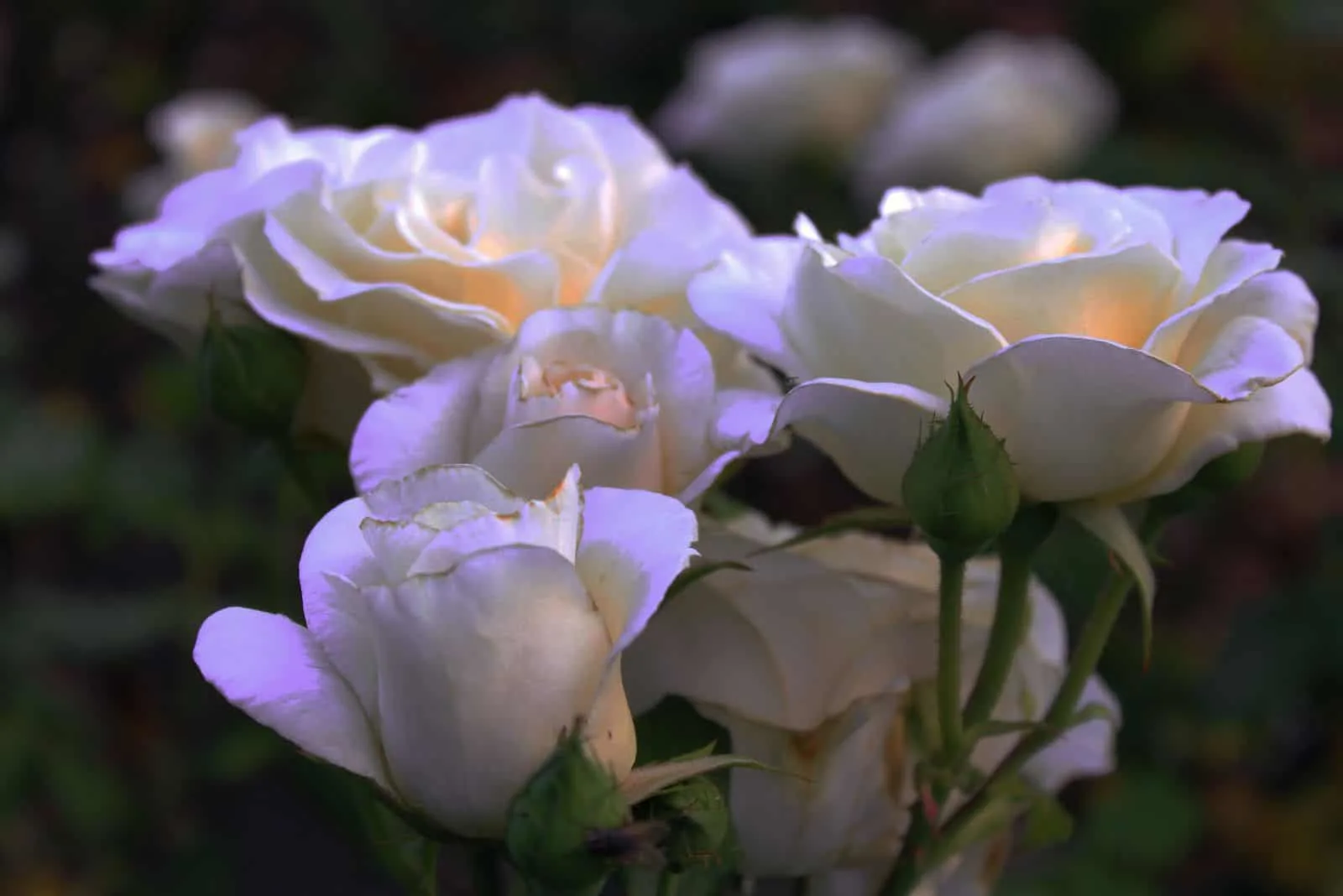 We don't want our moonlight garden to look breathtaking only at night – we need to make it shine during the day too. The best way to do this is by combining night bloomers with daytime flowers.
If you want to keep the same tone, climbing white roses are perfect. They'll add elegance and structure to your garden, especially if you trellis them on unique cages and arches, or let them overgrow a wall or supporting pillar.
And to make everything more dramatic, plant white clematis near these roses. They'll fill in all the empty spaces and look glorious night and day.
P.S. If you want a more classical look, you can't go wrong with white rose bushes.
Combine Them With Silver And Gray
White shouldn't be the only color in your moonlight garden, but if you don't want to stray too far from the theme, silver and gray are ideal choices.
These shades will create a shadow effect against your snowy flowers, giving your landscape a more magical feel.
The silver leaves and blue blossoms of eryngium stay on theme, shadowing the whiteness. But if you want a statement piece, then the angel wings senecio is perfect with its wavy silvery foliage.
Finally, white sage will make your moonlight garden fragrant and gorgeous, and requires very little care due to its drought-tolerant nature.
Tips For Making A Gorgeous Moonlight Garden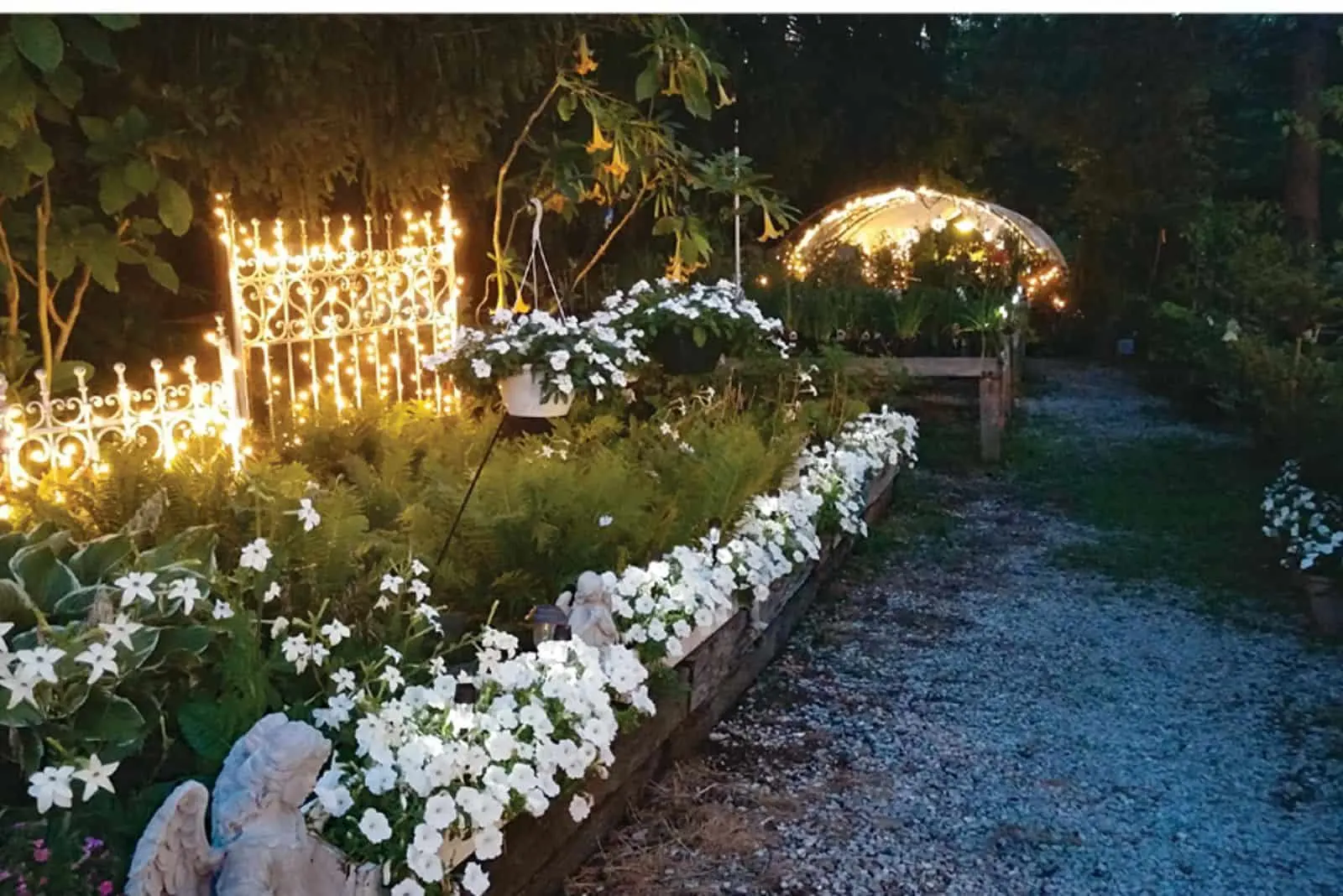 When undertaking this type of project, you have to keep the scenery, seasons, sunlight, and mature plant size in mind.
With plant height in mind, make a miniature model of your garden, which will allow you to add depth and texture to the right places. For instance, if you have a wall, place the tallest species in the back, but if you can move around your garden, place them in the middle.
First incorporate your evergreens that will keep their shade all year long, and then go for the seasonal vines. Slowly work your way towards the front of your garden, planting lower and lower species along the way.
Now's the time to add shadow. Get a couple of white sage or lavender plants, or even an angel wing senecio if you can get it.
Plant anything you like in silvery shades, but consider their looks both in winter and summer. You can prolong the beauty of your garden by replacing some varieties.
Don't forget about the annuals! These plants aren't forbidden and can look amazing in a moonlight garden. Just plant them in the front since they only live for a year and this will make it easier to clean up afterwards.
Choose your lighting carefully! Many moonlight garden plants appear as if glimmering on their own, but soft lights can help them, especially if there's no moonlight. Incorporate a seating area nearby, and you'll get a cozy garden to enjoy.
I understand that starting a moonlight garden from scratch can seem overwhelming, but there are ready-made plant mixes you can get to jumpstart your project.
Just bear in mind that it might take some time for it to get established and to the point you want it to be, but it's worth the investment!
Until next time!