Many yard owners give up on growing trees because of their size. Trees do get tall but their width is what worries landscapers most.
But what if I told you that there are some tall skinny trees that will fit perfectly in smaller spaces? Yes, they exist and I'll show you my favorites. These trees will also add a special touch of beauty to your landscape due to their spectacular appearance.
Some of these trees may spread more than others but you can control their growth by pruning. If you aren't skilled in pruning, simply go with trees that don't spread a lot naturally.
Let's meet these beauties!
1. Italian Cypress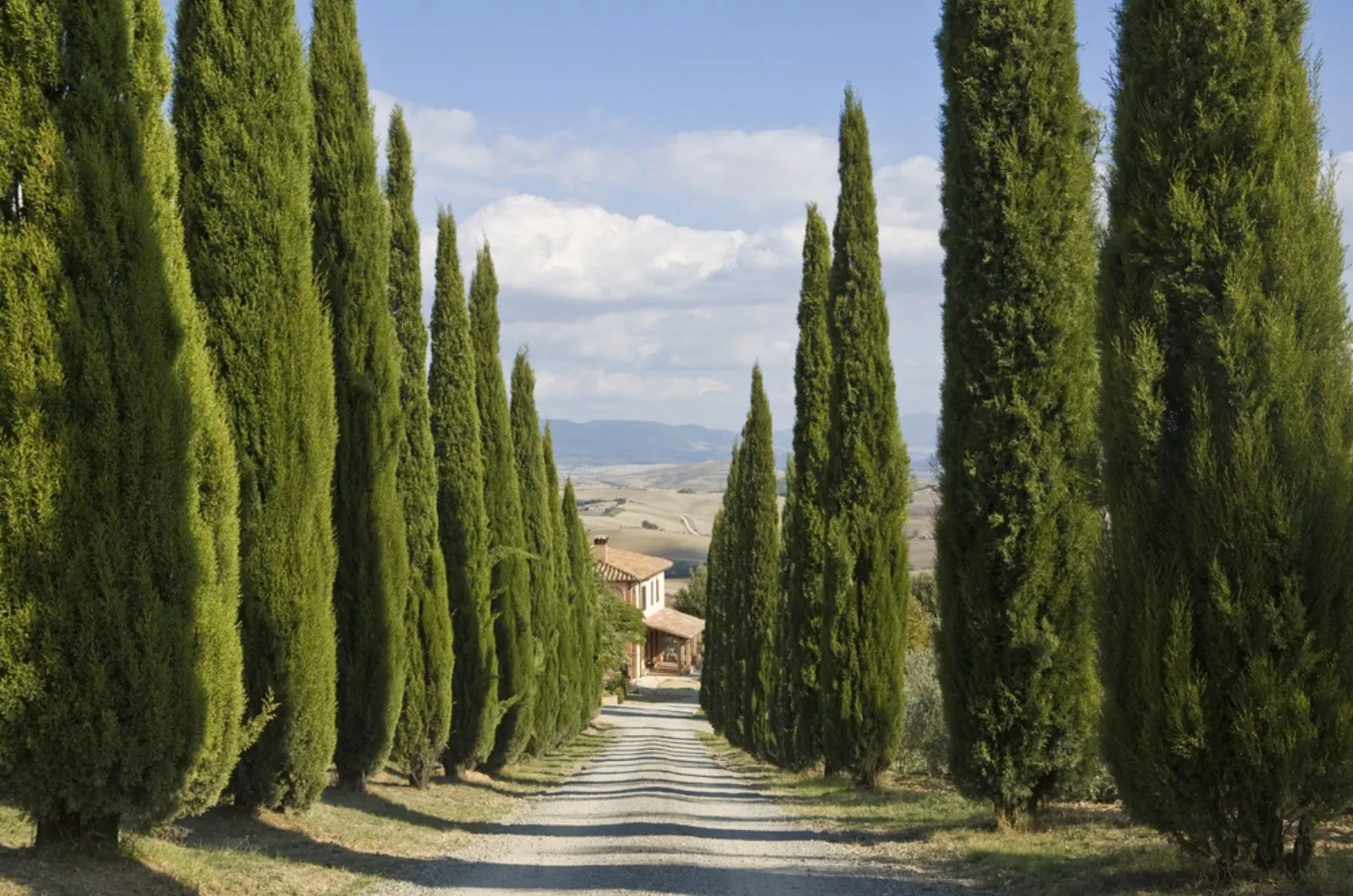 Here comes a tree that is praised for its fascinating appearance. Meet the Italian Cypress, an evergreen tree with a narrow and columnar shape. Its leaves are densely packed and they retain their dark green color throughout the entire year.
This tree won't exceed 60 feet and won't spread more than 6 feet, making it perfect for limited outdoor spaces. If you need a vertical accent in your yard this Mediterranean native will do the best job.
It will add a touch of elegance and sophistication to your yard and you can use it to frame entryways or add height to your outdoor space.
Having trees in our yards has many benefits and in the case of this Italian cypress, it can serve as a privacy screen and can even protect your property from strong winds.
What makes this tree even more special is that it isn't fussy over the soil conditions and can withstand periods of drought. This means that it can be grown in many climates.
2. Goldspire Ginkgo
Another amazing choice for smaller spaces is the captivating Goldspire Ginkgo tree. Its compact size, narrow upright form, and spectacular golden yellow leaves make this tree one of the most desired.
This type of tree won't grow more than 16 feet and won't spread more than 6 feet. It's especially beneficial to those who would like to add a vertical interest to their outdoor space.
The color of the leaves is actually one of the main reasons landscapers decide on it. Not everyone wants their trees to be green only. Imagine how amazing the golden-yellow foliage looks when it flutters in the wind!
Since the Goldspire Ginkgo is a compact and relatively short type of tree, many growers keep it in containers. You'll also be happy to hear that you won't need to prune this tree because it has a slow growth rate.
Another amazing feature of this tree species is that it withstands urban conditions, which include air pollution and poor soil types.
Ginkgo species are also considered spiritual trees and symbolize longevity, endurance, and strength.
3. Canadian Hemlock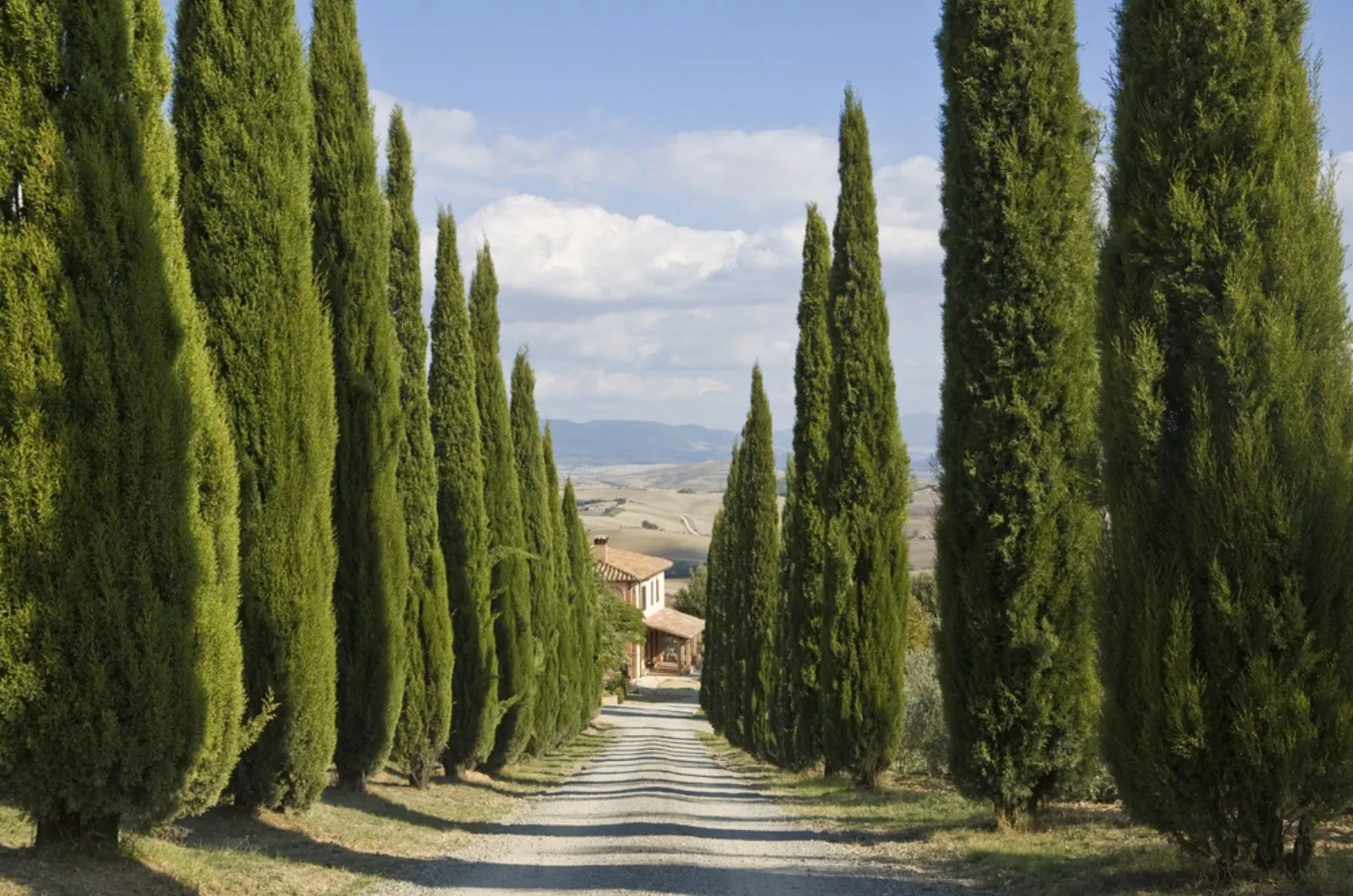 A pyramidal shape and lush leaves make the Canadian Hemlock tree one of the most beautiful on this list. It will easily fit into every landscape design and add a unique and elegant touch.
You can expect your Canadian Hemlock tree to grow anywhere between 40 and 70 feet tall and it may spread from 25 to 35 feet.
This may seem like too much but you can keep it smaller and more compact with a little bit of pruning.
Deep green needles with a feathery texture add even more beauty to this tree. Best of all, these needles will remain on the tree all year long so your yard will look amazing during each season!
This is another low-maintenance tree and it can thrive in various soil types and isn't finicky over sun exposure. If you have a shadier yard then this tree is everything you need.
Last but not least, wildlife adores Canadian Hemlock and the tree actually serves as a home to different small mammals and birds.
4. Skyrocket Juniper
This tree is a common choice of many landscapers because of its versatile nature. The narrow columnar growth habit makes Skyrocket Juniper one of the most desired trees for adding vertical interest to outdoor spaces.
These trees grow up to 15 feet and their width is something that attracts landscapers most. It rarely exceeds 4 feet, making it suitable for smaller gardens.
It features captivating bluish-green needle-like leaves that add year-round interest. Skyrocket Juniper is also frequently used for privacy screens because of its densely packed foliage.
Interestingly, Juniper trees are slow-growing plants and are prized for their low care requirements; they can withstand drought and aren't finicky over growing conditions, making them suitable for novice growers.
Best of all, it shows an excellent tolerance to pests and diseases and that's every gardener's dream!
5. Weeping White Spruce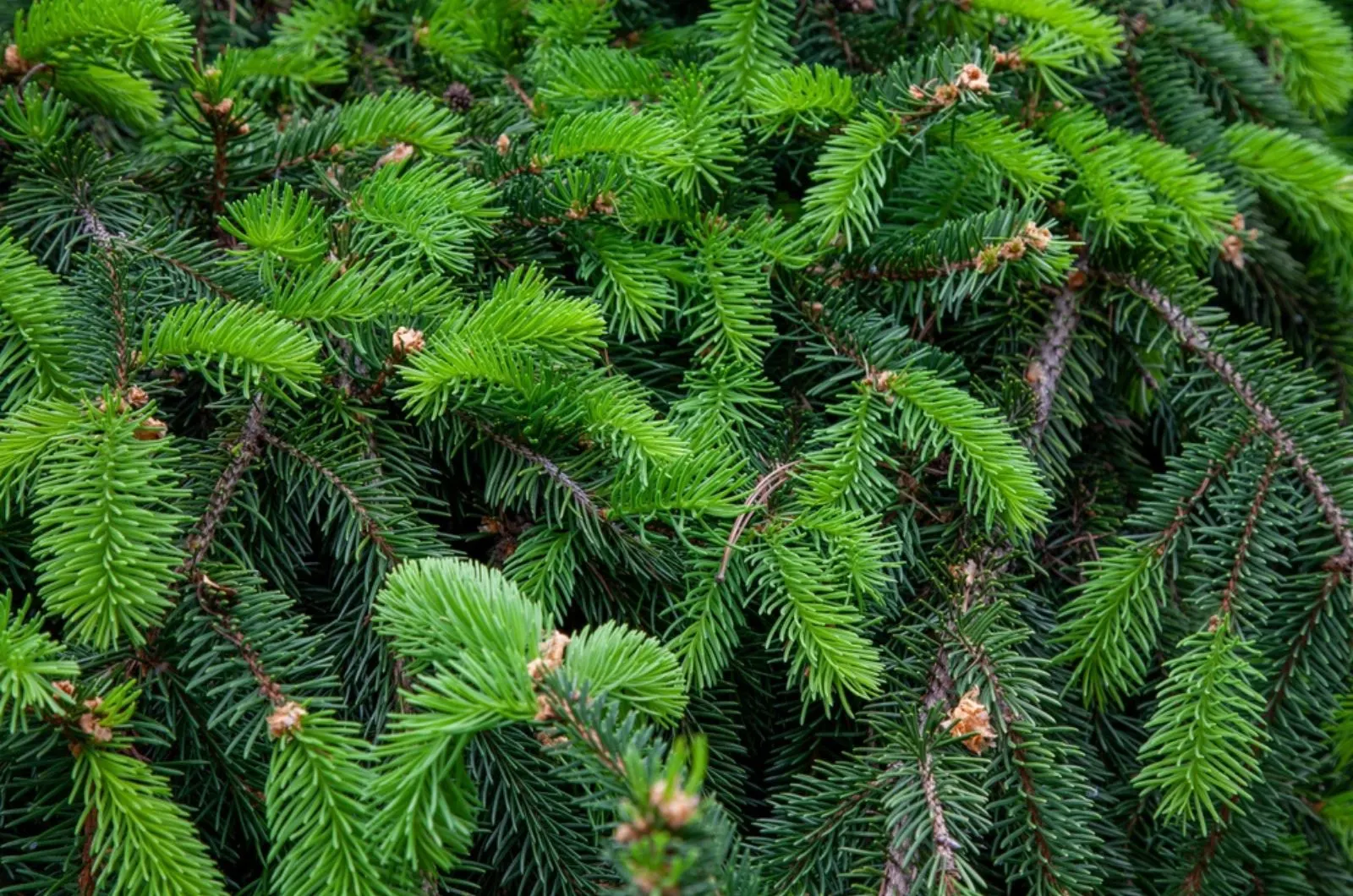 If you have a limited outdoor space, you should consider growing a Weeping White Spruce! This tree features spectacular bluish-green foliage and can grow up to 24 feet and may spread up to 6 feet.
But what makes this tree special is actually its weeping habit and that's not something we encounter often.
The branches cascade downwards, giving your garden a vertical elegance. You can either use it as a specimen tree or a focal point and even grow it in a container. Simply prune it to get the desired shape and retain its compact habit.
Don't be scared of pruning since this tree grows slowly. It's perfect for a privacy screen and can protect your property from windbreaks.
The Weeping White Spruce doesn't need much to thrive; any soil type works well for this type of tree and it's resistant to harsh weather conditions.
6. Columnar Oak
Another type of tall and skinny tree is the breathtaking Columnar Oak. It features deep green foliage that turns brown when fall approaches, making it a perfect choice for those who want a special garden display all year-round.
The expected height of this tree is 60 feet and it typically doesn't spread more than 10 feet. Its narrow and upright form makes it a suitable choice for smaller spaces and for any garden that lacks vertical interest.
Well, this species differs from its cousins in width but they're still just as beautiful. It has a moderate growth rate and requires little maintenance; urban conditions won't damage the Columnar Oak so if you're a city dweller, this is a perfect choice!
7. Eastern Redbud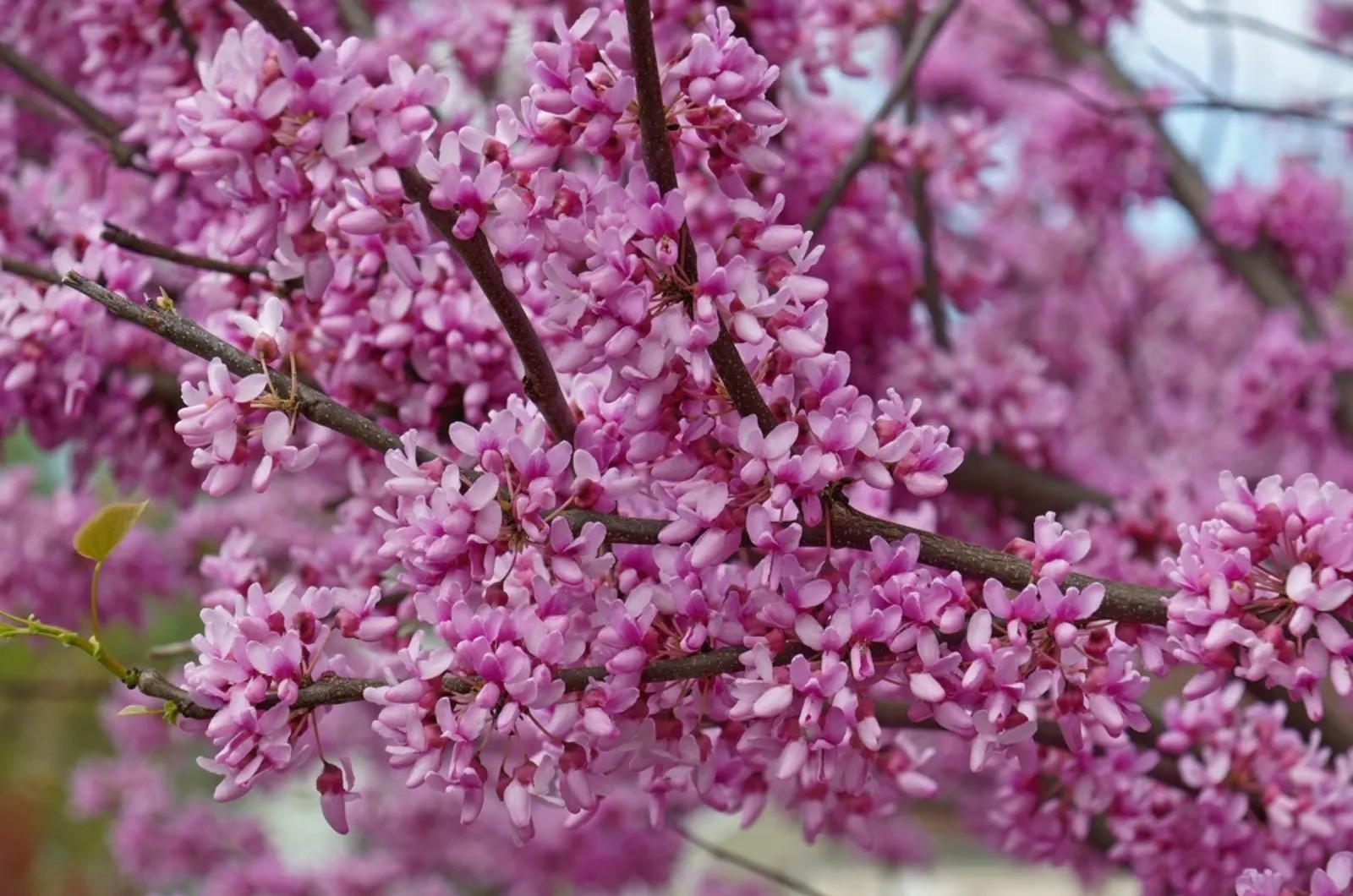 If you want to add a splash of color to your landscape, nothing will do a better job than the Eastern Redbud tree. Redbud trees have their pros and cons, but their beauty is simply enchanting.
Clusters of pink or purple blossoms pair perfectly with heart-shaped foliage and will give a special touch of beauty to your outdoor space. These blossoms offer an early nectar source so bees and butterflies will be frequent visitors!
Once the summer ends, the foliage will turn red and yellow and give your garden a special touch of beauty.
This tree species won't exceed 30 feet in height but it spreads up to 25 feet. However, the trunk is skinny and tall so it's easy to control the growth and maintain a more compact shape.
Eastern redbud and its cousins are perfect trees to grow near houses and they're super easy to maintain; once they're established, they'll bloom without frequent watering!
8. Slender Hinoki Cypress
We'll end our list with the splendid Slender Hinoki Cypress! It's a pretty common choice for smaller landscapes and I guess the reason is revealed in its name. So, it has a slender, pyramidal form and its green and gold leaves fit perfectly into every design!
The mature size of the tree is 15 feet in height and approximately 5 feet in width, which makes it perfect for smaller spaces. You can use it as a border plant or focal point and it will give your yard a special touch of sophistication.
Its size allows you to cultivate it in a container and you can even put it on your balcony or deck!
The Slender Hinoki Cypress will also protect your property from windbreaks. Additionally, it will keep your yard hidden from the curious eyes of your neighbors.
Having trees in smaller outdoor spaces is possible but you need to go with the tall and skinny ones. You won't make a mistake whichever tree you choose from this list not only because of its size but also because of its beauty and easy-going nature!