If you like pumpkins, you may be surprised to know that they have many wonderful health benefits. There are also loads of cool things you can do with a pumpkin.
If you really think about it, there are all sorts of pumpkin-related things. There are pumpkin pies, pumpkin seeds, Halloween decorations, jack-o-lanterns, pumpkin carvings, pumpkin paintings, pumpkin this, and pumpkin that!
Yet, how much do you really know about pumpkins? Have you ever wondered what the average pumpkin weight is? Do you know how to grow a pumpkin, especially a big one? How many pumpkins serve as jack-o-lanterns? Are all pumpkins edible?
Check out this article to learn the answers to all these questions and more.
Pumpkin Varieties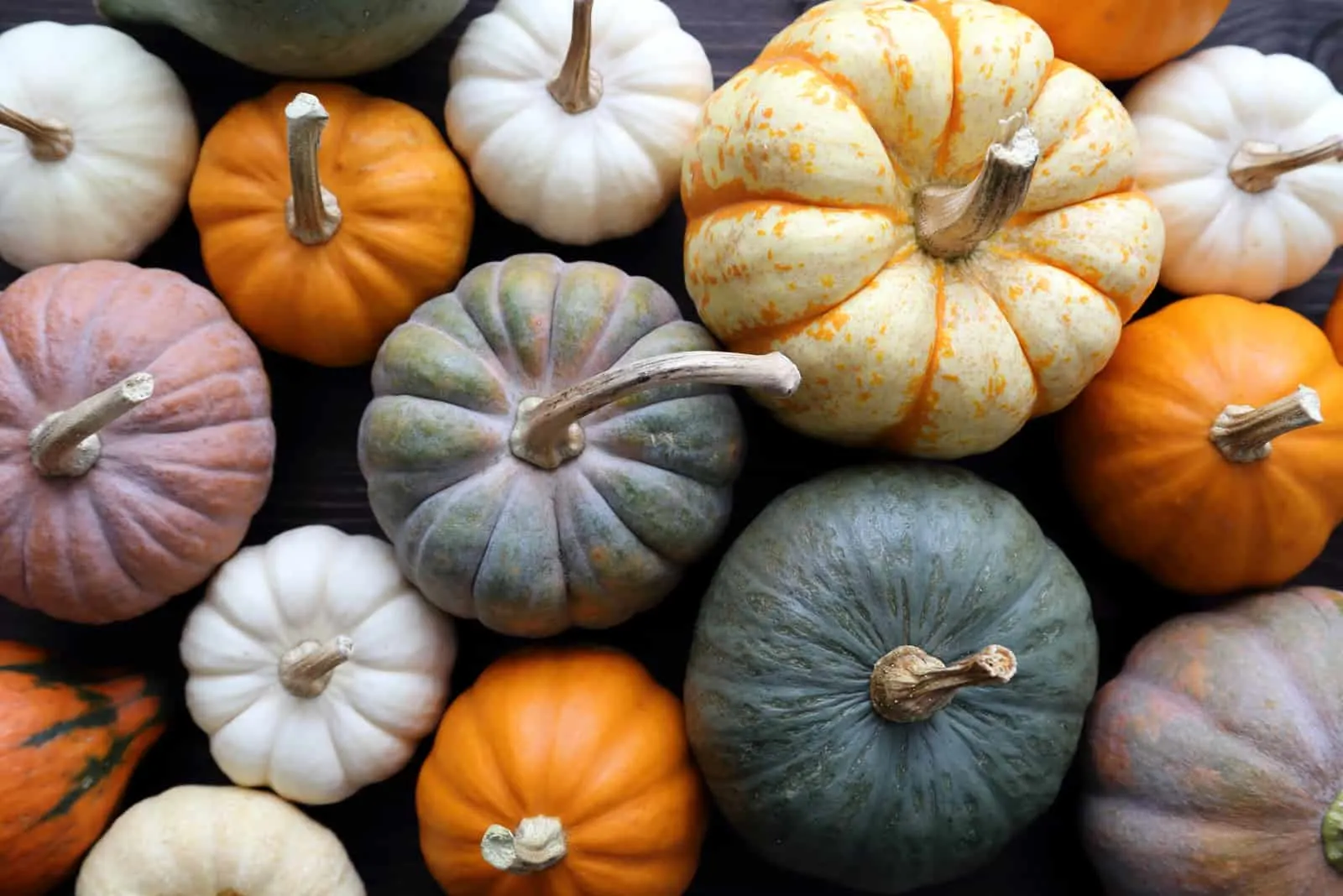 The basic types of pumpkins are mini pumpkins, small pumpkins, medium-sized pumpkins, big pumpkins, and large pumpkins, also known as giant pumpkins.
Small pumpkins generally weigh between 2 and 10 pounds (or one and 4 kilos). Mini pumpkins are a subtype of small pumpkins as they only weigh a pound or two (less than a kilo).
Medium-sized pumpkins weigh between 10 and 25 pounds (4 and 11 kilos).
Big pumpkins weigh over 25 pounds (11 kilos).
Large pumpkins typically weigh between 100-300 pounds (45-136 kilos), but some of the largest recorded pumpkins weighed over 1000 pounds (453 kilos)!
1. Small Pumpkins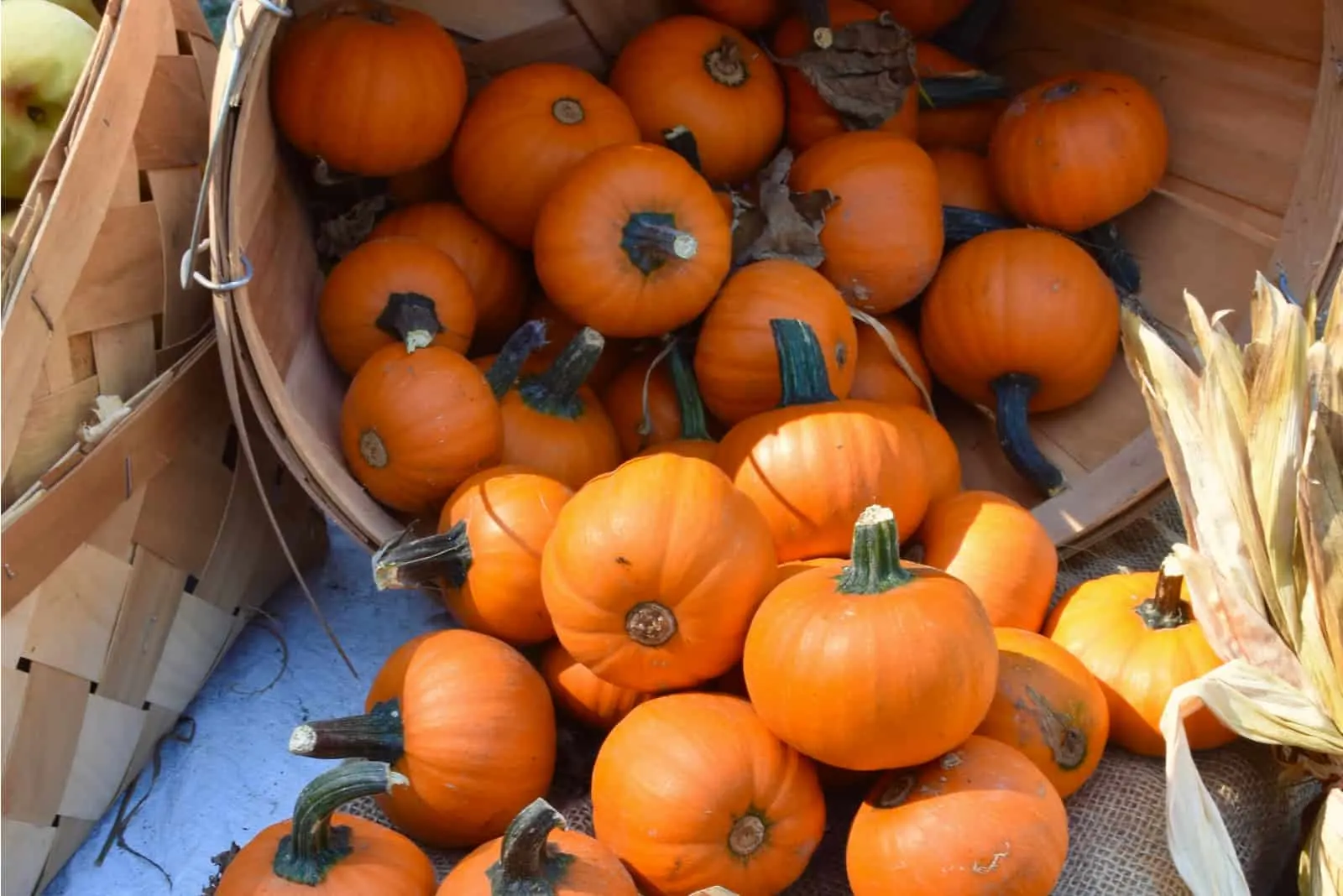 Small pumpkins weigh between 2 and 10 pounds (90 grams-4.5 kilos), with an average small pumpkin weighing between 4 and 6 pounds (1.81-2.72) kilos.
Mini pumpkins, being extremely tiny, weigh less than a pound.
Both small and mini pumpkins take up to 3 months to mature. They are no different from ordinary pumpkins in appearance: they are mostly ribbed with deep sutures, but can also be round or squat with a small brown stem.
Even though they are members of the Cucurbitaceae family, some botanists classify mini pumpkins as gourds rather than pumpkins.
Due to their miniature appearance, pumpkins are primarily used for decorative purposes but can also be cooked, baked, or roasted. They also have a sweet flavor. Pumpkins are high in beta-carotene and antioxidants, and are a natural iron, potassium, and magnesium source.
Growing them in gardens is pretty easy as they are not fussy and do not take up too much space. Children especially love small pumpkins because they are not too large to hold and make for excellent toys.
Proper storage will ensure they last for a couple of months.
The most famous small pumpkin varieties are:
Baby Boo
The Baby Boo pumpkin is a petite, white garlic-like pumpkin. Gardeners favor it because it typically reaches no more than 2 feet in diameter (similar to a tennis ball). Not suitable for eating, but great for ornamental purposes.
Jack Be Little
If the name reminded you of a jack-o-lantern, it's for a good reason.
It does look like jack-O-lantern, but differs in size. Like Baby Boo, a Jack Be Little grows no more than 2 feet in diameter. They're recognizable by the set of veins that produce between 6-10 fruits per plant.
It is edible but can also be used for decoration.
Hooligan
What an interesting name! The hooligan pumpkin is an orange mottled white hybrid used for both decorative and culinary purposes. This pumpkin usually weighs 1/4 of a pound or 114 grams, making it interesting for cultivation.
Midnight Mini Pumpkin
Goth-like pumpkins have a round shape, wide ribs, and a sweet taste. They weigh no more than 1 to 1.5 pounds (400-700 grams).
Often displayed on patios and porches during Halloween alongside Orangita and Casperita mini pumpkins.
Orangita Pumpkin
The Orangita Pumpkin is interesting because of its outer ribbing and is famous for its acorn-like taste. When mature, the fruit weighs between 1 and 1.5 pounds (400-700 grams).
Casperita Pumpkin
The Casperita Pumpkin is another type of white pumpkin perfect for home decor.
It is delicious, but like its counterparts, doesn't weigh more than 0.5 to 1 pound when mature. It's famous for its green handle stalk.
It's often mistaken for Baby Boo, but is edible.
Munchin Pumpkin
The Munchin Pumpkin is often used for Halloween decorations. Orange-colored with deep sutures, it is about 3 inches wide and 2 inches tall. The average pumpkin weight is between 4-6 ounces (113-230 grams.)
Batwing Mini Pumpkin
If you are looking for an unusual Halloween pumpkin, check out the Batwing mini pumpkin.
It's an interesting choice for adorning your home as people may think you accidentally dropped it in a dark-green paint bucket! When ripe, it weighs between 0.5 to 1 pound.
Mini Tiger Striped Pumpkin
This beautiful, squat pumpkin is named after a tiger because of its orange stripes. It has dense flesh, which is why many people think it is inedible.
It's mainly used for decoration.
Wee B Little
If you take out the stem (peduncle), you'll have a perfect baseball substitute!
This bright orange pumpkin is an excellent choice for painting due to its round shape. As well as being delicious, it is also easily converted into an edible bowl.
This list is far from exhaustive!
If you are interested in other varieties of small pumpkins, we suggest that you check out the following:
• Baby Pam
• Bumpkin,
• Gold Dust
• Fairytale
• Jarrahdale
• Half Pint Mini Pumpkin
• Kandy Korn Miniature Pumpkin
• Crunchkin Mini Pumpkin
• Lil' Pump-Ke-Mon Mini Pumpkin
• Small Sugar Pumpkin
2. Medium-sized pumpkins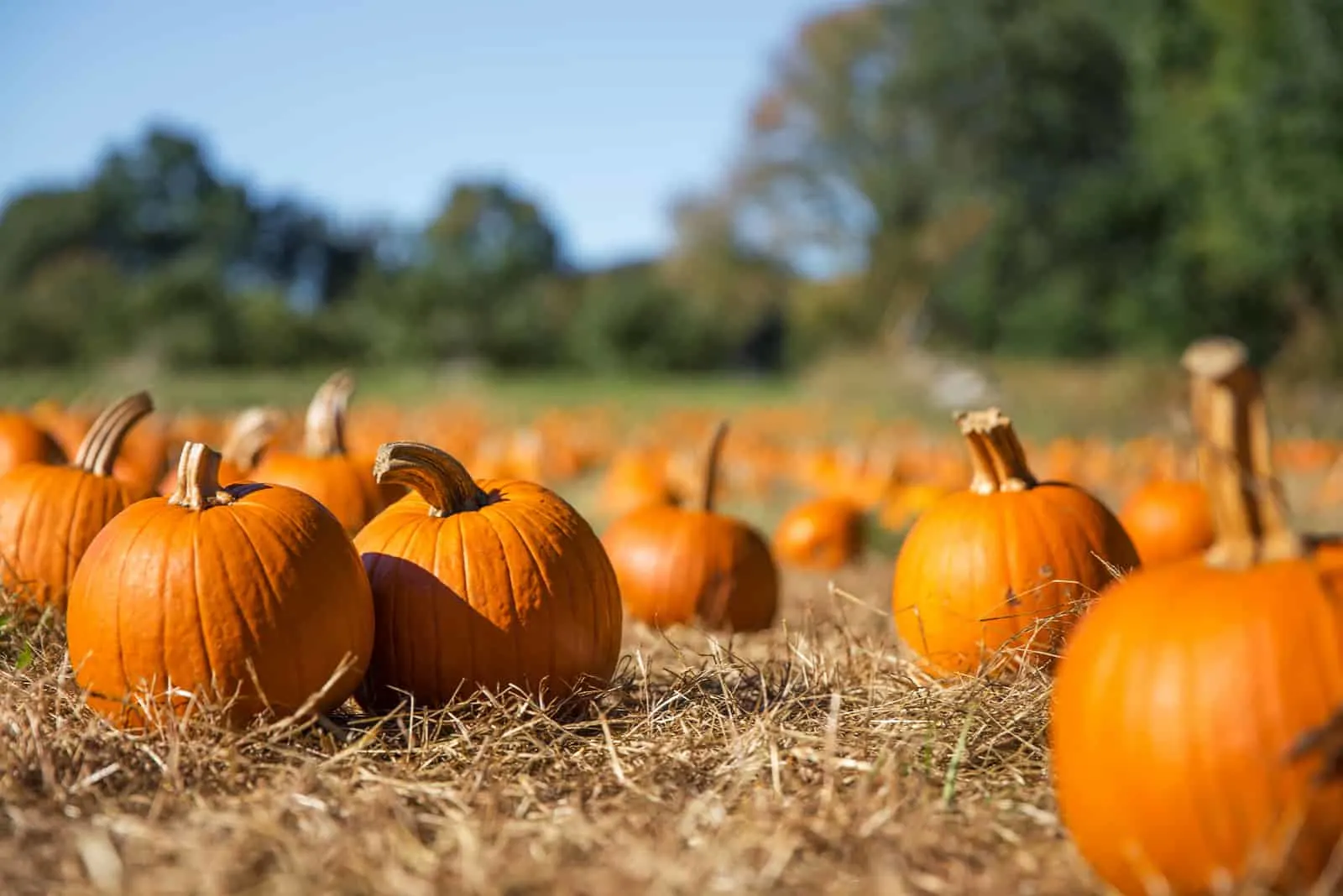 Hollywood is the main reason people think of a Halloween medium-sized pumpkin, also known as the jack-o-lantern pumpkin, when they think of these wonderful fruits.
Medium-sized pumpkins weigh between 10 and 25 pounds (4.5-11+ kilos), with an average medium-sized pumpkin weighing between 7-11 pounds (3-5 kilos).
The most notable medium-sized pumpkins are:
Autumn Gold
The Autumn Gold pumpkin is a round, golden-orange pumpkin that can be either carved or used for pie-making.
It's an excellent choice for gardens as it only weighs between 7-10 pounds (3-4.5 kilos) and does not grow too large. One pumpkin plant can produce between 3-5 pumpkins.
Jack of All Trades
This is the most popular Halloween choice for jack-o-lantern pumpkins! It's a round, tasty, medium-sized pumpkin with a flat base without prominent sutures. It's ideal for carving and painting.
Ghost Rider
Nicholas Cage better get one of these if he decides to shoot another Ghost Rider movie!
It is oval-shaped, lightly-sutured, and attractive to birds and bees. It's also another type of medium-sized pumpkin perfect for carving.
Long Island Cheese
Very popular for pies due to its flat, medium-ribbed cover and not-too-sweet taste. This pale-orange hybrid takes around 105 days to ripen.
Spirit
This hybrid is favored among gardeners without much space. It's another orange-gold pumpkin that usually weighs between 7-10 pounds (3-4.5 kilos).
Expect an early harvest when you plant this pumpkin.
Neon
Neon or Spooky! This light orange, medium-sized pumpkin has a prominent dark green handle. This 8-10 pound pumpkin (4-4.5 kilos) matures faster than other pumpkins.
Young's Beauty
Easy to grow and maintain, Young's Beauty is a good choice for those trying their hand at gardening for the first time.
Slightly ribbed, thick, and high-yielding, they are often seen in Hollywood horror films next to a scarecrow or a Ghostface preparing to embark on a killing spree.
Loved by both birds and butterflies for some reason.
Skidoo
The Skidoo is a dark-orange, thick-stemmed, and slightly ribbed pumpkin. It typically weighs between 8-10 pounds (3-4.5 kilos).
Hybrid Pam
The Hybrid Pam has a sturdy, dark green handle and resembles a classic pumpkin. It is reported to be high-yielding and usually weighs around 7 pounds (4 kilos).
Casper
Casper the Friendly Ghost would probably choose his namesake as his favorite pumpkin!
This pale white pumpkin is smooth and sweet, which makes it suitable for both carving and cooking. If you choose to make a pumpkin pie out of it for Halloween, don't forget to leave at least one slice for Casper!
Connecticut Field
The Connecticut Field takes around 120 days to ripen, and weighs between 15-25 pounds (6.8-11.3 kilos). It is said to be one of the oldest pumpkins, and was grown by Native Americans and New England settlers. It's another Halloween pumpkin good for carving and cooking.
Secretariat
Online stores describe the Secretariat as "dark orange with large, thick handles on a medium vine. Very productive with multiple fruits per plant. Works well for roadside and binned markets."
And we couldn't agree more! The average Secretariat pumpkin weight ranges between 15 and 25 pounds.
3. Big pumpkins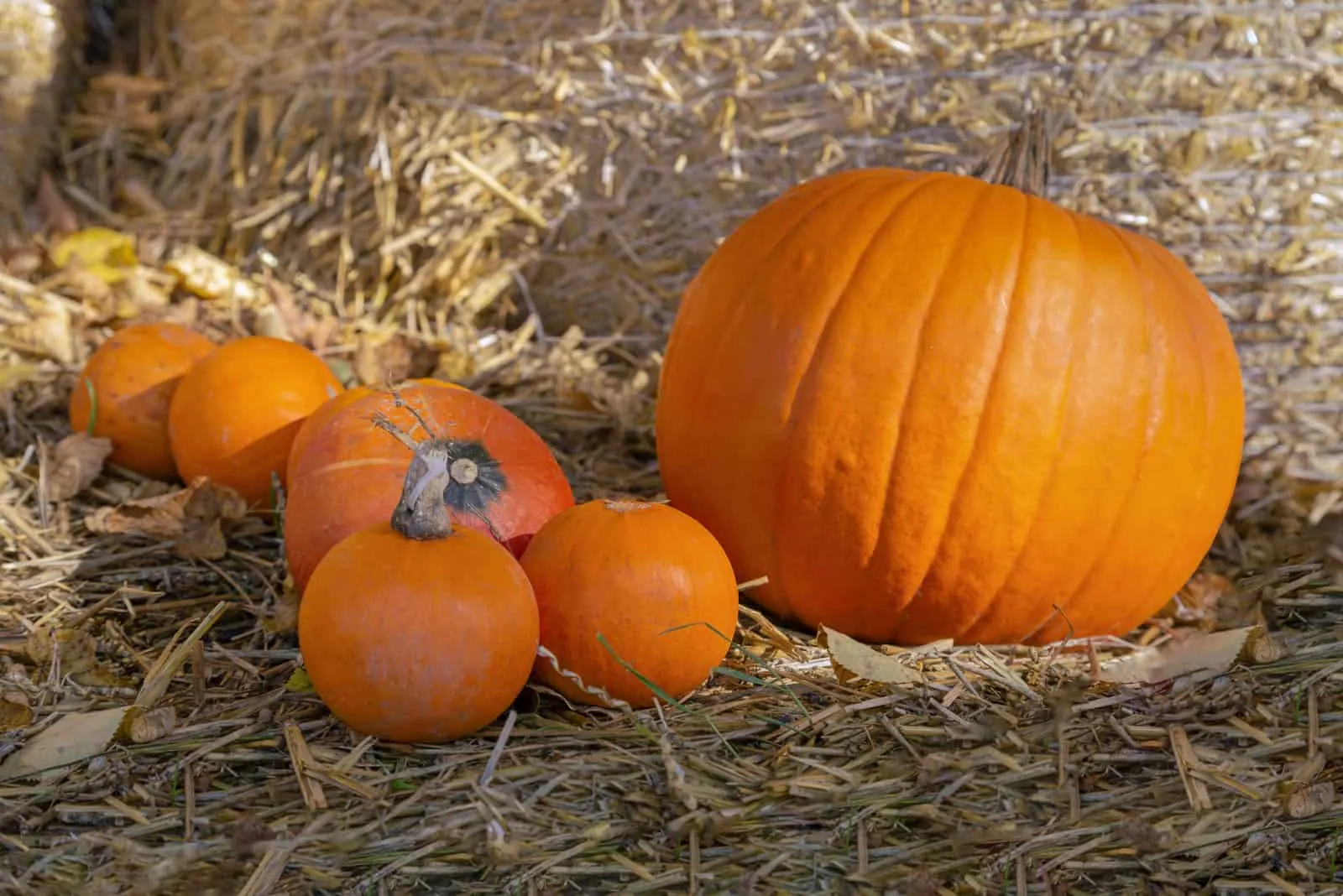 Big pumpkins weigh over 25 pounds (11 kilos). Let's take a look at the top 11 big pumpkins:
Atlantic Giant
The Atlantic Giant pumpkin holds the world record for the largest pumpkins.
Its vines can grow as long as 90 feet, and the pumpkins can gain as much as 15 pounds (6.8 kilos) each day! Relatively smooth and lightly-ribbed, it is often grown for giant pumpkin contests. The pumpkin vines are said to produce between 200 and 300 pounds (90-136 kilos)!
If you plant this giant pumpkin, we hope you have a large family you can count on to help you bring in (and eat) the harvest.
Aladdin
This bright and dark-colored pumpkin is a heavy-yielder of orange pumpkins that are great for carving and eating. At weigh-offs, it usually weighs between 20-30 pounds (9-13.5kg).
Full Moon
Another slightly-sutured pumpkin, this white-beige specimen can produce pumpkins weighing 60-90 pounds (27-40 kilos).
Happy Jack
The Happy Jack would be renamed Scary Jack or Spooky Jack if it were up to us. Imagine visiting a pumpkin patch full of Happy Jacks – it would be like walking onto a horror movie set!
It is a 15 to 25 pound pumpkin( 6.8-11 kg). It has a robust and sturdy handle and a moderate ribbing, so it is frequently used as a jack-o-lantern.
Cinderella
It cannot be turned into a carriage, but it can certainly leave you in awe!
The deeply-sutured Cinderella pumpkin has a round shape and flat outer surface. Its color varies from yellow to bright red-orange. It's rich in antioxidants and has numerous culinary applications ranging from pumpkin butter, soups, and stews to pumpkin pies, cakes, and desserts.
Big Max
The Big Max pumpkin was designed for winning pumpkin growing contests.
It is absolutely massive and usually grows to 50-200 pounds (110-441 kilos). One of its specimens is reported to have weighed "only" 400 pounds (881 kilos)!
It used to hold the title of the biggest pumpkin ever before the Atlantic Giant took over.
Big Moose
We've been wondering where the name "Big Moose" came from.
This bright-orange pumpkin has a nice texture with light ribbing and roughing towards the bottom. It can grow to over 100 pounds (45 kilos). As well as the traditional culinary purposes, it is said to be suitable for canning and freezing.
If you try it, let us know if the rumors about canning and freezing are true!
Growers Giant
Growers Giant adds a whole new dimension to the word "giant"!
It requires 100 days to mature. This pumpkin plant can produce pumpkins weighing between 50 to 200 pounds (110-440 kilos), with the average weight ranging from 120-180 pounds (265-400 kilos)
It is thought to have the most representative pumpkin color of all the giant hybrids – dark reddish.
Mammoth Gold
Despite its name, the Mammoth Gold is more orange than gold.
It is smooth and irregularly shaped. It can reach 60 pounds (27 kilos) in weight, but can grow up to 100 pounds (45 kilos). It requires about 90-120 days to ripen.
Prizewinner
Prizewinner pumpkins are grown primarily for jack-o-lanterns and pumpkin pies. They require 95-120 days to mature. These pumpkins have a smooth red-orange outer cover. A single vine can produce pumpkins weighing 50 pounds (22.5 kilos) or more.
Early King
Early King pumpkins are characterized by their sturdy, thick handles, dark orange color, round shape, and medium ribs. This is another high-yielding pumpkin variety that produces 22 to 28-pound pumpkins.
Howden
Its thick cover is the reason a Howden pumpkin works so well as a Halloween jack-o-lantern choice.
A single Howden pumpkin can grow up to 15-20 pounds (16.8-22.6 kilos). It is brightly colored and has a thick stem that makes carving easier. It's one of North America's best-selling pumpkins.
Musquee de Provence
The Musquee de Provence is on the verge between medium and large pumpkins.
Of French origin and cheese-looking, it can reach over 20 pounds.
The Musquee de Provence is round and flat. The color changes from green to brown when ripe, with orange flesh that appeals to the taste buds of the finest chefs.
How To Grow A Pumpkin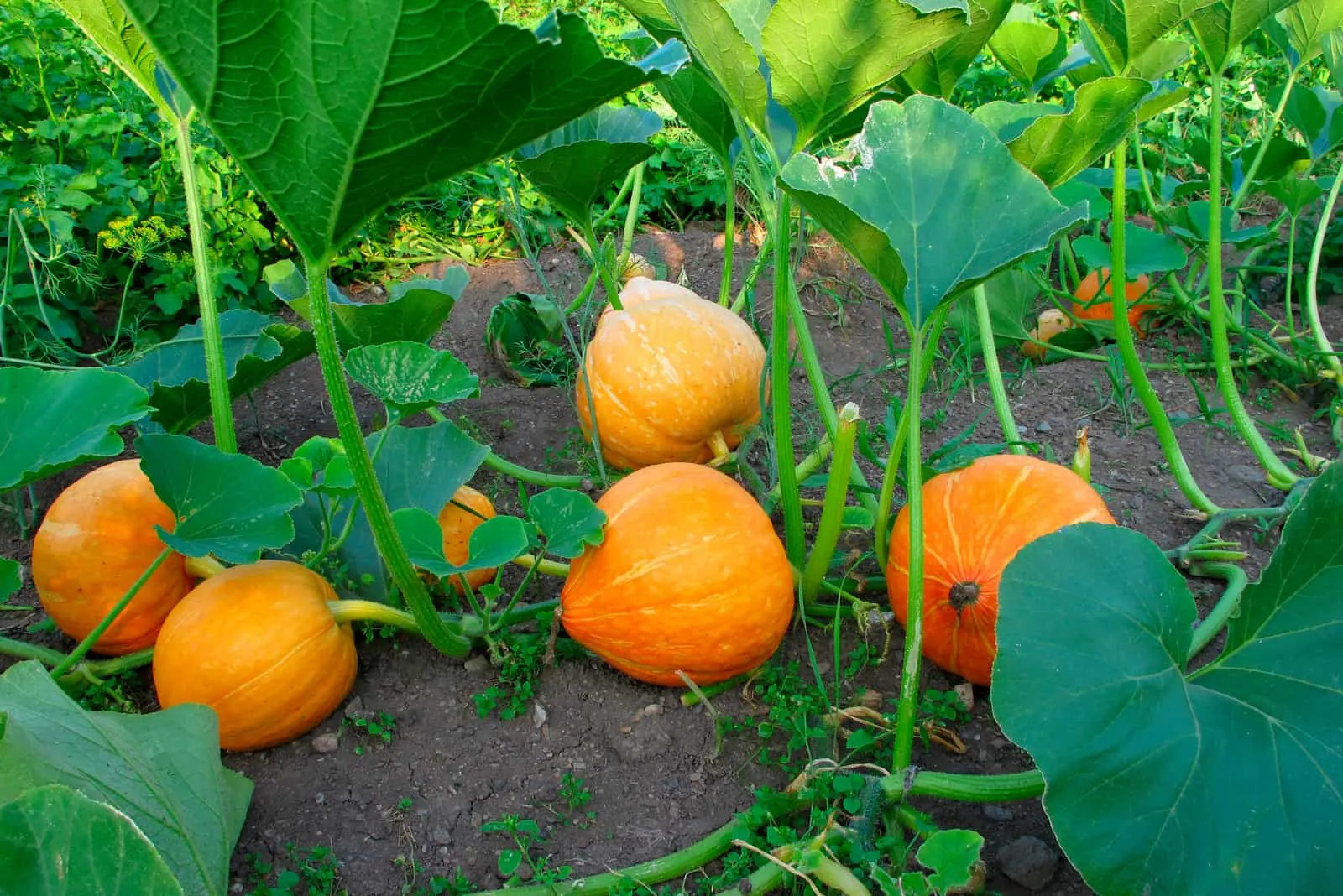 Growing pumpkins is not rocket science, even if you are a layman. Nevertheless, there are certain steps that must be followed to ensure you end up with fully-grown pumpkins in your pumpkin patch.
Choose Your Pumpkin Seeds Carefully
You cannot grow a jumbo pumpkin if your garden is only a couple of square feet wide, so choose pumpkin seeds in accordance with the size of your garden.
Provide Enough Sunlight
For seeds to grow, there needs to be enough sunlight. The seeds should be planted in a spot where they will be able to receive full sun for a couple of hours a day.
Water Your Pumpkin Plants
Pumpkins are thirsty plants, so water them frequently with at least one inch of water (16 gallons) every week. The water should soak the soil during the hot summer days to prevent shallow roots and topsoil evaporation.
Prune The Plants
If you do not prune the plants in time, you will end up with your own Kingdom of Pumpkins.
Allow the main vine to develop and remove tertiary and sometimes secondary vines. It will relieve plant stress and direct the energy into growing the pumpkins.
If you are growing a pumpkin for a giant pumpkin contest, remove all secondary and tertiary vines along with other pumpkins. Leave the one that seems to be the most resistant.
If you are a pumpkin fan and would like to grow a couple of them, allow up to 4 pumpkins per plant.
Bury Pumpkin Vines
Burying pumpkin vines in the soil will allow them to take in larger quantities of nutrients, consequently boosting pumpkin growth.
Fertilize the Soil
Pumpkins absorb plenty of nutrients and water. To prevent mineral deficiency, use a garden fertilizer. A nitrogen-rich fertilizer is a great place to start. Nitrogen will stimulate plant growth, while phosphorus-fertilizer stimulates root growth and flower bloom.
Watch Out for Pests
Garden vegetables are prone to numerous pests such as aphids, cucumber beetles, and spider mites. Regular monitoring of your garden will prevent any pest infestation and ensure you can always react promptly.
FAQS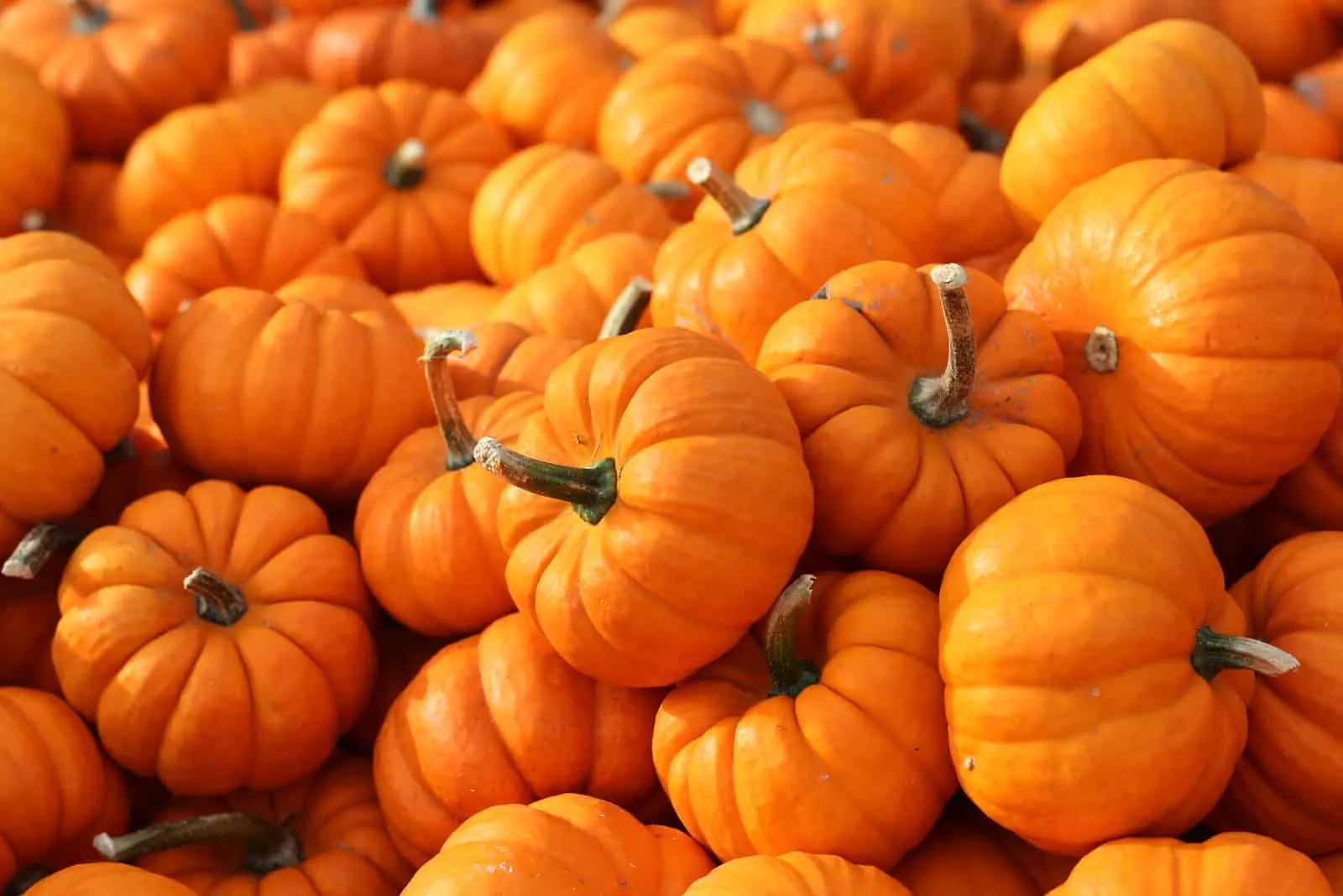 What state is the top pumpkin producer in the US?
The top pumpkin producer in the USA is the state of Illinois. It is followed by California, Indiana, Michigan, Texas, and Virginia, and each harvested between 3,700 and 6,000 acres in 2020.
What is the heaviest pumpkin?
A pumpkin weighing 2,703 pounds (1,226 kg ) is said to be the heaviest pumpkin ever grown. It was grown in Italy by Stefano Cutrupi. The world record was broken at the Big Pumpkin Festival in Peccioli, Italy, 2021.
The record that was previously in the Guinness Book of World Records was previously held by Mathias Willemijns (Belgium), who grew a pumpkin weighing 2,624.6 pounds (1,190.49 kilos).
How do you measure a pumpkin?
To measure a pumpkin, you need three things: a tape measure, a measurement table, and a pumpkin, of course! You also need to be very careful as they are easily scratched.
First, you measure the circumference. That is the fattest or the widest point of the pumpkin parallel to the ground.
Second, you measure from side to side. Place your tape measure on the ground at the side of your pumpkin at its widest point. Lay the tape over the pumpkin and straight down to the ground on the opposite side.
Third, you measure stem to base – start your measurement on the ground by the stem and lay the tape over the pumpkin to the ground at the blossom end.
Fourth, add these three measurements together.
Conclusion
We hope you enjoyed reading about the average pumpkin weight and all the different pumpkin varieties. We also hope you liked our choice of mini, small, medium, and large pumpkins!
Once you start preparing for Halloween, you can visit our website to refresh your memory on the best jack-o-lantern pumpkin types. In case you decide to make a pumpkin pie, make sure you leave one slice for Casper!
Until next time!
Like this post? Share or pin it for later!