Positive Bloom is an Amazon Associate and we earn from qualifying purchases through these links at no extra cost to you.
A good pair of gloves is definitely among the most important tools a gardener can own, but not all types are suitable for different plants.
For instance, if you just want to avoid getting your hands dirty, you can simply use latex gloves. But if you want more protection, you should opt for a pair made of a different material.
Below, you will find a list of the best gloves for cactus plants, roses, and all other thorny plants that will keep your hands and arms safe.
9 Best Gloves For Cactus Handling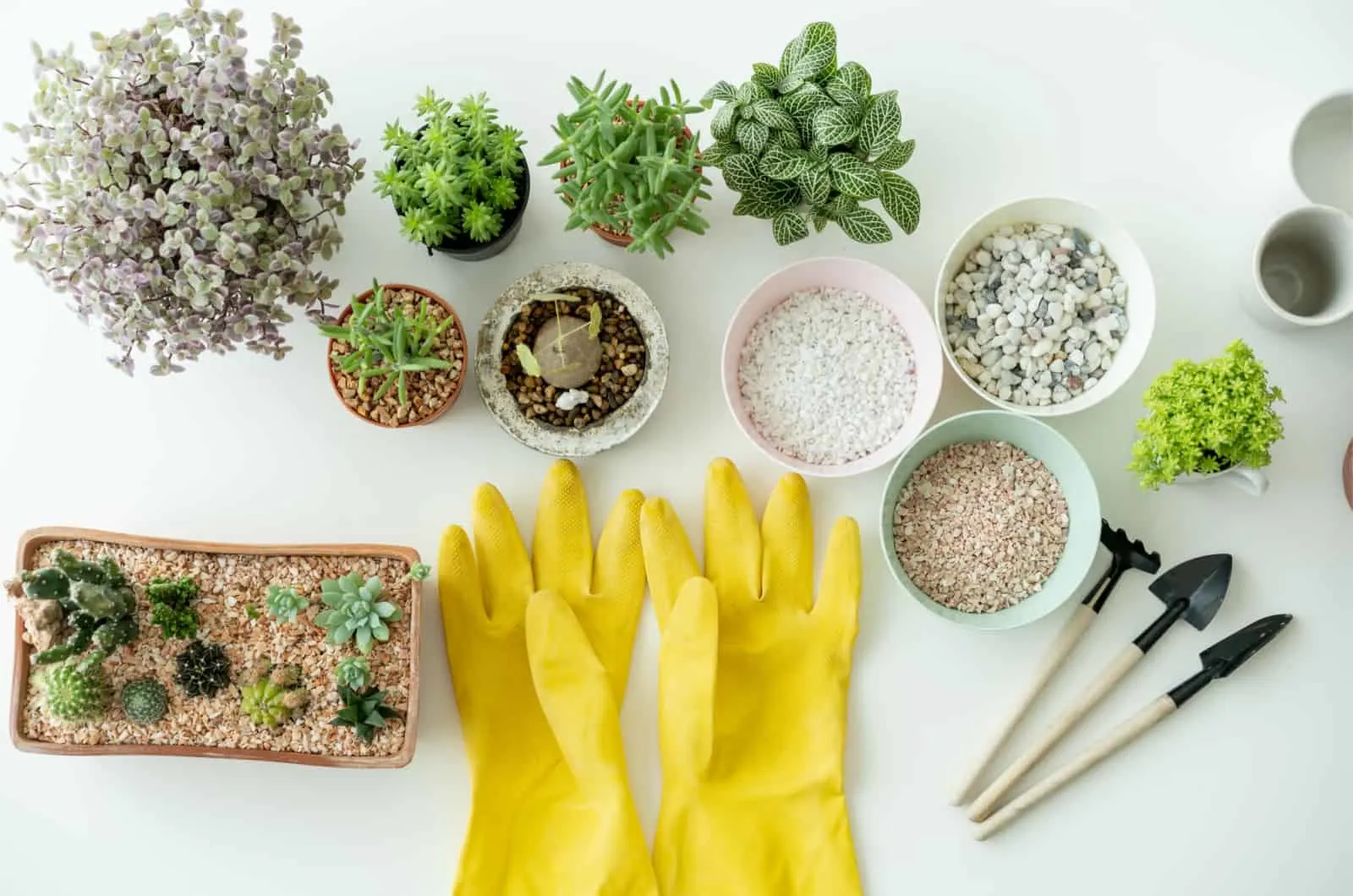 Cut and puncture-resistant gloves can definitely make your gardening experience more pleasant. We have nine types of gloves for cactus plants to choose from so you can find the best fit for your hands.
NoCry Long Leather Gardening Gloves
• Customer review: 4.7/5
• Made of reinforced leather
• Offer more comfort and flexibility
Pros:
Suitable for all types of garden work

Perfect for men and women materials

Keep dexterity
Cons:
Red dye may bleed and stain other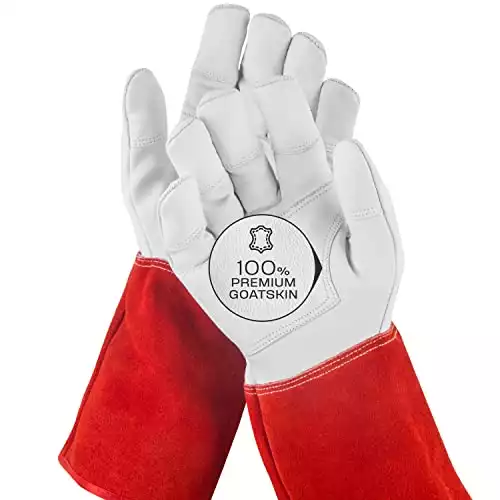 These durable gloves are perfect for both men and women, and you can use them for all sorts of gardening and landscaping work.
The gloves are flexible and keep dexterity, and the heavy-duty goatskin leather provides protection from needles and thorns.
Pruning is an essential part of plant care, as well as knowing how frequently to water your cactus.
OZERO Flex Grip Leather Work Gloves
• Customer review: 4.6/5
• Made of reinforced cowhide leather
• Good grip and elastic wrist
Pros:
Breathable

Suitable for people with sensitive skin

Ergonomic design
Cons:
Sizes are smaller than they seem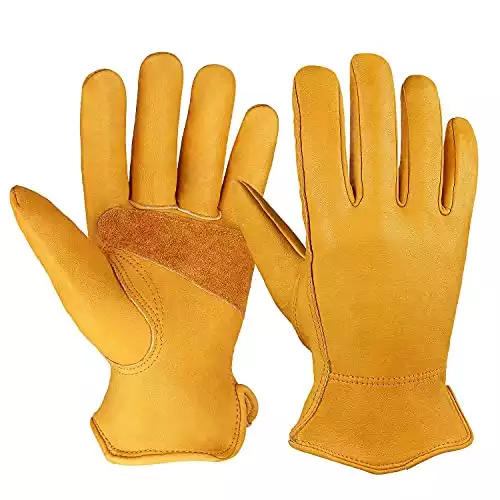 These cowhide leather gloves are suitable for both men and women as they come in all sizes.
They keep your hands safe during landscaping work, but are soft and breathable at the same time. The non-irritant material inside the glove makes it ideal for people with sensitive skin.
OZERO work gloves absorb sweat, provide a good grip, and have elastic wrists, which prevent dirt from falling into the glove.
They are suitable for all sorts of work, including gardening, landscaping, truck driving, and carpentry.
Finally, the quick-fit cuff and ergonomic design make them easier to put on and off.
Legacy Gardens Leather Gardening Gloves
• Customer review: 4.6/5
• Made of goatskin leather
• Padded and double stitched
Pros:
Durable gloves

Long sleeve gauntlet

Breathable and suitable for sensitive skin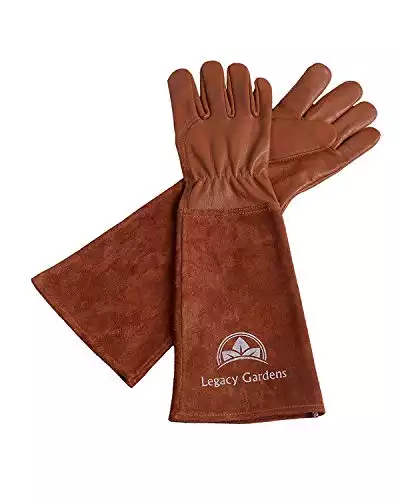 These gloves are padded and double stitched in places where they wear out most often, so you can be sure they'll last a long while.
The padding and double stitches can offer you more protection, so don't miss out on this stylish pair.
Also, their gauntlet sleeve will provide forearm protection but still be gentle on your skin due to its high-quality and breathable material.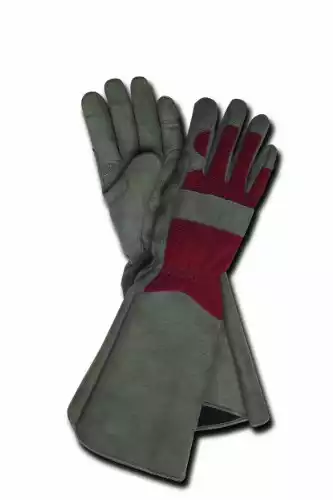 These cactus-handling gloves are perfect for anyone who wants extra protection as they have long sleeves.
The MAGID gardening gloves also contain knuckle guards, so your hands and forearms will be safe.
They are made of synthetic leather but are still breathable. The material is resistant to punctures, scratches, and tears, so these gloves can truly up your gardening game.
They are comfortable and offer a good grip and dexterity, so you can immediately get to repotting once you choose the best planter for your cactus plants.
Fir Tree Leather Gardening Gloves
• Customer review: 4.6/5
• Made of goatskin and cowhide suede
• Washable
Pros:
Durable and soft

Long gauntlets

Provide dexterity
Cons:
Fingertips can wear out quickly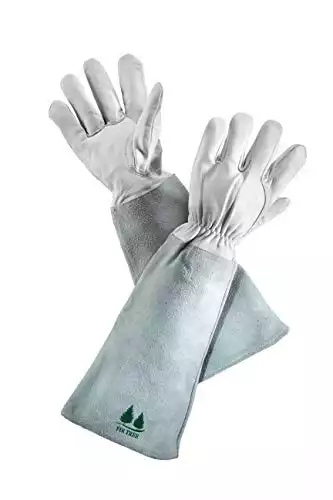 If your house garden needs some work done, oven mitts might not be the best choice.
However, Fir Tree goatskin gloves may provide your hands with the protection they need, while the cowhide suede gauntlet sleeve will keep your forearms safe.
Of course, no leather is 100% thorn-proof, but these can still save you a lot of trouble.
They are breathable and soft to the touch, yet sturdy and durable.
The gloves can be washed, and you even get instructions for cleaning them in the package.
Finally, you can use them for all kinds of work around your house as they don't affect dexterity.
GLOSAV Gardening Gloves
• Customer review: 4.5/5
• Made of cowhide and pigskin
• Adjustable cuff
Pros:
Durable and efficient

Flexible and comfortable

Eco-friendly and easy to clean
Cons:
They may not be the best fit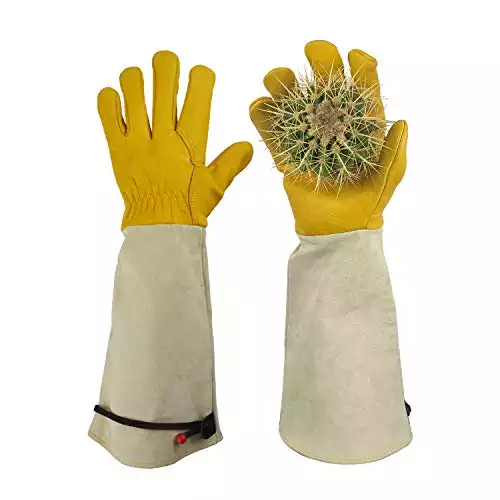 These GLOSAV gardening gloves are made of two types of leather: the palms are made of cow leather, while the cuffs are made of pigskin.
They protect from rose and cactus thorns, thistles, etc., and are durable due to their quality material.
(And if the cactus needles get stuck in your gloves, you can always use a magnifying glass and a pair of tweezers to pull them out.)
Long cuffs provide forearm protection and keep insects, dirt, and debris away from your arms and hands.
Some of the things gardeners love about these gloves are that they are flexible, comfortable, have a good grip, and don't hinder your dexterity.
After using them, simply wipe them with a soapy cloth, rinse them, and leave them to dry naturally.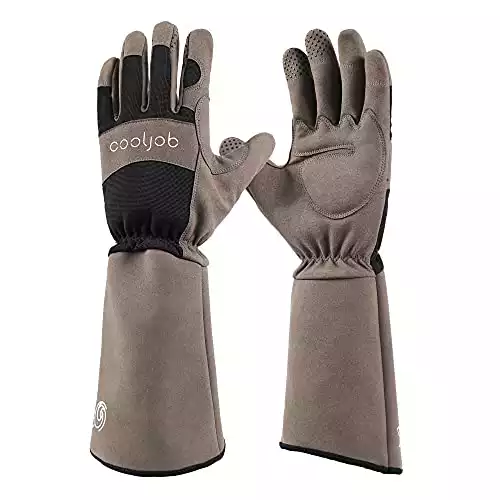 Silicone tongs are an excellent way to keep your hands and arms safe from scratches, but if you want more dexterity you should choose gloves with extra-long cuffs, such as COOLJOB thorn-proof gardening gloves.
The long cuffs also prevent debris and dirt from entering the glove!
They are easy to put on and off, can reduce hand fatigue, and provide a good grip, which is only increased by the silicone dots on fingers.
Furthermore, the elastic around the wrist keeps them in place while their flexibility and breathability allow you to work as much as you'd like.
They are suitable for light pruning of roses, succulents, and cactuses, as well as for heavy-duty landscaping and garden work.
It is essential to remove the dead parts of your plants, but don't forget to investigate why your cactus is turning black.
Youngstown Glove Company Kevlar Gloves
• Customer review: 4.5/5
• Contains kevlar (among other materials)
• Internal knuckle guard
Pros:
Lined with kevlar

Have non-slip reinforcement

Easy to clean
Cons:
Don't provide forearm protection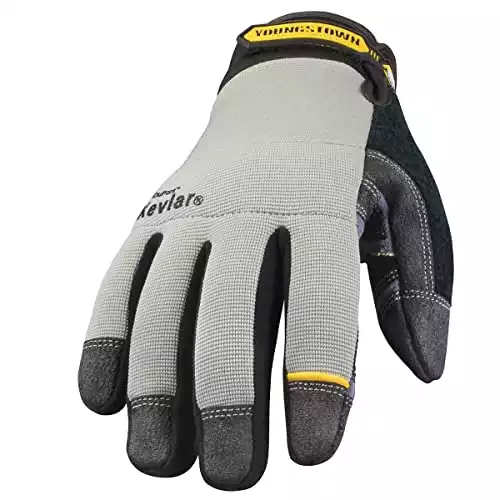 The Velcro closure keeps these gloves in place, while the kevlar lining makes them fairly cut-resistant.
These Youngstown gloves have a non-slip reinforcement on the fingers, palms, and thumbs, which improves their grip and durability.
They contain internal knuckle guards, which makes them comfortable and suitable for all sorts of jobs.
After you're done using them, you can just toss them into the washing machine!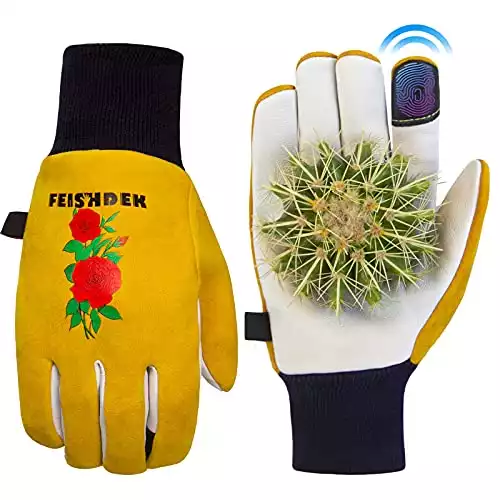 These gardening gloves are pretty flexible as they're made of deerskin and goatskin. Both materials are soft, but can still provide protection against cactus spines.
They also provide double protection as they're made of two materials instead of one!
These cactus-proof gloves contain a touchscreen finger, so you won't have to take them off every time you get a message on your phone!
The reinforced and padded fingers and palms will keep your hands safe while repotting your cactus plants.
And they look really good!
Final Thoughts
Those were the very best gloves for cactus plants and roses, and they can also be used for all sorts of landscaping and garden works! Some of them are so flexible and offer such dexterity that you can even use them for carpentry.
However, not all of them protect your forearms, so if you plan on pruning roses, thistles, or other thorny plants and vines, you should choose the ones with gauntlet sleeves.
All in all, we wish you scratch-free pruning and cactus repotting!
Until next time!
Like this post? Share or pin it for later!