Did you know that you don't have to depend on Mother Nature (or your local stores) to get fresh mushrooms whenever you want?
Mushroom growing kits have become more and more popular in recent years and are selling like crazy on Amazon.
Here are some of the best kits currently available on the market that will make growing mushrooms a breeze. They are simple to use and regulate temperature, humidity, and light.
Without further ado, let's get started!
| | | |
| --- | --- | --- |
| Product | Customer review | Amazon |
| Myco Labs Grower's Select Mushroom Monotub Fruiting Chamber | 5.0/5 | Find on Amazon |
| Forest Origins Specialty Trio Oyster Mushroom Grow Kit | 4.4/5 | Find on Amazon |
| North Spore Organic Lion's Mane Mushroom Spray & Grow Kit | 4.3/5 | Find on Amazon |
| Myco Labs All in One Mushroom Grow Kit | 4.3/5 | Find on Amazon |
| Root Mushroom Farm - Shiitake Mushroom Grow Kit | 4.2/5 | Find on Amazon |
| Surfin' Spores All-in-one Mushroom Grow Kit | 4.2/5 | Find on Amazon |
| Songtaste Mushroom Monotub Kit | 4.2/5 | Find on Amazon |
| Back to the Roots Organic Mini Mushroom Grow Kit | 4.1/5 | Find on Amazon |
| Back to the Roots Organic Shiitake Mushroom Kit | 4.1/5 | Find on Amazon |
| MushroomSupplies.com All In One Mushroom Grow Kit | 4.1/5 | Find on Amazon |
This stackable monotub is ideal for growing mushrooms. It's made of high quality materials, which ensures durability, resilience, and makes it sturdy.
You can also stack up to 10 bins, with each monotub supporting up to 200 lbs.
Its perfect dimensions offer you an opportunity to grow plenty of mushrooms, while the six air holes provide optimized air exchange to create a perfect environment.
You also get hole plugs so that you can easily control airflow during the incubation period and provide your mushrooms with ideal growing conditions.
This monotub is extremely cheap and efficient, which makes it one of the best products currently on the market.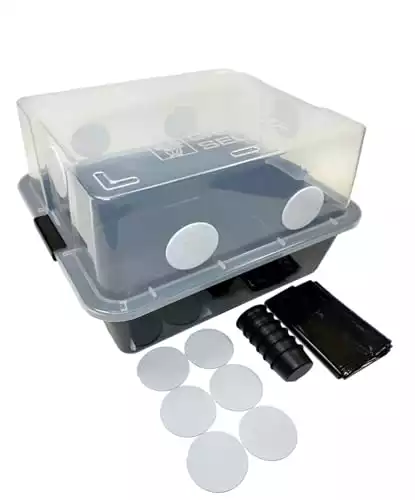 Oyster mushrooms aren't the best choice for monotubs because you can get a much better yield when using boxes.
And this product ensures just that!
It is incredibly easy to use, and all you've got to do is give your oysters indirect sunlight, mist them according to the instructions (or more if you see they like it), and keep them in temperatures around 63-68°F.
These oyster mushrooms grow vigorously and can produce in two flushes, giving you a total of about a pound per block (or even more).
They're suitable for all ages and can be an amazing project your children can do for school or just for fun on their own.
Finally, this oyster mushroom growing kit can last for months when unopened, which makes it a great gift to your friends, family, or any mushroom enthusiasts you know.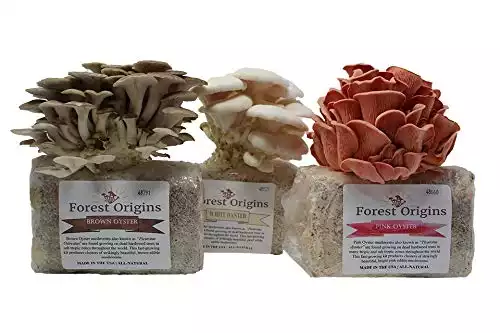 If you love lion's mane mushrooms, or simply want to add some flavor to your stir fries, this kit will get you all that for an affordable price.
These mushrooms are completely organic, handmade in Maine, and all they need is some indirect sunlight and water spray 2-3 times per day.
You even get a sprayer and a simple-to-follow guide on how best to care for these mushrooms to get great results.
The best part, however, is that they are high producers. You can get up to 1.5 lbs in your first harvest!
What's even better is that most kits will continue producing after the first flush, although following harvests will be smaller.
These kits can last for up to 3 months if you store them out of direct sunlight and in a cool and dry location. However, they will produce the highest yield if you use them immediately.
And once you're done with growing lion's mane mushrooms, you can throw the block into your garden or compost since it's completely organic and can feed your other plants.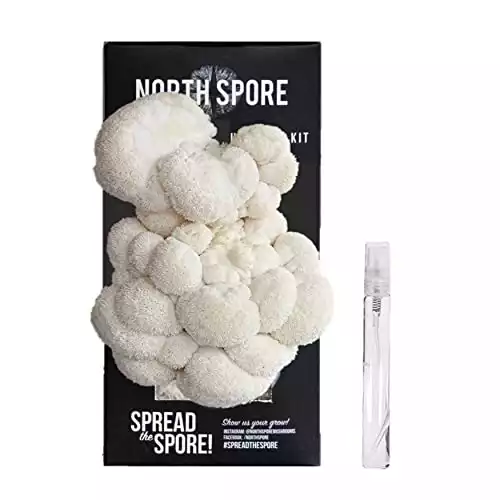 You can grow mushrooms hassle-free in one bag and get a great yield out of it. With this product, all you need to do is add the spores to the growing medium and shake it well.
Afterwards, spray it with water frequently throughout the day and keep it away from direct sunlight, and you'll quickly get a delicacy you can enjoy.
The best part of this product is that you get multiple harvests, so you don't have to buy mushroom kits any time soon.
Myco Labs All in One Mushroom Grow Kit
• Material: polyethylene
• Planter form: box
• Eco-friendly and sustainable
Pros:
All-in-one bag

Multiple harvests

Easy to use
Cons:
Sometimes the medium can be infected with gnats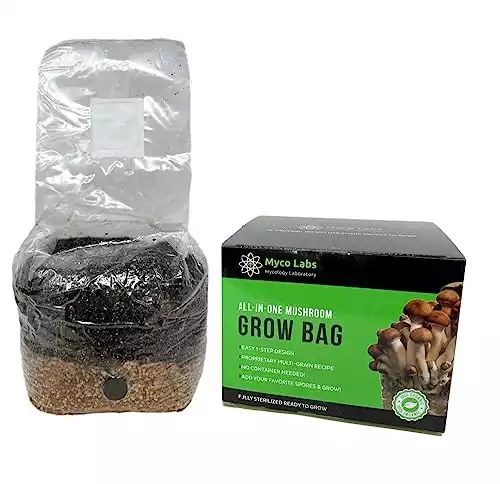 This shiitake growing kit is best grown as soon as you get it, although you can store it for a couple of days in the fridge if you really don't have the time.
It comes with everything you need for successful growth and includes detailed instructions that will introduce you to mushroom growing.
You also get a humidity tent and a spritzer, so you don't need to have anything in advance if you want to grow shiitakes, just goodwill and time for spraying.
The company guarantees a first flush, but you may also get subsequent flushes. The yield may not be as great as with other mushrooms, but you can try growing them in a box with some perlite, water, and a humidity gauge to increase it.
This will also increase the chances of more mushroom flushes.
Just remember that shiitake mushrooms love cooler temperatures, so make sure to keep them between 55-75°F.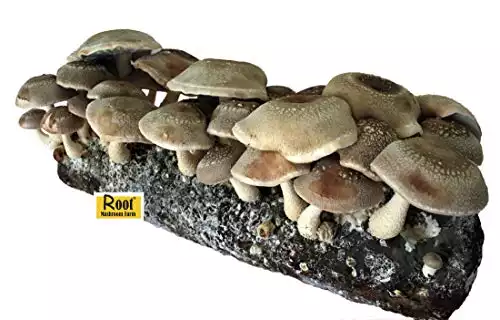 This inflatable mushroom growing kit is perfect for indoor growing because it doesn't make a mess and has everything you could possibly need: ten air holes and plugs, a lid to hold in humidity, liner, and a drain port for rehydration.
Since it is inflatable, you can deflate it whenever you don't use it and easily store it because it doesn't occupy too much space.
The humidity lid and air holes allow for optimal air exchange during active growth and colonization, making it easy to maintain proper air moisture at all times.
You also get a bag of growing medium and a sterilized grain bag that's ready to use, has a low incubation time, and ensures speedy colonization.
The only issue this mushroom growing kit may sometimes have are the air holes, or rather, the plugs. When you fully inflate the monotub, the plugs turn out to be too small for the holes, but you can always use some tape to retain humidity.
Surfin' Spores All-In-One Mushroom Grow Kit
• Material: plastic
• Size: 18"L x 10"W x 11"H
• Satisfaction guaranteed
Pros:
Easy to assemble and use

Storable

All-in-one growing kit
Cons:
Plugs may be too small for air holes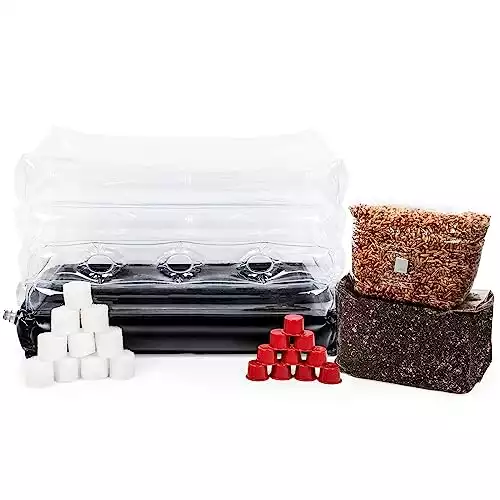 This lightweight monotub is perfect for growing mushrooms as it is transparent and allows you to engage in the process every step of the way.
It comes with air holes and 12 plugs, allowing you to maintain proper humidity during incubation and colonization.
This mushroom kit includes 2 spray bottles, 5 pairs of nitrile gloves, and an air pump which makes it easy to inflate whenever you want.
You can also deflate it whenever you're not growing mushrooms and easily store it without it taking up too much space.
There's a drainage hole that will allow you to drain the excess water, and yet there's no leakage if you don't want it.
Songtaste Mushroom Monotub Kit
• Material: PVC plastic
• Size: 8.46"L x 7.68"W x 3.15"H
• Lightweight
Pros:
Easy to assemble and use

Leakproof and anti-pollution

Good breathability
Cons:
Difficult to clean due to being inflatable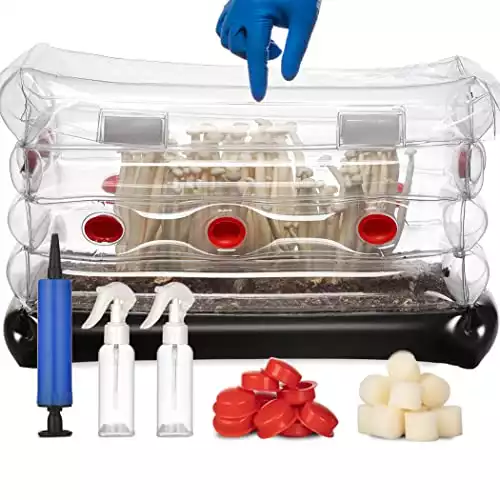 If you want a quick harvest of oyster mushrooms, don't miss out on this Back to the Roots growing kit.
It comes in a box you have to cut in a recommended place, and you'll need to spray the insides a couple of times a day.
In about 10 days, you'll be able to harvest your first flush of oyster mushrooms. Afterwards, you can get a second crop if you follow the instructions on the package.
And yes, it does come with a sprayer, so you don't need to buy anything extra if you want to grow mushrooms with this product.
This Back to the Roots mushroom grow kit is USA made, guaranteed to grow, suitable for all seasons, and makes an amazing gift during the holidays.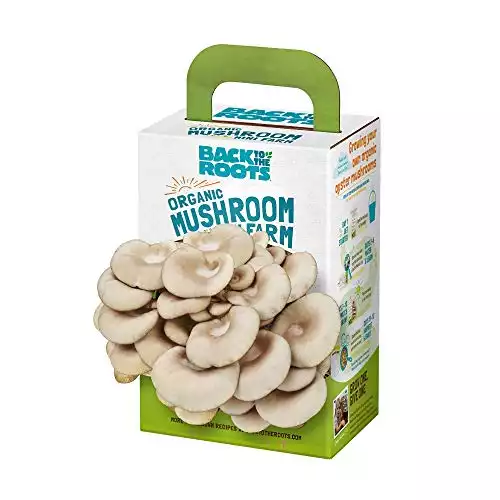 Just like the previous Back to the Roots product, this one also guarantees a harvest within 10 days.
All you have to do is expose your shiitakes to cooler temperatures, indirect light, and mist them daily with a spritzer that is included in the package.
This product comes with everything you need to grow your own mushrooms, from a detailed guide to a humidity tent.
It is 100% organic and eco-friendly and guaranteed to grow every time.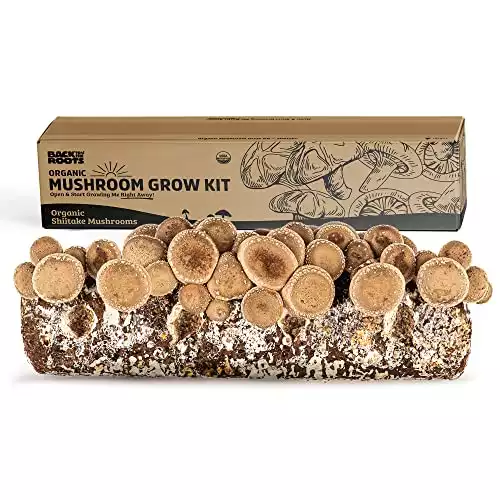 This growing kit has everything you need in one pre-sealed bag. It contains a sterilized growing medium and a filter patch that is ideal for safe and contamination-free air exchange.
The bag comes with an injection port that self-heals and allows you to inject the mushroom spores safely and without fear of contamination.
There's also a QR code on the bag that takes you to a how-to video with detailed instructions on using this product.
Unfortunately, you don't get an injection with spores, but once you purchase it, you'll be able to get up to 2.5 lbs of mushrooms per bag.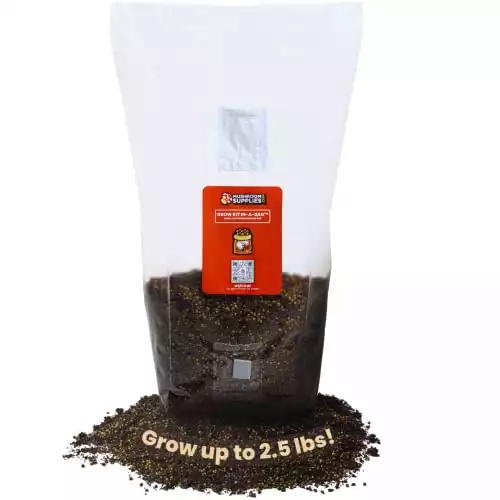 How To Use Mushroom Growing Kits
These kits are fairly easy to use and they come with detailed instructions, so you certainly won't make a mistake.
Generally, all you need to do is prepare the medium, add mushroom spores, and keep the humidity high.
Different mushroom varieties require different temperatures. For instance, shiitake mushrooms prefer to be cool but can tolerate conditions between 55-75°F, while pink oysters thrive in temperatures between 70 and 85°F.
They will quickly grow and you'll be able to harvest them in no time.
What Mushroom Varieties Can You Grow In Them?
You can grow various edible and medicinal mushrooms in growing kits, including shiitake, oysters, lion's mane, button, reishi, etc.
Some kits are more suitable for certain mushroom varieties, while others are more versatile. Technically, all you need to do is maintain proper conditions and your mushrooms will grow.
However, certain varieties, such as oysters, will give a poorer yield in monotubs, so you'll be much better off getting them in growing blocks.
Time It Takes To Grow Mushrooms Using A Kit
It really depends on the growing kit you choose and the mushroom variety you have. For instance, some kits will give you a yield of oyster and shiitake mushrooms in as little as 10 days, while others may take longer to grow.
Just make sure to follow the instructions on the package, monitor your mushrooms and the kit regularly, and provide these fleshy edibles with a perfect growing environment.
Final Thoughts
Bring the joy of gardening indoors and enjoy a delicious course of homegrown mushrooms with some of the best mushroom growing kits.
Options in the article above are affordable, reliable, and will give you a decent yield of mushrooms all year round.