Enjoying life to the fullest in your backyard can be a bit difficult with nosy eyes locked on you every step of the way.
Luckily, there's a quick way to keep your neighbors' gazes away from your yard – tall plants and privacy screens!
Think of it as a way to improve your overall landscape while getting a quiet corner to yourself where you can relax.
Here are some ideas you can use on their own or in combination. They may even get your juices flowing and inspire you to create even more unique landscaping designs.
Let's take a closer look.
1. Build A Fence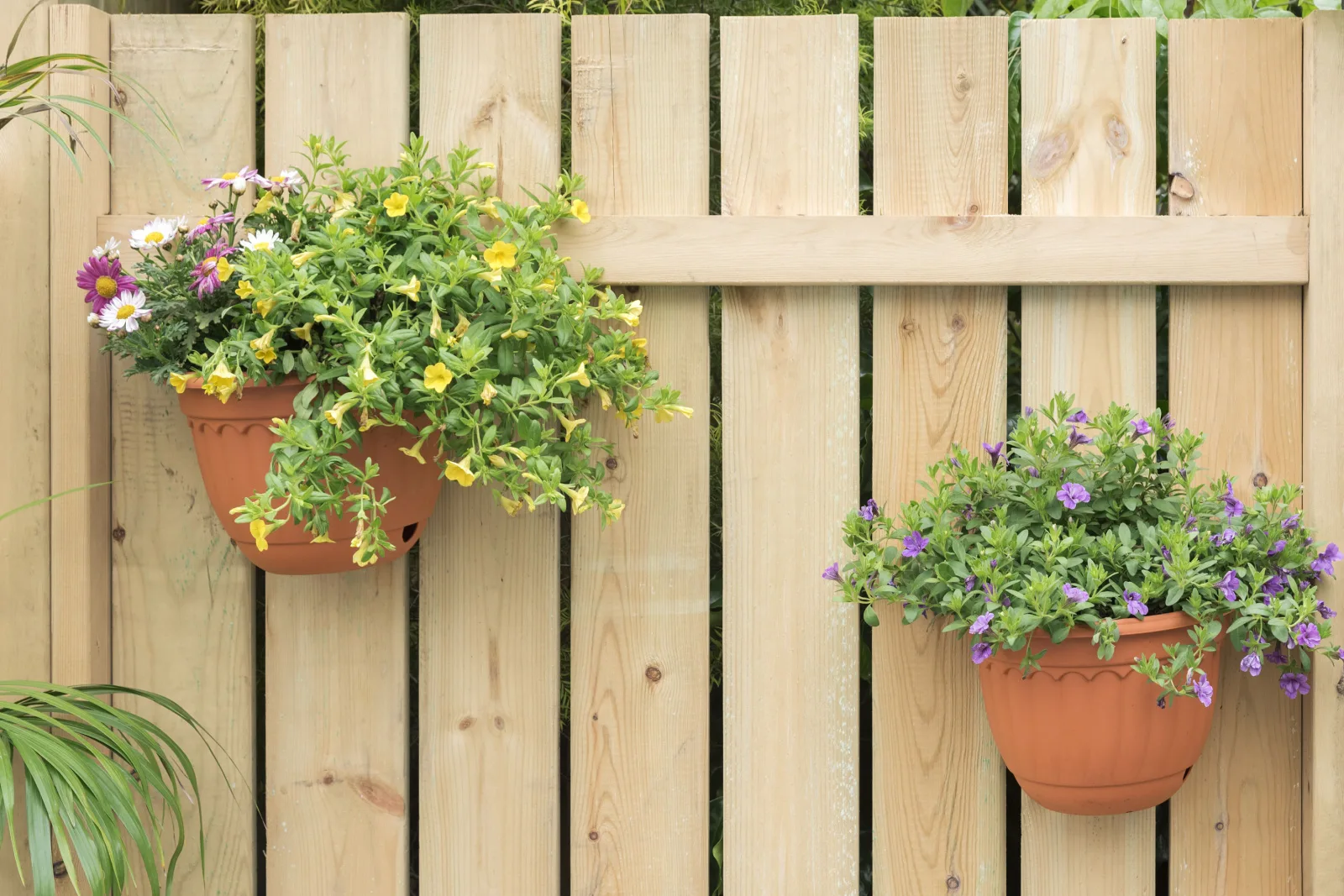 Building a fence or staggering wooden boards is a quick and easy way to get more privacy in your yard. Just choose one that complements your overall landscape design, and you'll get more privacy and elevate your outdoor decor.
Black or natural beam fencing is perfect for a modern chic, while a white vinyl one is more suitable for cottage houses and vintage appeal.
But before you undergo any large project, make sure to get the height right according to your municipal laws.
Just bear in mind that fences can restrict some air circulation in your backyard, especially in a densely populated area.
2. Incorporate Breeze Blocks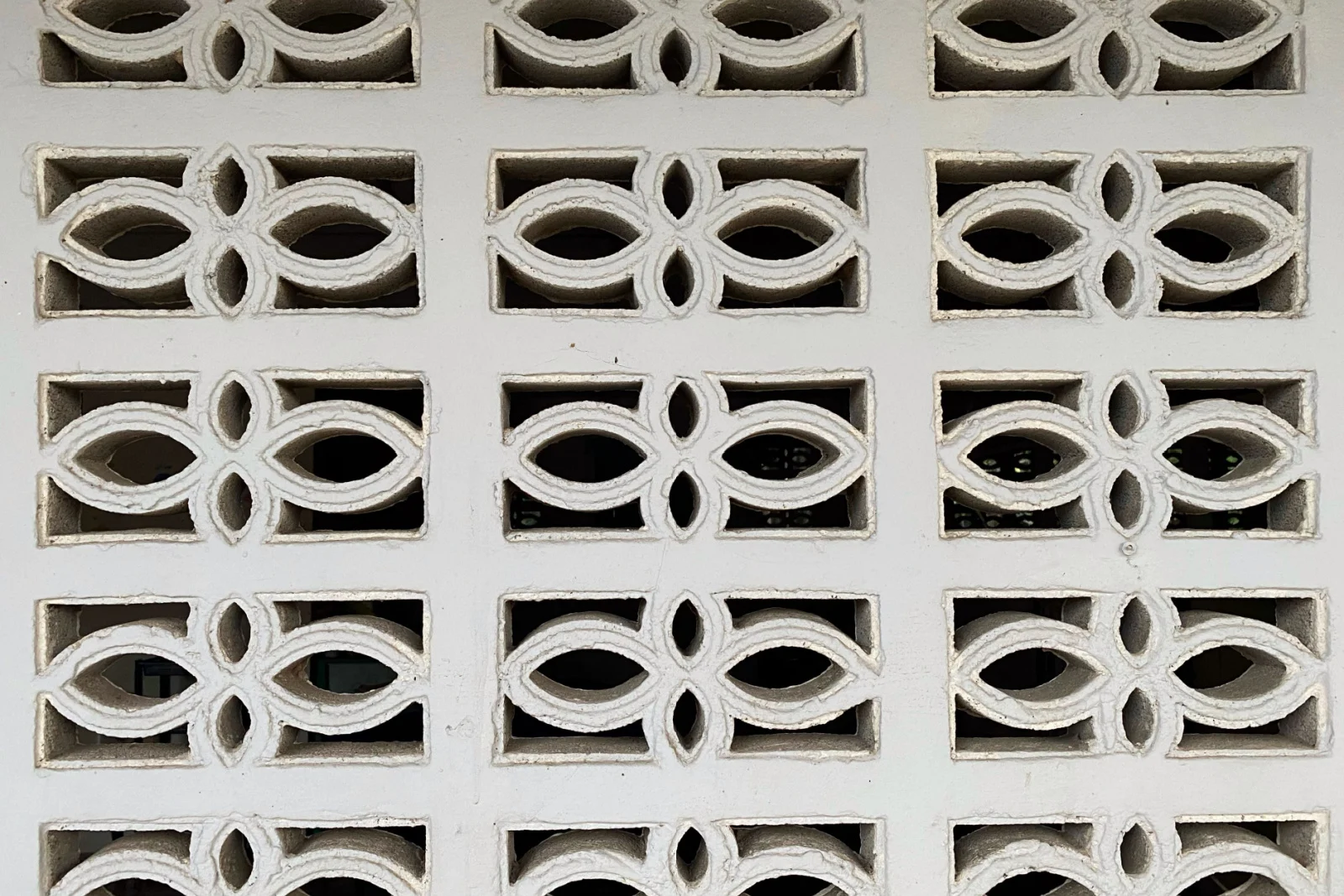 Breeze blocks are perfect for modern outdoor designs and ensure privacy without restricting airflow.
They're a more casual solution to fencing as you can use their full-length or stagger them to create unique designs and add more interest to your landscape.
White ones are an ideal addition to modern decor, while brick-red blocks go well with desert landscape, terracotta pots, and creamy-pink gravel. Add a seating area, some succulents, and a pathway, and you'll transform your backyard in an instant!
3. Bring Bamboo Along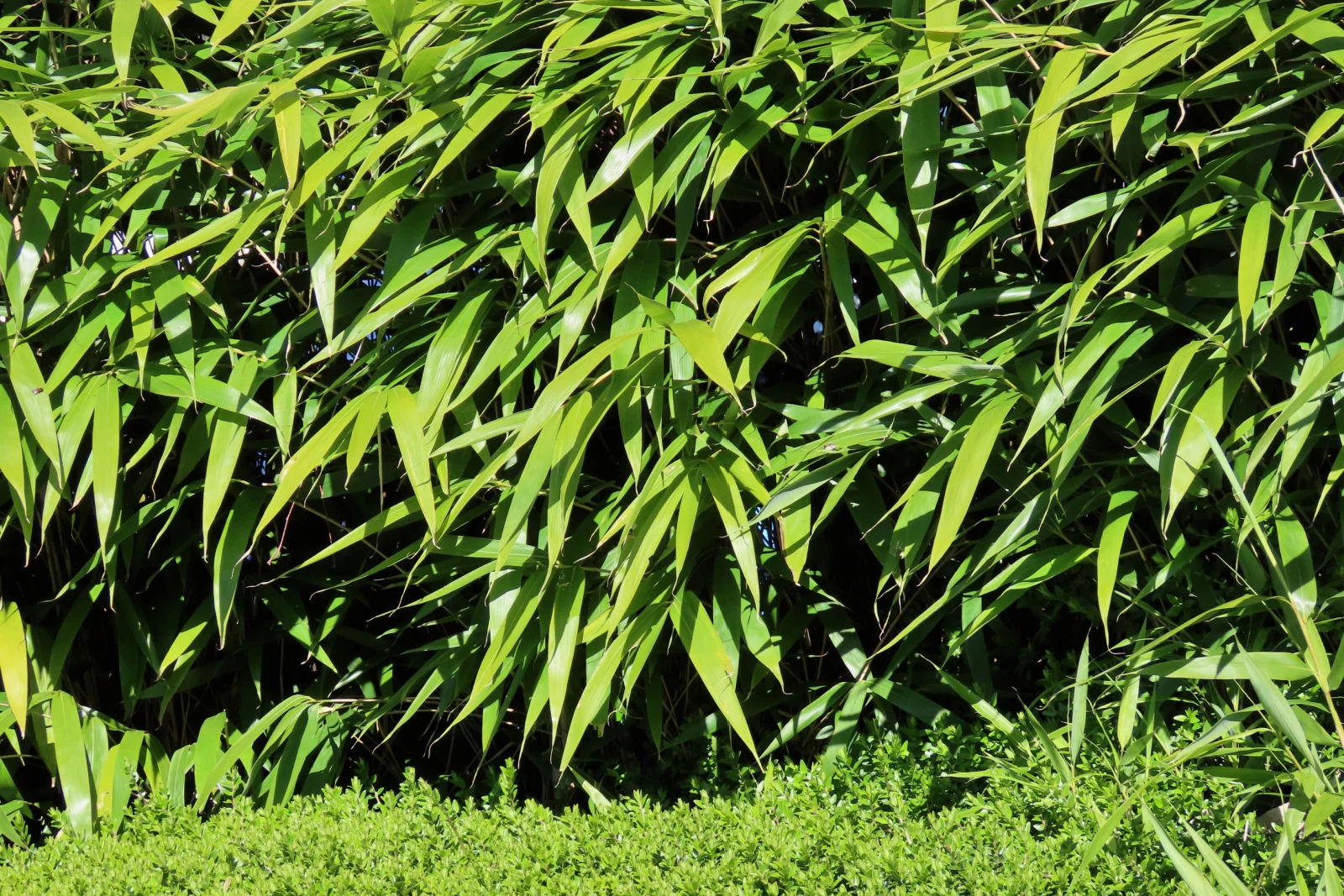 A bamboo hedge is an excellent choice as it can grow quite tall, providing you with privacy and giving more chic to your outdoor decor.
Clumping varieties such as 'Seabreeze' are more suited for fencing as it grows densely and will shield your backyard from prying eyes.
You can use running bamboo, such as 'Golden Grove,' but it'll leave gaps between each shoot. You should also know that it can quickly spread all over your yard, so it might be hard to keep it in one place.
But if you plant it in a large container and bring them close together, you'll quickly get yourself a breathtaking natural fence that poses no danger to your other plants.
4. Consider Shade Sails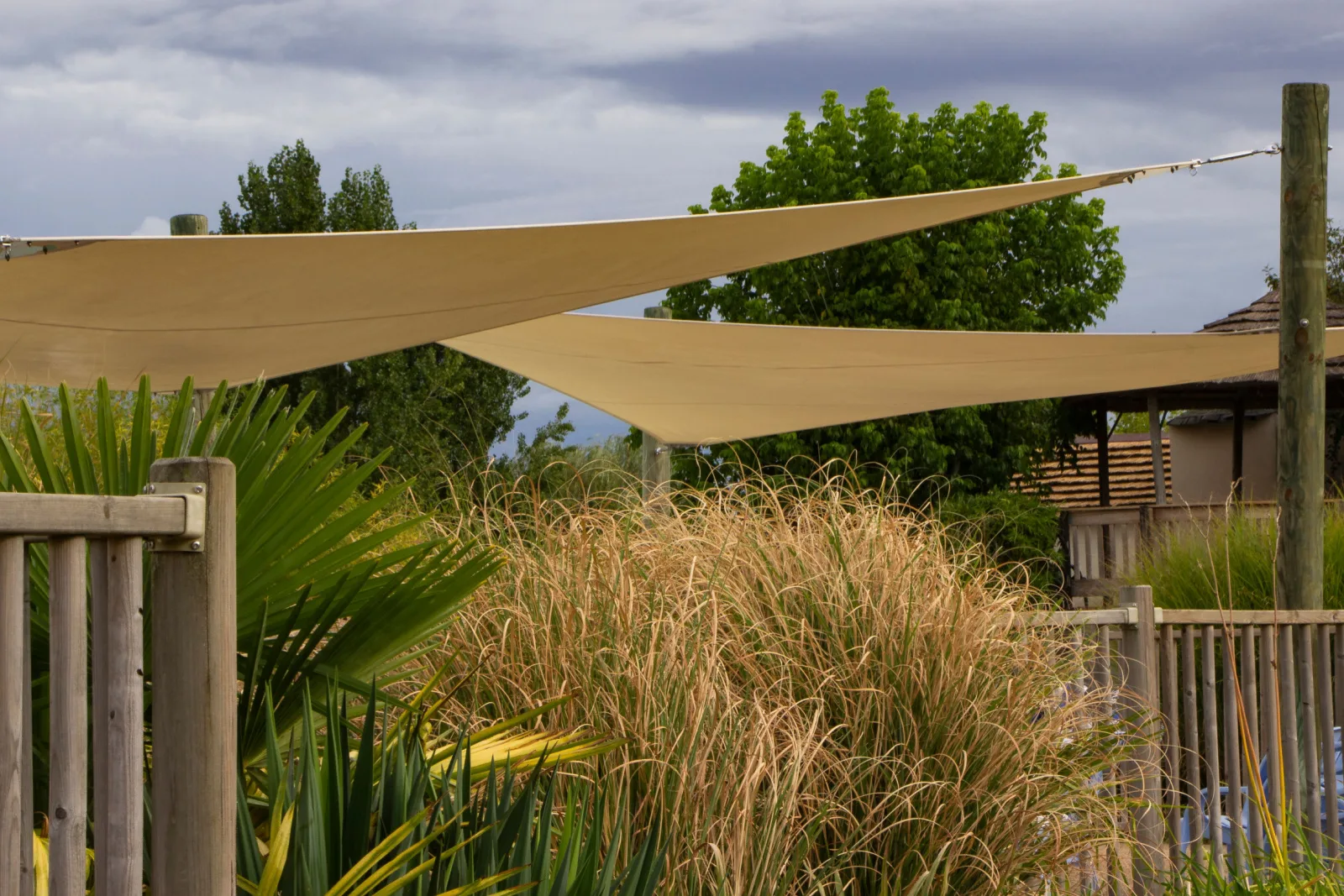 Shade sails are a common sight on playgrounds, but there's nothing that says you can't install one in your backyard to gain more privacy.
This element will add a modern touch to your garden, as well as some shade, and you can decorate it with lanterns for a cozier feel after sundown.
5. Get A Garden Trellis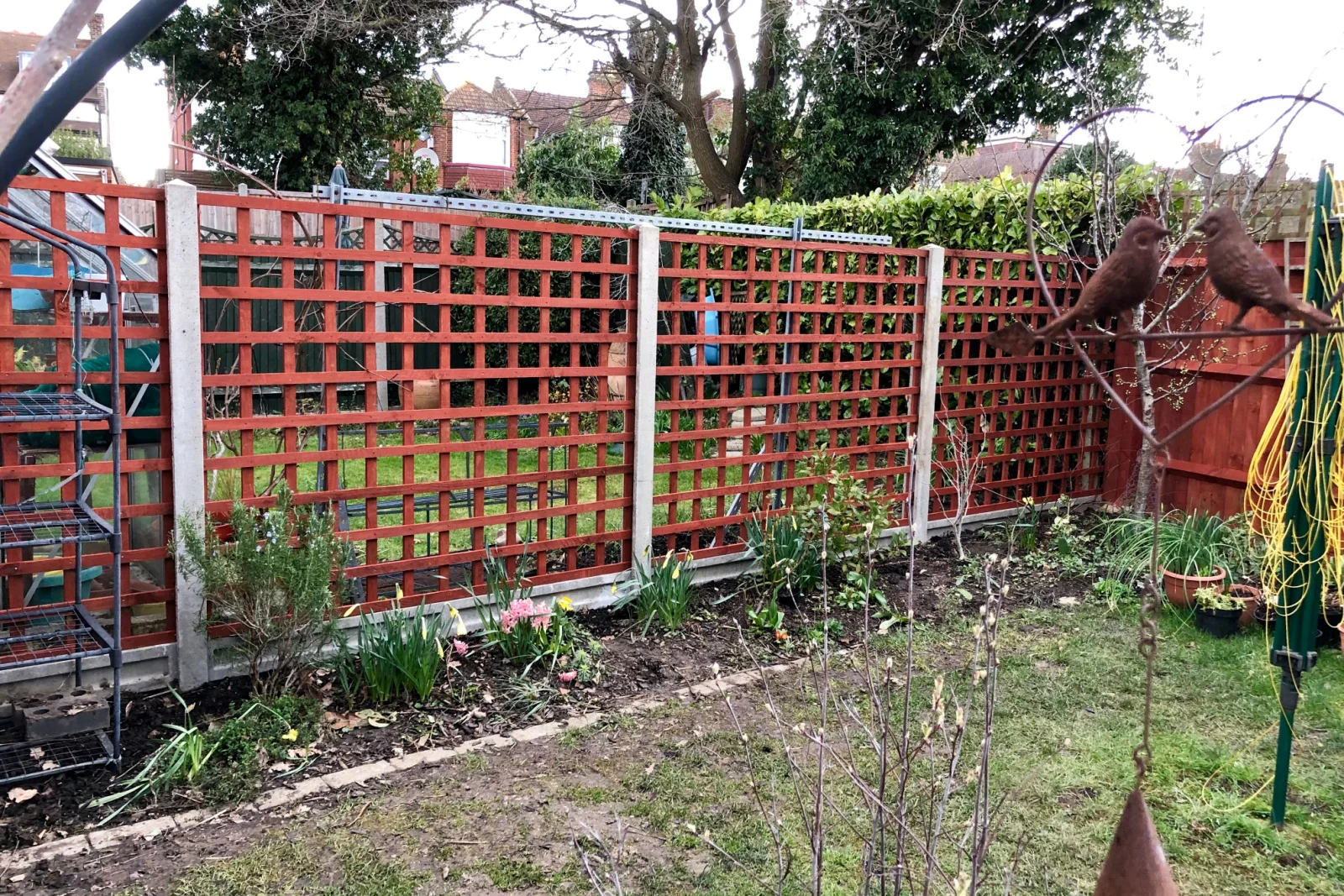 To prove that you have an amazing green thumb, use garden trellises and vining plants to get more privacy.
It's definitely cheaper than building an entire fence and will give your yard a lovely new appeal.
Honeysuckle, clematis, trumpet vine, and jasmine are ideal climbers that will provide an explosion of color and wonderful fragrances.
6. Go With Tall Ornamental Grasses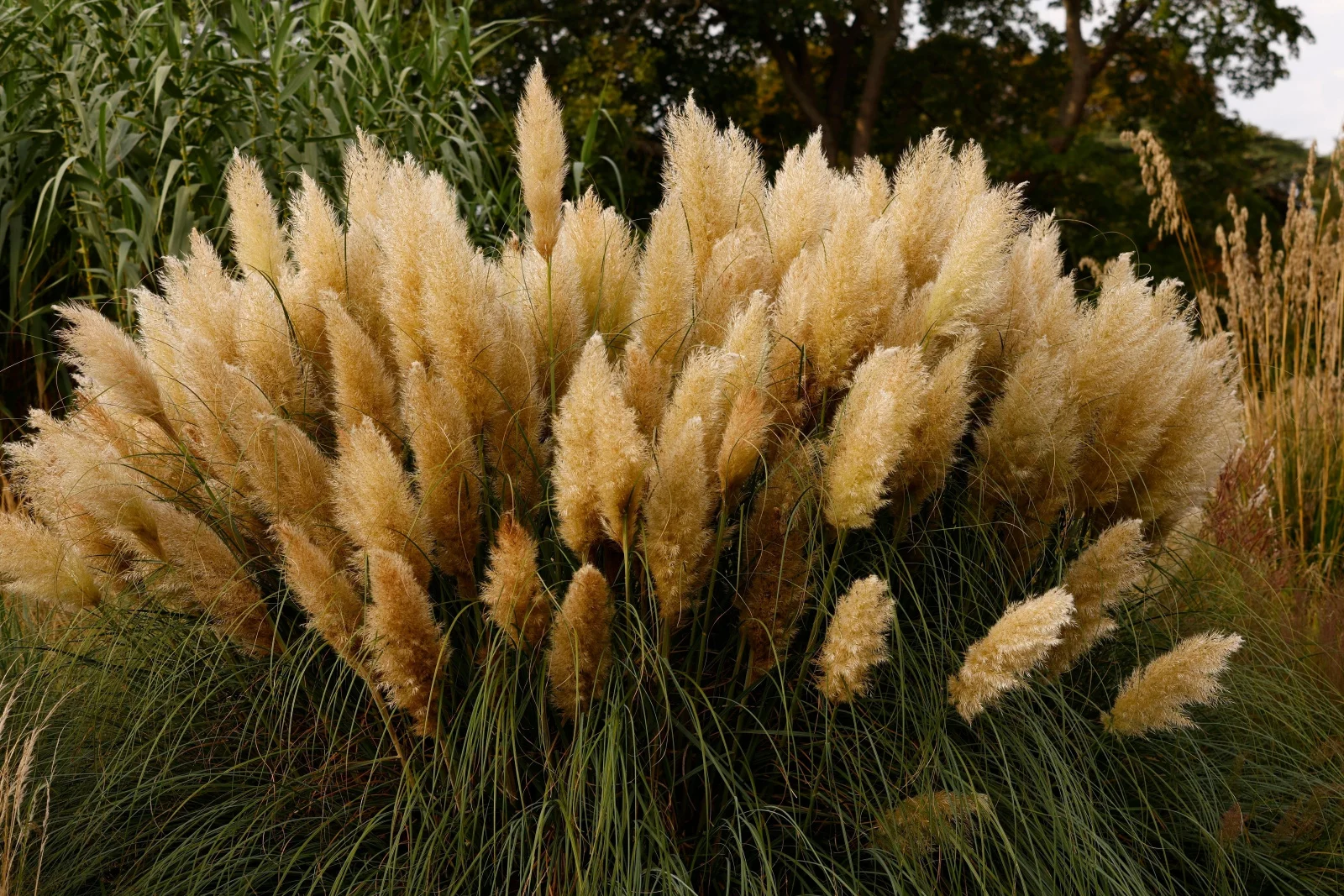 Ornamental grasses such as pampas or flame grass are excellent ways to add more privacy without much effort.
Pink hair grass is perfect for those who want a tuft of gentle shade and romance in their garden. And if you want privacy even in winter, fountain grass is the way to go.
These varieties will grow fast and tall, giving you the privacy you desire. To give more interest to your garden, incorporate some smaller flowering plants that add depth and texture.
7. Include Shrubs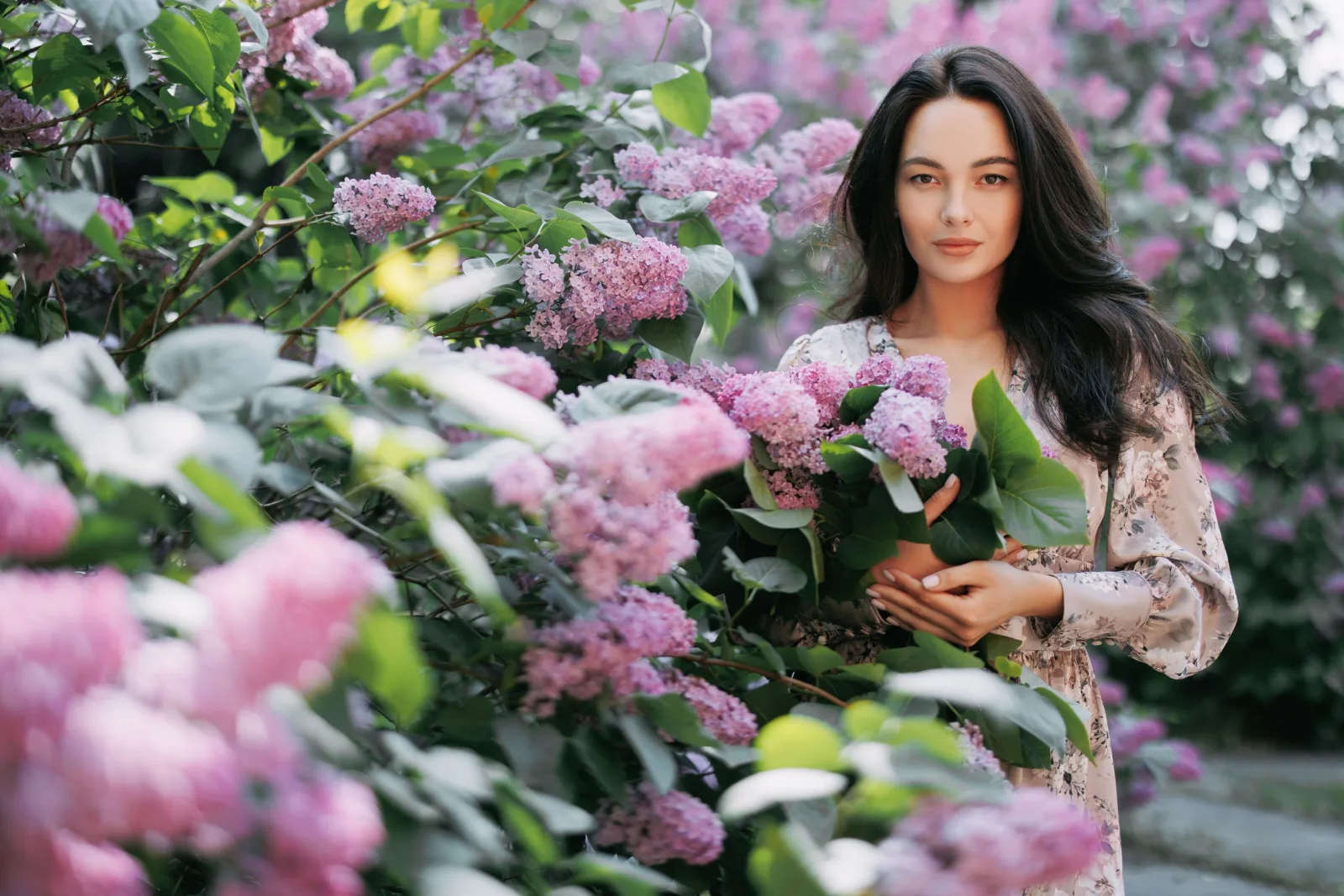 If you don't want a full-on fence or hedge, you can always incorporate some tall shrubs to separate your yard from nosy neighbors.
Lilac shrubs, magnolias, and dogwoods are ideal plants for privacy as they'll block the outside view and shower your garden with stunning and fragrant flowers.
If you want an evergreen variety that looks amazing all season long, thuja is the perfect option.
Finally, you can combine evergreen and deciduous shrubs to create more interest in your yard. Pale pink flowers look amazing in combination with thuja greenery, and the autumnal hues of deciduous shrubs break down the monotony at the end of the season.
8. Make A Pergola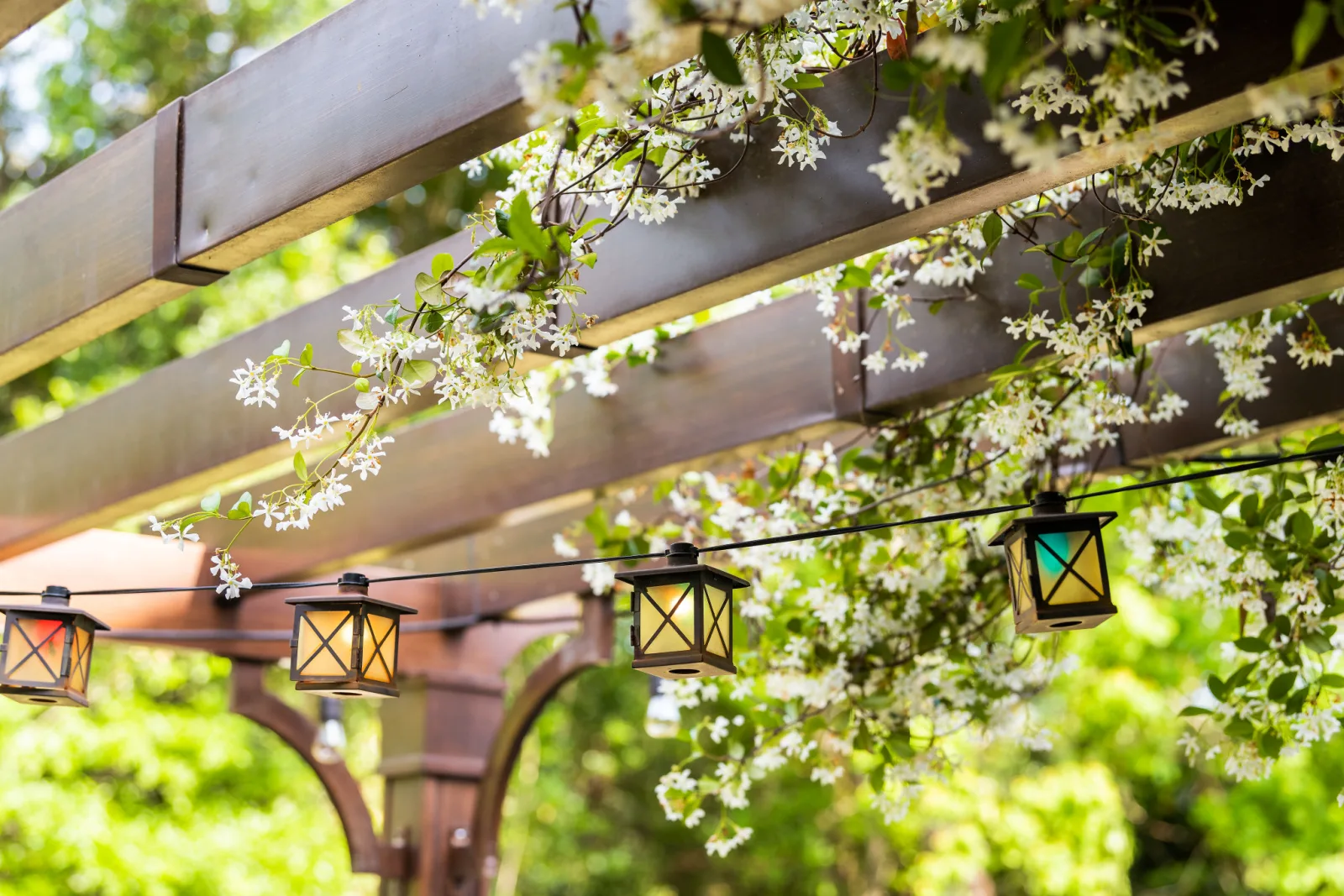 This project is for the DIY enthusiasts, but it's not an impossible task for a beginner as long as you have patience and quality tools.
Pergolas act as a room within your garden and provide much-needed privacy if you add a back wall or some curtains to them .
The overhead beams will also make your seating area more private and cozy.
Here are some tips to help you undertake this project:
9. Get A Privacy Screen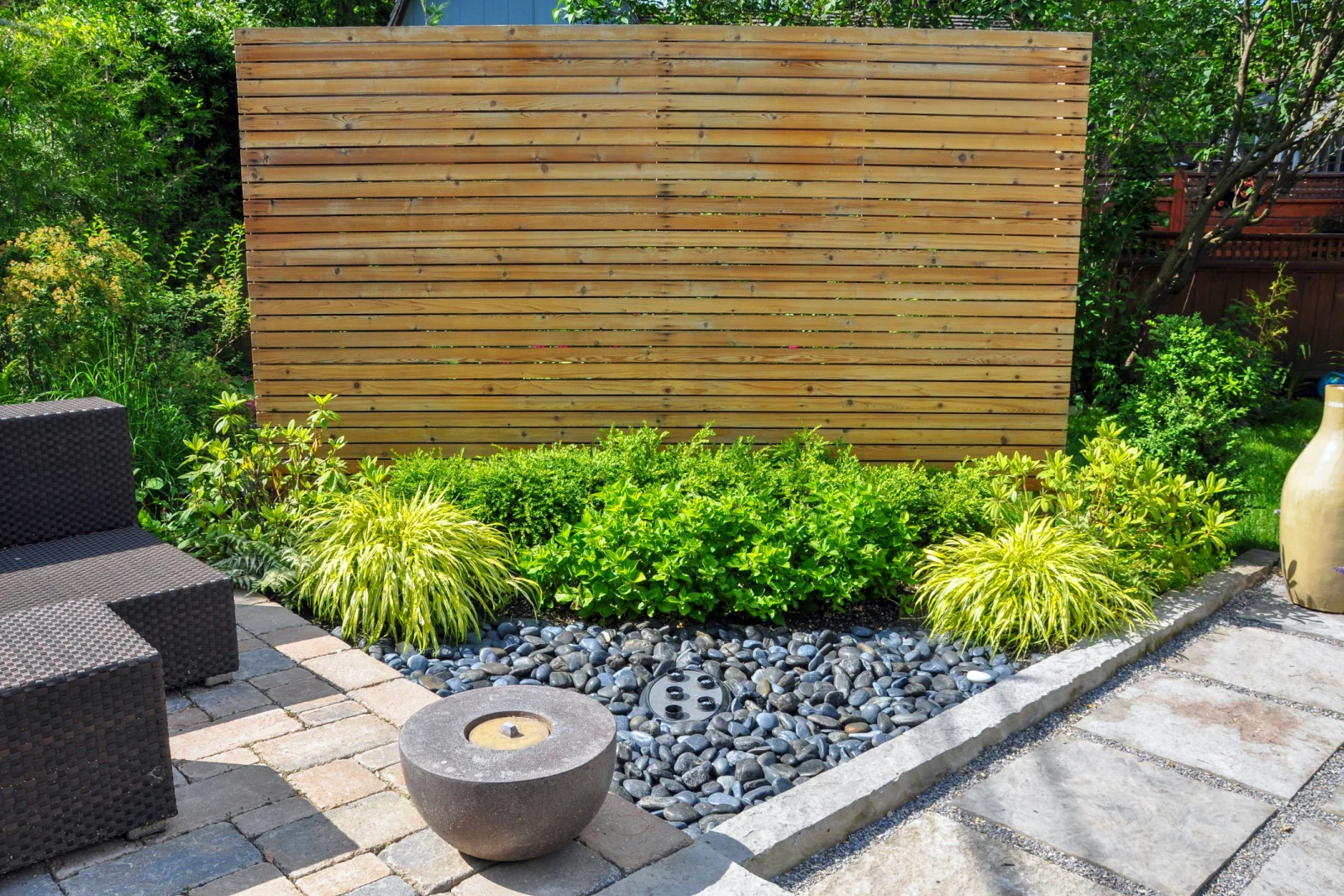 You can get privacy screens pretty much anywhere, from Walmart to Amazon. The only difficulty may be finding one to suit the overall theme of your backyard.
Choose a nude one with leafy patterns for a more relaxed setting, or a black one for a modern appeal.
The best part about these things is that you can easily move them around, so they're perfect for anyone who loves rearranging their landscape.
10. Use Lattice Screens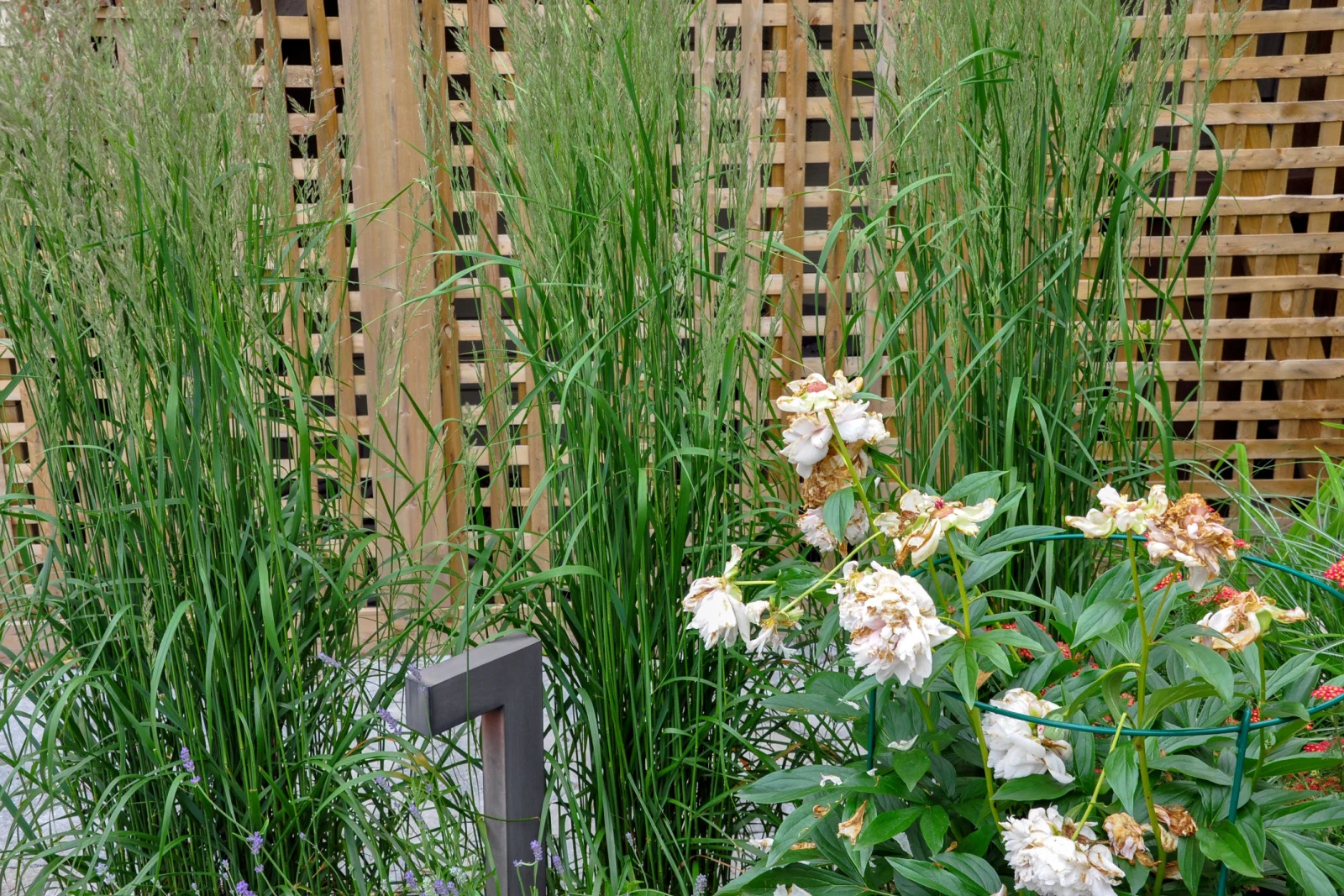 This cost-effective alternative to fencing is a great way to safeguard your yard from nosy neighbors.
You can get a wooden lattice screen for a more natural vibe, or plastic ones that will blend nicely into any decor.
What I love most about these screens is that you can train your vines to grow up them, creating more interest and adding bright colors to your landscape design.
11. Plant A Hedge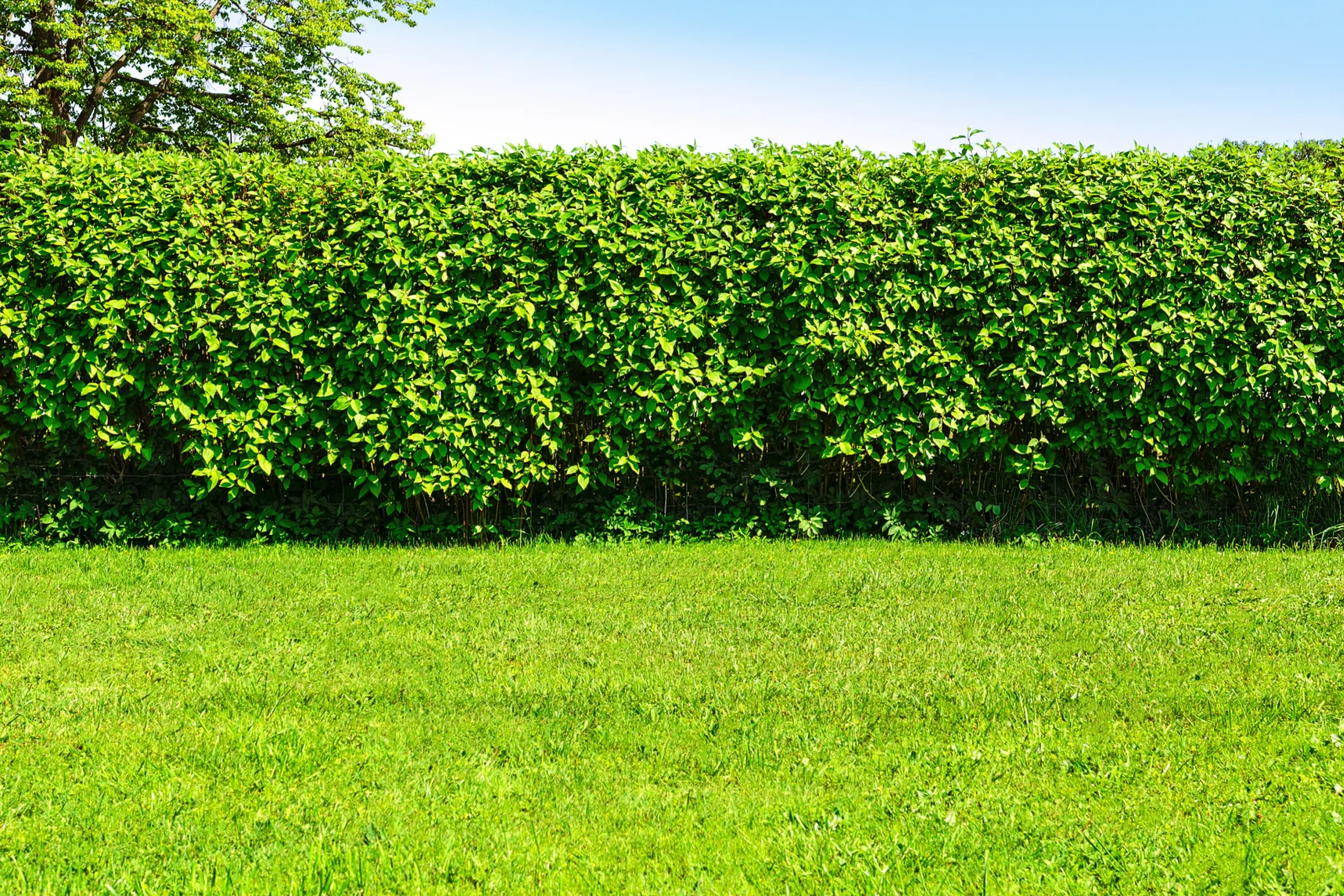 Setting up a hedge is a natural way to shield your property from prying eyes. It will upgrade your landscape and won't block airflow like some fences might.
As well as bamboo, you can also use boxwoods, arborvitae, or holly for more privacy, and interplant them with lavender to add more interest.
What's great about hedges is that they can grow taller than regular fences but still leave some room for a summer breeze.
12. Or A Tree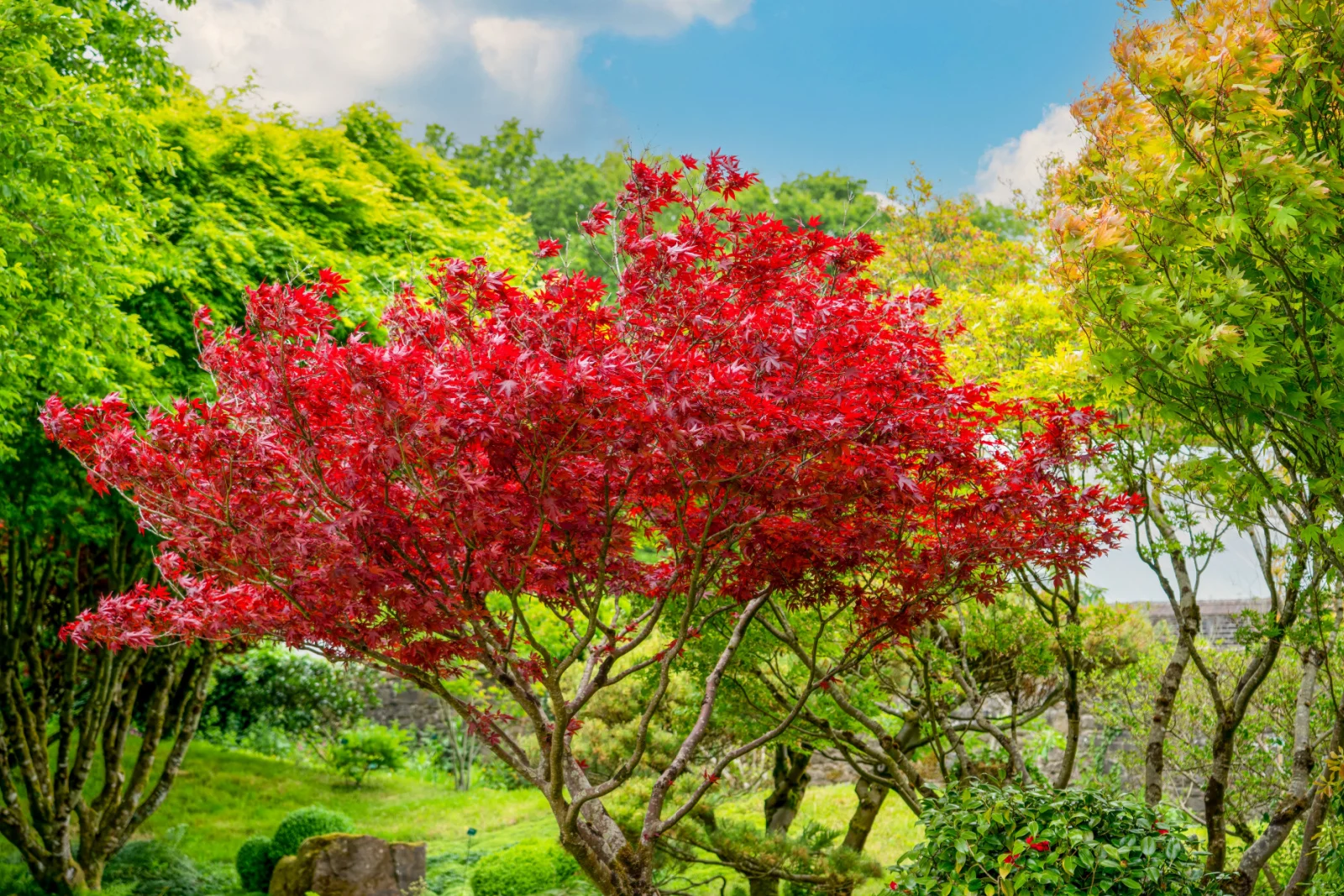 Planting a tree sapling can be very rewarding, even though you'll have to wait a long while for it to reach its full glory.
Sugar, silver maple, and weeping cherries are amazing options as they provide a year-long interest and can get tall enough to block your neighbors' view.
They go well with traditional fences, provide overhead privacy and shade, and can be a true statement piece of your garden.
13. Use Outdoor Curtains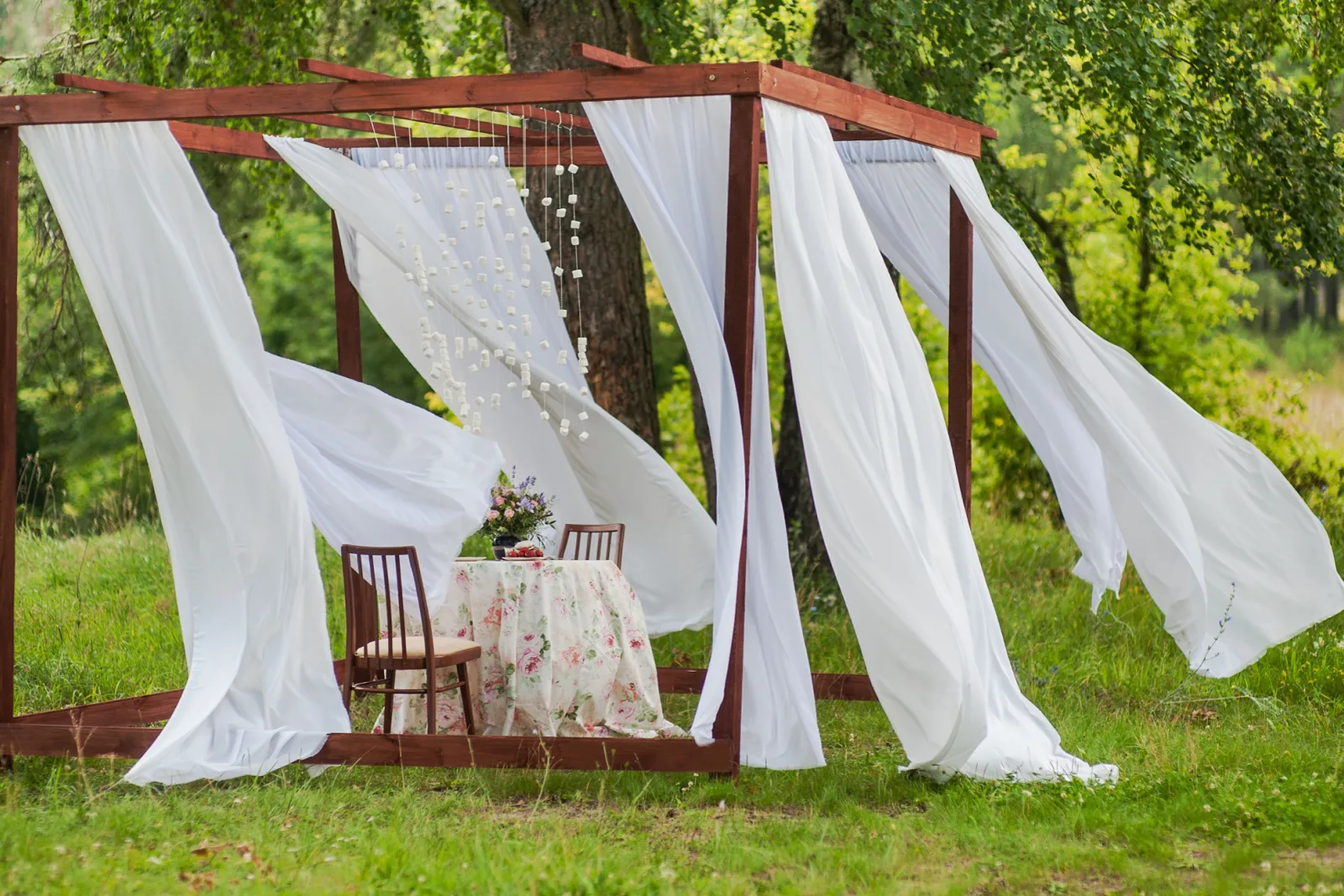 If you don't have the time to undertake a new landscaping project, you can always use outdoor curtains to shield your garden.
Style sheer white curtains on a pergola or canopy, and you'll get summer shade and privacy at the same time.
And if you want a more laidback appearance, airy mosquito drapes are perfect.
14. Turn To Container Gardening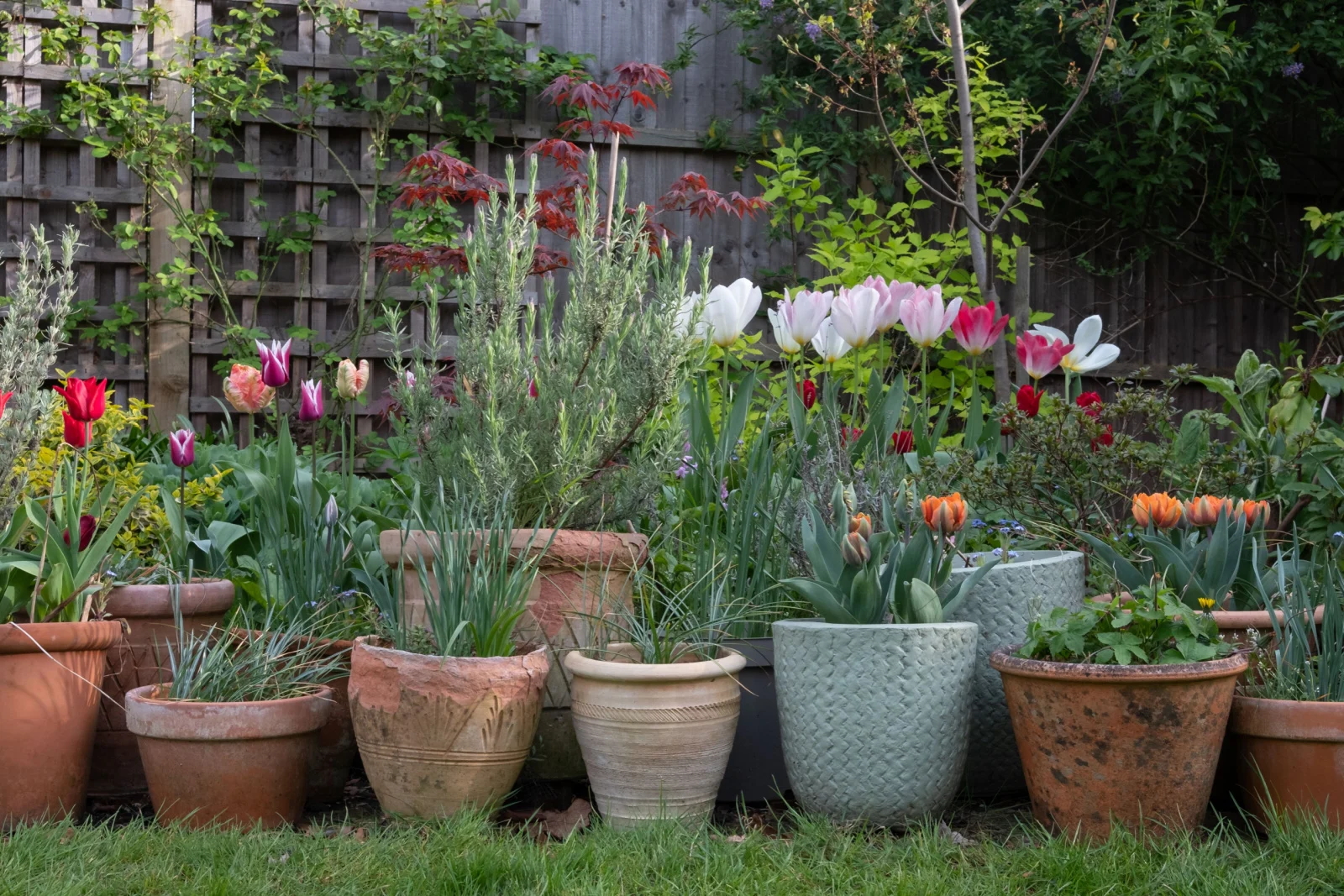 There are many tall potted plants you can use for privacy, such as hydrangeas, arborvitae, ornamental grasses, and colorful vines.
They will add more texture and interest to your garden, and also protect against nosy neighbors and passers by.
Elephant ears, lavender, and hydrangeas can grow up to three feet tall and introduce more greenery and color to your yard.
If you want a real privacy screen, pampas grass grown in massive containers should do the trick.
15. Bring Tall Garden Planters Together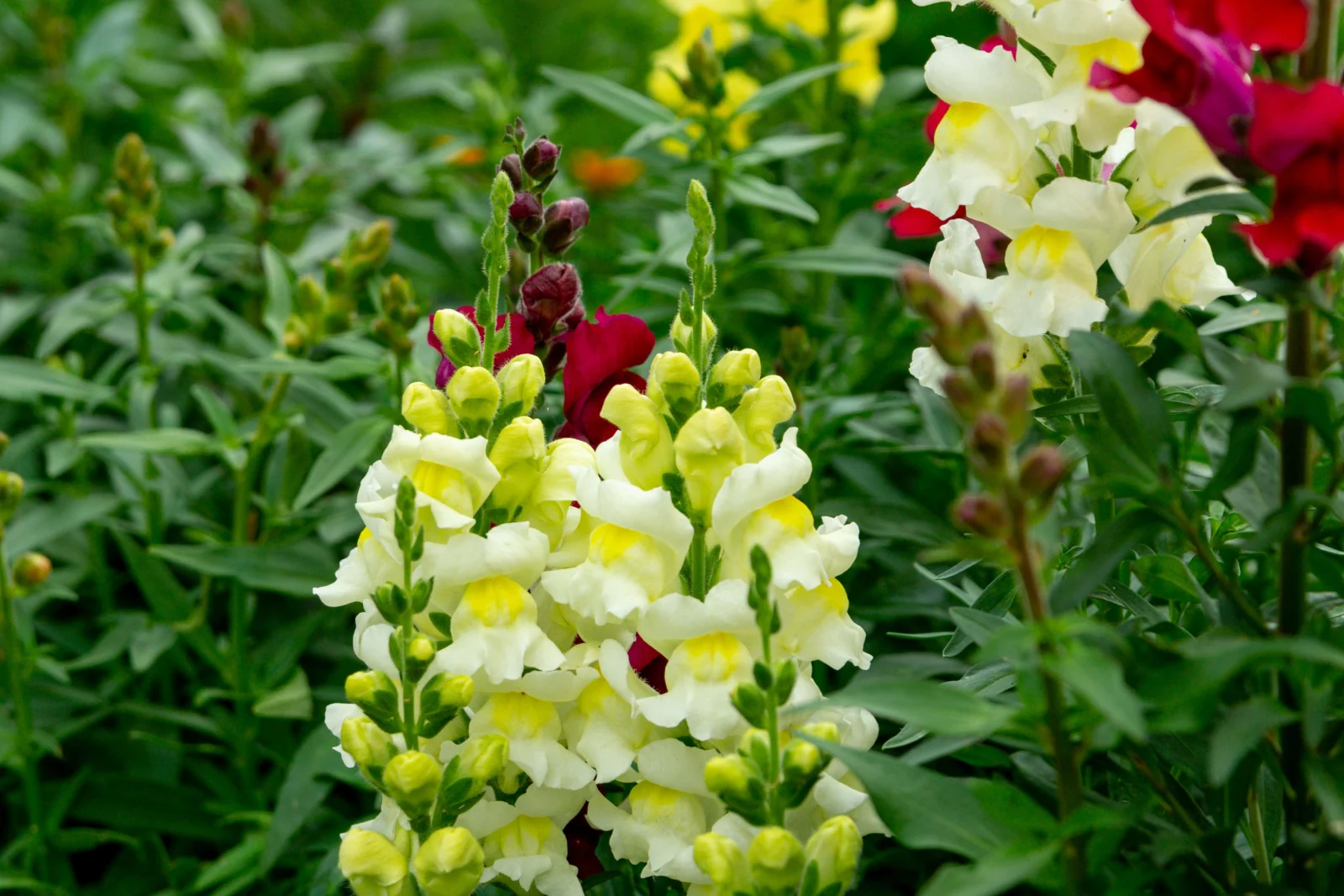 Use tall planters grouped together to create an improvised fence that can also carry many succulents, begonias, and other ornamentals inside.
Space them equally apart to get a clean look and start planting. You can grow individual plants or use the thriller, filler, spiller technique.
Tall irises and snapdragons are perfect thrillers, petunias or polka-dot plant's are great fillers, and trailing begonias or moss roses will spill over the rim, completing the look.
Or you can install a pony wall, hollow it out to create some barriers where each plant will go, and use it as a unique planter.
16. Incorporate Some Furniture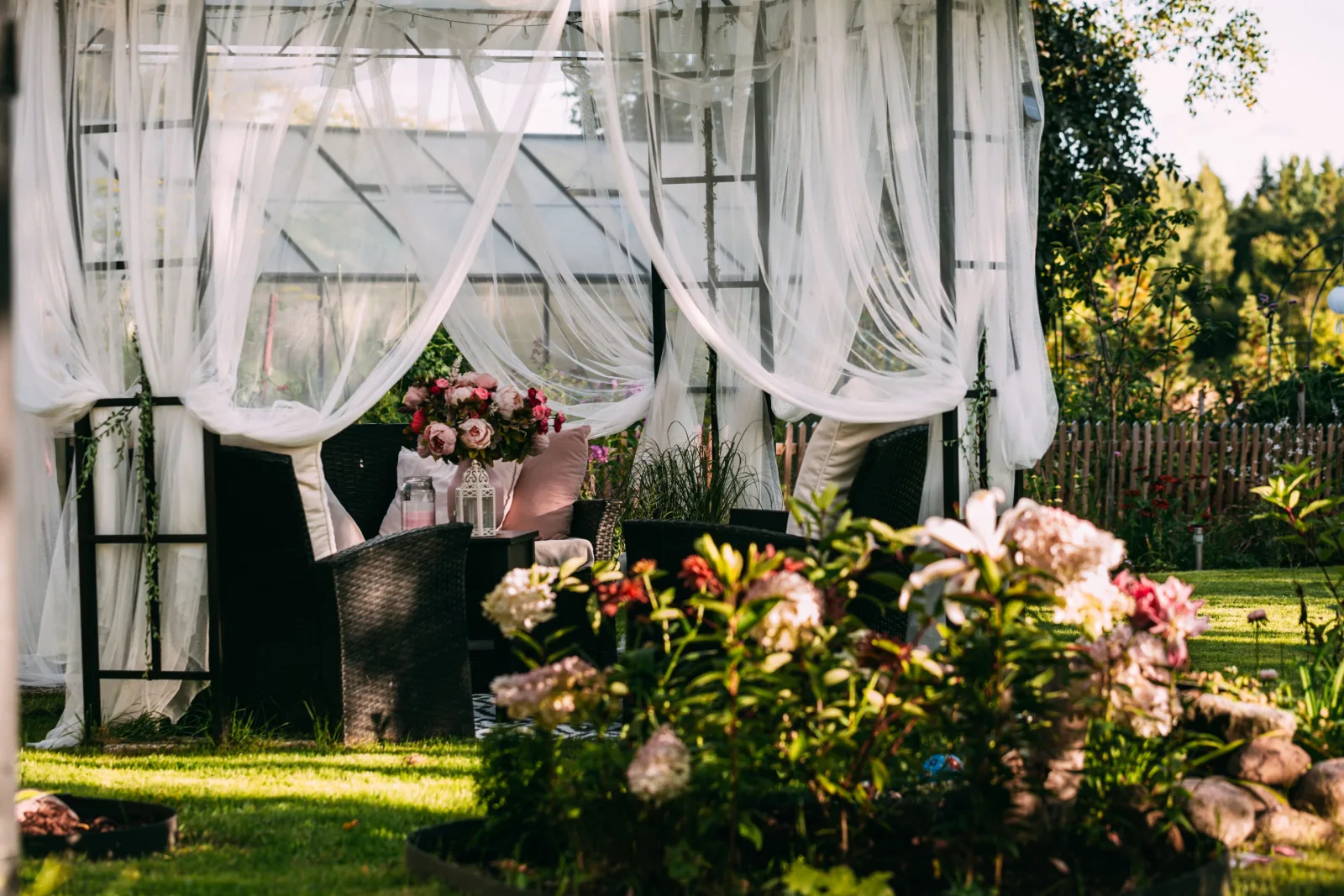 Buying new fences can be expensive, and starting a natural one is a long and sometimes tedious process. However, there are still some things you can do to get more privacy in your yard.
Adding outdoor furniture is one of those things! Cabanas, sun shades, and day beds with a canopy are all excellent options to block your neighbors' view.
This might seem like a big financial step, but you only have to get these things once and then you're set for life.
17. Vine It Up
Vines have always been one of my favorite ways to add color and privacy to my garden.
All you need to see them shine is a simple trellis or metal fence where they can climb. Jasmine, clematis, climbing roses, trumpet, and climbing honeysuckle vines are suitable for almost any setting.
But if you want to add a tropical feel to your continental garden, a magenta bougainvillea is the climber for you!
I hope these ideas can help you with your project.
Until next time!