The Cherokee Princess dogwood is a deciduous tree that is relatively easy to grow. It needs just a bit of light and water to transform your garden into a place straight out of a fairy tale!
Its attractive white blooms and incredible red leaves in the fall make it one of the favorite centerpieces of front and backyards all around the world.
This article will bring you some tips and tricks for planting and growing this dogwood tree so that it can adorn your outdoor area as well.
We will also give you a detailed account of its color, shape, and blooming time, so you'll have all the information about this plant in one place.
Before we dive any deeper into this subject, let's look at the main characteristics of this tree:
| | |
| --- | --- |
| Scientific name: | Cornus Florida 'Cherokee Princess' |
| Native habitat: | North America |
| Growth rate: | Slow-to-moderate growth rate |
| Size: | 20-30 feet tall and 25-35 feet wide |
| Hardiness zone: | USDA zones 5-9 |
| Toxicity: | Non-toxic |
Cherokee Princess Dogwood: Features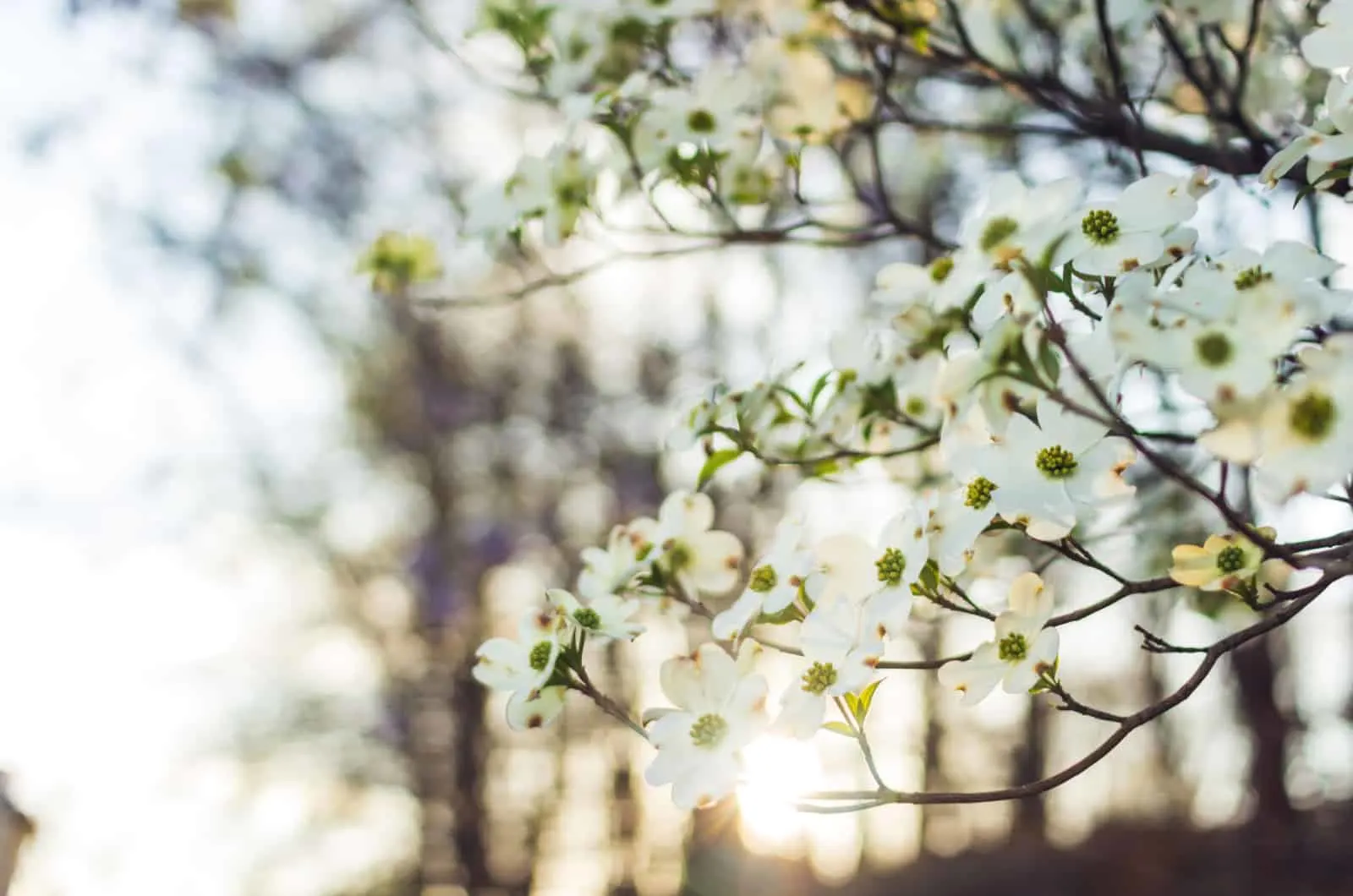 The showy canopy of this flowering dogwood is one of the main reasons gardeners choose this tree over many others.
The color of its leaves and flowers is simply stunning, but there is more to this dogwood than meets the eye.
So, let's learn what makes this plant attractive and some mysteries it holds.
Flower Color And Shape
When we look at the Cherokee Princess dogwood in full bloom, the first thing we notice are the white flowers that crown the slender branches.
However, this flowering tree has played a trick on us all to conceal the true color of its blossoms. The blooms of this dogwood are actually yellow and rather small, which is why we often fail to see them.
Another contributing factor to this deception are white bracts, which are leaf-like structures surrounding the flowers. These bracts are much larger than the blooms (approximately 2 inches long), so we actually see them and not the blossoms.
Whether it's the bracts or the true flowers, they are still an indispensable addition to your garden and will get along nicely with any of the pittosporum hedge varieties you might have.
This white dogwood is still stunning, and its vase-shaped flowers make us love this cultivar even more. Although the older flowers change their looks a bit to become more rounded, it doesn't take anything away from their attractiveness.
Blooming Time
Depending on the growing zone and weather conditions, this flowering dogwood tree will open its blossoms in early spring or even mid-spring.
It usually stays in bloom for about 10-14 days, but don't let this dishearten you. Its green leaves will compensate for the lack of blossoms, and early fall see's the growth of red berries that bring out a whole new dimension of this tree's beauty.
Leaves
The pointy green foliage of the Cherokee Princess flowering dogwood looks stunning throughout spring and summer.
The green color is not so dark in spring; it is more yellow or bronze-green. However, summer brings a whole new look, with foliage of deep green that resembles regular forest leaves.
But the fall color is something completely different. As this is a deciduous tree, the leaves change their hue and eventually drop in winter. But before they fall off, they take on a rich burgundy shade that resembles the red fruits of this ornamental tree.
Planting The Cherokee Princess Dogwood
Imagine spending endless hours researching the advantages and disadvantages of a pea gravel patio only to change your mind and decide to decorate your landscape with this dogwood tree!
Well, you can combine these two ideas to create a unique outdoor space that your friends and family will love.
However, there are some things you need to take into consideration when planting a Cherokee Princess as it cannot be grown just anywhere (unlike pea gravel, which can decorate any area).
There are certain things such as location, time of planting, and the method of planting that can help get your dogwood tree to its mature height sooner.
Let's learn more!
Where To Plant
The good news is that you can plant this specimen tree all over North America or any other part of the world with a similar climate. It decorates gardens from Massachusetts, across Missouri, and down to northern parts of Florida.
It can even grow in western regions of North America, such as Texas and Mexico, so you can enjoy this plant even in hotter climates.
However, the location in your yard is also important. Cherokee Princess dogwood trees thrive in full sun conditions, but there is an exception.
In particularly hot regions, you should grow this tree in partial shade because too much sunlight can burn its attractive flowers and foliage. Find a spot that gets plenty of light in the early hours of the day and that is shaded in the afternoon.
You can plant this dogwood tree in the shade of already established trees as they will provide natural protection against the midday sun.
When To Plant
The good news is that you can plant this tree whenever you want, but you do have to consider some things.
For instance, container-grown dogwood trees can be transplanted any time of the year, although you should water them regularly prior to replanting in order to avoid transplant shock and provide the best growing conditions.
Transplanted plants cannot uptake water as quickly as before moving, so you should ensure they're well hydrated before replanting them.
On the other hand, burlap and bare root trees bought from a nursery should be planted in early spring or late fall because they won't be awakened from their dormancy sooner than expected.
Ending dormancy prematurely can shock the plant, so you should transplant it in the cooler weather or on an overcast day when there isn't much light to trigger budding.
You can even transplant bare root and burlap trees in the rain as it won't prompt the wakening of the plant. Another advantage of planting on a rainy day is that there's a constant supply of water that will rehydrate the roots and give them the boost they need.
How To Plant
The good news is that the actual planting isn't difficult; all you've got to do is dig a hole deep enough for the roots to fit in.
Of course, there's more to it than just that, but that's the basic principle. You should place the tree so that 2/3 of the root ball is covered in soil and then gently mound the rest of the substrate.
Leave the top of the root ball above ground level and ensure that you don't cover it with the growing medium.
You should mulch your Cherokee princes after planting to provide better moisture retention and keep it cool on hot days.
You can use many different organic materials for mulch, but check the pros and cons of grass clippings, pine needles, shredded leaves, compost, etc., before spreading it around your tree.
When transplanting container-grown trees, free the roots so they can grow and develop.
Don't forget to water your potted dogwood tree before replanting in order to minimize shock. Bare root and burlap trees should also be rehydrated, so put them in a container with water for about half an hour before moving them to their final location.
Here's a detailed video about replanting the potted dogwood tree:
Caring For A Cherokee Princess Dogwood
Growing this plant is not demanding, but there are still some requirements you need to meet. For instance, planting it in the partial sun is essential, as are regular watering and moist soil conditions, etc.
If any of these needs aren't met, your plant will suffer and may not develop and grow as before. You can also make some other adjustments to the soil or the location if possible to ensure that your dogwood gets the best care.
Light Requirements
Dogwood trees grow best in part shade, but they can tolerate full sun if the temperatures aren't scorching. Too much sunlight can burn the leaves of this plant and make them crispy and curly, so make sure there's enough shade to protect this tree from harsh light.
But don't plant this tree in full shade, as it can make your dogwood look leggy and unattractive.
An east-facing part of your garden is one of the best options, but you can stray from this advice just a little bit. Not every garden is the same, and if you have more shade in the south or west-facing parts of your yard, you can plant your dogwood there.
Simply choose a location where you won't have to deal with sunburn, and that's it.
Water And Humidity
Watering this flowering dogwood tree isn't that difficult as it doesn't require too much moisture. Irrigate it regularly during the first growing season, but once it passes, you can rely on rainfall.
However, you should still water dogwood trees once or twice a week to a depth of around 8 inches during dry spells to ensure proper hydration.
The good news is that you don't have to water it during winter as there's usually plenty of precipitation during that period. Of course, you should adapt these tips to your region and your plant's needs.
If you live in a hot climate, you should water this flowering dogwood more frequently to prevent it from drying out.
Mulching this tree can increase water retention and reduce your irrigation chores, and spreading 3-4 inches of pine needles or shredded leaves (or some other mulch for dogwood trees you prefer) around your plant should do the trick.
Once the first two years go by, you can sit back and enjoy this easy-to-maintain plant because it won't need any additional water.
Humidity
Dogwood trees don't have any specific humidity requirements, but they cannot successfully grow in tropical and subtropical climates.
However, in zones 5-9, they have no trouble with air moisture, and you won't have to think of a plan to increase airflow, speed up the drying of the leaves, etc.
Temperature
The Cherokee princess dogwood is a hardy tree that can endure temperatures as low as -10 or even -20 °F. However, it cannot handle too much heat, even though it is more resistant to higher temperatures than some other cultivars.
But even though this plant is cold-hardy, extremely low temperatures can still freeze it and kill the buds, so provide some protection in the winter to avoid this issue.
A couple of freezing nights won't hurt the flower buds, but if the flowers are fully open, they could turn brown, so you should protect them in order to avoid that unsightly appearance.
Don't use plastic as it can keep too much moisture and hurt your plant. Instead, cover it with a sheet or some similar fabric overnight and take it off in the morning so that the tree can soak up the sun.
Soil And Fertilizer
Dogwood is one of the plants that like acidic soil with a pH between 5.5-6.0. If your garden soil is not acidic enough, you can always add some acidifying liquids or use fertilizers that raise the acidity (for instance, plant food for rhododendrons).
There are some natural solutions to increasing soil acidity, such as coffee grounds, but they cannot meet the dogwood's requirement, so you should add a solution of vinegar, lemon, or sulfur to make the perfect growing medium for this small tree.
A Dogwood also requires fertile and well-draining soil to thrive, so you should mix compost and peat moss into the substrate in order to make it perfect for this tree.
Both compost and moss make the soil looser and have water-retentive abilities, so you won't have to irrigate this tree so often.
Fertilizer
The Cherokee Princess needs additional nutrients for healthy root and vegetative growth, so don't forget to feed it from time to time.
You should use fertilizers high in nitrogen, such as 12-4-8 or 16-4-8, because they promote the growth and development of leaves and branches. But don't go overboard because too much nitrogen can hinder flowering and leave you with naked boughs.
Furthermore, established plants don't need to be fertilized more than every 2-3 years. Feed them in early spring when you notice new growth, and that's it.
Newly planted trees shouldn't be fertilized at all because they are too delicate, and the fertilizer would only burn them and cause more problems than it would solve.
If you feel your garden soil is really poor in nutrients, you can amend it with compost and add some organic tea (but only as a last resort).
Once the tree grows a bit (at least 6 feet high), you can start feeding it in early spring. There are fertilizers in many different forms, but gardeners typically use slow-release granules because they ensure a steady supply of nutrients throughout the growing season.
Pruning
Many plants benefit from occasional trimming, and the same goes for dogwoods. You can prune it to encourage more blossoms, maintain a certain shape and size, and remove dead branches that are unattractive and waste energy.
There are different pruning techniques, and we wouldn't cut dead branches like we would trim the tree to control its shape and size.
For instance, dead branches should be removed as close to the trunk as possible. However, if you want to maintain a particular shape or size for your dogwood, you should trim it at an angle slightly above the leaf bud.
This type of cutting won't hinder new growth, which means that your tree will continue to develop properly. Also, you can (and should if you want to control the shape and size of the tree) prune your dogwood in this way regularly without worrying about whether it might harm the plant.
The last thing about pruning concerns the tools you use. Ensure that the pruners, shears, or loppers are sharp so that they can cut the branches instead of tear them as that can damage the tree.
Don't forget to sterilize the tools before using them because there may be bacteria or fungi waiting to colonize your plants. Cleaning your tools will save you a lot of trouble treating and reviving your dogwood tree if any diseases do spread to it.
Common Issues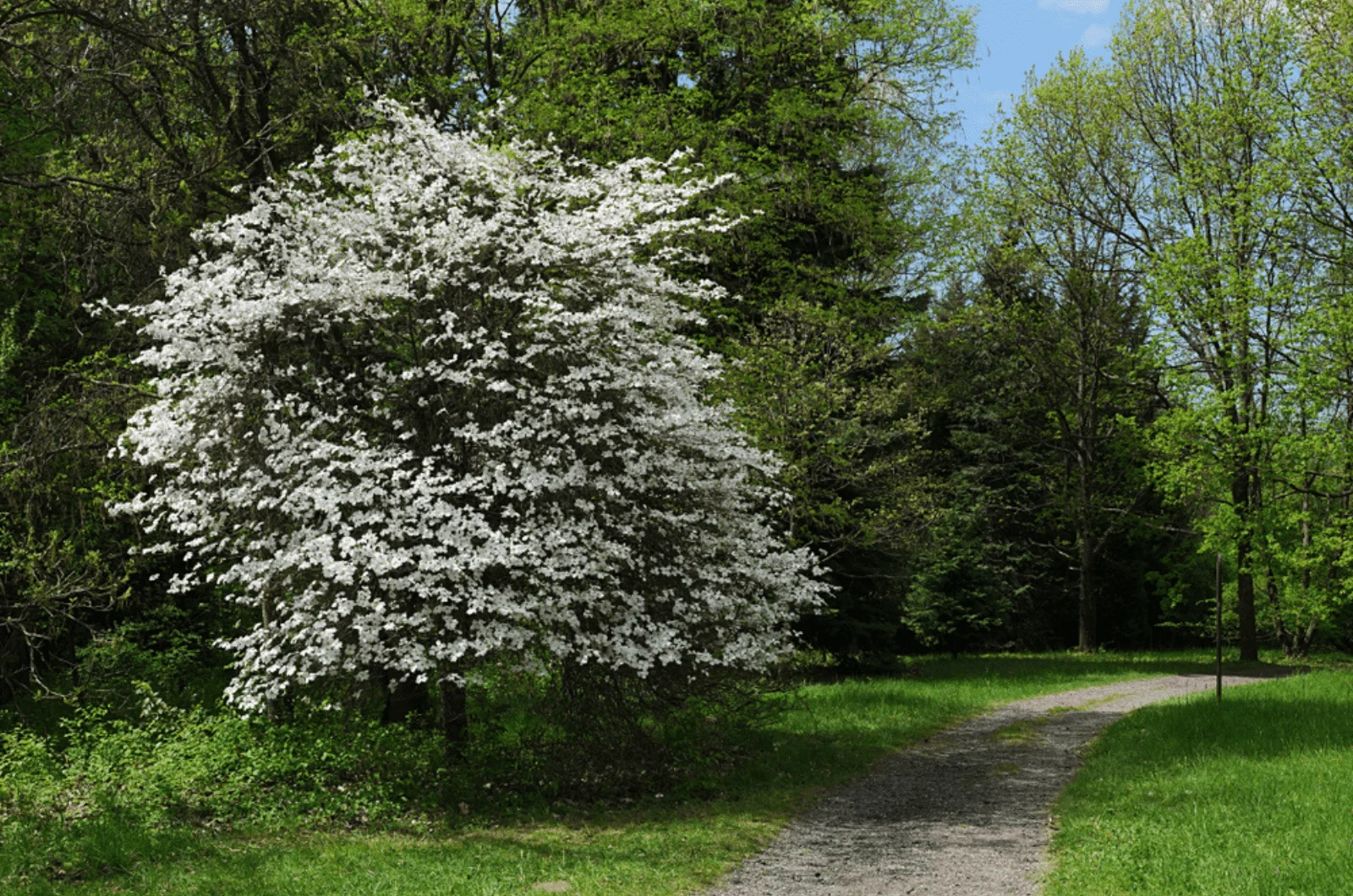 Even though the Cherokee Princess is among the more resistant cultivars of dogwood, it can still get infected with certain diseases and infested with pests.
The following sections will examine the most common pests and diseases that afflict this variety, as well as treatment and prevention methods.
Pests
The most common insects that attack the Cherokee Princess are dogwood borers and scales. The latter are fairly easy to remove; simply spray them with horticultural oil.
There are many pest control methods during flowering, not all of which use chemicals. You can always pick the scales off your dogwood if there are only a couple of them, but neem and horticultural oils aren't that harmful to your plants, so you can use them without fear.
Dogwood borers, on the other hand, are more vicious because they find their way into the tree and feed on the bark and cambium. If the cambium is destroyed, the branches will die, and these tiny insects can kill an entire tree if you don't do anything about them.
Dogwood borers can enter the tree through wounds and cuts on the trunk (for instance, from trimming). This is why you must be careful when mowing around your tree to ensure your dogwood won't get infected.
Provide proper care to your trees and treat them with permethrin from late April to July because that's when this insect is active. Follow the instructions on the package and spray the trunk, major branches, and any cuts you may see throughout the period when the bugs are active.
Diseases
The most common disease that attacks this tree is dogwood anthracnose, and even though it can be dealt with if caught early on, it is still severe and should be prevented wherever possible.
This disease afflicts trees that are under a lot of stress from weather conditions (heat, cold, or drought) or construction damage.
The good news is that you can prevent it by tending to your plant's needs. Therefore, either water it more frequently or add some mulch around it to retain more moisture.
Also, don't use wild dogwood as a transplant as it can be infected with anthracnose and spread the disease to your other trees.
If, however, you notice tan and blotchy spots on the foliage, you should remove the diseased branches at once before the infection gets a chance to spread.
You can also treat the leaves with whatever fungicide your local arborist recommends.
You should monitor your plants because this disease can kill your tree if it isn't caught early.
Dogwood trees can also get infected by powdery mildew, which you can recognize by white residue on the leaves and leaf spots. Both these diseases thrive in hot and humid weather, so you should ensure proper air circulation in order to prevent them and limit their spread.
You should remove the diseased parts as soon as you notice them and treat your tree with fungicide if the infection is far gone.
Common Questions
There are still some questions about the Cherokee Princess cultivar that need more attention, and we'll tackle them in the sections below.
Let's begin!
Is the Cherokee Princess dogwood disease resistant?
The Cherokee Princess is not a completely disease-resistant variety as it can get infected by anthracnose, leaf spot, powdery mildew, etc.
However, it is much more resistant than other cultivars, and many gardeners choose to grow it for that reason.
What is the prettiest dogwood?
The prettiest dogwoods are usually the white ones, such as Cornus controversa 'Variegata', Cornus 'Eddie White Wonder', or any of the Cornus Florida cultivars.
However, it really depends on your preference and understanding of beauty as there are many varieties and cultivars of dogwood, which can be white, pink, or even yellow.
There are Cornus kousa cultivars Schmetterling (butterfly in German), China Girl, and Miss Satomi that have slightly pointed petals, which makes them more alluring.
Conclusion
This article discussed the main characteristics of the Cherokee Princess dogwood and also presented a detailed care guide.
It is an attractive cultivar that adorns your garden with white flowers in early spring and mesmerizing red foliage in fall.
It is incredibly easy to maintain and only needs a little bit of extra care during the first couple of years after planting.
However, you shouldn't neglect established trees as they can be infected with certain diseases and attacked by pests, so monitor them carefully and tend to their needs, and you'll enjoy the gorgeous blossoms before you know it.
Happy planting, and until next time!
Like this post? Share or pin it for later!