Hydrangeas are one of the most popular garden bushes out there, loved for their bold colors.
Their sophisticated looks might make novice gardeners believe that they are incredibly complex to care for, but that couldn't be further from the truth.
And to make matters easier, I've found 15 low-maintenance hydrangeas that can adapt to nearly any setting and conditions, making even the most inexperienced gardeners look like pros.
Let's check them out!
1. Alice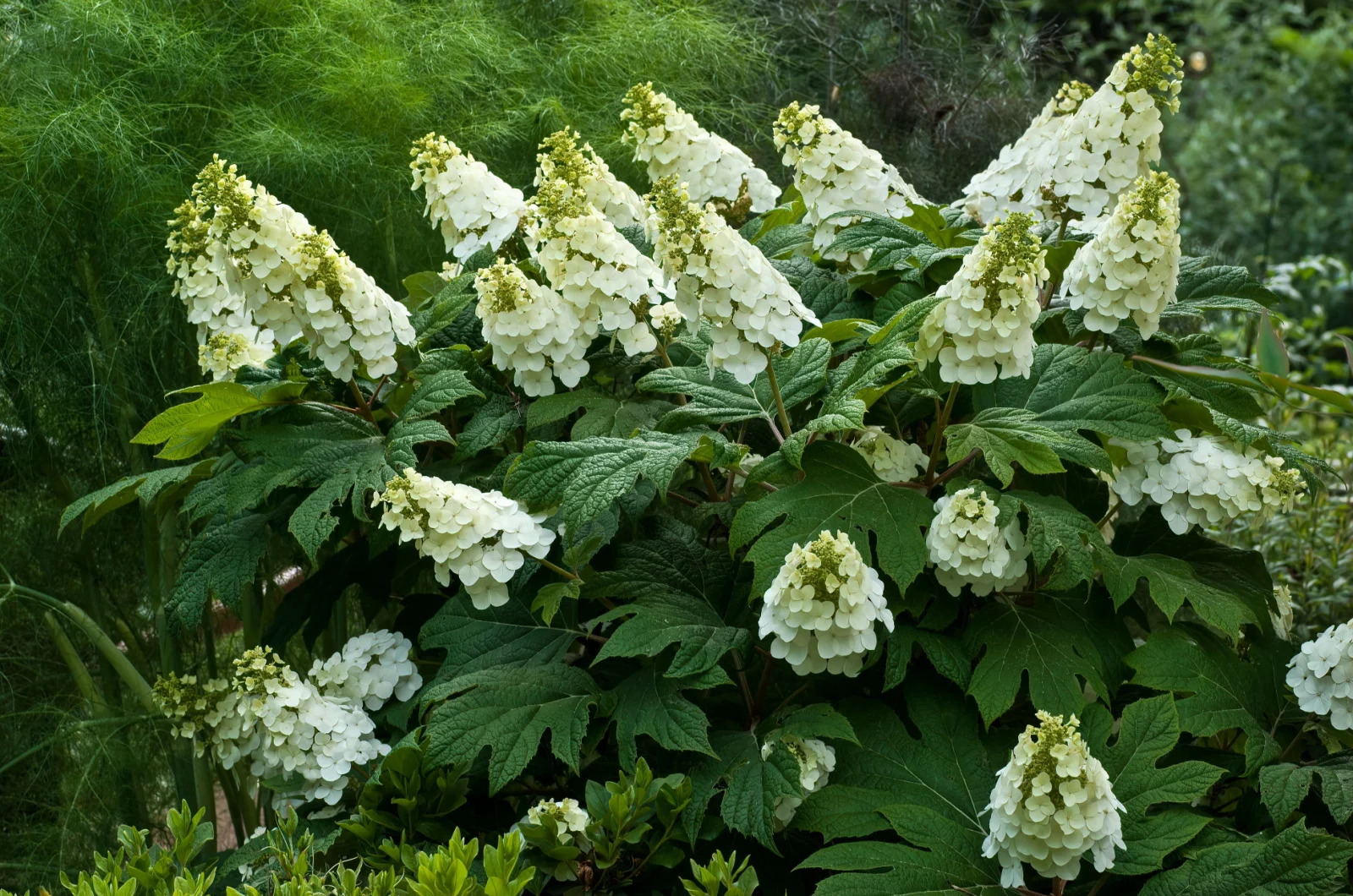 When you look at the hydrangea growing guide, you'll see that these plants are fairly easy to grow. However, some require less maintenance than others, and one of those cultivars is 'Alice.'
It is an oakleaf hydrangea cultivar and truly belongs to this low-maintenance list. Plant it in a nutrient-rich and well-drained soil in a location with plenty of sunlight, water it regularly, and mulch it for the best results.
You don't even have to prune it, but if you want to, do so immediately after flowering because it flowers on old wood and sets flower buds in the fall.
Speaking of flowering, the 'Alice' blossoms from early to mid-summer, with snow white flowers turning pink towards the end of their life.
It is perfect for zones 5-9, grows up to 10 feet tall and is a great privacy shrub, and is fairly resistant to pests and diseases. An occasional bout of powdery mildew in humid climates is all you've got to worry about.
2. Annabelle
'Annabelle' is a smooth hydrangea cultivar and the forerunner of the 'Incrediball.' Its white flowers appear in June and last for about two months, sometimes returning again in fall with a smaller bloom.
One of the great things about this plant is that it is hassle-free and can grow pretty much anywhere in zones 3-9.
It can thrive in any substrate as long as it's well-draining. Plant it in either full or partial sun and it will bloom abundantly in both situations. And to top it all off, it becomes drought-tolerant when established.
It can't get any better than this, can it?
Well, its snow-white flower balls are great as cut flowers, and if you dry them, you can get a unique fall and winter decoration.
3. Bobo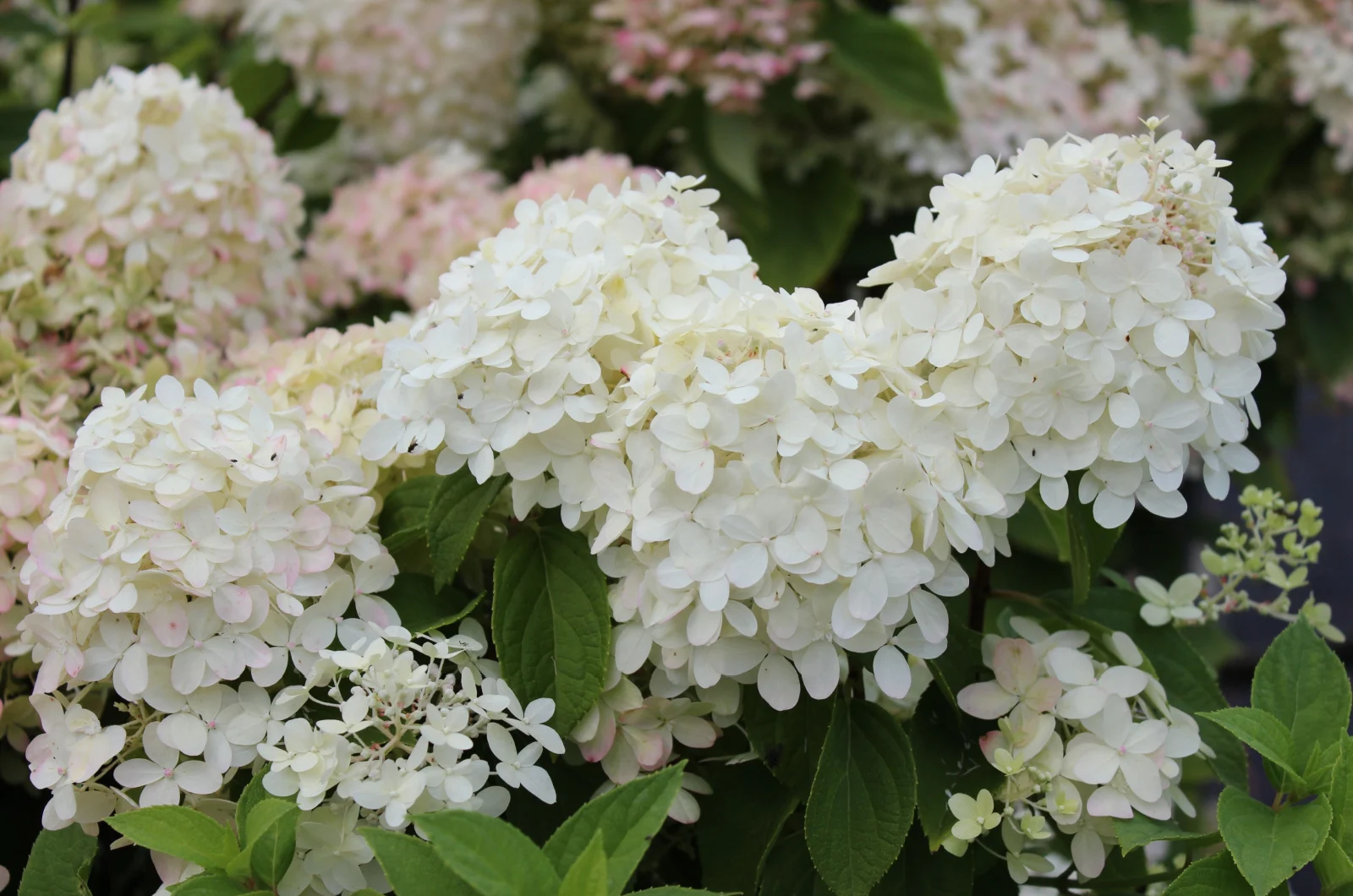 If you want a compact hydrangea for your container garden or small perennial bed, then you can't go wrong with 'Bobo.'
Just know that compact growth habit doesn't mean small flowers. This gorgeous panicle hydrangea cultivar boasts large white blossoms in July that slowly turn pink towards September, signaling the arrival of fall.
One of the things I love about it is that it is adaptable to climates and soil conditions. It is hardy in zones 3-8 and will grow in pretty much any substrate as long as it has good drainage.
An annual prune and a good deal of sunlight is just about everything this plant needs to do its best.
4. Climbing Hydrangeas
There's no better choice for covering up unsightly fences, pillars, and walls than this fascinating climbing hydrangea.
It is hardy in zones 4-8 and can get up to 50 feet tall with a little care. Plant it in a location with dappled shade, water it regularly, and make sure the soil is humus-rich and well-draining.
Climbing hydrangeas produce incredibly fragrant white flowers that appear in late spring and last until late into fall.
And the best part about it is that it is fairly pest and disease-resistant, making its care routine a lot easier.
5. Endless Summer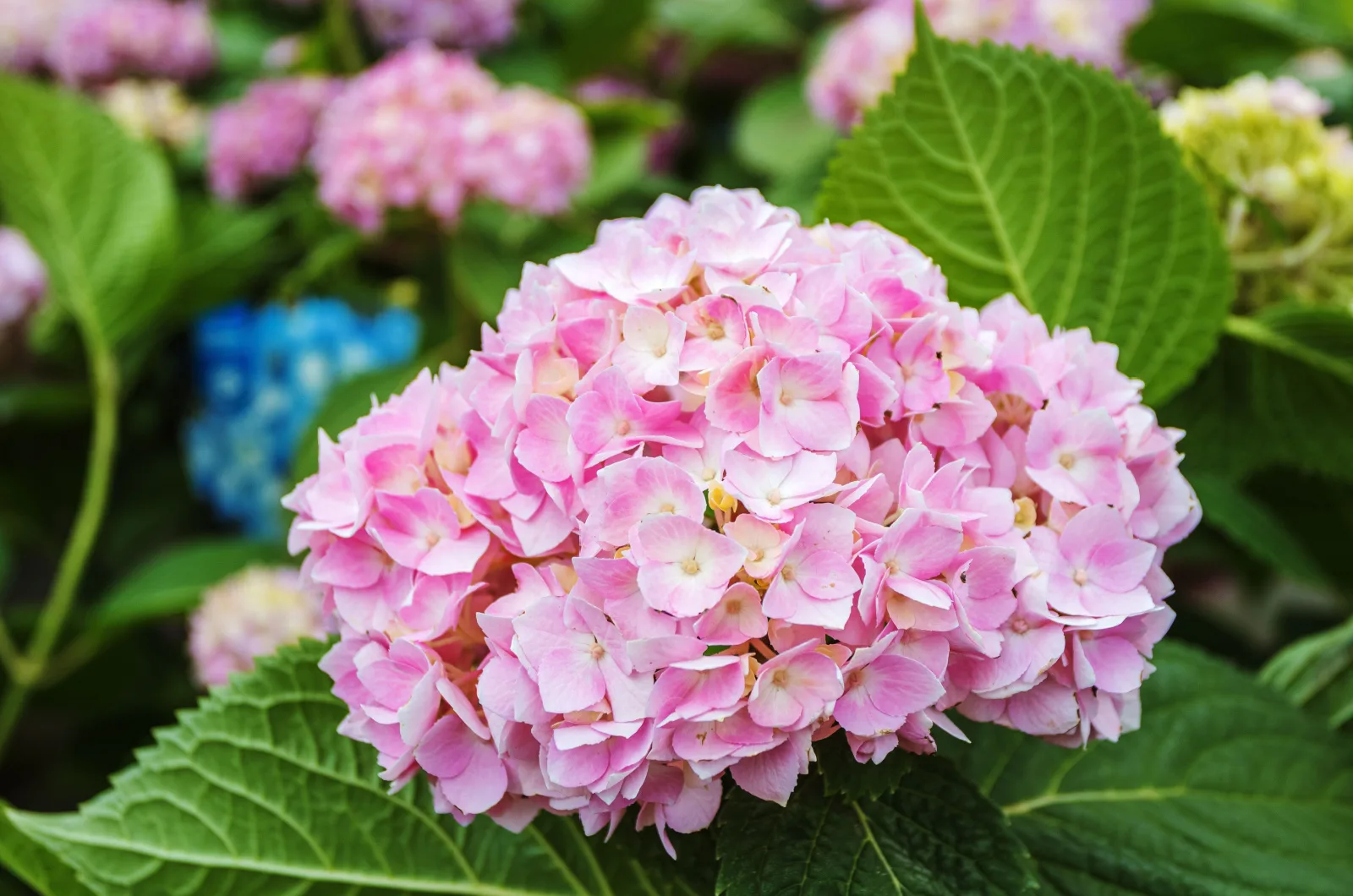 The new pop star hydrangea is a novel edition to the Endless Summer collection, and it looks stunning. Although, there are many other varieties from this series you can add to your backyard.
The endless summer collection is resistant to diseases and pests and hardy in zones 4-9. It comes in various colors with a unique ability: it can change its shade!
It obtains a wonderful blue color in acidic soils that starts to fade to purple, pink, and eventually red the higher the pH level gets.
These hydrangeas have a long blooming season, with their flowers lasting from June to September.
Plant them where they can get full sun (and part shade in warmer climates during hot afternoons), keep them moist, and they'll reward you with breathtaking flowers.
P.S. You have to prune them very rarely, which is the cherry on top.
6. Gatsby Pink
This oakleaf hydrangea may not be as widely purchased as some other varieties, but it still looks incredible with very little maintenance.
The flowers start off their journey as purely white in early summer, but then quickly turn lush pink, extending well into fall.
But the blossoms aren't the only thing attractive about the 'Gatsby Pink.' Its deciduous leaves turn a striking burgundy color in fall, giving your backyard a cozy feel.
Just make sure to keep it in full sun or part shade and fertile, well-drained soils with moderate moisture, and it will shine.
The 'Gatsby Pink' isn't as cold tolerant as some other hydrangeas, growing best in USDA zones 5-9, but it can still keep your garden gorgeous in temperate climates.
7. Incrediball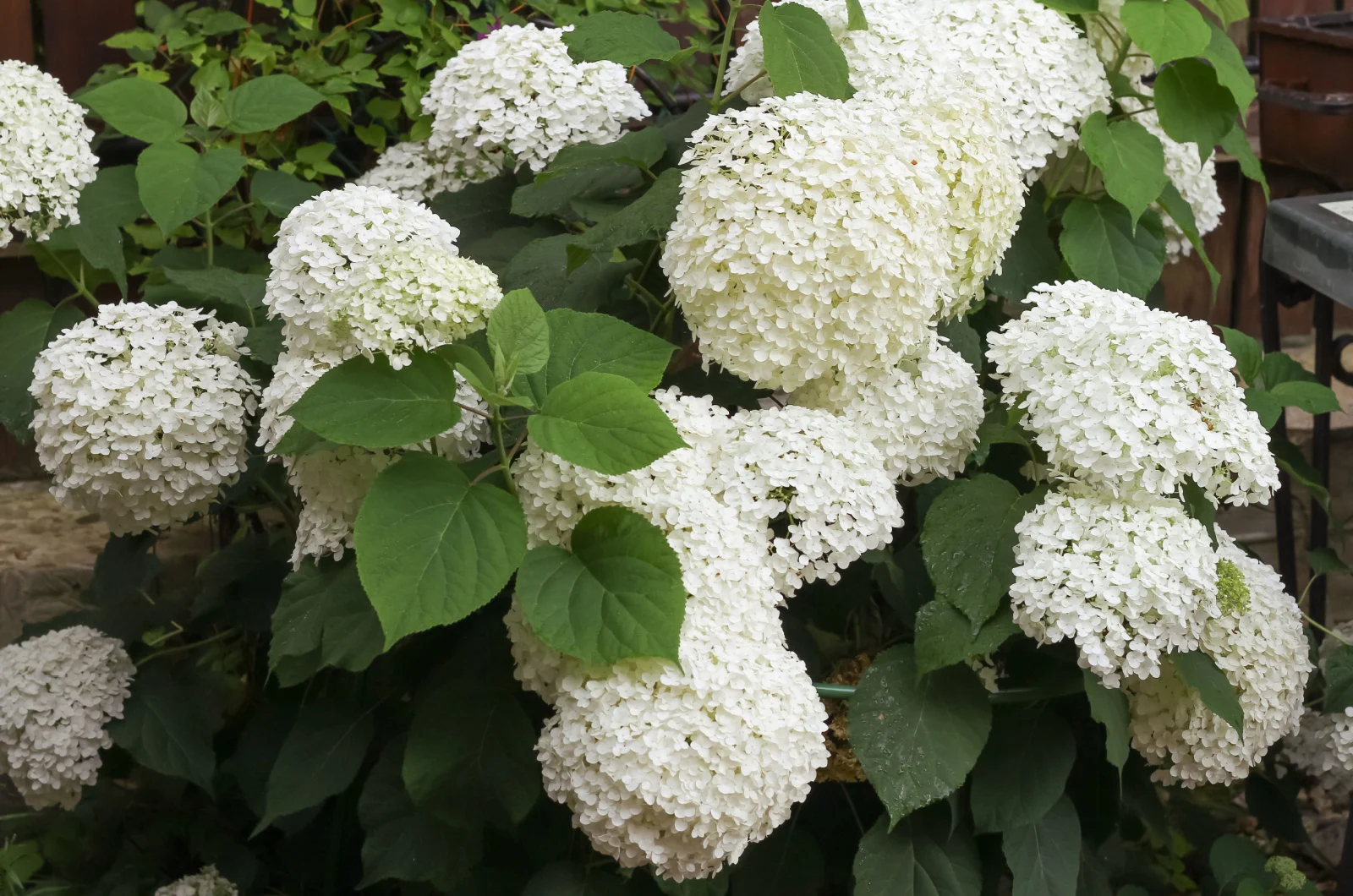 If you want a statement shrub in your backyard, look no further than this smooth hydrangea cultivar.
Large white flower balls appear in July and last for about two months, keeping your garden stunning for a long time.
It grows incredibly easy without much intervention from the outside world (you) and is perfect for USDA zones 3-9.
'Incrediball' hydrangeas have an upright growth and strong stems which allow them to bear their monumental flowers without you having to provide any support.
You will have to water it more frequently than the following 'Limelight,' but give it that and at least 6 hours of direct light per day and it will reward you with breathtaking flowers.
8. Limelight
'Limelight' is the panicle hydrangea cultivar and the perfect choice for beginners. It is drought-tolerant when established, so it requires very little of your attention after a while.
It flowers from summer through fall and adorns any location with gorgeous light green flower heads. The blossoms then fade to pink and eventually red, allowing you to give your garden more character without additional work.
'Limelight' also makes a great addition to cut flower arrangements, so you can take some of its beauty indoors.
It's hardy in zones 3-9, requires full sun (and some shade in warmer regions) to produce the best blossoms, and thrives in well-drained soils. It will come back year after year and be all the more gorgeous without any extra work
9. Little Honey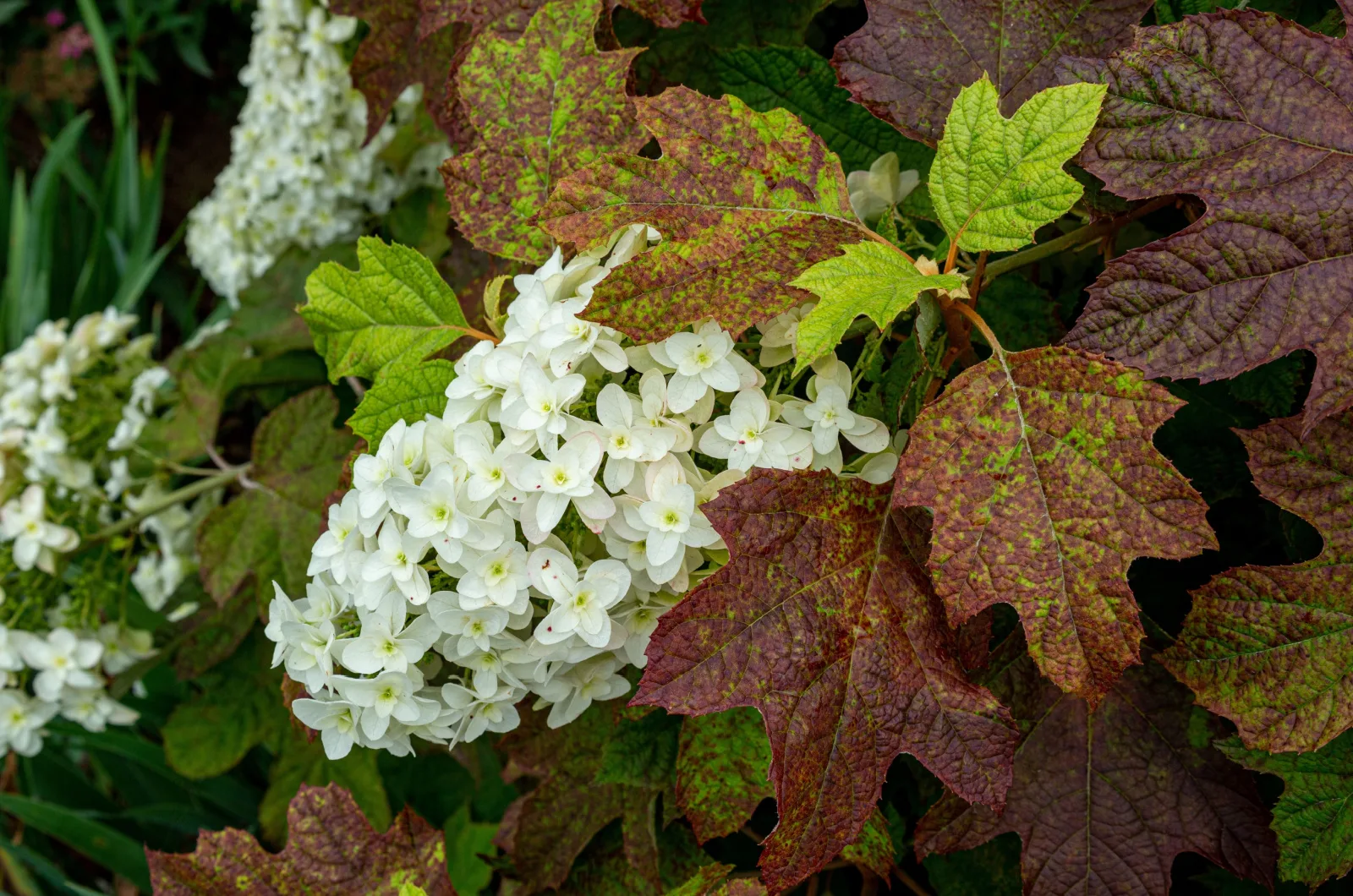 This dwarf oakleaf hydrangea cultivar is a perfect plant for small and colorful gardens. Its leaves start off as yellow-green, maturing into a chartreuse color in summer and eventually turning red as the fall extends.
The purely white blossoms appear in June and July, although some sporadic blooming can occur as the summer progresses and changes into fall.
The 'Little Honey' is hardy in zones 5-9, where it can reach a height of 3-4 feet – a perfect size for large containers on decks and patios.
Plant it in a full sun to dappled shade location and make sure the soil is fertile, moist, and has excellent drainage.
10. Nikko Blue
This bigleaf hydrangea cultivar is one of the most popular (if not the most popular) cultivar on the market.
Its deep blue color makes it all the more valuable since it isn't that common in nature.
And yet, despite its elegant look, 'Nikko Blue' is a tough variety that becomes drought-tolerant when established and only requires supplemental watering during dry spells.
Although, consistent moisture with fertile, well-drained, and acidic soil and full or partial sun will give you the best flowers.
It is hardy in zones 5-9 where it opens its blossoms in early summer and stays that way for the following two months.
11. Pee Wee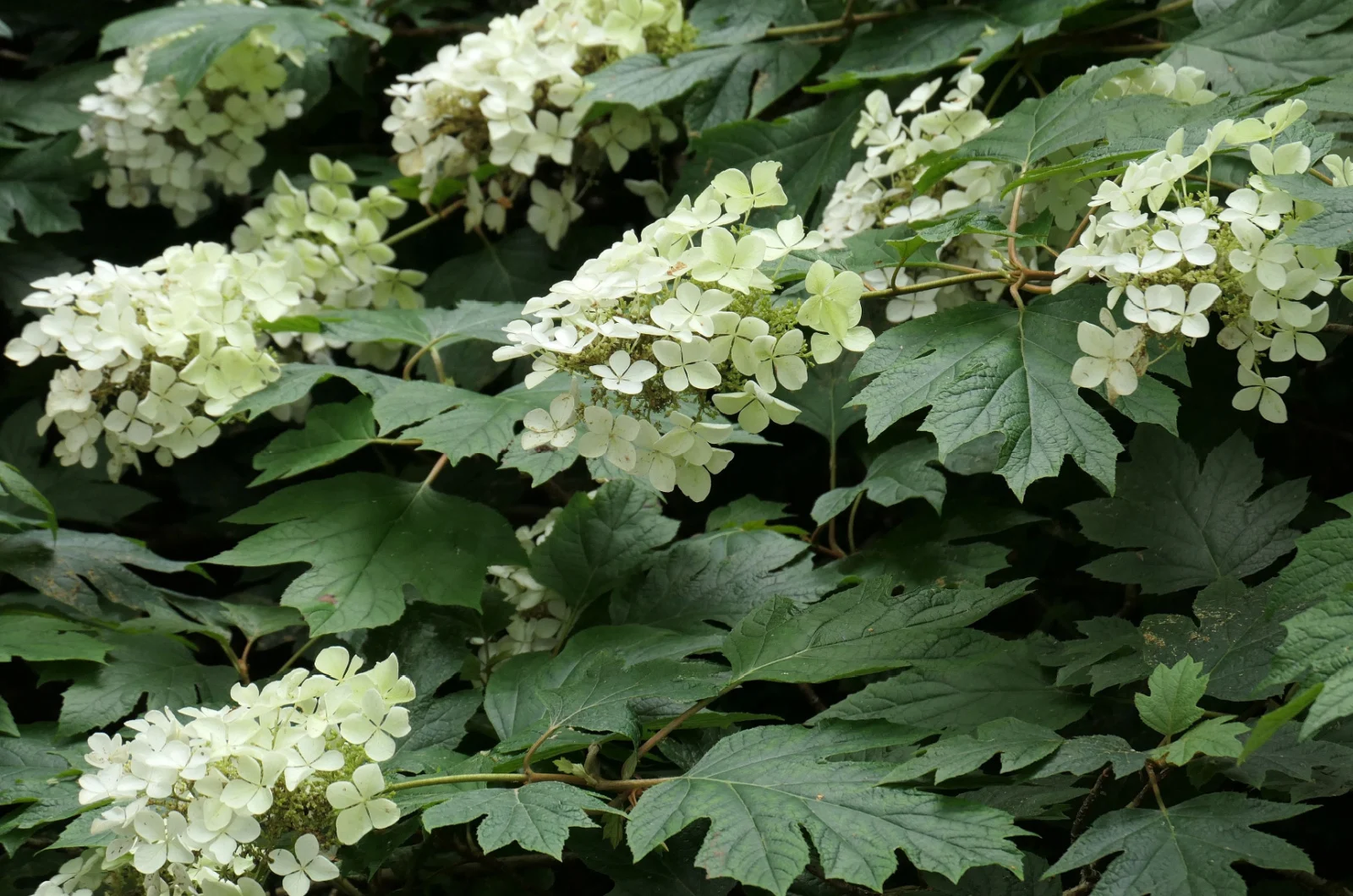 This oakleaf hydrangea is perfect for containers and small gardens because it doesn't exceed a height of 3 feet. It has a neat shape that is ideal for those who love to keep their garden tidy.
'Pee Wee' hydrangeas produce small conical flowers from July to September. The young blossoms are white, but then obtain a pink tinge as they mature.
But that's not the only change the plant goes through. The spring green leaves become yellow, bronze, and purple towards the end of the season, marking the beginning of fall.
'Pee Wee' is hardy in zones 5-9, prefers full or part sun, and nutrient-rich, moist, and well-drained soils. Watering is the only real chore you have to do, but if you mulch this shrub, you can reduce its frequency a bit.
12. Ruby Slippers
There are six main types of hydrangeas, and the 'Ruby Slippers' cultivar belongs to the oakleaf category. This species is one of the easiest to care for, so it's not surprising that most plants on this list belong to this variety.
If you've fallen in love with the 'Gatsby Pink' but don't really have those extra 8 feet to add it to your garden, try this one instead. 'Ruby Slippers' is a compact variety that usually doesn't exceed 4 feet and is ideal for USDA zones 5-8.
It blooms in early to mid-summer and produces conical flowers that will be the star of the show (or your garden). They start off white but quickly turn delightful pink until they eventually settle into deep ruby red come fall.
Place it in a spot where it can get 5 hours of direct sunlight per day, make sure its soil is fertile and well-drained, and water it regularly when young. It becomes drought-resistant when established, and only needs irrigation during prolonged dry spells.
P.S. It has no serious pests and diseases.
13. Snowflake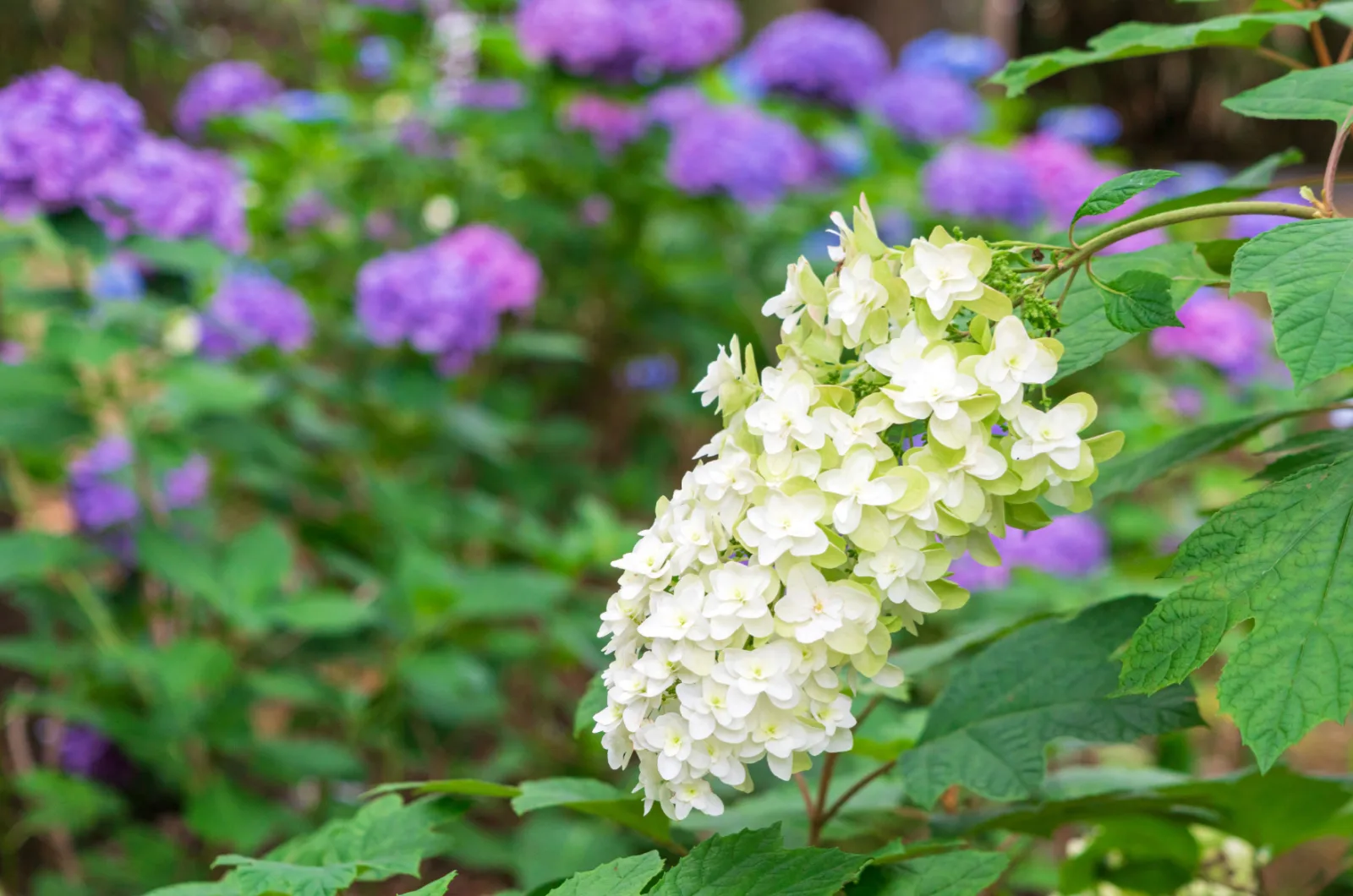 Another oakleaf hydrangea, only this one starts off as perfectly white, slowly turning its sepals purple as it matures.
It is perfect for zones 5-9, where it blossoms from late spring to mid-summer.
The 'Snowflake' hydrangea can get between 6-10 feet tall, which makes it a perfect privacy shrub. Provide it with full or partial sun and fertile, moist, and well-drained growing medium for optimal growth.
The good news is that you don't have to prune it that often if you like the unruly looks, or you can trim it in late winter or early spring to keep it in shape.
14. Tuff Stuff Ah-Ha
Mountain hydrangeas, such as this one, aren't as popular as other types because they aren't that hardy.
When it comes to the 'Tuff Stuff Ah-Ha,' it thrives in zones 5-9. However, its compact and rounded shape makes it a perfect focal point for small gardens.
Additionally, you can change this hydrangeas flower color from pink to purple by making the soil neutral or alkaline for pink and acidic for purple.
One of my favorite things about the 'Tuff Stuff Ah-Ha' hydrangea, aside from its easy maintenance, is its long blooming season. This cultivar flowers from early summer until frost, giving your garden character all season long.
It thrives in partial or full sun conditions, and fertile, moist, and well-drained soil. And when it comes to maintenance, you only have to prune it to remove dead branches, fertilize it once in early spring (if you want), and mulch it to reduce watering frequency a bit.
15. Vanilla Strawberry
If you want to add more pink tones to your garden, then 'Vanilla Strawberry' is the variety to go with.
The panicle flowers begin their journey as creamy white, slowly transitioning into pastel pink, eventually ending up strawberry red.
The 'Vanilla Strawberry' hydrangeas bloom from mid-summer through fall without too much attention. Plenty of sunlight and occasional watering is everything they need to shine.
This cultivar grows best in USDA zones 3-9, which makes it suitable for most regions in the US and worldwide.