If you're not familiar with rain chains, they are decorative rainwater collectors. And it's not surprising that they've gained popularity in the last year.
They promote sustainability, keep your plants nourished and moisturized, provide plenty of visual interest, and aren't that difficult to maintain.
But these are just a few of the reasons why setting up rain chains on the side of your home, garage, or even greenhouse is a great idea.
Here are some more!
Let's get started!
#1 Rain Chains Can Prevent Erosion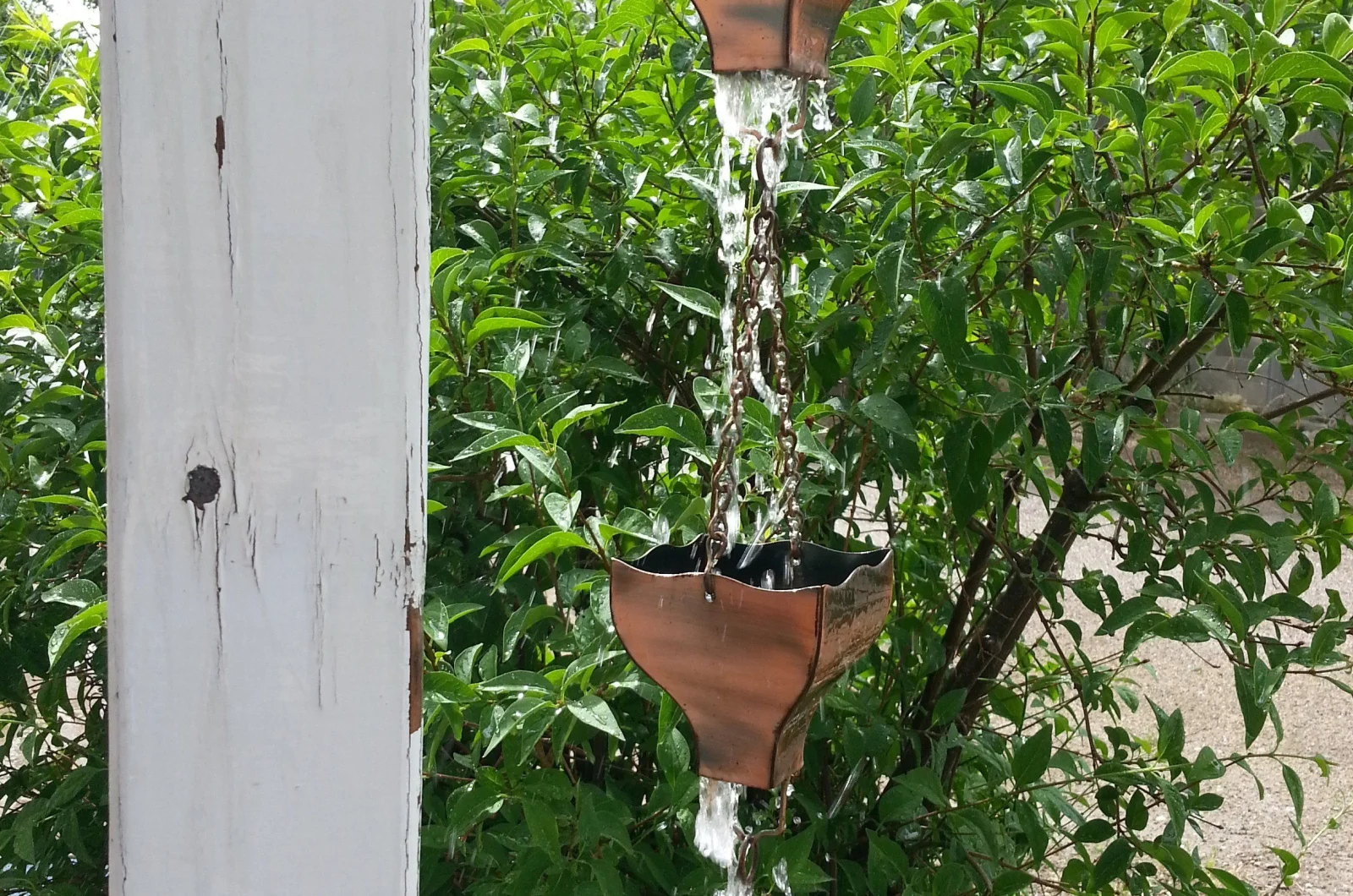 If you live in a rainy region, then you know what kind of damage to your soil downpipes can do during storms and heavy rains.
Water rushes through them and takes away the upper part of the soil, leading to erosion at the base of the pipe and potential damage to the foundation of your home.
Fortunately, you don't have to worry about that with rain chains. They provide a much gentler and slower flow that won't damage your topsoil.
Did you know?

Rain chains come from Japan and are referred to as kusari-doi there. Their main role is to divert the rain away from roofs and home foundations.
#2 They Are Essential For Sustainable Gardening
Rainwater harvesting is one of the first steps you can take towards greener and more sustainable living.
This type of water can irrigate your entire garden, lawn, and even houseplants. It's the drink nature intended them to have and it saves you a lot of money on your water bill.
You can install a rain chain and allow the water to fill a barrel, bucket, or even a decorative pot if you want to use it as a part of your design.
Another option when using rain chains is to divert the rainwater they collect to a part of your yard that needs more moisture, such as an arid patch or a perennial bed filled with moisture lovers such as ferns.
#3 Rain Chains Are Low-Maintenance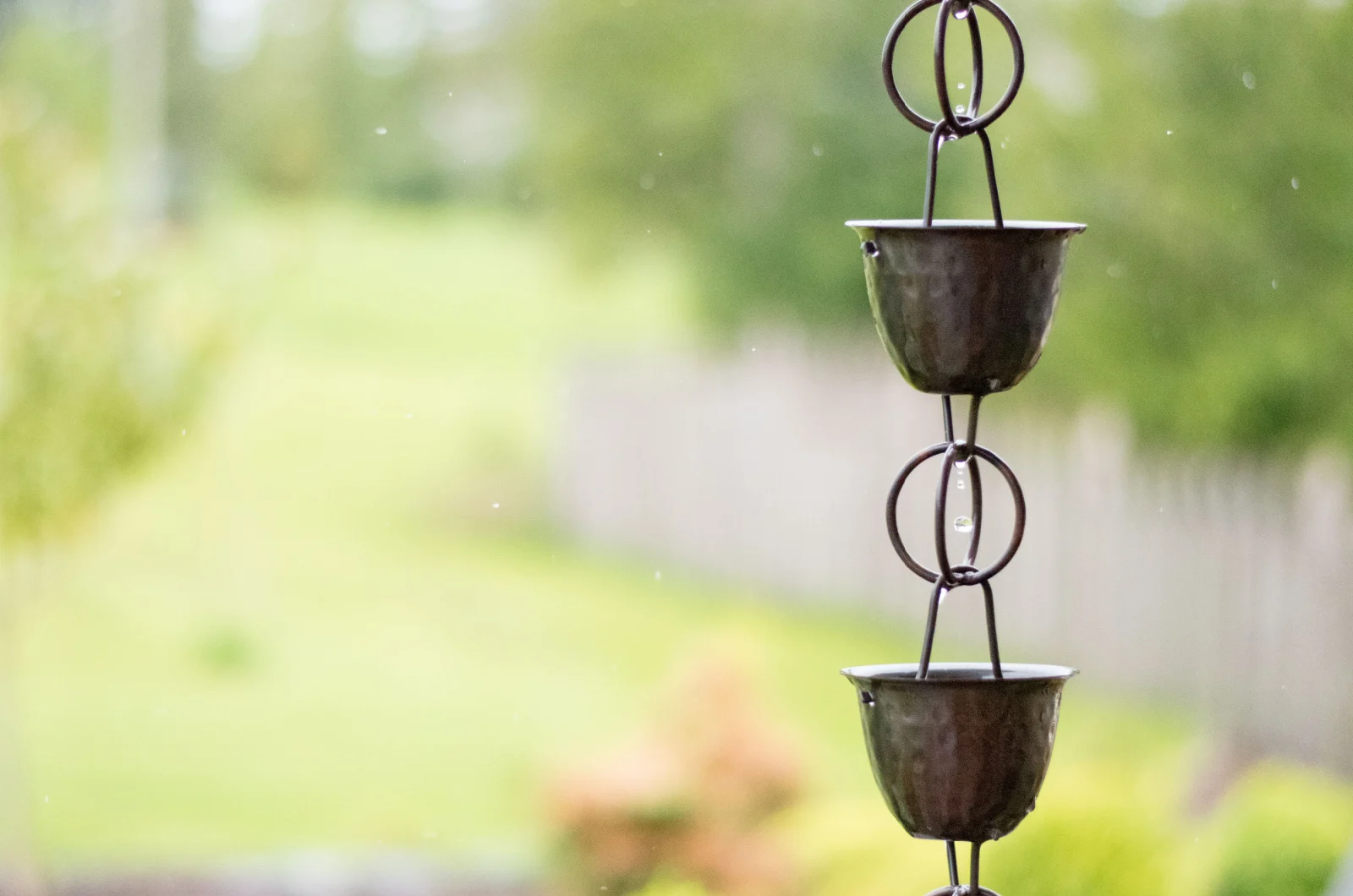 Rain chains have numerous benefits, such as reducing the risk of erosion during heavy rains, increasing sustainability, and turning your place into a sensory garden.
And the best part about them is that they are super simple to install and maintain. Remove the downspout from your gutter and attach a rain chain to the same place.
The great thing about rain chains is that they are built to last because they're made of durable materials such as stainless steel and copper. These metals can endure the harshest of weather conditions.
You won't have to clean them, but there is a risk of freezing in climates with harsh winters. This won't pose too much of an issue if you install them correctly, but ice will make them heavier, which is why it's not a bad idea to remove them at this point.
P.S. If your rain chain isn't working properly, see whether you attached it in the right place.
#4 Your Houseplants Will Love Them
Rainwater is great for plants; that's why they flourish outside. And with rainwater, it's not only your perennial beds, border plants, and vegetables that can enjoy it; now your houseplants can get a sip of rainwater, too.
You'll quickly notice the difference rainwater makes to your plants. Unlike tap water, rainwater doesn't contain chlorine or fluoride, which can build up in your plant and hinder proper absorption of moisture and nutrients.
#5 Rain Chains Can Be Decorative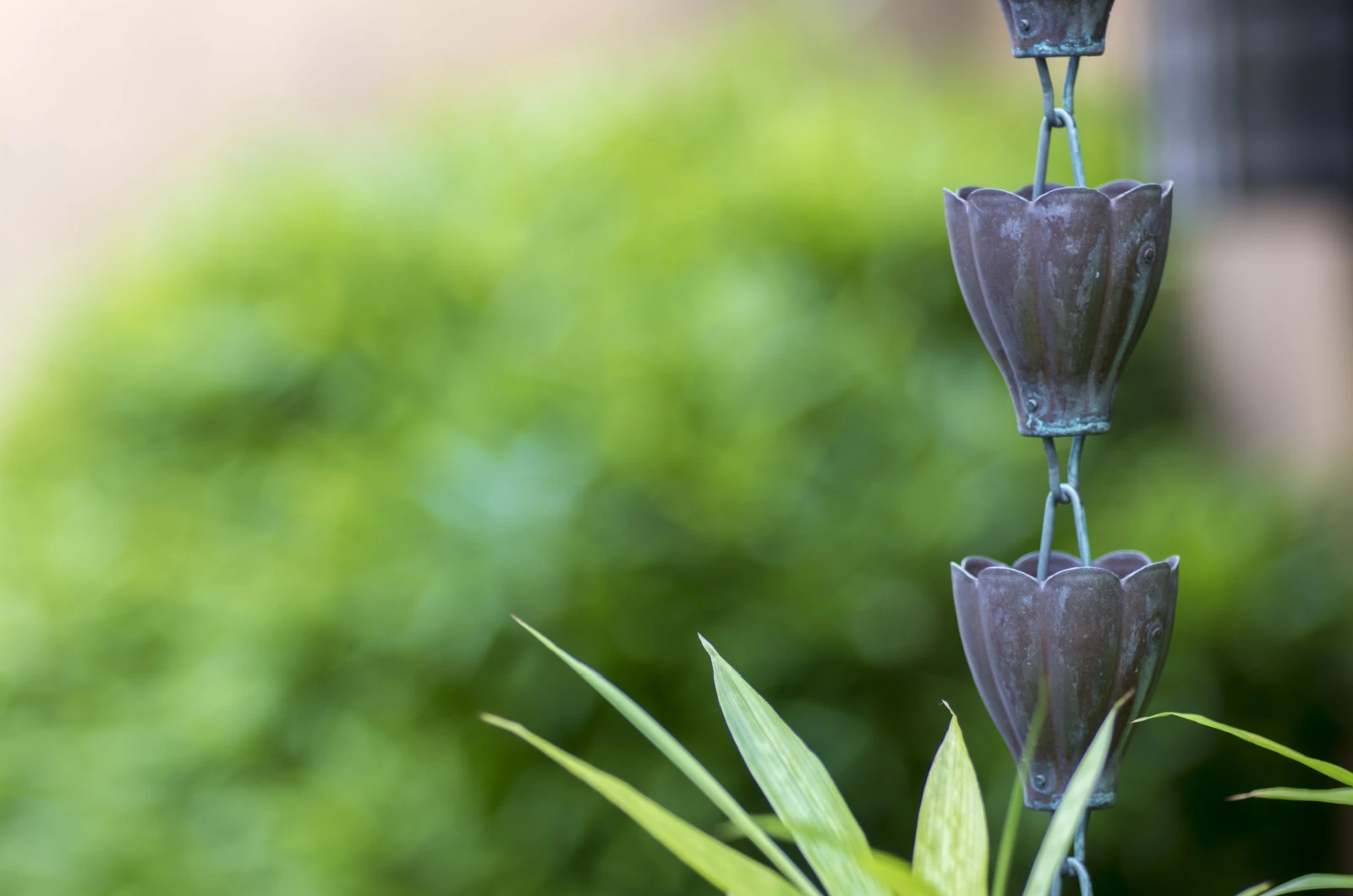 Rain chains can elevate your landscape in a blink of an eye. You can go with elaborate designs that contain jewels at the bottom or choose a more classical creation.
And don't forget about the materials because they can make or break the entire display.
Copper will surely get the job done, although darkly colored aluminum can also offer a lot to your landscape.
Your options are endless. Just make sure to find a durable rain chain and it will stand out in your garden, adding to its aesthetics season after season, year after year.
P.S. Don't forget to measure the height of your home from the gutter to the ground. This will get you the right rain chain length that will direct rainwater wherever you need it and away from your foundations.
#6 They Can Serve An Educational Purpose
And if all this wasn't enough, you can use rain chains to teach your kids a little bit of physics, water dynamics in particular.
Together with your family, you can learn more about the effect rain chains have on water flow and teach your kids and family more about greener and more sustainable living.
Where To Buy Rain Chains
The good news is that you can buy rain chains pretty much anywhere, although ordering them online provides more options.
Here are my favorite designs that can work in almost any setting, modern or vintage:
Description:

Material: powder-coated aluminum

Length: 8.5 ft

Cup count: 23

Description:

Material: metal

Length: 8.75 ft

Decorative jewel

Description:

Material: high-quality aluminum

Length: 8.5 ft

Cup count: 14
Description:
Material: powder-coated aluminum

Length: 8.5 ft

Cup count: 23
Description:
Material: metal

Length: 8.75 ft

Decorative jewel
Description:
Material: high-quality aluminum

Length: 8.5 ft

Cup count: 14
Rain Chains In Windy Regions
Installing a rain chain in a windy region can be tricky in terms of its later effectiveness. Wind can move it around a lot, rendering it almost useless.
That's why you should fasten it properly when setting it up and anchor it to a pot or even a dish bowl at the bottom to limit its lower movement.