The tulip is a beautiful flower that blooms in many wonderful colors, most often during early spring. Yellow tulips are my personal favorite! Their iconic bulbs reflect their uniqueness and have a resemblance to turbans, which is how they got their name – "debland" means turban in the Persian language.
They are easy to grow, you simply plant them during the fall season and their blossoms will bloom in spring. You can pick and choose from many different shapes and sizes as there are over 100 species of tulip.
The tulip symbolizes love and deep faith, and they are often given as gifts to someone special. Did you know that around 1.5 million tourists visit the tulip fields in The Netherlands every year? People say these fields are some of the most breathtaking things they've ever seen!
These tulip captions and quotes will really help you understand just how incredible these wonderful flowers are.
The Best Tulip Quotes for Instagram Caption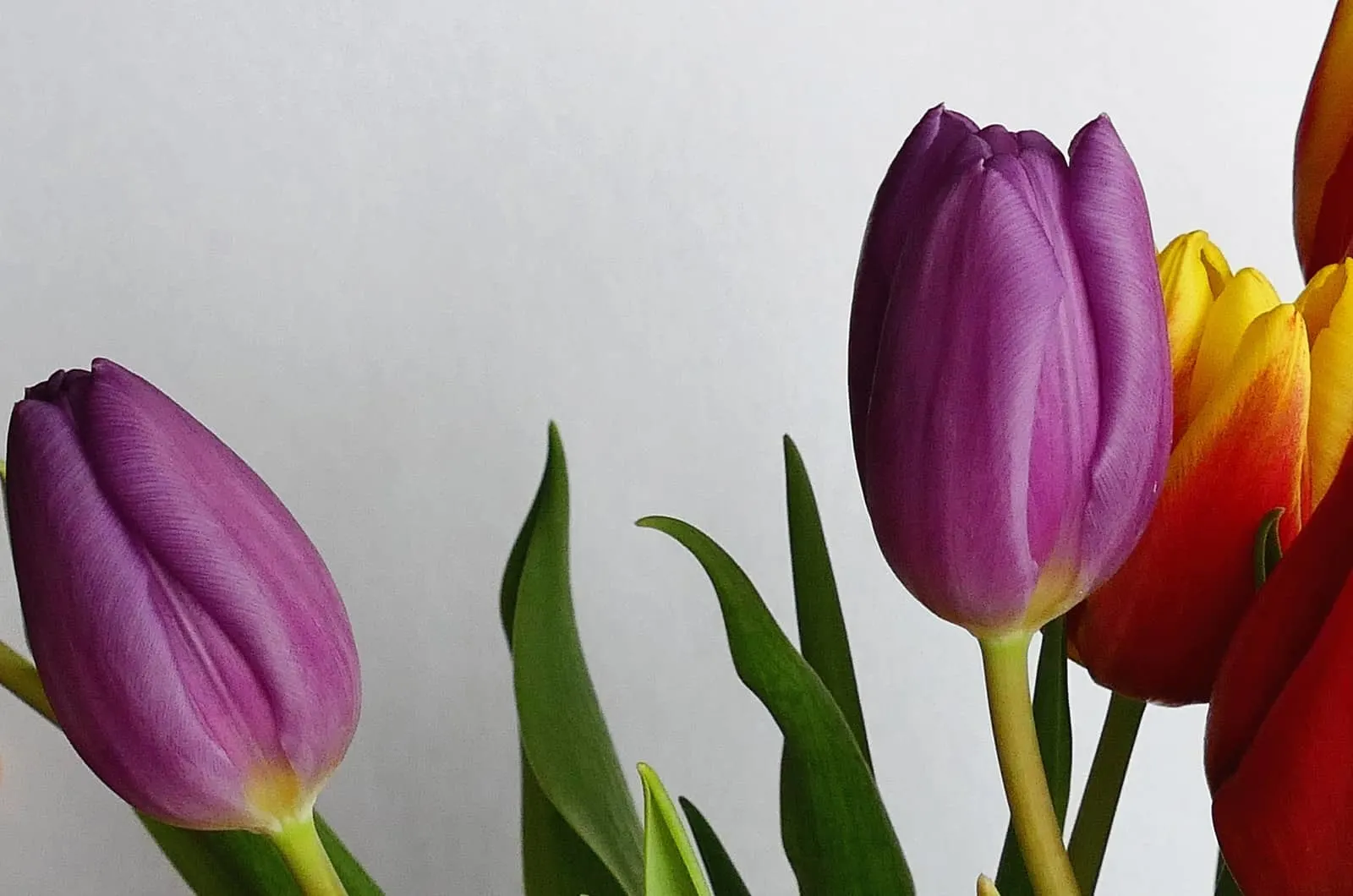 1. "Watching bulbs blossom." – Unknown
2. "You're strictly a tulip girl – a red tulip girl." – Alyson Noel
3. "If a purple tulip could talk she would say something calm, cool and wise, without the flash of a soothing balm." – Amelia Brown
4. "Shine bright like a tulip." – Unknown
5. "The flower that follows the sun does so even on cloudy days." – Robert Leighton
6. "Two lips." – Unknown
7. "Dreaming of wandering in the tulip fields" – Unknown
8. "Life isn't a tiptoe through the tulips." – Shannon Hoon
9. "After women, flowers are the most divine creations." – Christian Dior
10. "Be a tulip in a field of weeds." – Unknown
11. "I must have flowers, always and always" – Claude Monet
12. "I will not be another flower, picked for my beauty and left to die. I will be wild, difficult to find, and impossible to forget" – Erin Van Vuren
13. "Spring: a lovely reminder of how beautiful change can truly be" – Unknown
14. "Tulips were a tray of jewels." – E.M. Forste
Tulip Love Quotes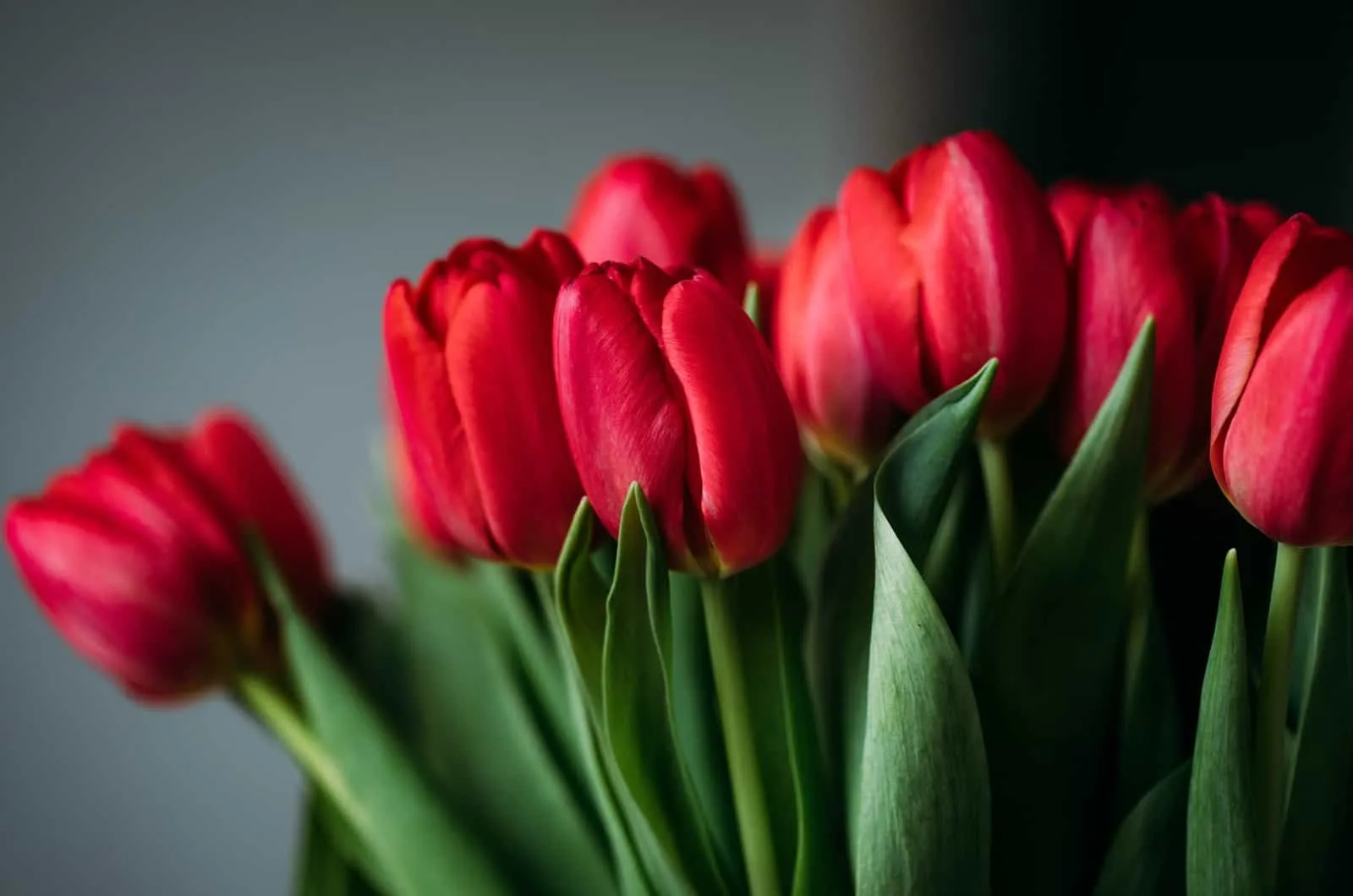 15. "And in the end, love tastes like tulips having rain tea in a colored cup." – Fathima Shamla
16. "She loved him the way one loves an old bridge or a wool sweater or the sound of a growing tulip." – Joseph Fink.
17. "Love is the flower you've got to let grow." – John Lennon
18. "Like tulip-beds of different shape and dyes, bending beneath the invisible west-wind's sighs." – Thomas Moore
19. "All my tulips are white. She liked them red. I stained them with my blood and she came running for hug. Every Tulip that blossomed since became hungry for my red. One day I ran out of my blood the next one that came flowered in white. That's the end of us." – Kalyan Reddy
20. "In a flowerpot of love lives a beautiful tulip plant, and then was the passer by with words to attract it; for, it was just like a passing glance and the sense of love, and they were both attracted to each other." – Edward Kofi Louis
21. "Sweet scents red tulips, red tulips bring such happiness. Our hearts are full of pleasure." – Natasa Tocuc
22. "I love your roots, not the flower everybody sees!" – Akilnathan Logeswaran
23. "I want to preserve your love in a field of Tulips safely living in it." – Fathima Shamla
Sweet Tulip Quotes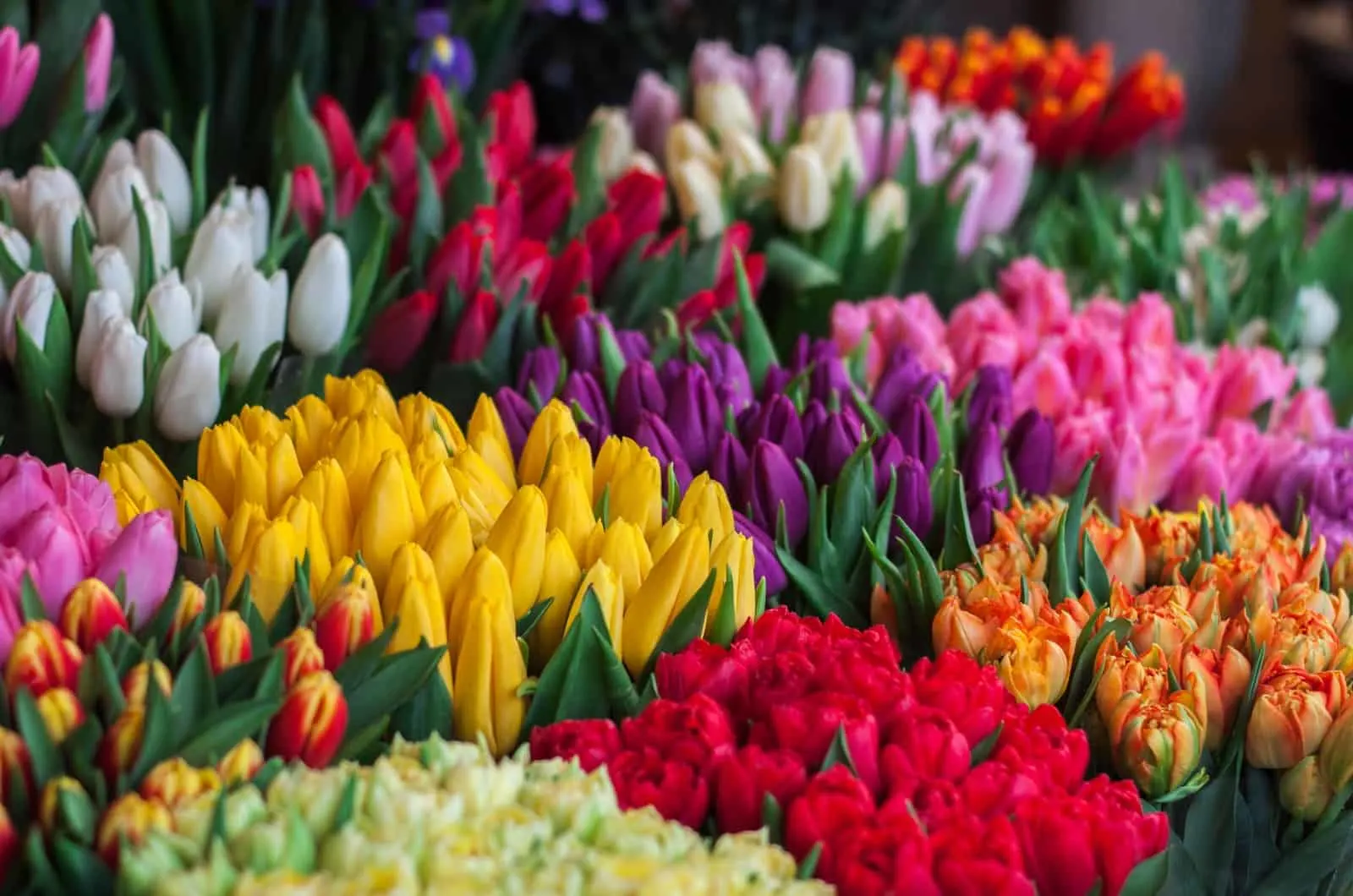 24. "Use your tulips to kiss winter goodbye" – Unknown
25. "The earth laughs in flowers." – Ralph Waldo Emerson.
26. "'Tulip Fever' did change my life. It did that thing that sometimes happens when a book takes off – it opened doors to whole other worlds." – Deborah Moggach
27. "An exquisite invention, worthy of love's most honeyed kiss. This art of writing billet-doux, in buds, and odors, and bright hues! In saying all, one feels and thinks in clever daffodils and pinks; in puns of tulips; and in phrases, charming for their truth, of daisies." – Leigh Hunt
28. "I love tulips better than any other spring flower; they are the embodiment of alert cheerfulness and tidy grace, and next to a hyacinth look like a wholesome, freshly tubbed young girl beside a stout lady whose every movement weighs down the air with patchouli. Their faint, delicate scent is refinement itself; and is there anything in the world more charming than the sprightly way they hold up their little faces to the sun." – Elizabeth von Arnim
29. "I think of the poetry of René Char and all he must have seen and suffered that has brought him to speak only of sedgy rivers, of daffodils and tulips whose roots they water, even to the free-flowing river that laves the rootlets of those sweet-scented flowers that people the milky way." – William Carlos Williams.
Tulip Inspirational Quotes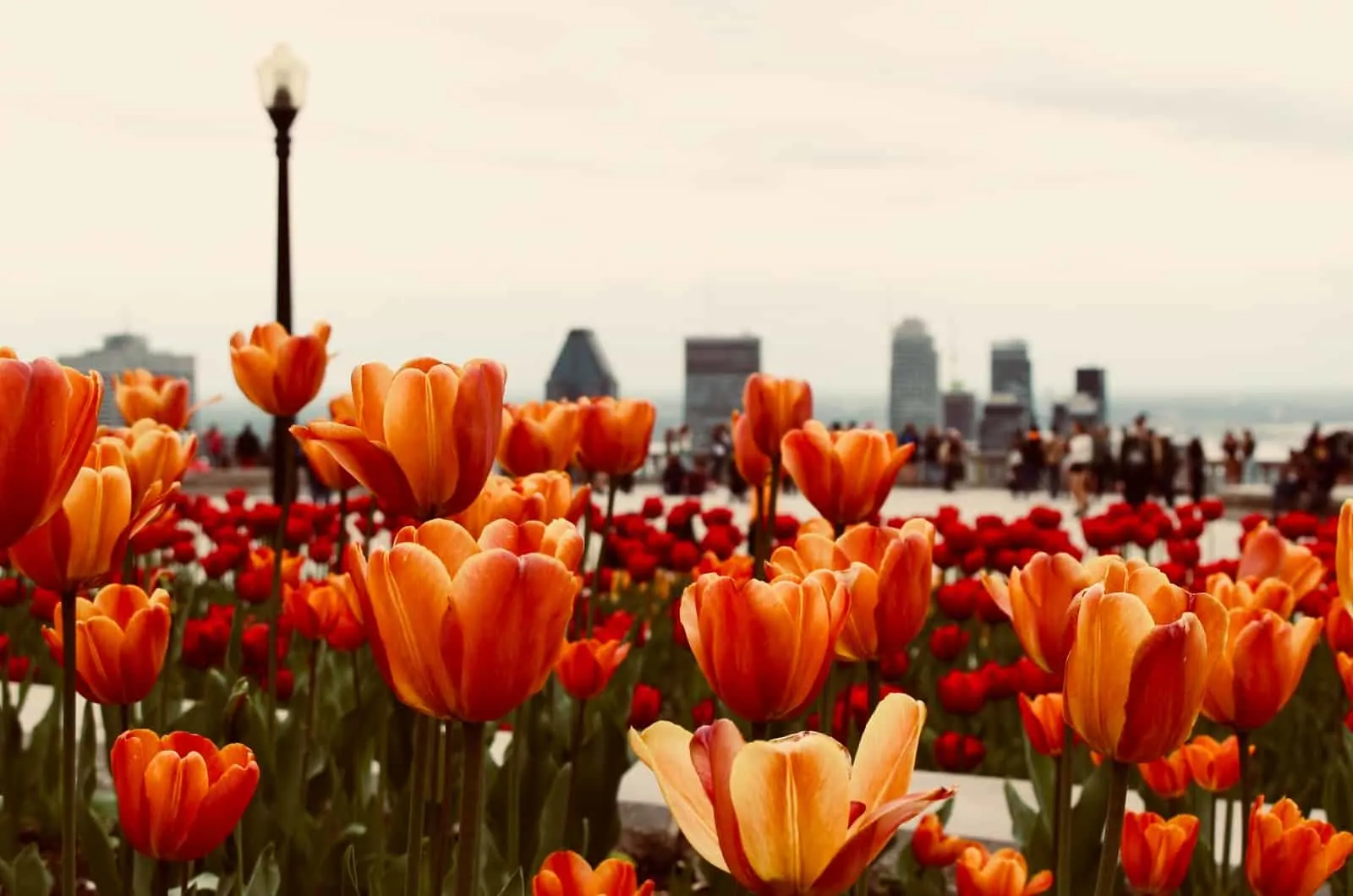 30. "If we could see the miracle of a single flower, clearly our whole life would change." – Buddha
31. "A tulip doesn't strive to impress anyone. It doesn't struggle to be different than a rose. It doesn't have to. It is different. And there's room in the garden for every flower." – Marianne Williamson
32. "A flower cannot blossom without sunshine, and man cannot live without love." – Max Muller
33. "Like wildflowers; You must allow yourself to grow in all the places people thought you never would" – E.V.
34. "Flowers don't worry about how they're going to bloom. They just open up and turn toward the light and that makes them beautiful." – Jim Carrey
35. "To plant a garden is to believe in tomorrow." – Audrey Hepburn
36. "When tulip mania dies down, all that remains are pretty flowers. When bubbles burst, nothing is left but soapy residue. But the Internet revolution, for all its speculative excesses, really is changing the world." – Adam Cohen
37. "We don't ask a flower any special reason for its existence. We just look at it and are able to accept it as being something different from ourselves." – Gwendolyn Brooks
Tulip Quotes for Positive Vibes Only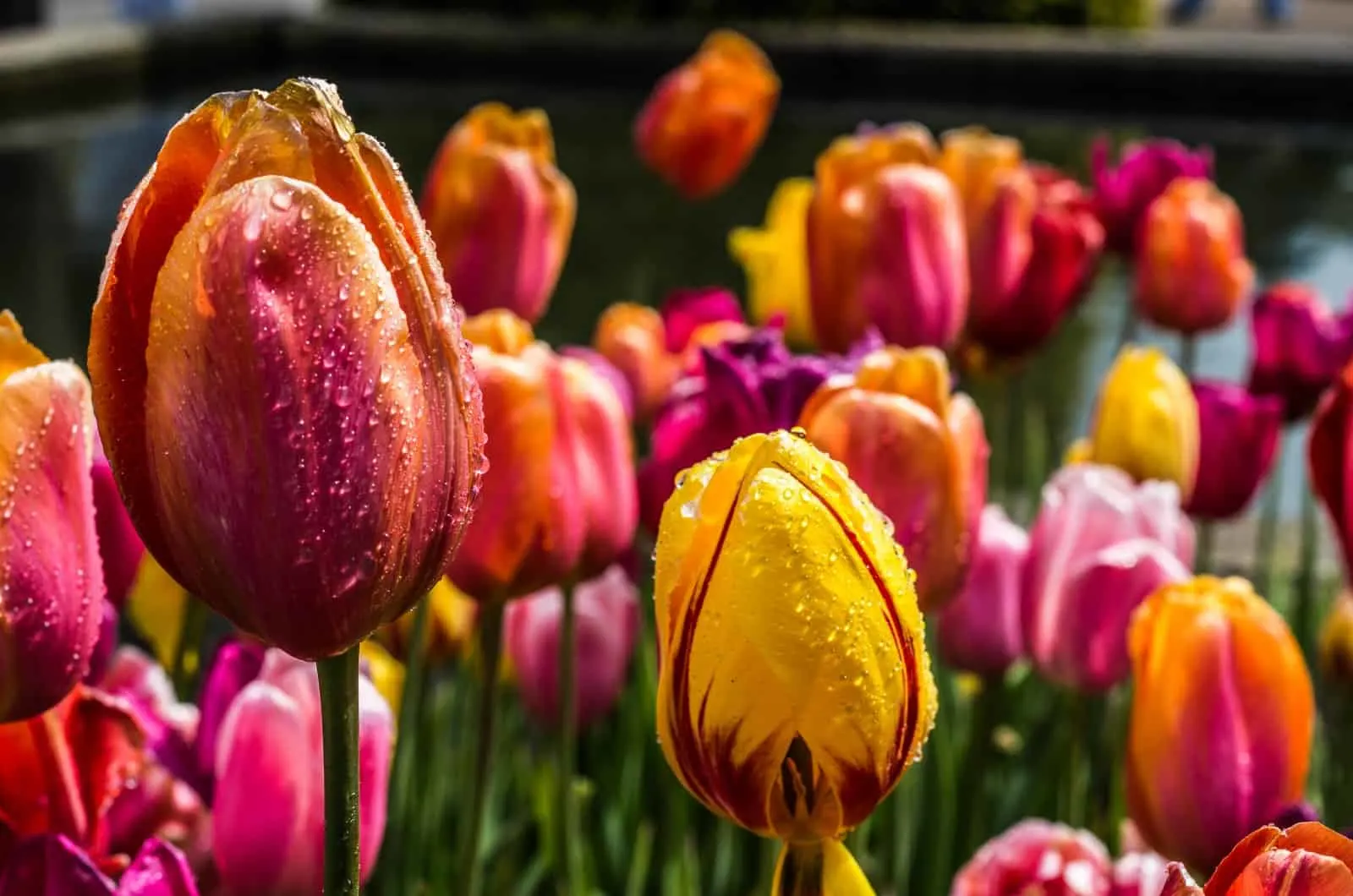 38. "Flowers always make people better, happier, and more helpful; they are sunshine, food, and medicine to the soul." – Luther Burbank
39. "Where flowers bloom, so does hope." – Lady Bird Johnson
40. "Flowers heal me. Tulips make me happy. I keep myself surrounded by them as soon as they start coming to the island from Canada, and after that when they come from the fields in La Connor, not far from where I live." – Rebecca Wells
41. "What sunshine is to flowers, smiles are to humanity. These are but trifles, to be sure; but scattered along life's pathway, the good they do is inconceivable." – Joseph Addison.
42. "You believe in God, for your part, ay? That He who makes, can make good things from ill things, best from worst, as men plant tulips upon dunghills when they wish them finest." – Elizabeth Barrett Browning
43. "I'm going to do an adaptation of the Italian film, Bread and Tulips. I really like that film." – Norman Jewison
Tulip Flower Quotes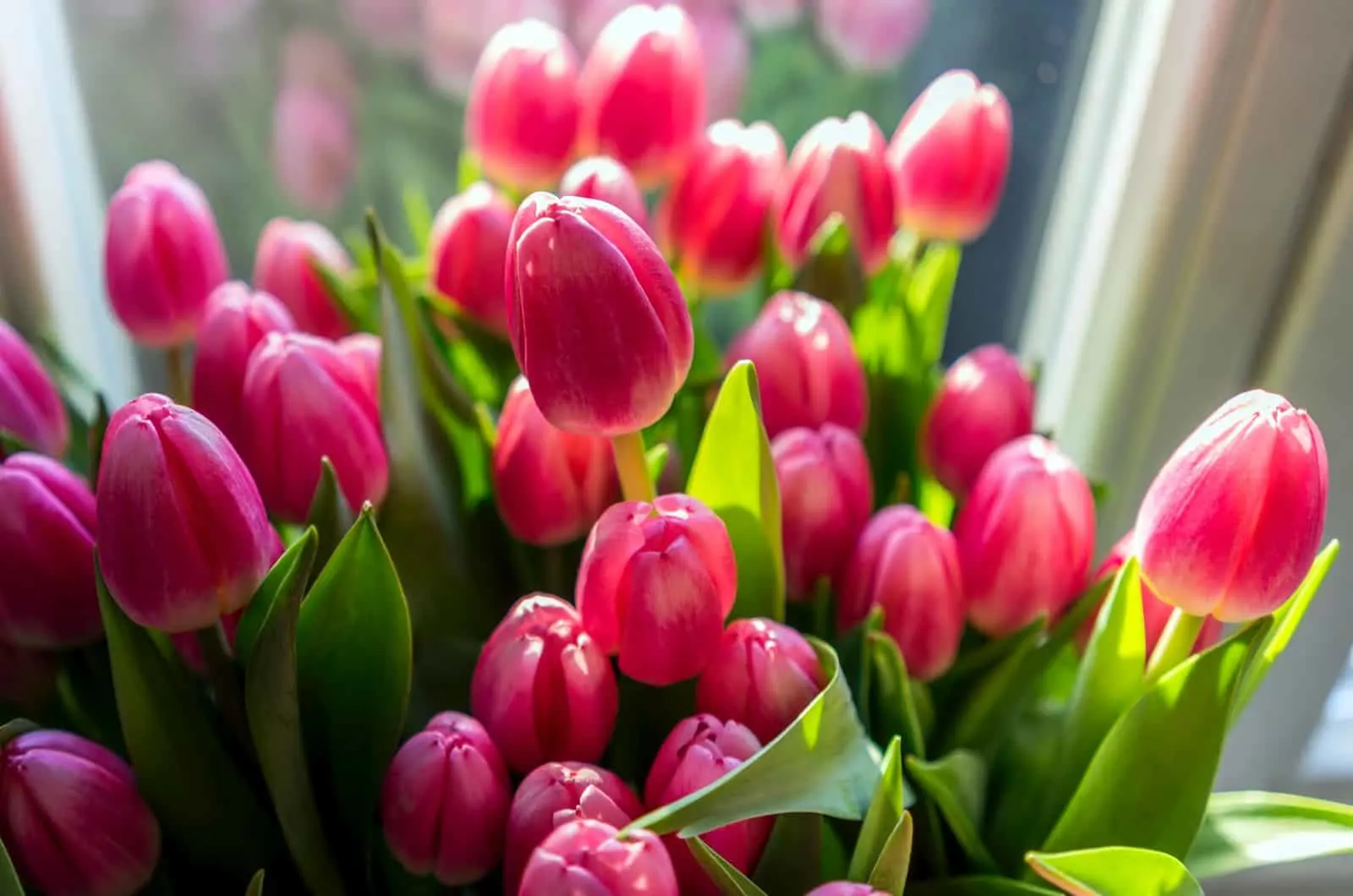 44. "Every flower is a soul blossoming in nature." – Gerard De Nerval
45. "Daffodils blossom and tulips jostle to the front of the stage in April. I love these early perennials—they may be more modest but they nearly all have that one special quality that a plant needs to transform your affections from admiration to affection to charm." – Monty Don
46. "A little flower that blooms in May, a lovely sunset at the end of a day, someone helping a stranger along the way. That's heaven to me." – Sam Cooke
47. "Every flower must grow through dirt." – Unknown
48. "Flowers are restful to look at. They have neither emotions nor conflicts." – Sigmund Freud
49. "Love is like a beautiful flower which I may not touch, but whose fragrance makes the garden a place of delight just the same." – Helen Keller
Smart Tulip Quotes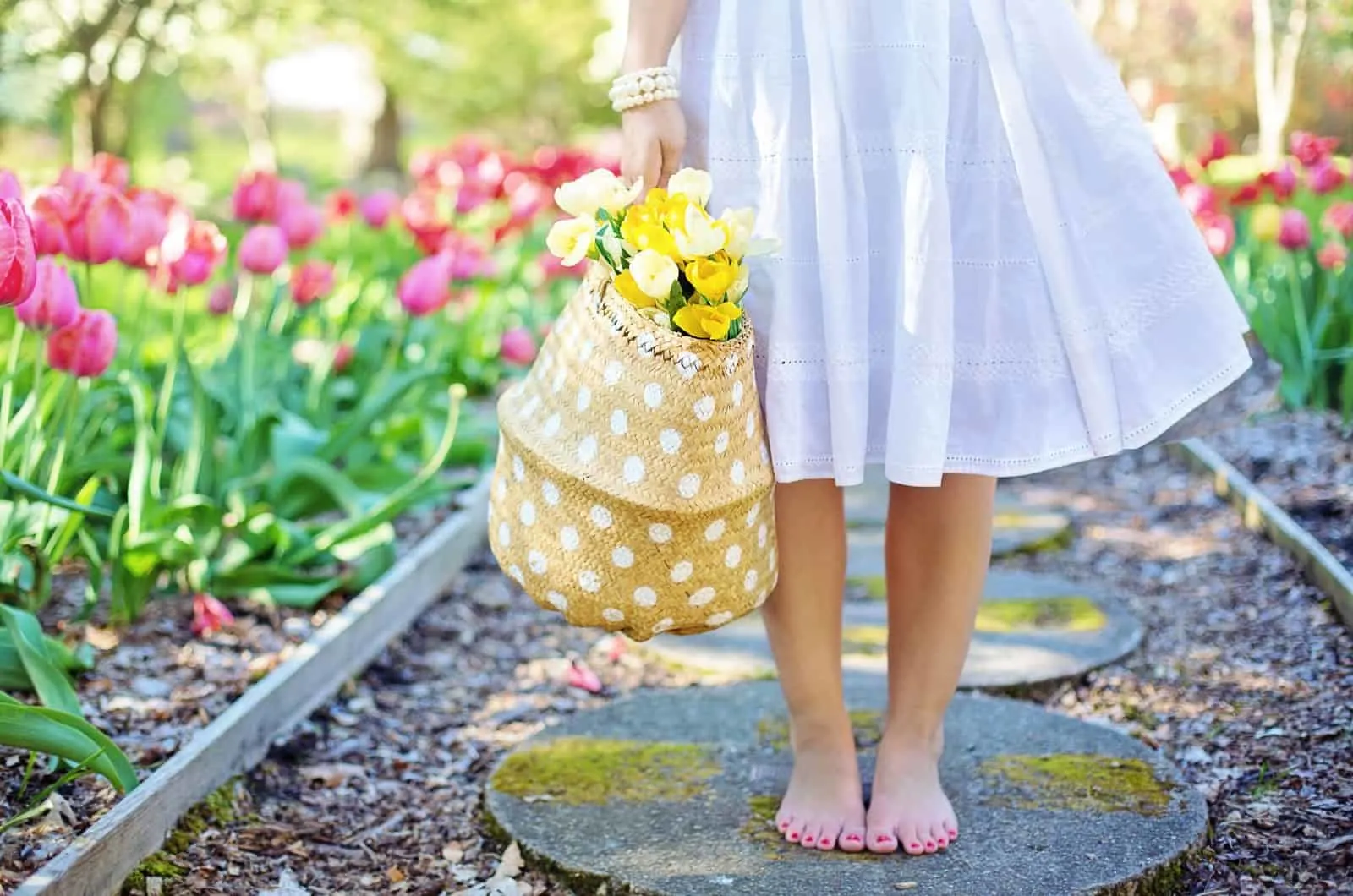 50. "Contempt for flowers is an offense against God. The lovelier the flower, the greater the offense in despising it. The tulip is the loveliest of all flowers. So whoever despised the tulip offends God immeasurably." – Alexandre Dumas
51. "Snow is on both sides of the same page. It covers the grave and the tulip." – Richard L. Ratliff
52. "Guarded within the old red wall's embrace, Marshalled like soldiers in gay company, The tulips stand arrayed. Here infantry wheels out into the sunlight." – Amy Lowell
53. "May the petals teach me the art of letting go." – Xan Oku
54. "He thought of the grammar of Gaelic, in which you did not say you were in love with someone, but that you 'had love toward' her, as if it were a physical thing you could present and hold – a bundle of tulips, a golden ring, a parcel of tenderness." – Jodi Picoult
55. "Dutch tulips from their beds, flaunted their stately heads." – James Montgomery
56. "The oppressed martyrs of our culture have shed blood that nourishes the red tulips of our nation." – Mahmud Tarzi
57. "How can you be content to be in the world like tulips in a garden, to make a fine show, and be good for nothing?" – Mary Astell
58. "The bubble logic driving tulipmania has since acquired a name – 'the greater fool theory.' Although by any conventional measure, it is folly to pay thousands for a tulip bulb. As long as there is an even greater fool out there willing to pay even more, doing so is the most logical thing in the world." – Michael Pollan
Tulip Quotes About Friendship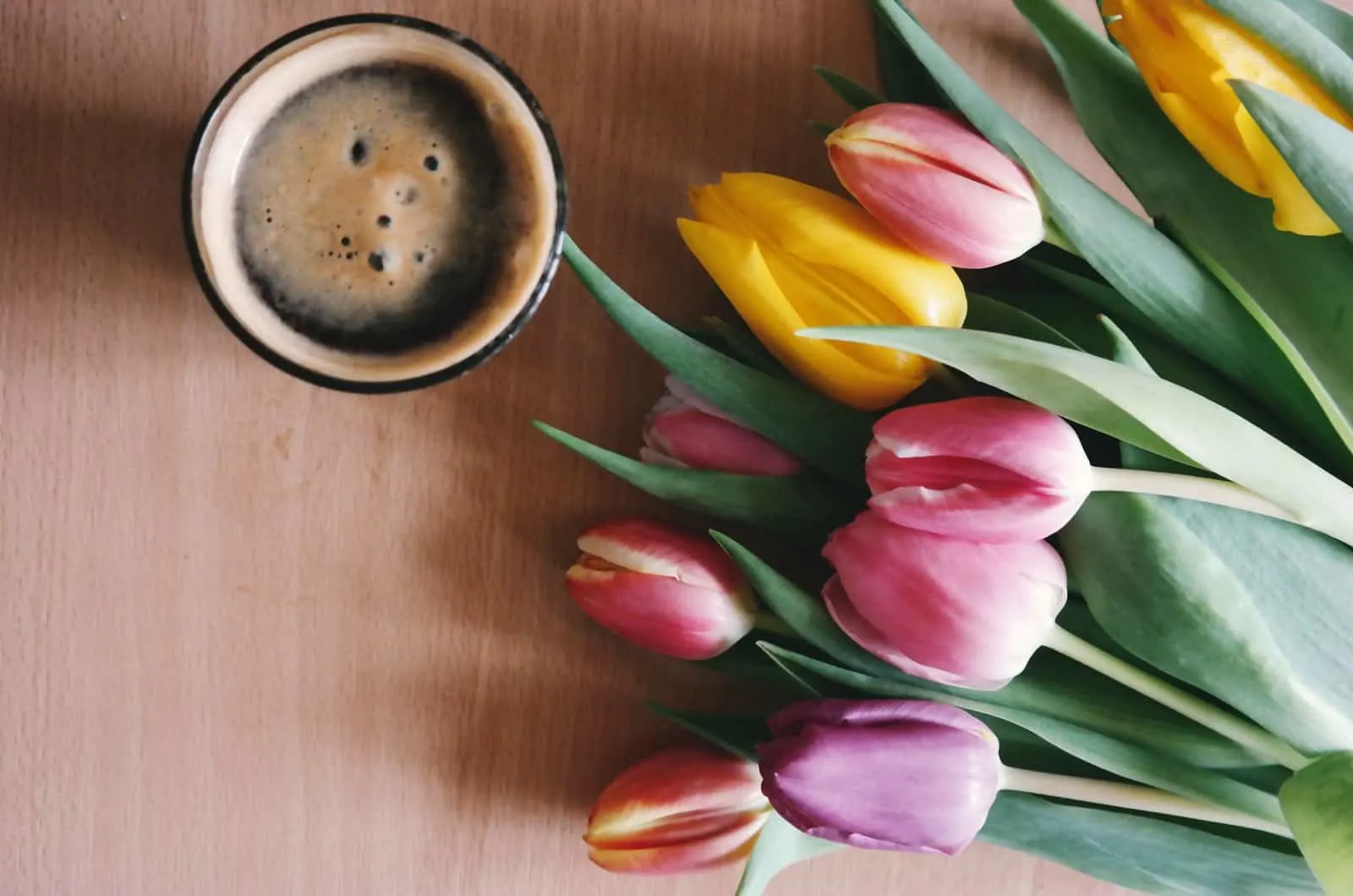 59. "Let us be grateful for the people who make us happy; they are the charming gardeners who make our souls blossoms ." – Marcel Proust
60. "Love is flower like; Friendship is like a sheltering tree." – Samuel Taylor Coleridge
61. "In joy or sadness, flowers are our constant friends." – Okakura Kakuzo
62. "Friends are like flowers. They fill the world with beauty." – Celeste Barnard
63. "Your soul is attracted to people the same way flowers are attracted to the sun, surround yourself only with those who want to see you grow." – Pavana
64. "Flowers are like friends; they bring color to your world." – Unknown
65. "A warm, rainy day – this is how it feels when friends get together. Friend refreshes friend then, as flowers do each others, in a spring rain."- Rumi
66. "Friendship is love without its flowers or veil." – Augustus Hare
67. "On my first day shooting '13 Going on 30,' Jennifer Garner had yellow tulips sent to my trailer. I'll never forget them." – Christa B. Allen
68. "Friendship is to people what sunshine is to flowers" – Unknown
69. "To ensure that the self doesn't shrink, to see that it holds on to its volume, memories have to be watered like potted flowers, and the watering calls for regular contact with the witnesses of the past, that is to say, with friends." – Milan Kundera
70. "Friends are the flowers that decorate our life and add fragrance of memorable moments" – Shruti Singh
Conclusion
Tulips are truly beautiful flowers. They symbolize great love, deep trust, and charity – no wonder there are so many awesome quotes written about them!
These tulip quotes can be used as a lovely note on a gift card (even better if the gift is a bouquet of tulips!), or even as captions on your social media when you post something for someone you love – you can't go wrong with that.
You can also check out these 100 sweet and inspirational quotes for plant lovers and admirers.
We hope you enjoyed all these lovely quotes, until next time!
Like this post? Please share or pin it for later!