If you want to add some truly mesmerizing flowers to your garden, nothing will fulfill that role better than blue ones!
This color is associated with tranquility and calm, but planting beautiful blue flowers in your garden will also give it a touch of elegance and intrigue. Remember, this is one of the rarest flower colors.
Let's dive into the world of blue blossoms and see why they deserve a spot in your garden.
Royal Blue Flowers
There are few things more appealing than royal blue gems on crowns. This shade of blue evokes a sense of nobility and grace, which is exactly what your garden will have if you add any of the following blossoms!
1. Wild Sage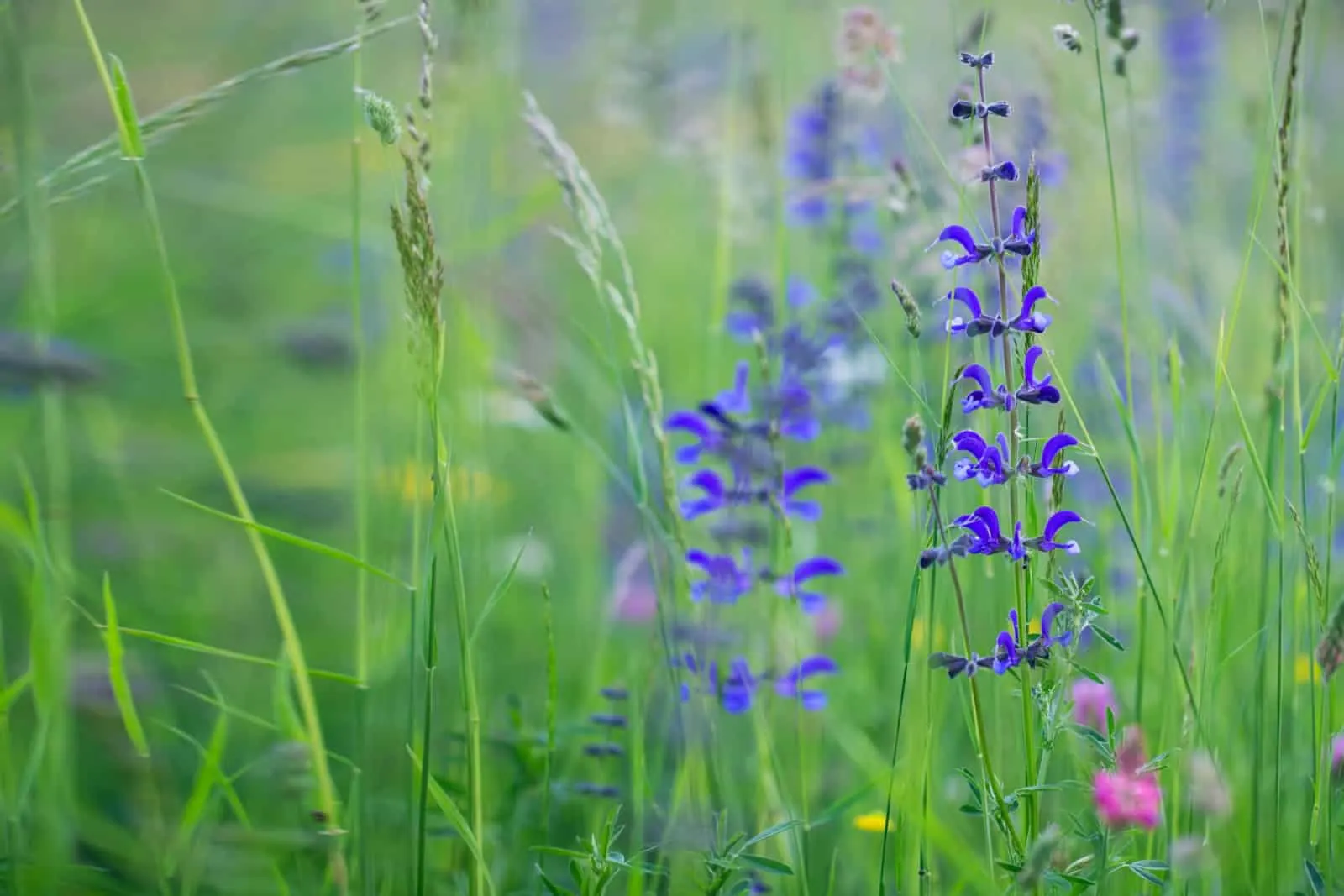 Wild sage will add a touch of the wild to your garden. Blue blossoms perfectly combine with scented foliage and will fit into any garden design, whether it's rocky or a cottage garden.
It's a drought-tolerant plant species and its flowering season lasts for a long time. Watching the blossoms and inhaling the fragrance of the leaves will be a beautiful experience during the summer months.
2. Bachelor's Button Flower (Cornflower)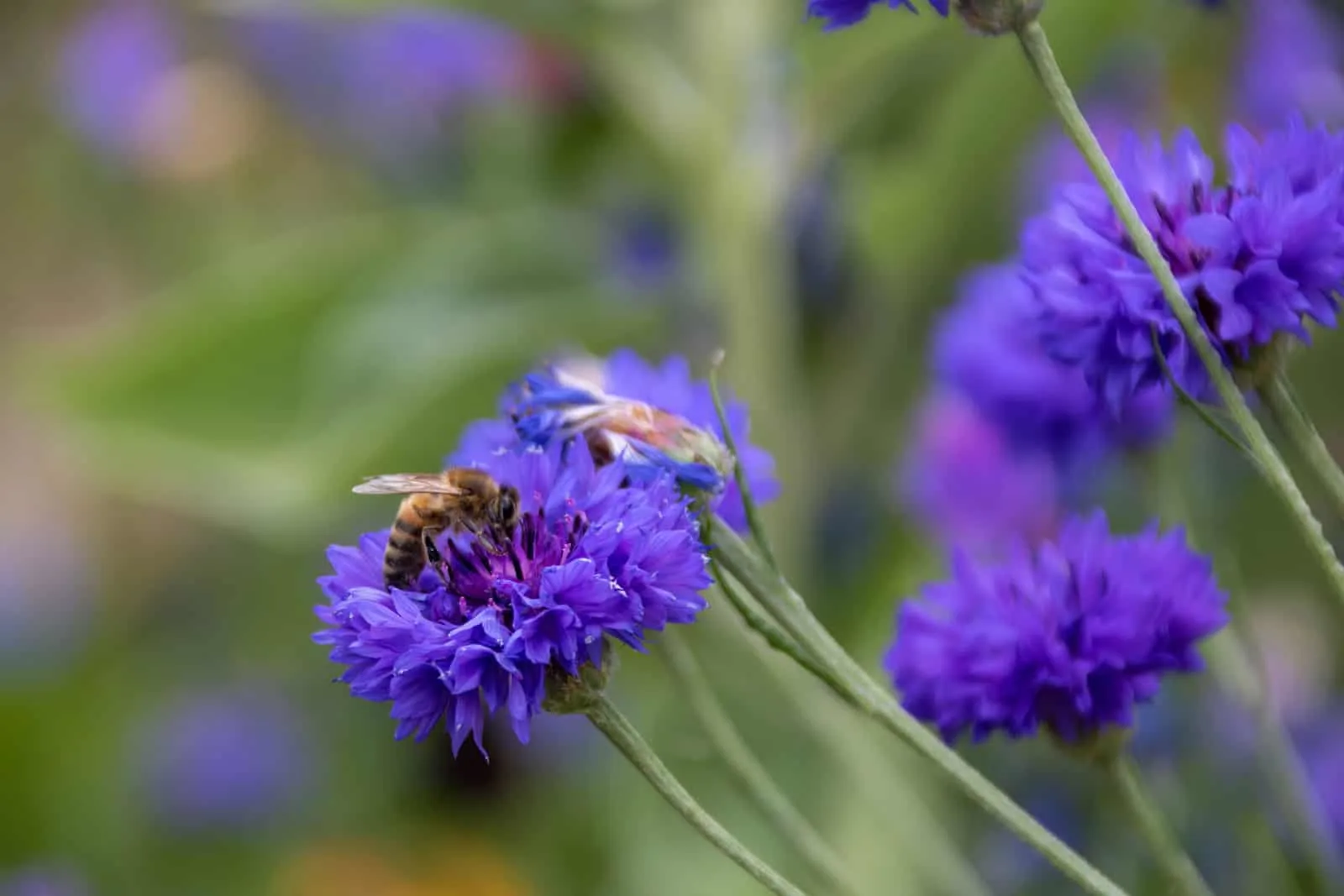 This flower has been a favorite of gardeners worldwide for centuries. Men wore it in the buttonholes of their suits to show they were in love. This is the origin of the nickname Bachelor's Button.
Cornflower is a highly adaptable plant that thrives in various soil types, so if you're a beginner grower, this flower is perfect for you.
3. Spring Gentian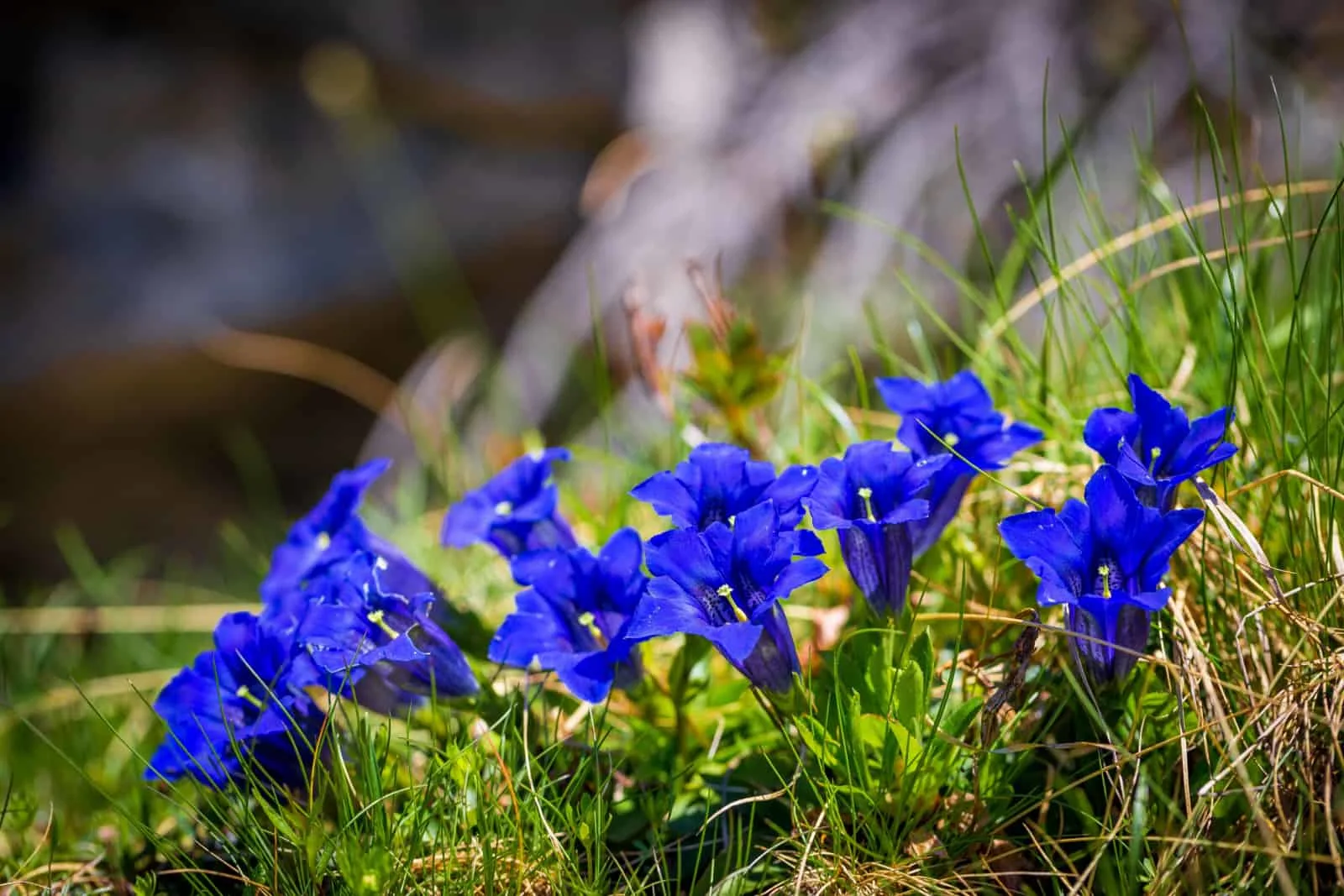 Once you see the blossoms of Spring Gentians, you know spring is arriving. The winter is over and better days are coming, so this flower represents hope and renewal.
This is a hardy plant that can withstand cooler temperatures. If you live in a colder climate, then the Spring Gentian is a perfect blue flower for you.
4. Globe Thistle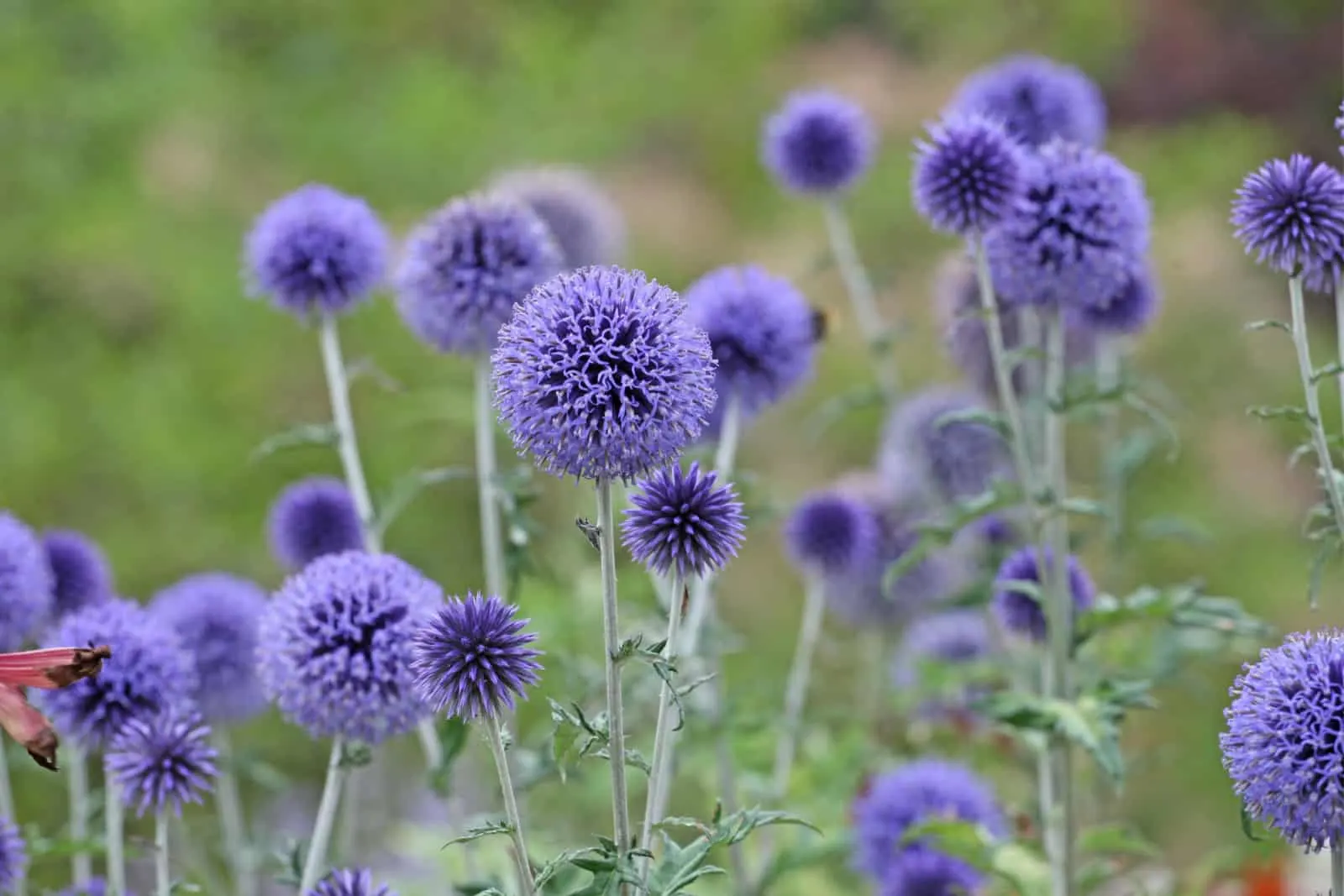 This is an old-school flowering plant with a pretty fast growth habit. So, if you are an impatient grower and looking for a royal blue flower, I believe you have now found the right plant for you!
The Globe Thistle is resistant to deer, tolerates long periods of drought, and attracts beneficial insects.
5. Round Leaf Bellflowers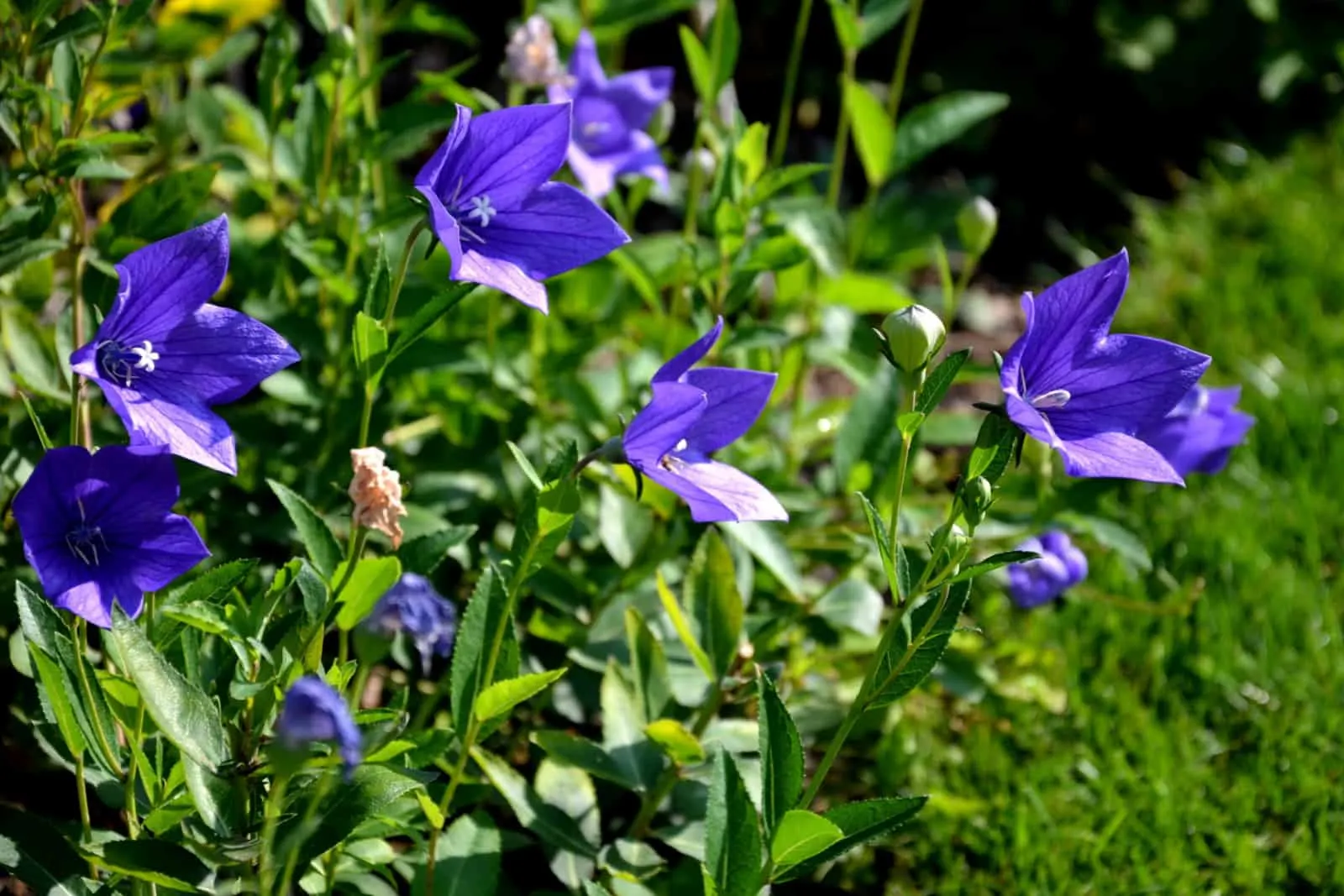 The royal blue, bell-shaped blossoms, and round heart-shaped foliage make the Round Leaf Bellflower one of the prettiest garden flowers ever.
You can use these plants as ground covers or borders and they also fit perfectly into cottage garden designs.
The best thing about the Round Leaf Bellflower plant is that it thrives in shady areas, so it will grow well in every part of your garden.
Bright Blue Flowers
Sadly, you can't really take sapphires and scatter them all over your garden, but flowers in this color can have the same effect. They'll make a perfect addition to blue-themed landscapes and also look wonderful when used as focal points.
Here are my top picks!
1. Forget-me-nots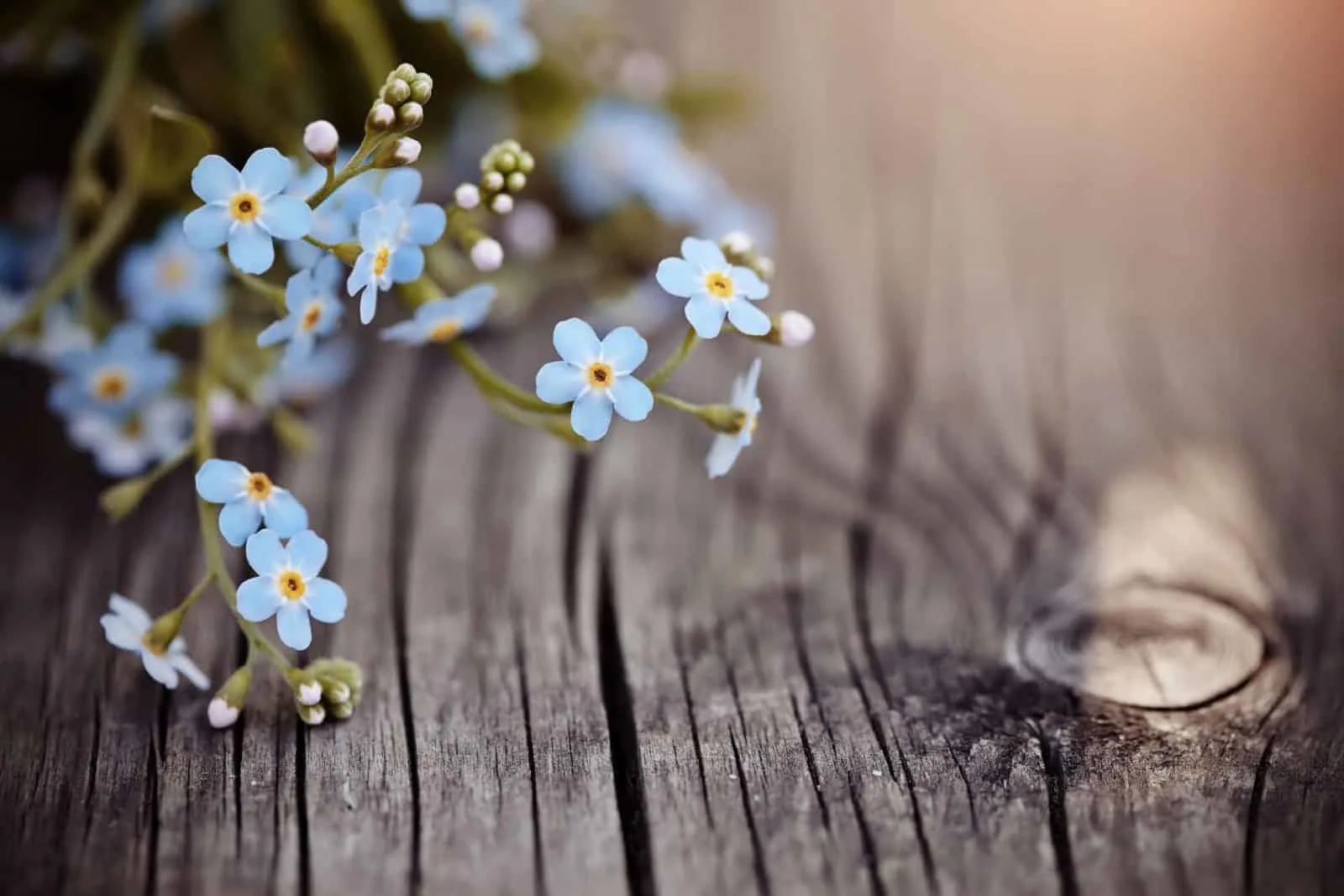 The simple and charming Forget-me-not flower is perfect for borders and even thrives in rocky gardens. Due to their strong symbolism, these blossoms are often seen in flower arrangements.
The best thing about these plants is that the petals are blue, the center is either white or yellow, and the buds are pink. This will add a touch of contrast to your landscape, which is pretty challenging to achieve with flowers that come in bright hues.
2. Blue Daisies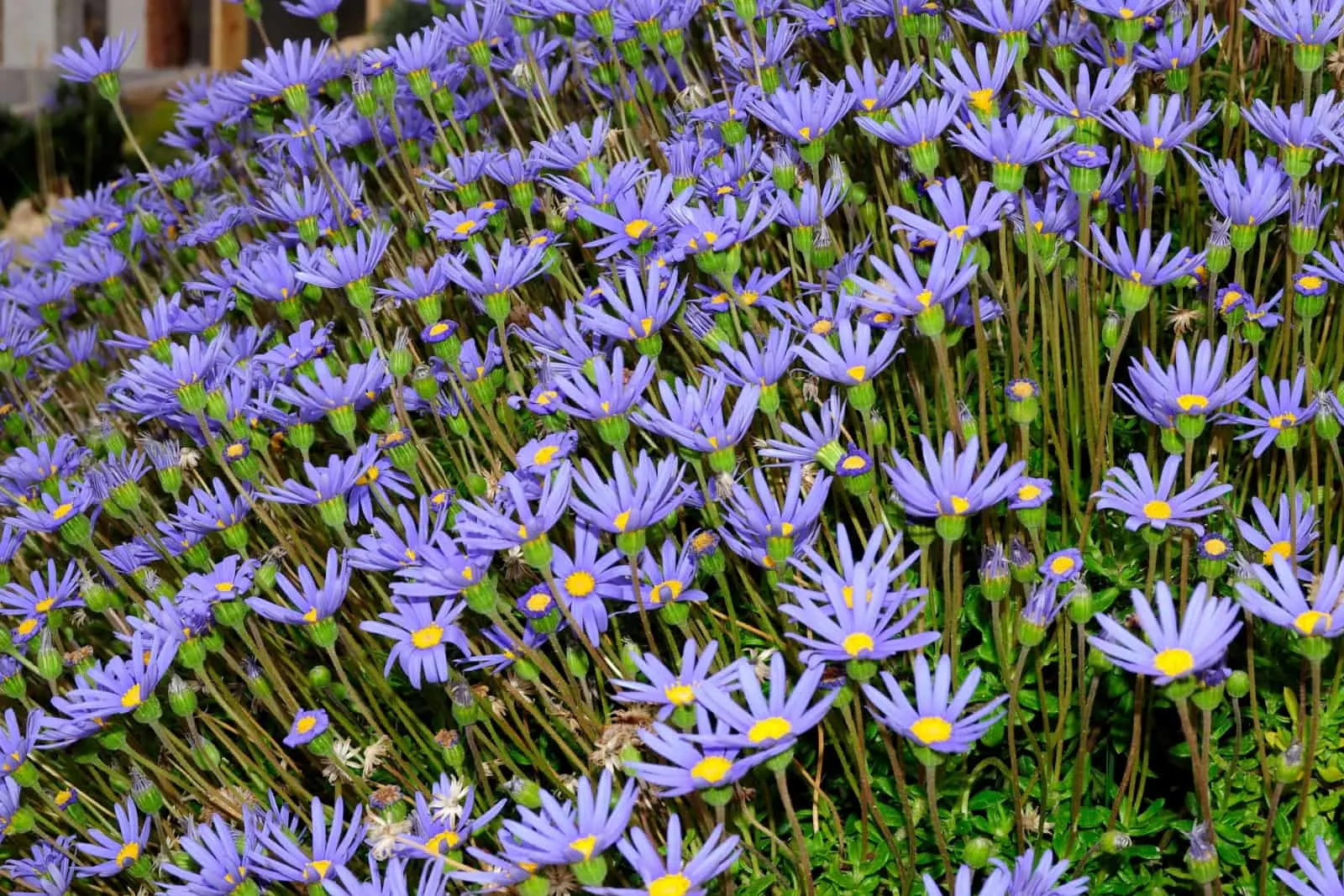 Indispensable garden flower, that's the best description of daisies! Although white and yellow varieties are more popular, the blue ones are definitely my favorites.
One of the most common blue daisies is the Blue Marguerite. Its bushy growth habit and low growing requirements make it a top candidate for gardeners.
They can be used in many garden designs and floral arrangements.
3. Lobelia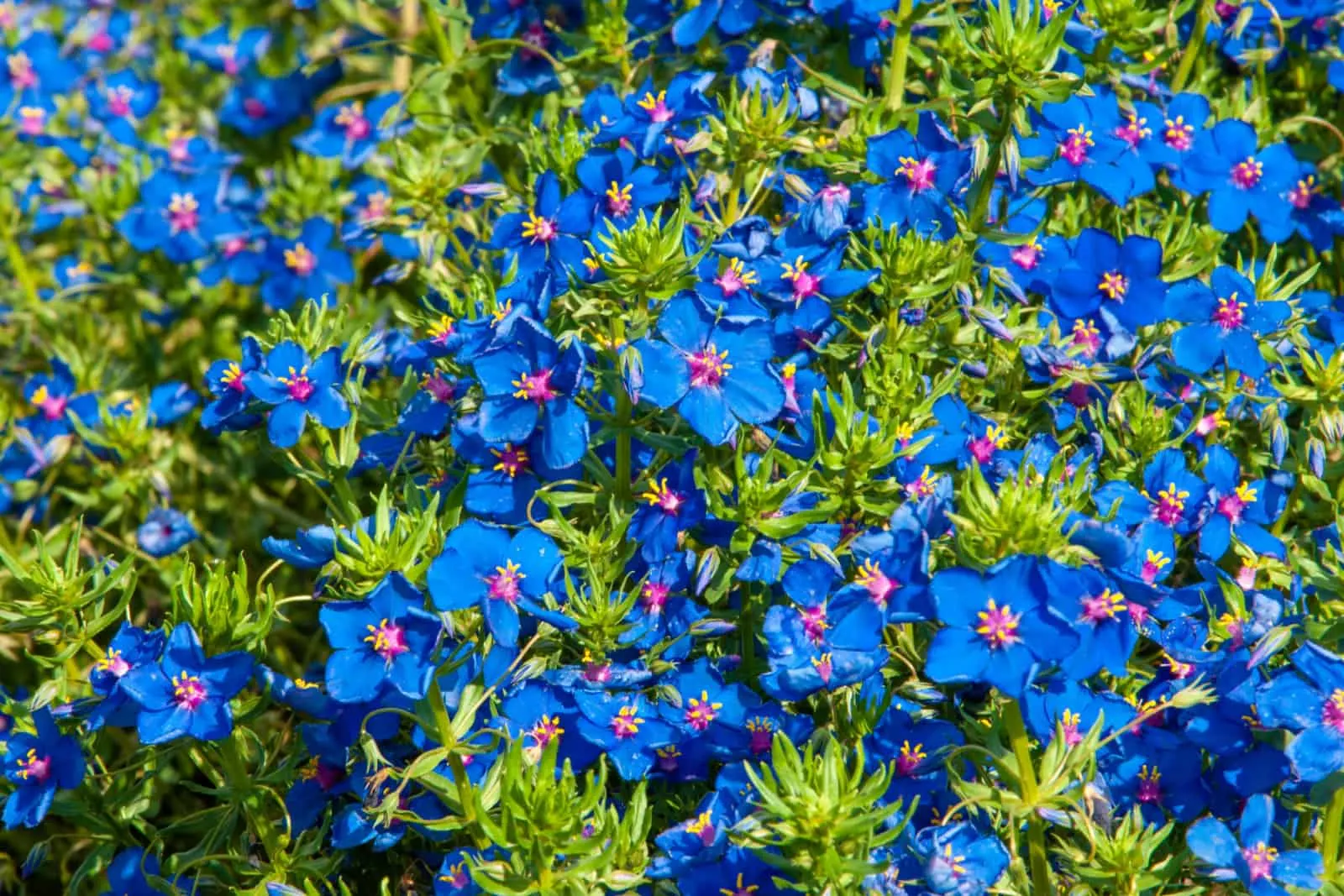 The elegant and charming blue Lobelia is a perfect flowering plant for flower beds. It also looks amazing in containers or hanging baskets because of its cascading growth habit.
If you want to start a blue-themed garden in the spring, the Lobelia is an excellent choice because this is when it displays the first blossoms.
Since it grows well in cooler temperatures, the blue Lobelia is also suitable for fall gardens.
4. Lungwort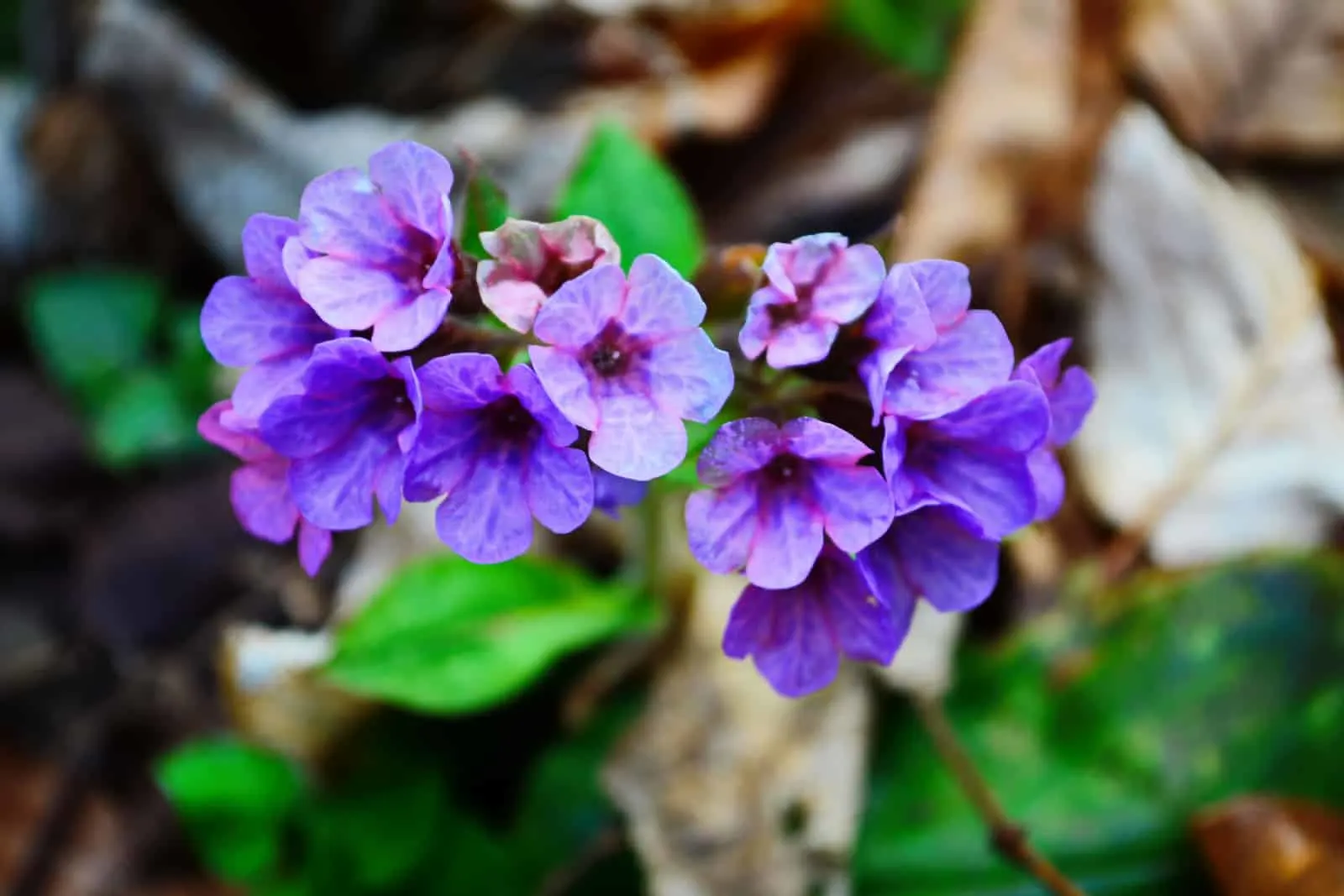 The bell- or funnel-shaped, blue blossoms of Lungwort flawlessly combine with its fuzzy, speckled foliage. This is a shade-loving plant, so if sunny spots in your garden aren't available, don't worry, you can still have blue blossoms in the shadiest areas with lungwort!
The blossoms form into clusters and, interestingly, undergo some kind of transformation during their life cycle. When the buds first emerge, they're pink, but they turn blue when they open.
5. Alpine Flowers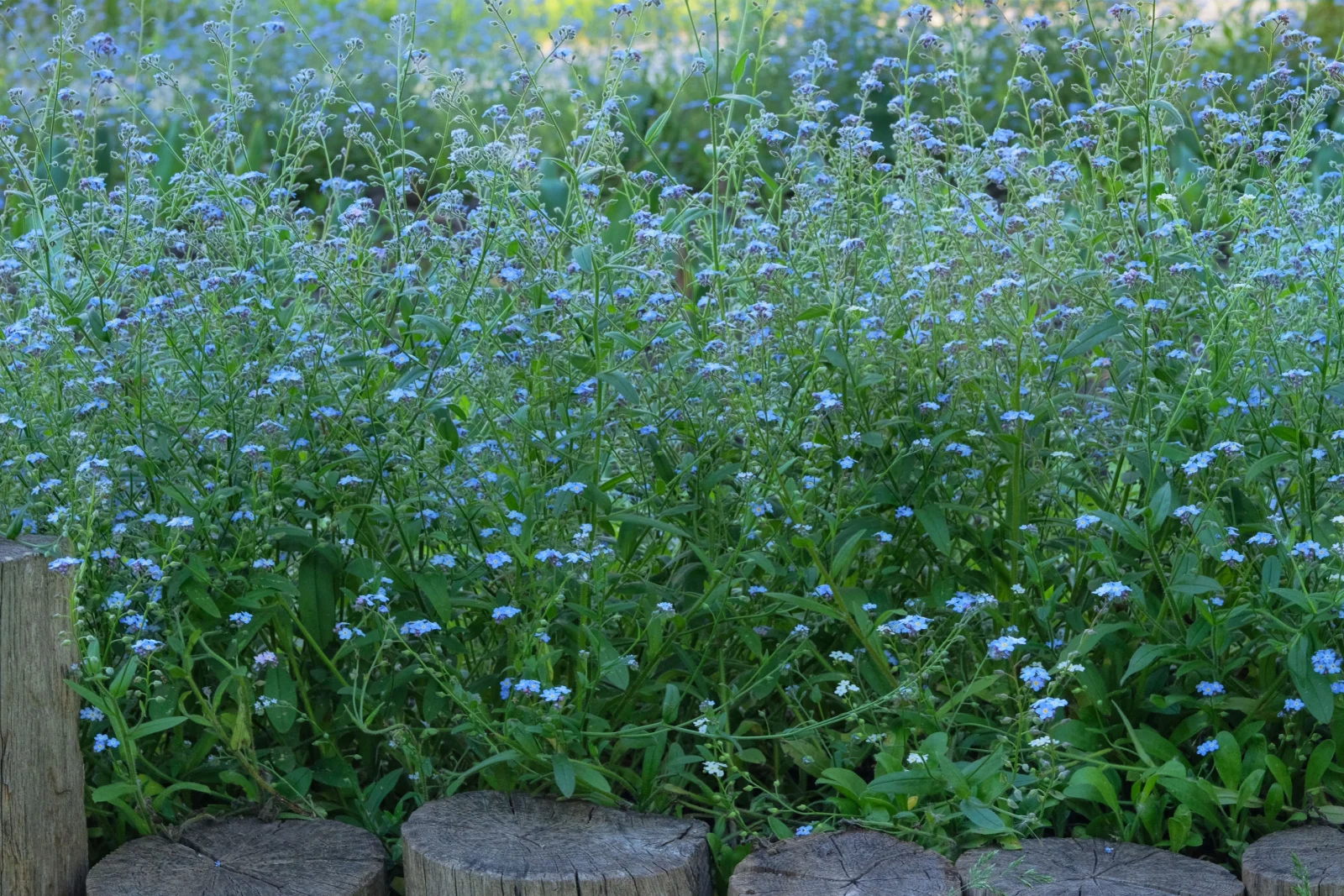 If you want part of your garden to be mountain-like, adding alpine flowers such as Edelweiss and Glacier Lily will create the perfect look.
They look fascinating in their natural habitat, so if you ever go to the mountains, you'll know what I'm talking about!
Small Blue Flowers
It's always a good idea to add some smaller blossoms to your garden, especially blue ones because they complete any type of garden design.
Here are some of the prettiest.
1. Blue Star Creeper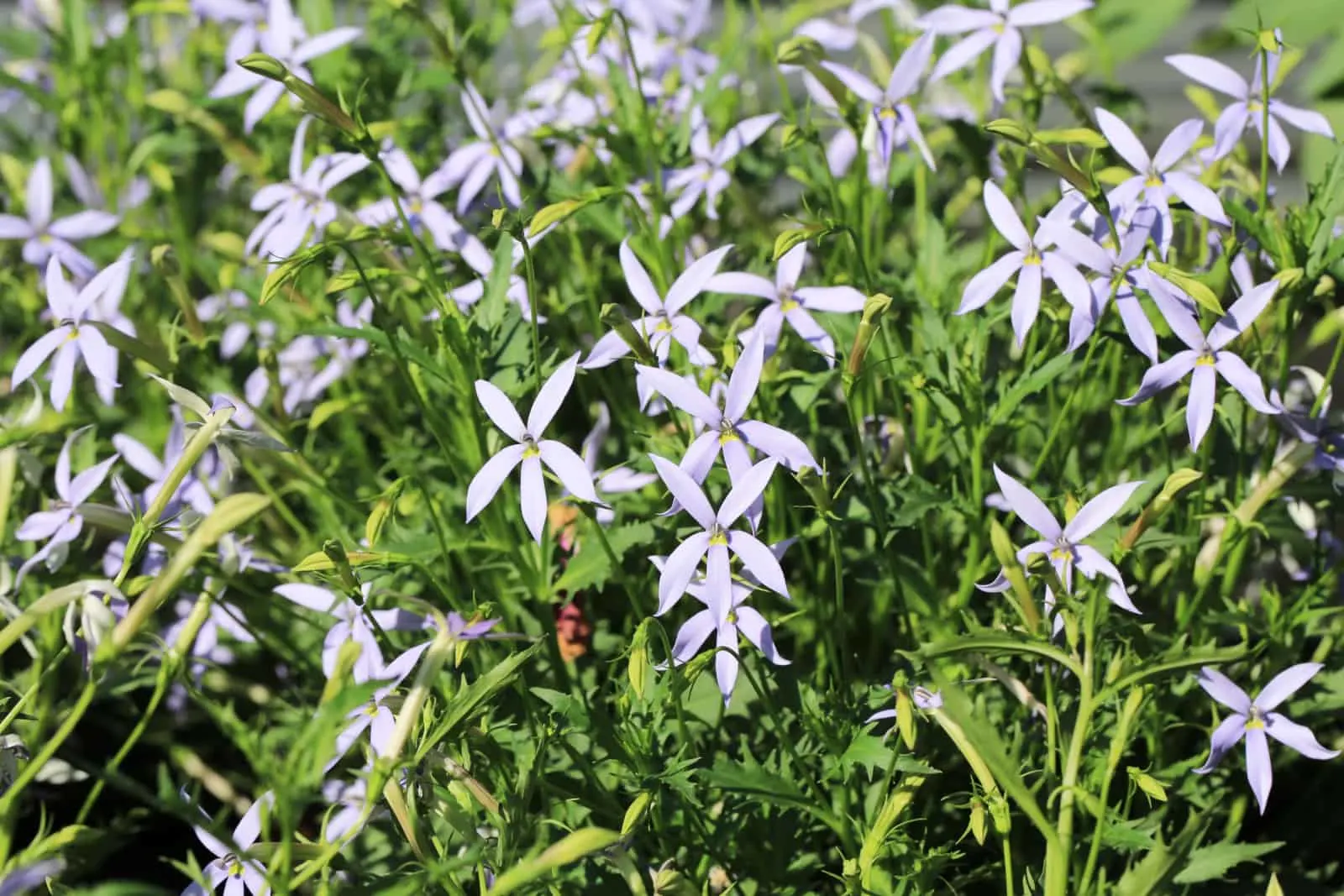 The tiny, blue, star-shaped flowers of this plant will cover all the planted area so it looks like a blue carpet.
This flowering plant will adapt to various conditions; you can plant it in both sunny and shady spots. The Blue Star Creeper will appreciate moist soil in the first year of growth.
It becomes drought-tolerant once established and will attract beneficial insects to your garden.
2. Rosemary Flowers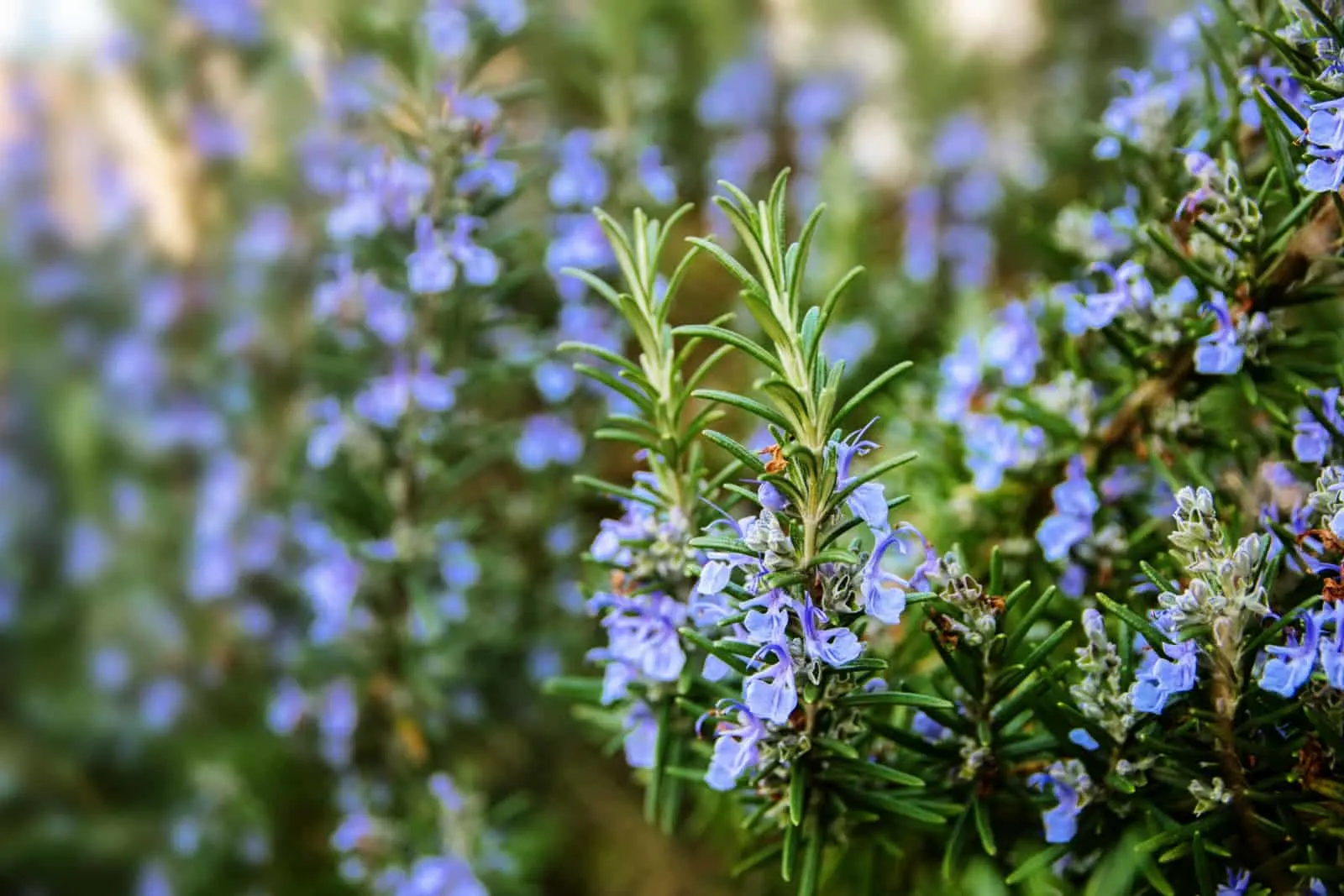 Herbs are mainly grown for their flavorful leaves, but if they also produce lovely blossoms, it's a win-win situation. Rosemary is just such a herb; its flowers come in various colors, including blue.
Your garden will smell amazing and look elegant, your dishes will taste perfect, and pollinators will be frequent visitors.
Hats off to rosemary!
3. Blue Columbines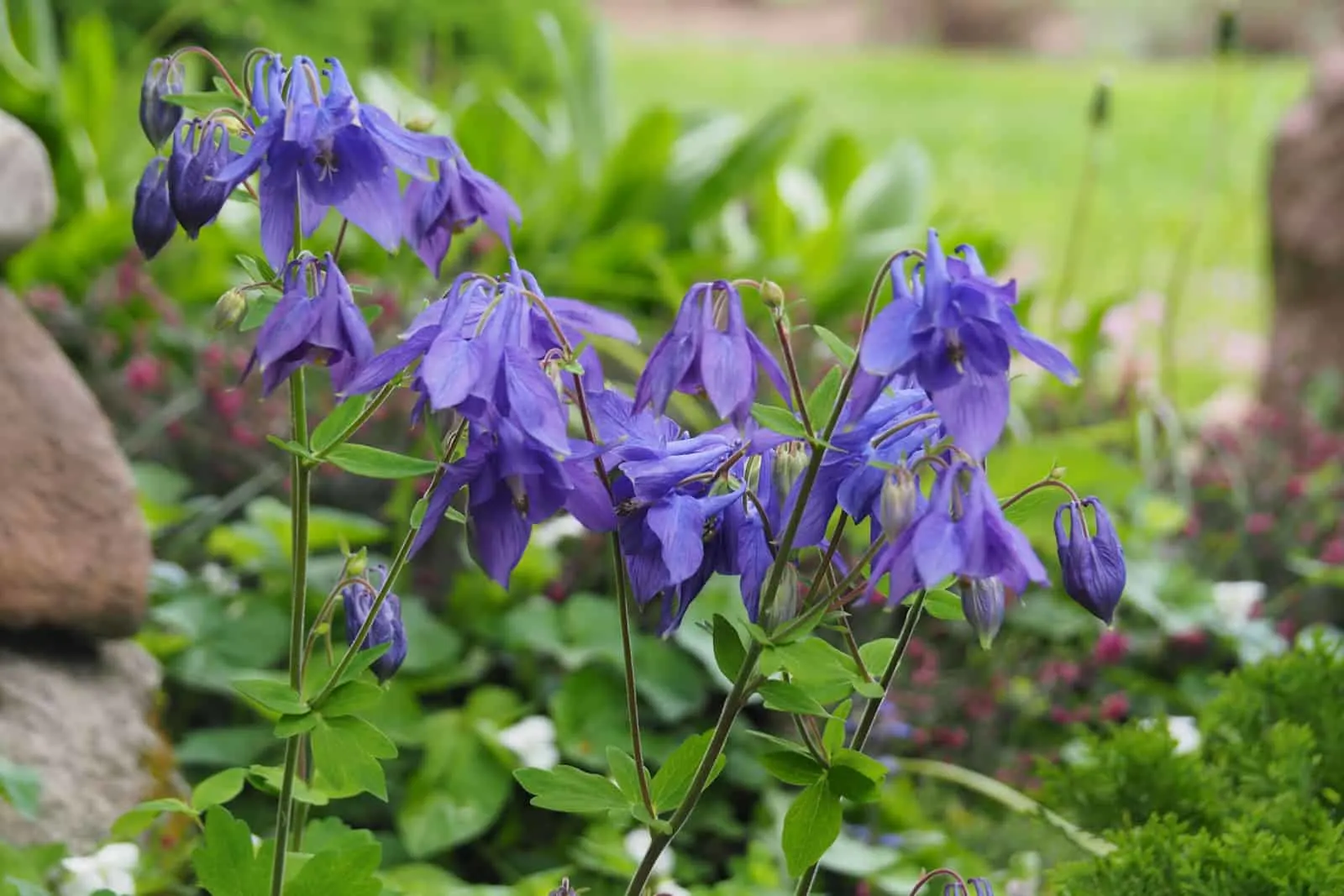 These plants are known for their thin stems that rise above the foliage, and once the flowers emerge, they dance in the wind to create a romantic and enchanting atmosphere.
Their vivid blue color adorns cottage gardens worldwide and since they thrive in various growing conditions, they are a true gardener's dream!
4. Creeping Phlox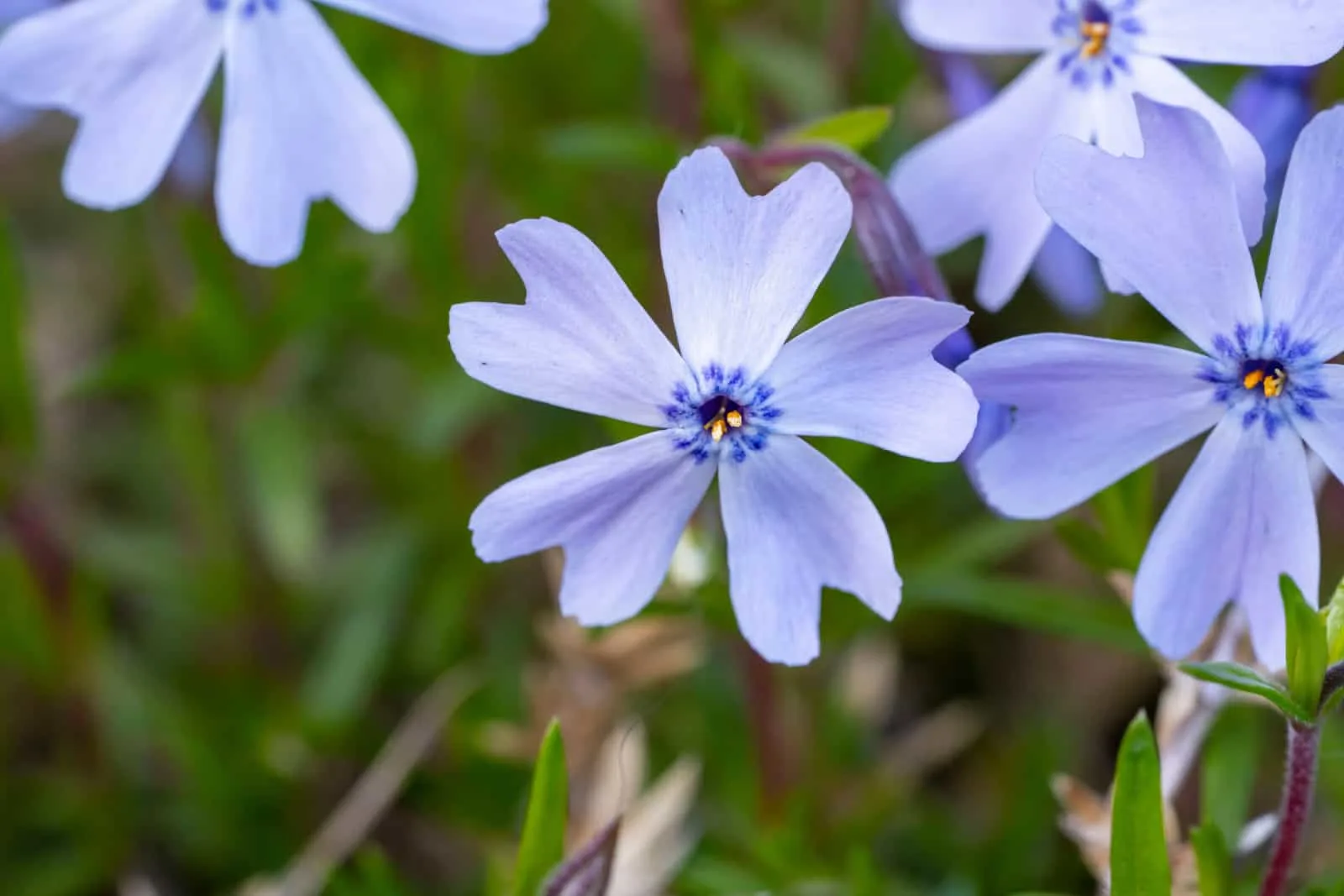 It can be challenging to create and maintain a colorful garden in cooler regions, but not with Creeping phlox. This hardy plant looks best when used as a ground cover.
Maintaining creeping phlox in winter still requires some work, but it's easier to devote some attention than replanting it every season.
5. Veronica Flowers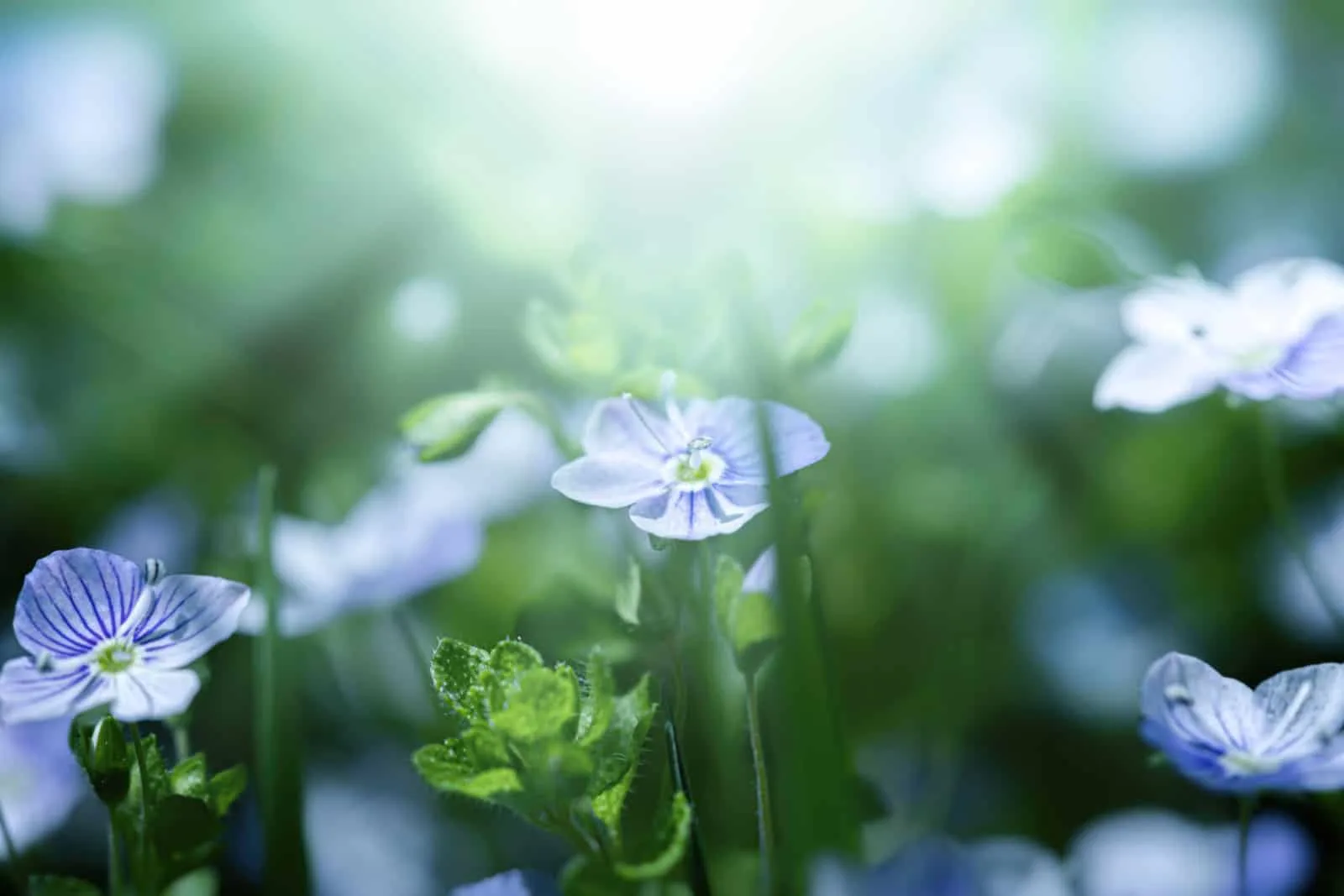 The tiny tubular blossoms of these plants will add a delightful touch to your garden. If you want to add vertical interest to your landscape, Veronica flowers are the best way to go.
Although these plants are relatively easy to maintain, they don't tolerate drought well, so you'll need to pay attention to soil moisture during hot summer days.
Perennial Blue Flowers
You can create a blue-themed garden that keeps coming back season after season with perennial flowers. This is an amazing feature for beginner growers or those who don't have a lot of spare time.
1. Blue Hydrangea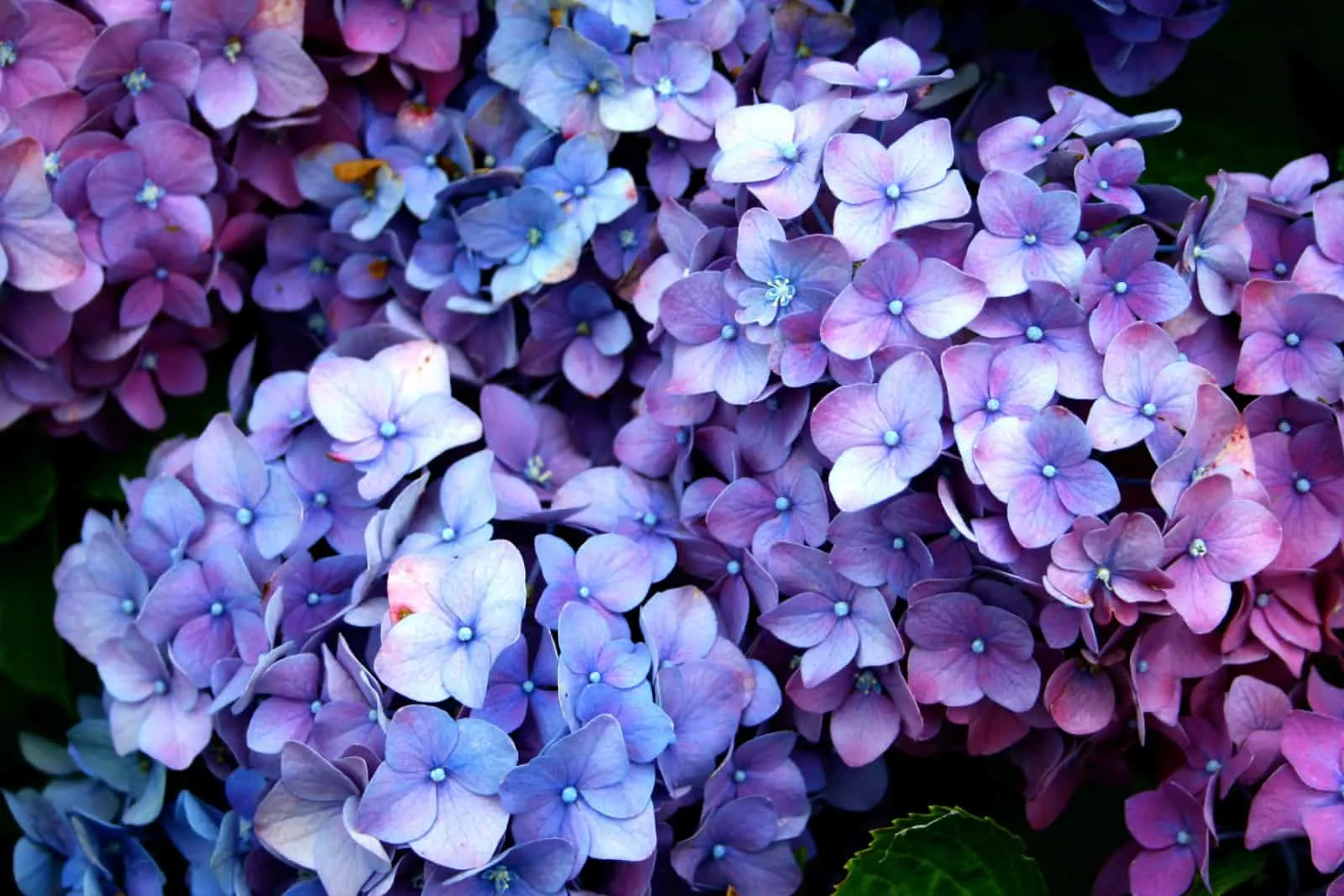 Love at first sight! That's exactly how I describe my first encounter with blue hydrangeas. I can't imagine having a blue-themed garden, or any garden design, without these captivating flowers.
The added bonus to the beauty is that these plants come back every year. Their perennial nature persuades gardeners to grow more and more of them until the garden is full (don't ask how I know this!).
Most hydrangeas are easy to maintain and as long as you don't expose them to direct sun and keep their soil moist, they'll be happy and healthy for a long time.
2. Delphiniums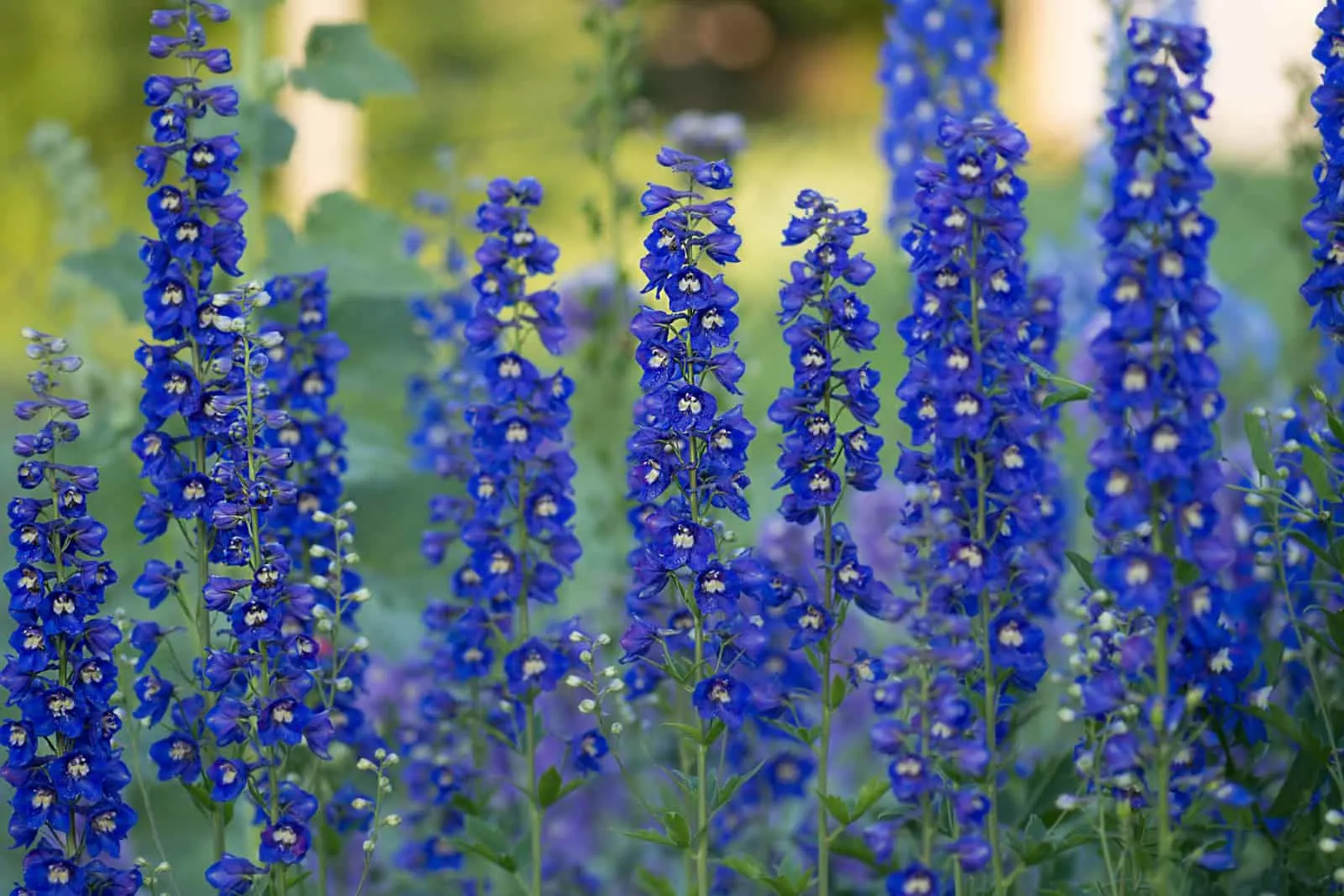 The easiest way to add vertical interest to your garden is by planting some charming Delphiniums. These tall perennials can be used as a focal point, and since they come in various shades of blue, they'll make your garden look absolutely stunning.
Although some gardeners claim that these plants are very easy to grow, from my experience, they can be fussy. This refers to nutrient and moisture levels in the soil. Planting them in rich soil and keeping them hydrated is the only way to maintain their health and vigor.
3. Balloon Flowers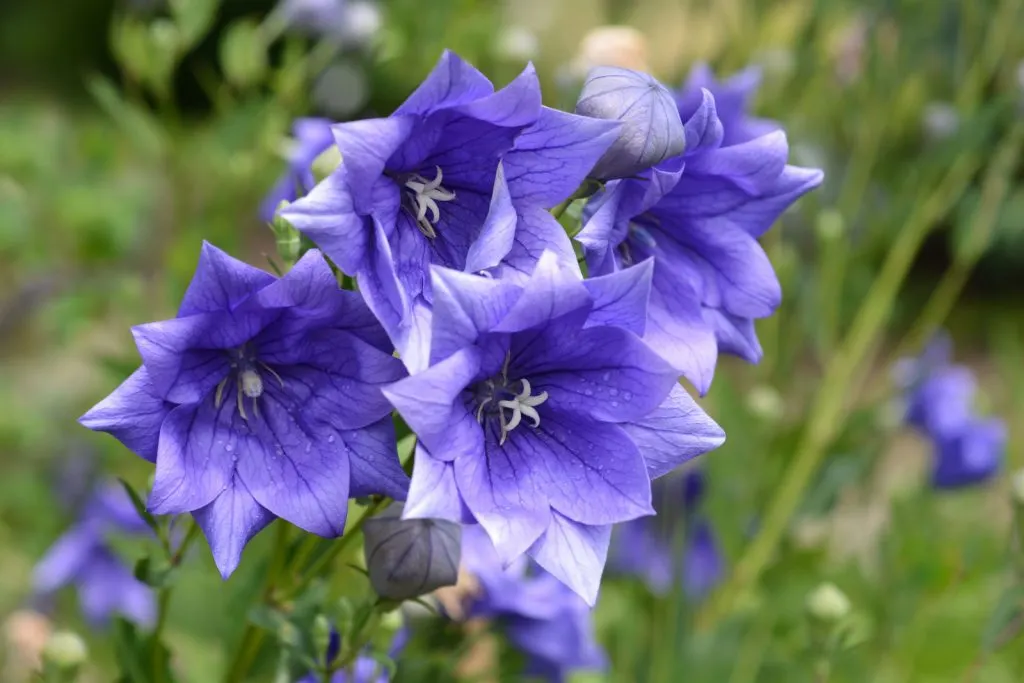 No, the blossoms aren't balloon-shaped; it's the balloon-like buds they're named after. Another reason for this nickname is the sound the buds make when they open. A soft popping is the plant's announcement that flowers are coming.
The blossoms are actually star-shaped and they'll adorn your garden for a few weeks. Your only task is to provide them with some water during the hot summer days.
4. Flowering Flax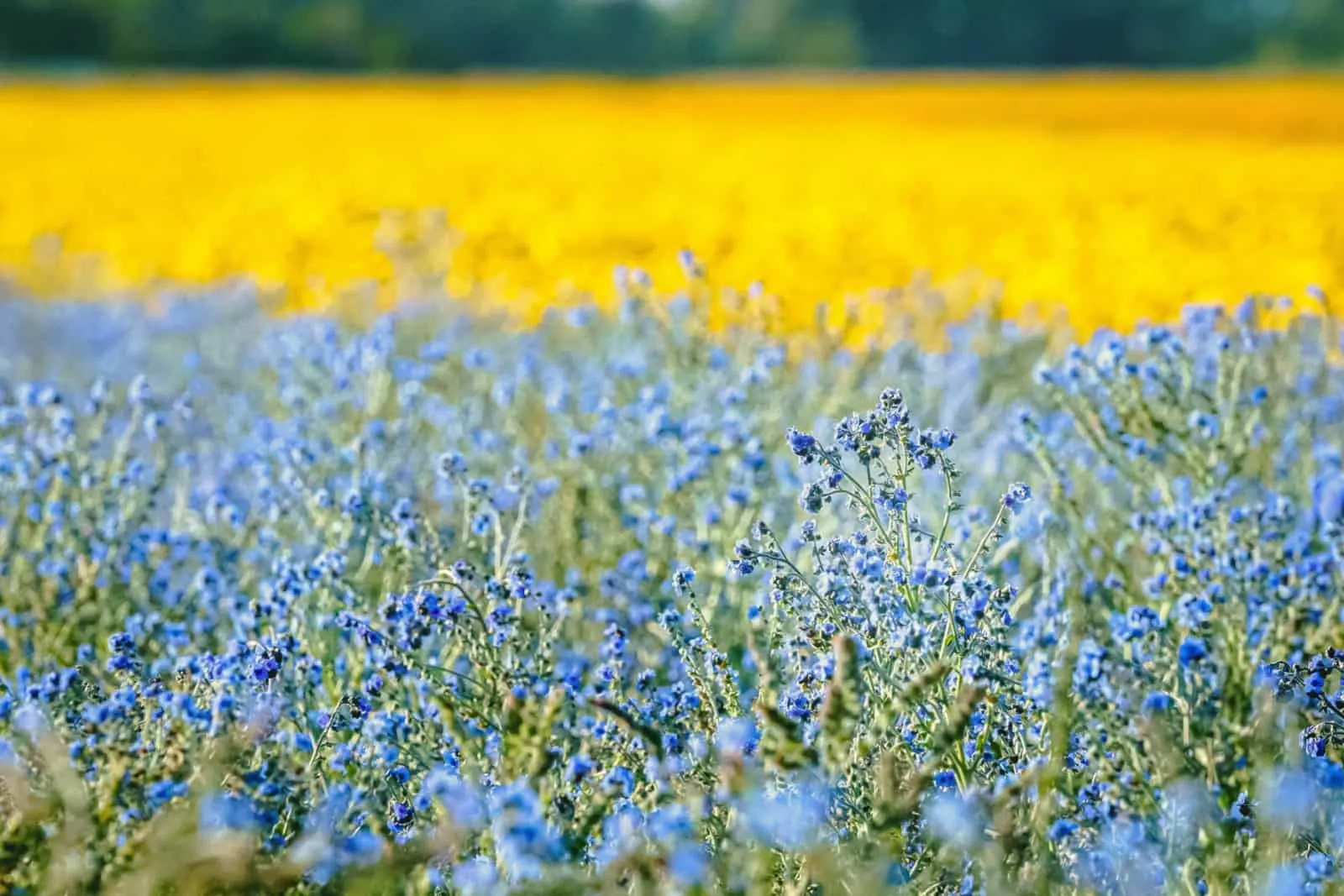 These are one of the cutest perennials ever. If you need to fill up space in your flower bed, flowering flax is an excellent option.
It performs well in cooler climates and there's no need to irrigate it once it's established.
5. Salvia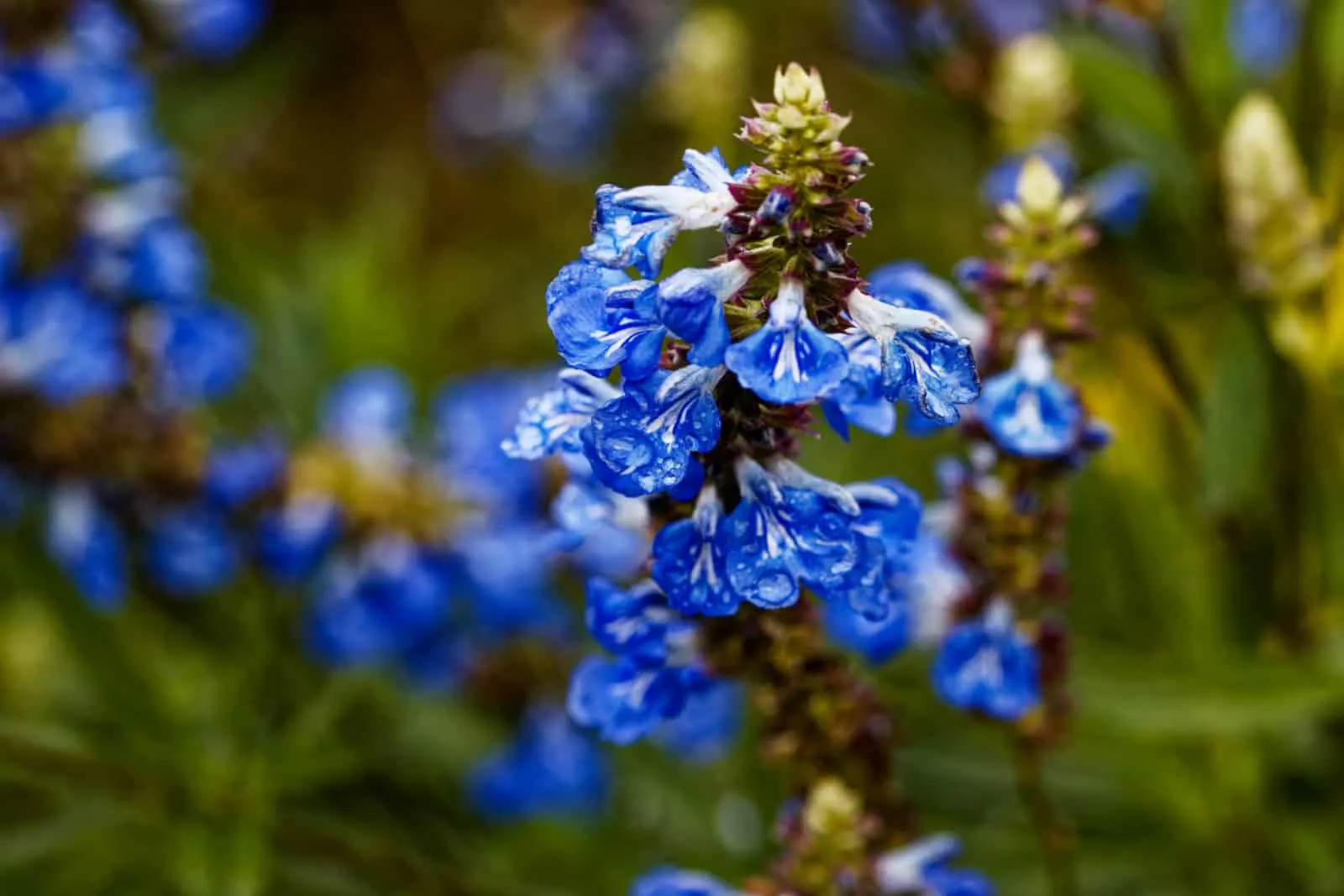 If pollinators were asked to choose their favorite flowers, Salvias would definitely be in their top picks. Gardeners think alike, which is why Salvias are so common in gardens around the world.
They emit a sweet fragrance and if you want to get an abundance of them, give your Salvias a lot of full sun. If you want to prolong the flowering season, prune and deadhead regularly.
Popular Blue Flowers
What makes a flower popular? Is it its beauty, low care requirements, rarity, or everything combined? Well, no matter which of these features a single flower possesses, it's sure to be well-liked among gardeners. Here are some of the most popular blue flowers.
1. Blue Iris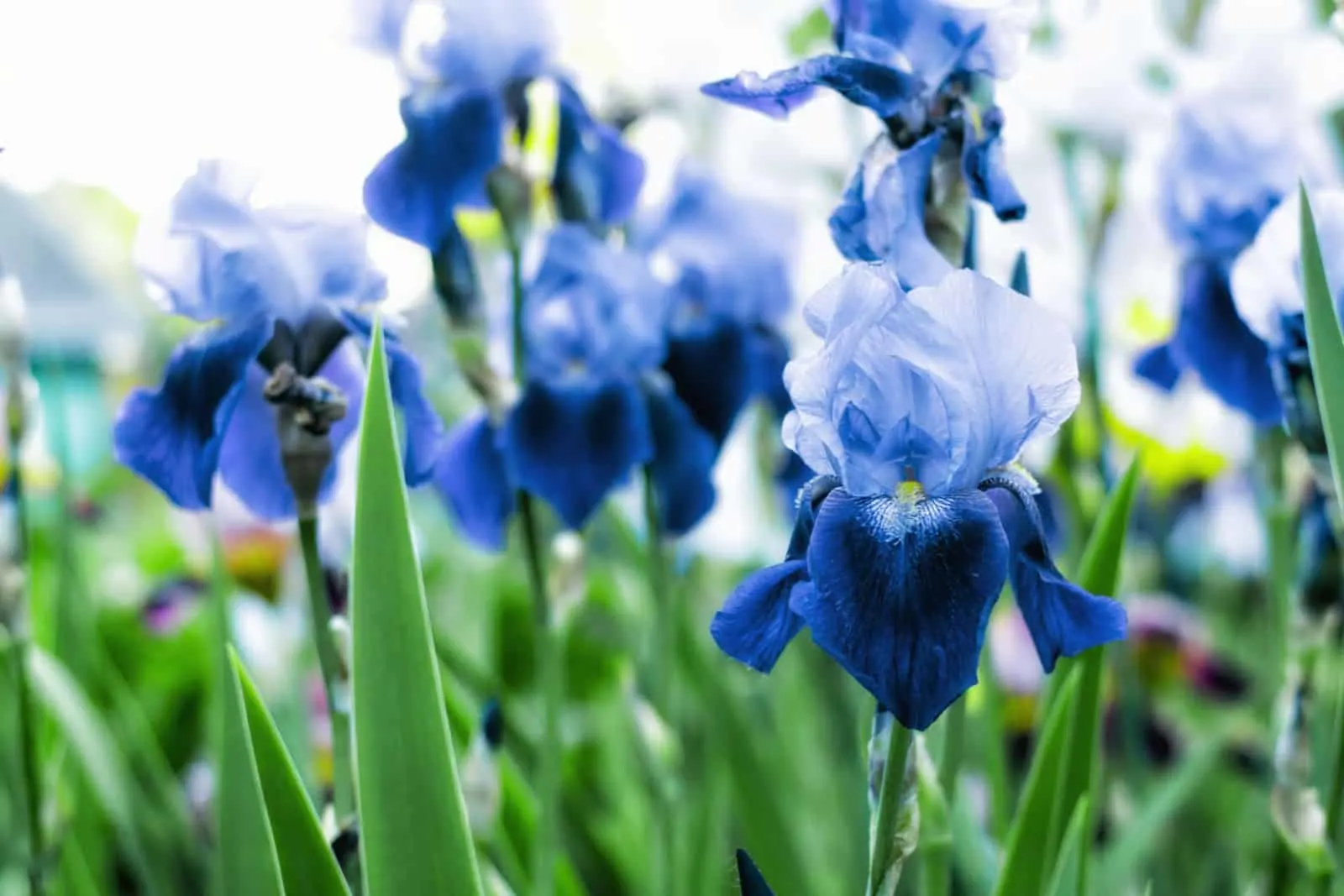 The ruffled petals of blue Irises feature many shades of this color, and they add a touch of elegance and sophistication to every garden.
Some gardeners grow Irises due to their strong symbolism (the flower is associated with wisdom and hope in many cultures).
Other growers choose Irises due to their low growing requirements, so no matter which gardening level you are, you can keep these plants happy and healthy.
2. Morning Glory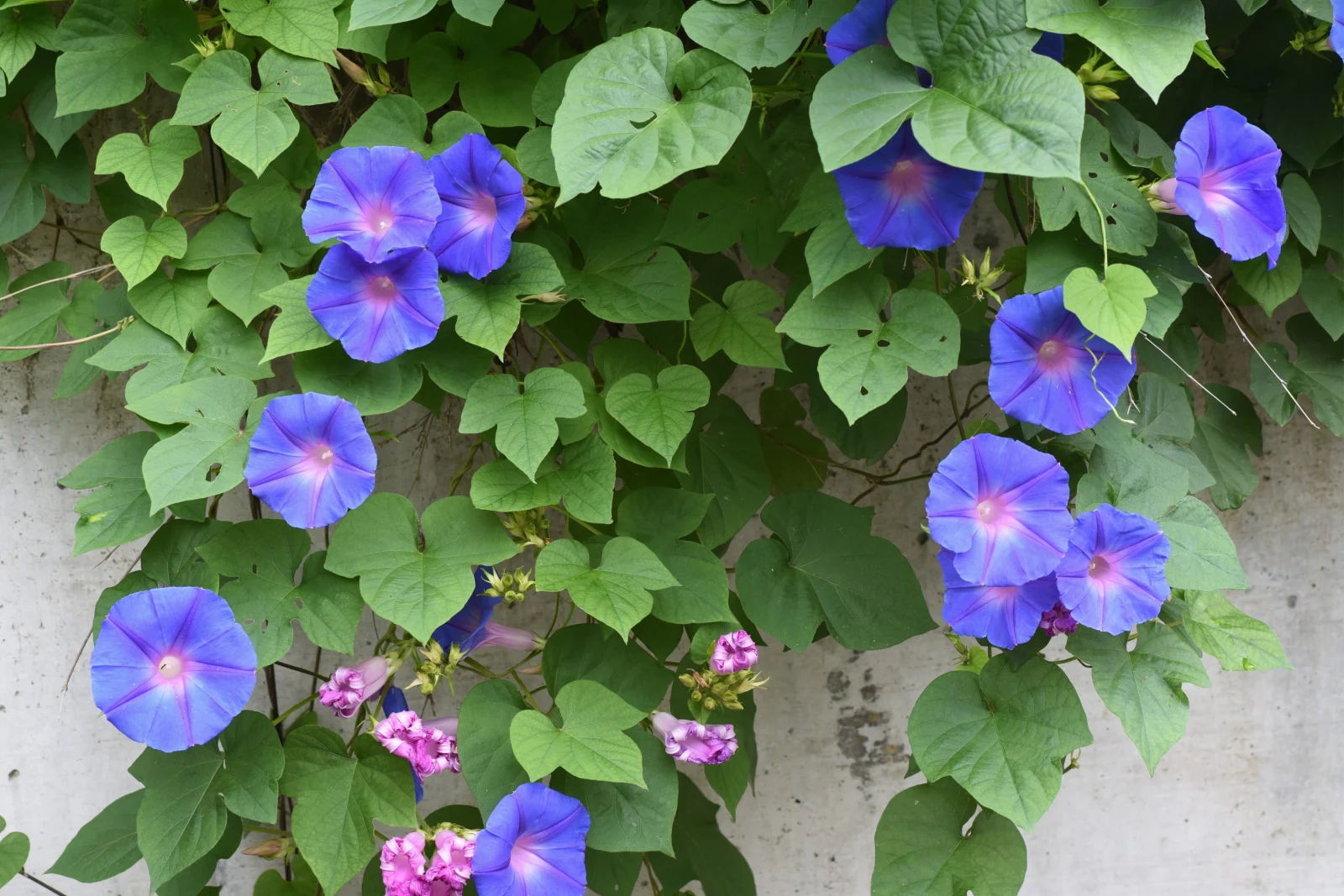 The blossoms of these plants are the first to greet the sun in the morning, hence the name. You can incorporate Morning Glory in every garden design, from cottage to modern.
They thrive in various soil types and if you want an abundance of blossoms, just water your morning glory during hot summer days. Yes, it's that easy!
3. Blue Orchid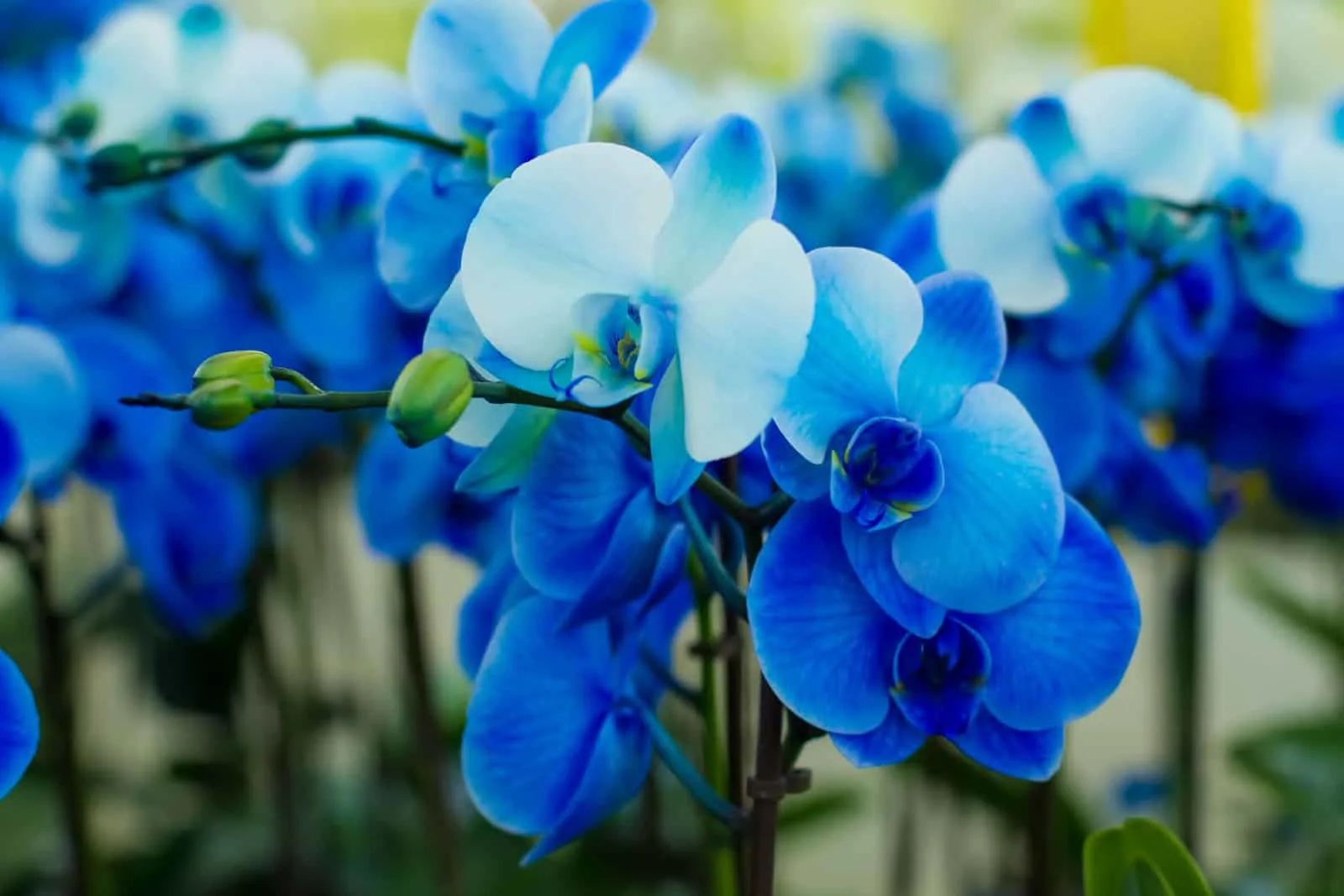 I'm sure you've seen a lot of pictures of Blue Orchids on social media. These flowers are becoming more and more popular because of their unusual color.
Just for clarification, blue orchid varieties are usually hybrids; they're either created by gene modification or dyed.
Orchids look breathtaking in every color, but blue adds a special touch and makes gardens unique and rare. Growing orchids is a little bit demanding, but is definitely worth the effort!
4. Common Grape Hyacinth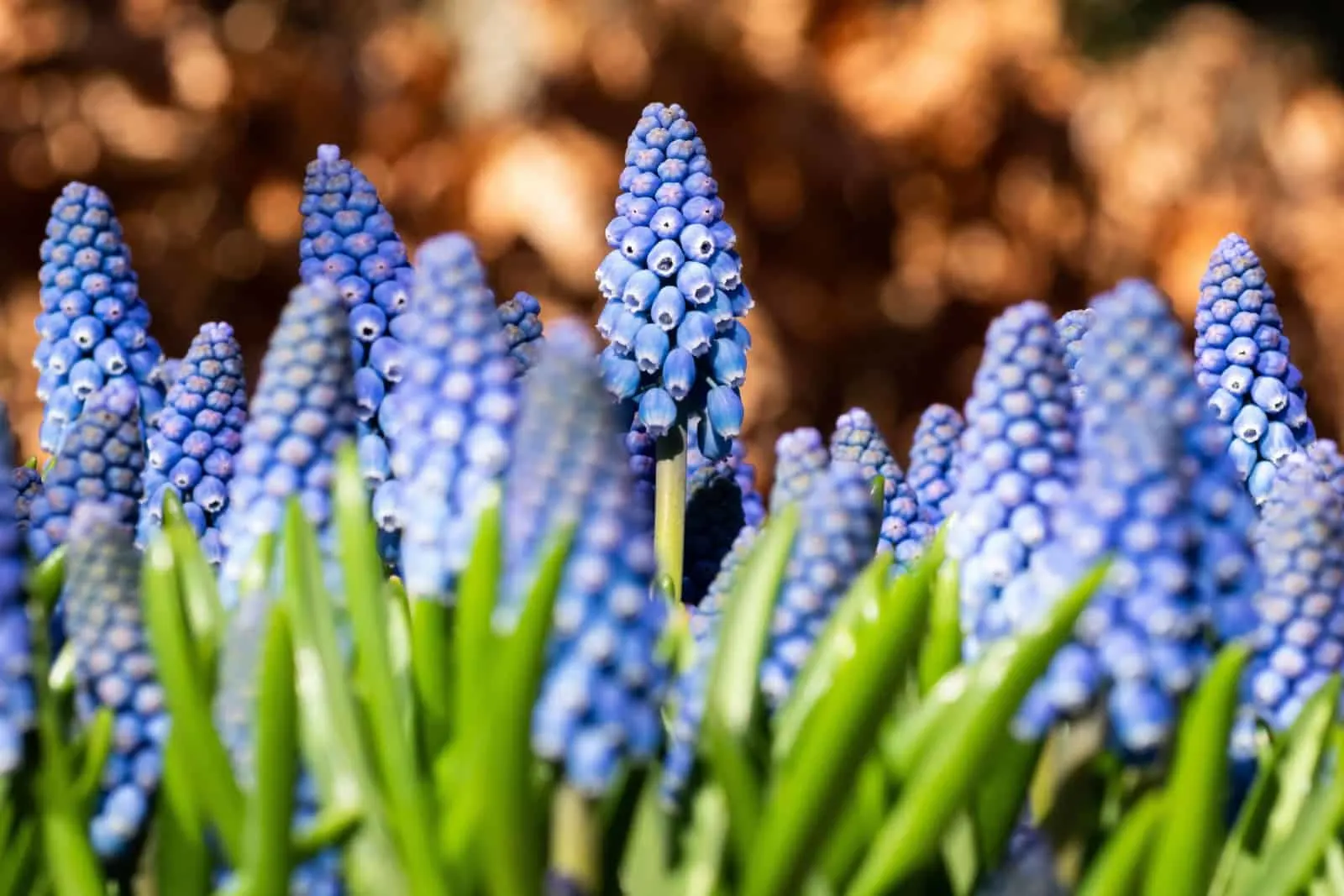 Meet the Grape Hyacinth, a plant whose blossom looks like a grape. This is definitely the feature that made this flower so popular. Everyone likes unusual flower shapes, especially if they also come in blue.
What I also like about Grape Hyacinths is their fragrance, and it seems like bees and butterflies agree with me!
5. Blue Primrose Flower
Pictures of blue primrose were popping up constantly on my news feed and convinced me to get some for my own garden (like that's so hard). When they started blooming, I realized why growers love them so much.
The delicate blossoms emerge in spring and their vibrant colors make gardens elegant and charming.
These plants perform best in warmer climates and require free-draining soil types.
6. Passion flower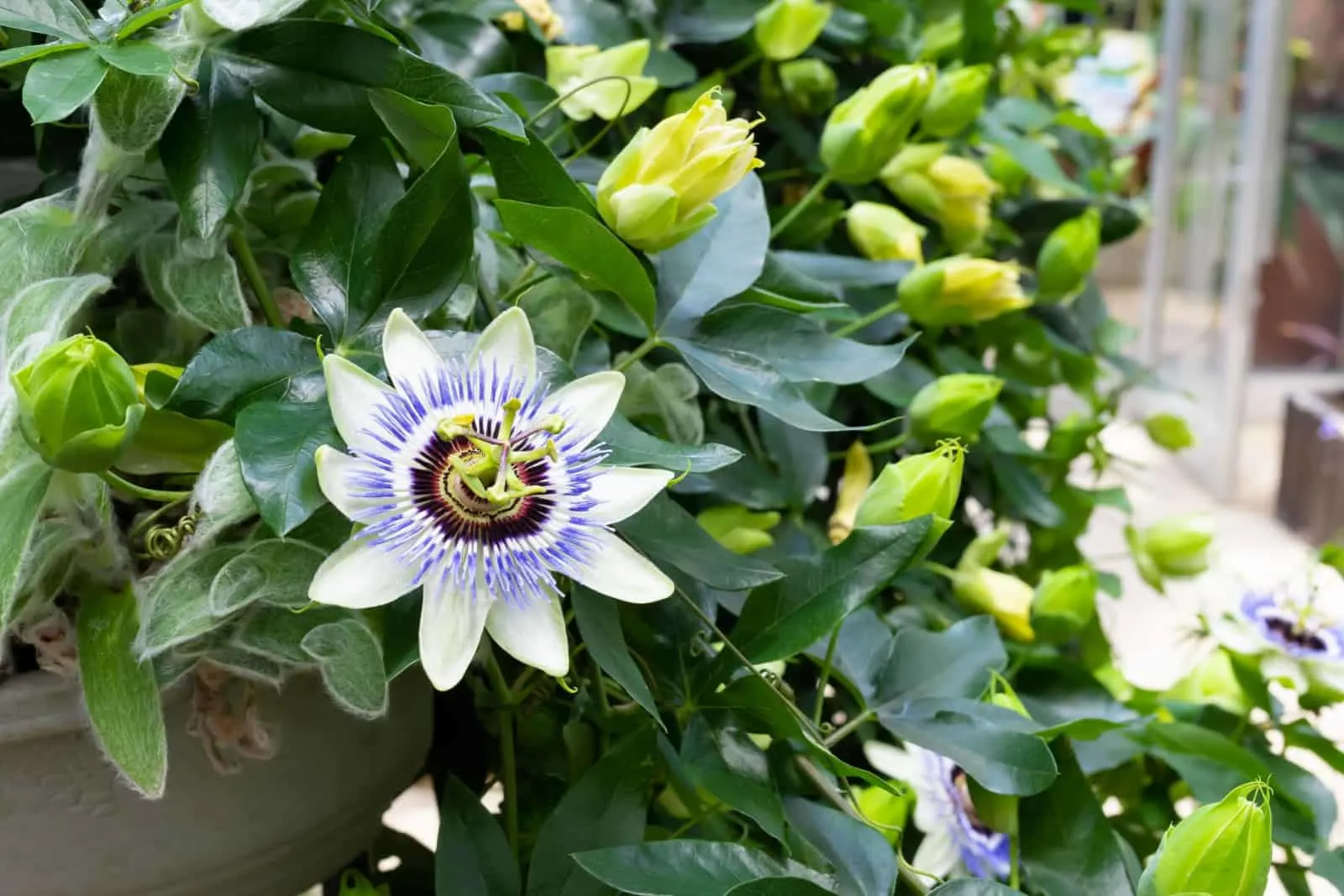 You can't create an exotic garden without adding passion flowers! The vibrant colors and unusual shape of these blossoms will add an enchanting atmosphere to your garden.
Although blue isn't the only color of this flower, it's the most sought-after. Plant them in a well-draining soil, give them a lot of light, ensure support, and enjoy the magic!
Flowers That Pair Well With Blue Flowers
My favorite color combination in gardens is blue and white. So, if you are also a fan of these colors, choose some of the blue flowers above and pair them with white roses, jasmine, or anemones.
Purple and blue is another lovely combination. Lavender or petunias look amazing when planted near blue flowers.
Our journey through the world of breathtaking blue flowers ends here. This rare color in nature's palette will definitely make your garden incomparable to any other!