If you want to add a splash of color to your garden, red flowers are the best way to do it. Flowers that come in red stand for love, bravery, and respect, and they will make your garden look fantastic and radiate sheer magic!
And the best part is that by choosing the right species, you can enjoy the beauty of red blossoms all year long!
Let's take a look at 23 breathtaking red flowers for every season so you can create a garden that's always in full bloom!
Red Flowers For Spring
Nature is awake and green is taking over landscapes. Spring is here and your garden will definitely look more beautiful if it's full of these red flowers!
1. Poppies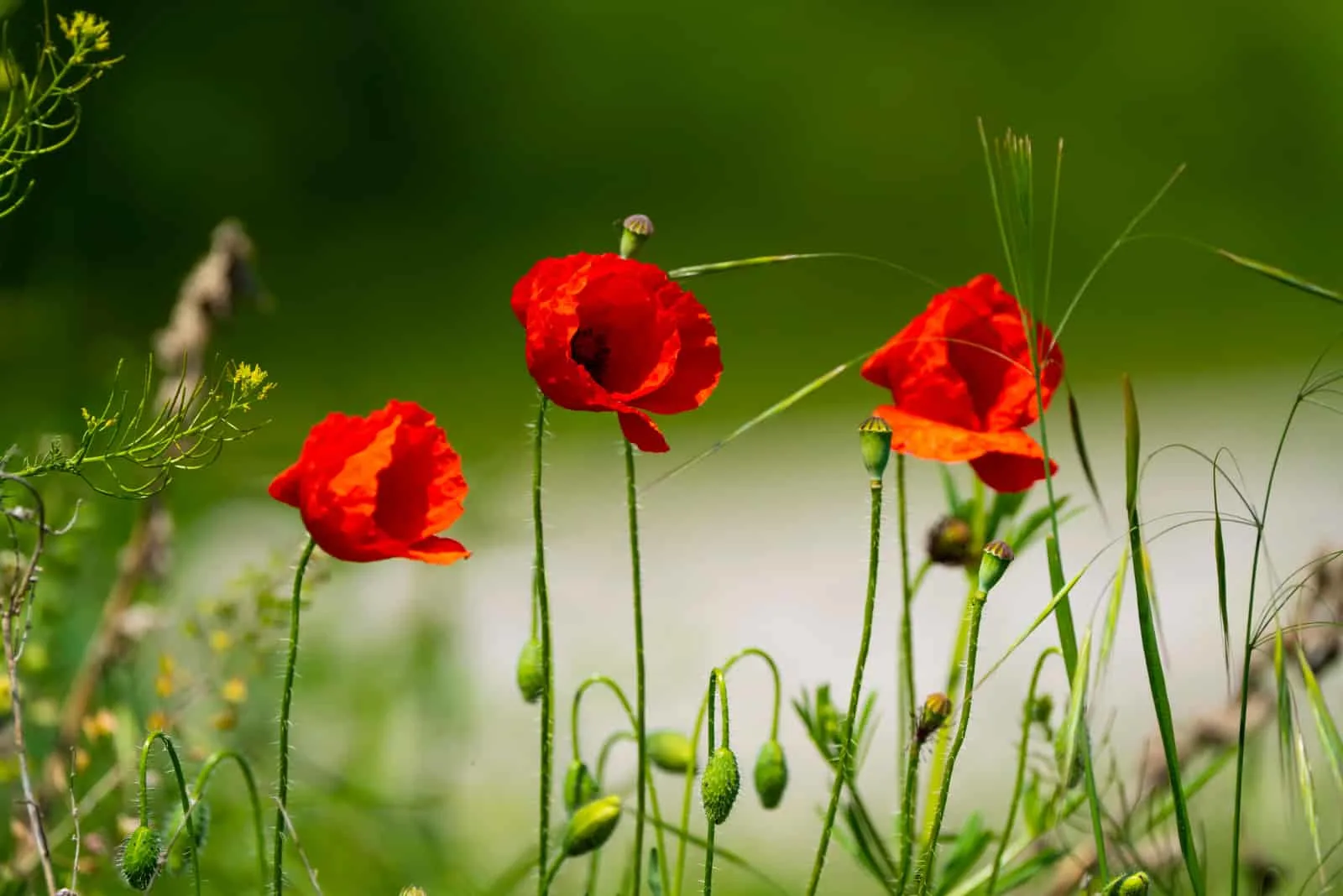 Poppies are old-school flowers. Their vivid colors and intricate petals will make a perfect addition to your spring garden.
You can either grow your poppies from seeds or go with transplants. Pay attention to soil drainage and ensure a lot of bright light for your poppies to thrive and attract many pollinators.
2. Begonias
The large, magnificent blossoms of begonias will add an elegant flair to your spring garden. In floriography, these flowers are connected to royalty, and if you have lining paths or you need to cover bare areas, begonias will do a perfect job.
Simply plant begonia tubers in free-draining soil, protect them from full sun, and water them regularly.
3. Hyacinths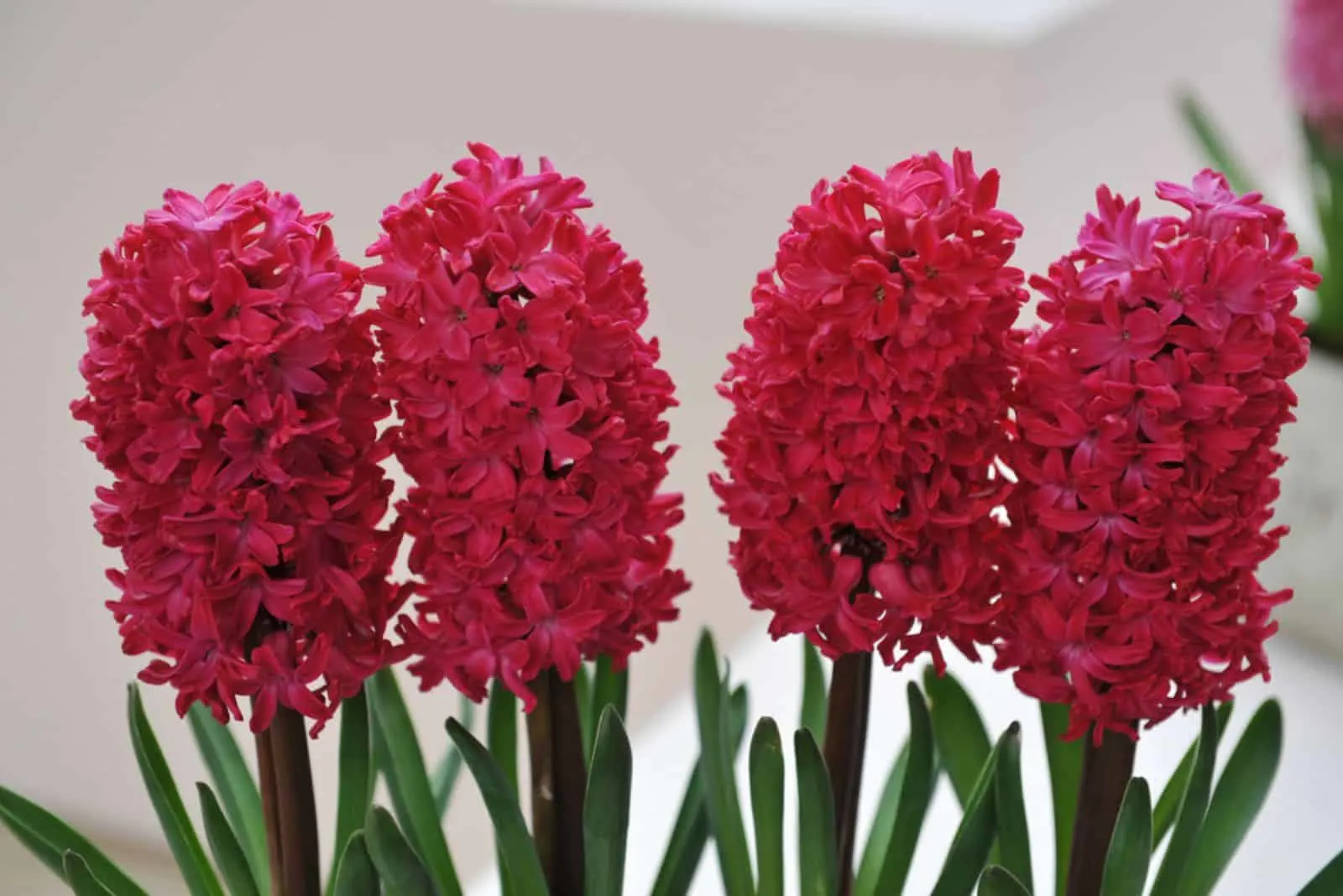 The blossoms of hyacinths develop from bulbs and form clusters. Even though these flowers come in various hues, red to pinkish colors on the petals are the ones that will add a delightful touch to your garden.
4. Primrose
If you need some flowers for borders or your flower bed needs more of a red hue, primroses are an excellent choice. These robust perennials start flowering at the beginning of spring and the flowering season may persist into the summer.
From my experience, primroses do best if grown from seeds in fertile soils and partial shade.
5. Sweet Peas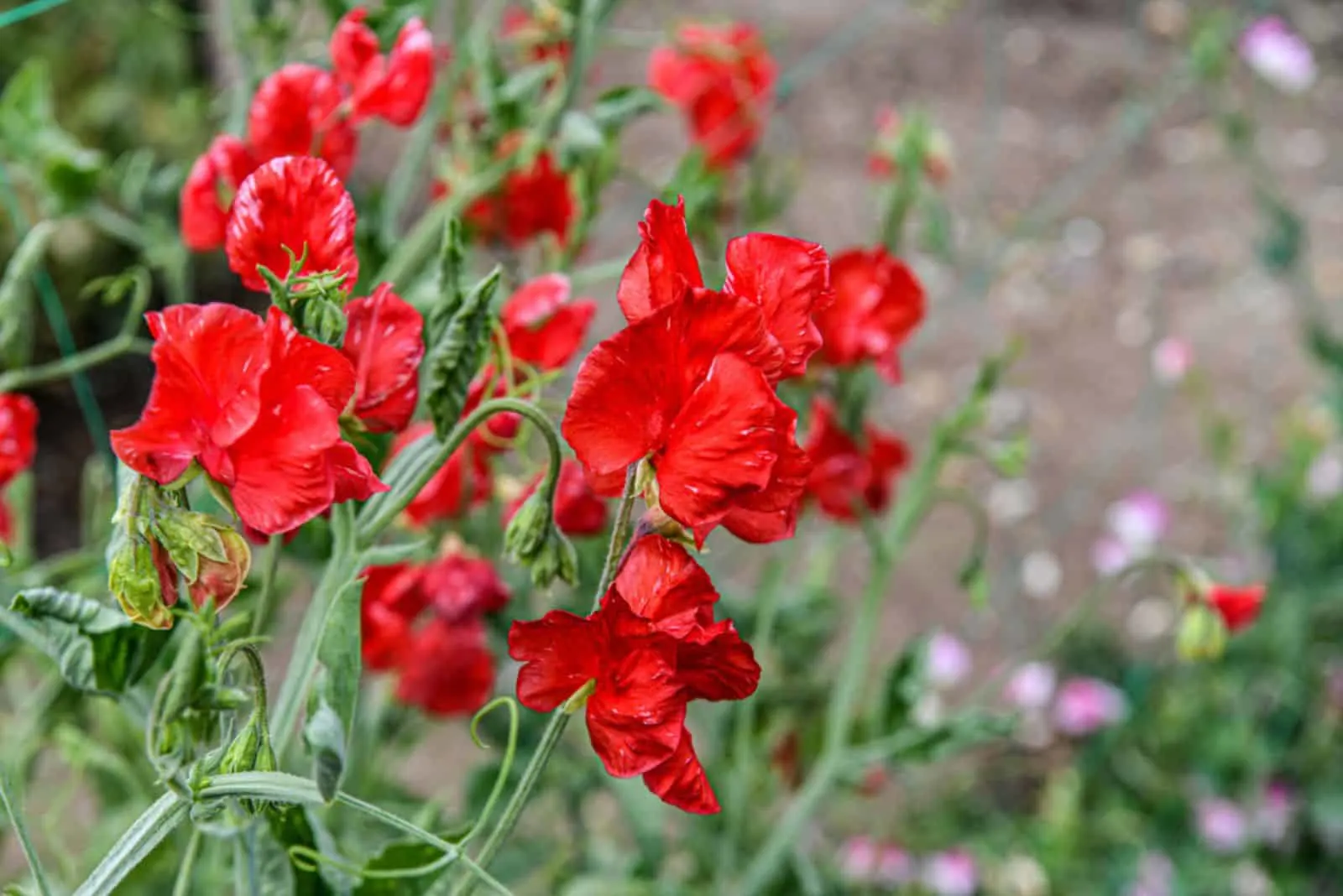 Does your trellis need a new flower? Sweet Peas will definitely do the job. These fragile blossoms last for one season only and flourish in cool, moist soils, which makes them the ideal choice for woodland gardens. I recommend planting the seeds in winter or early spring.
6. Tulips
You know that spring has come when there are tulip flowers in gardens! The meaning of tulip flowers is linked to joy and rebirth, so they always make a great addition to any garden. Flower arrangements look best when enriched with these timeless cup-shaped blossoms.
Pay attention to soil moisture and never let it get soggy.
Red Flowers For Summer
Warm summer temperatures bring many changes, especially in the gardening world. The best part of this season is that you can choose between many red flower varieties.
7. Sunflowers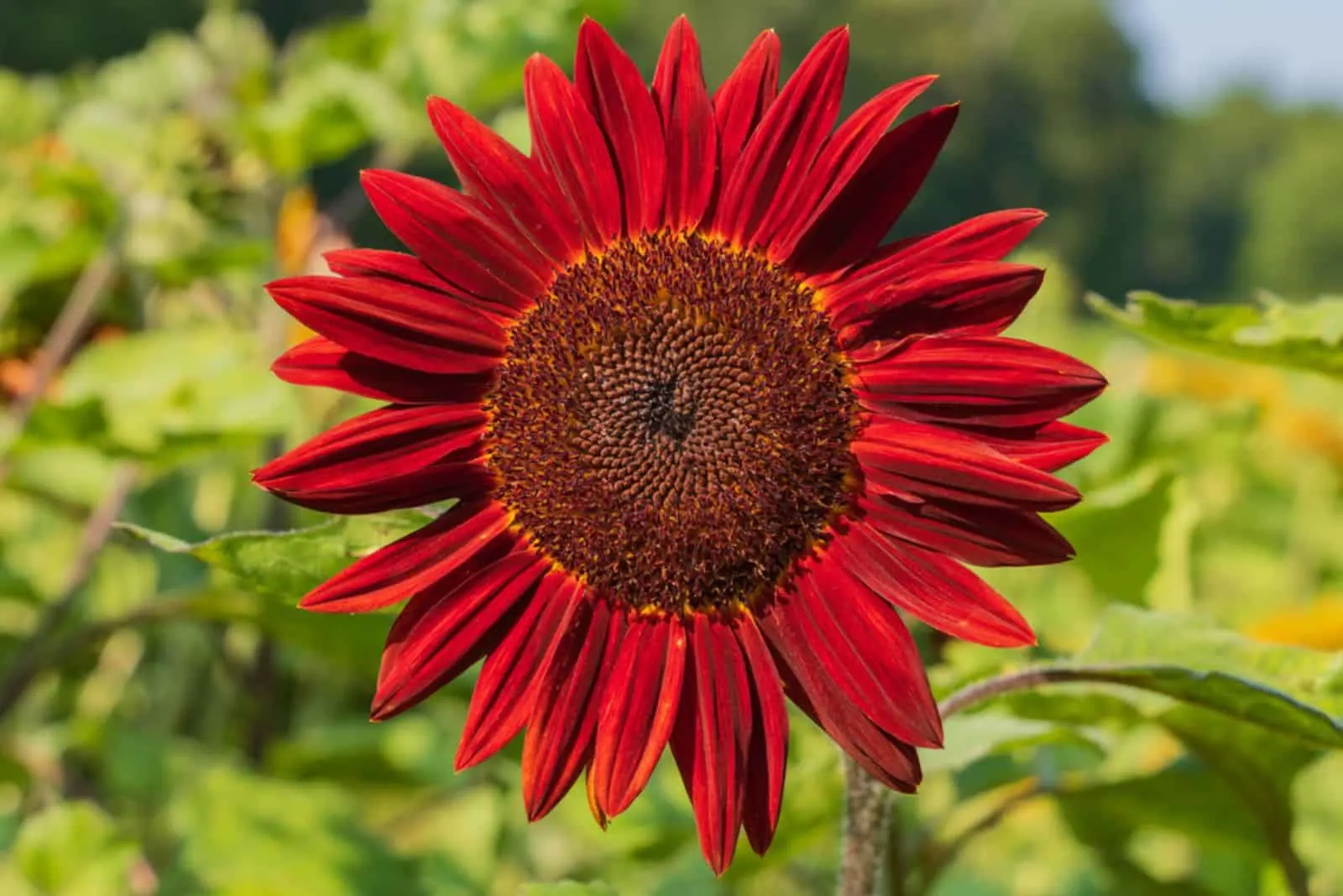 Yellow isn't the only color of sunflowers. For me, those that come in scarlet hues are even more beautiful. These are tall plants that can reach up to 15 feet in height and have faces that are over 1 foot in width. Simply ensure enough bright light and water your sunflowers regularly.
If you want your sunflowers to bloom in late summer, you should sow the seeds approximately 3 weeks after the last frost date.
8. Zinnias
Vivid Zinnia blossoms bring vibrant hues to any garden. Purchase the seeds and sow them after the danger of frost passes, i.e., after the last frost date.
Prepare fertile, free-draining soil, and plant your Zinnia to get an abundance of lovely crimson summer blossoms.
9. Marigolds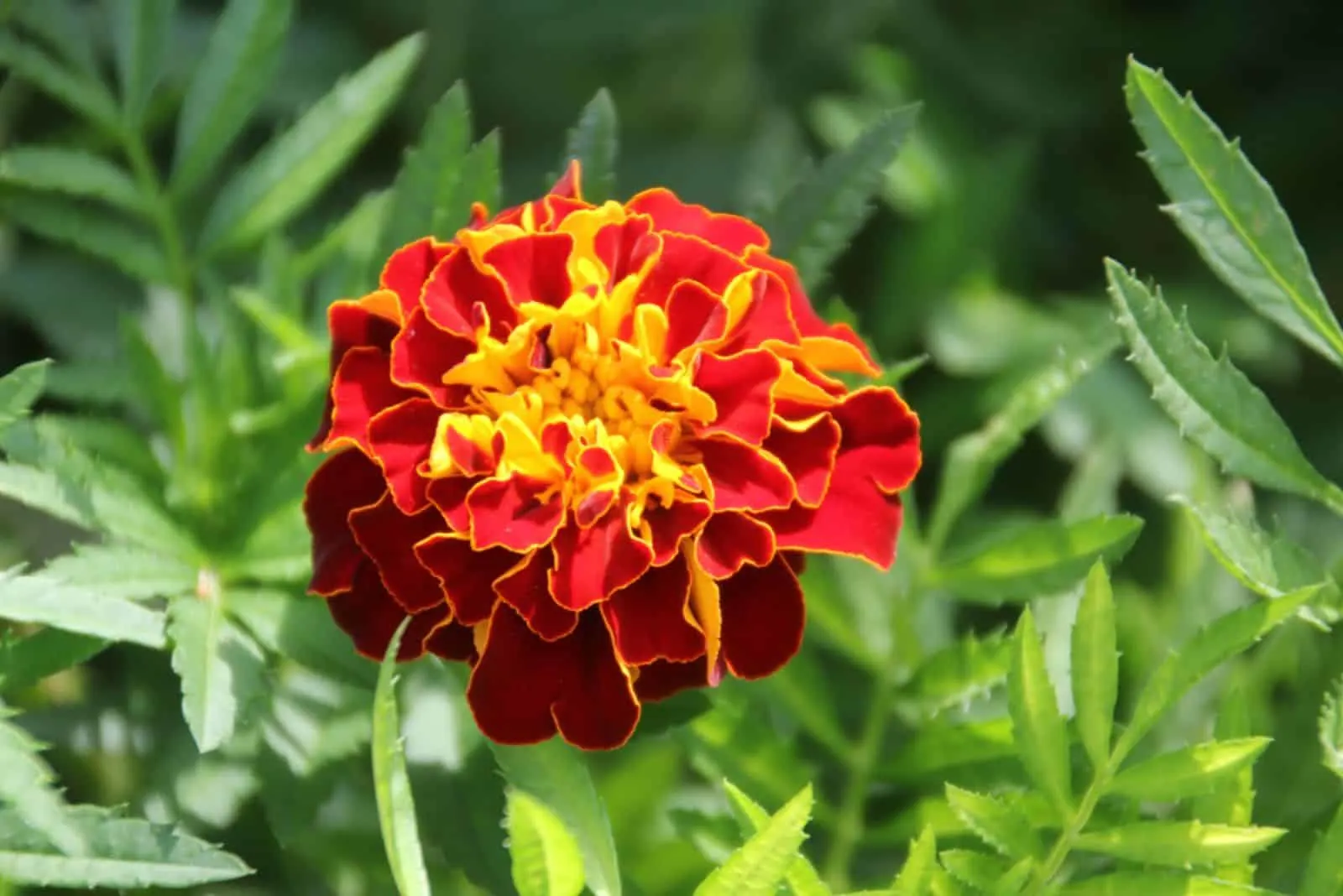 Marigolds are primarily grown as annual plants, and during summer they produce an abundance of lovely red and gold blossoms. Since they possess pest-deterring characteristics, marigolds make excellent companion plants.
You should find a sunny spot for your marigolds and water them regularly.
10. Dahlias
Colorful dahlia blossoms look breathtaking in flower beds and make the perfect addition to bouquets. Plant your sprouted dahlias after the last frost date in rich, free-draining soil.
11. Cosmos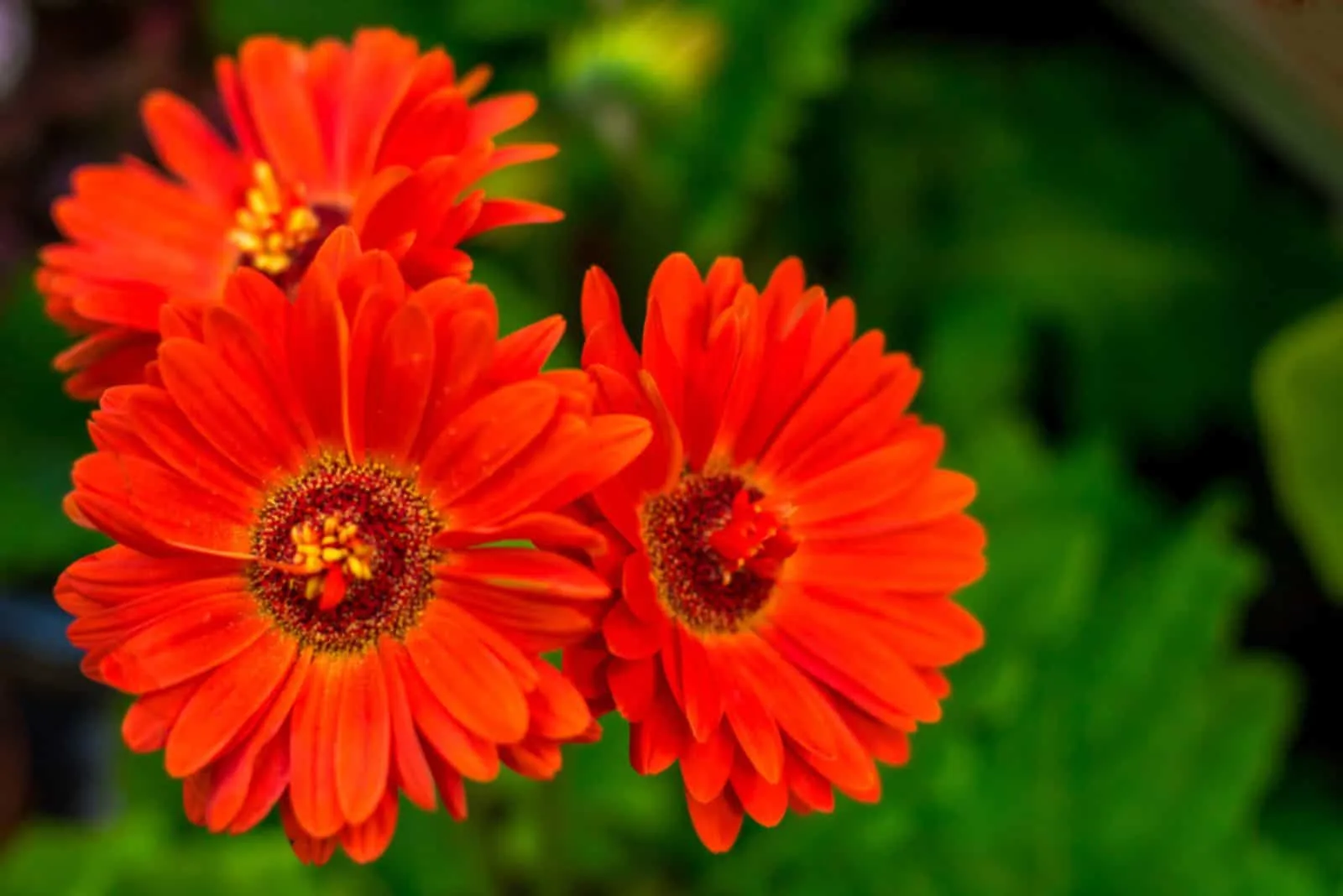 Stunning blossoms and the meaning of cosmos make it one of the most frequently found plants in flower beds. These are robust plants that can withstand long periods of drought. Warm summer temperatures won't harm your cosmos, and they will thrive even in poor soil types.
12. Canna Lily
The large iris-like blossoms of the Canna lily plant can come in yellow, orange, and red; and the latter is definitely my favorite. If given enough light and water, your canna lilies can produce their blossoms all summer long.
These flowers are typically grown as annuals, but you can cultivate them as perennials in warmer climates.
Red Flowers For Fall
As the fall approaches, garden colors become slightly darker and red flowers perfectly fit in. The crimson flowers below tolerate cold and will make an excellent addition to your fall garden.
13. Yarrows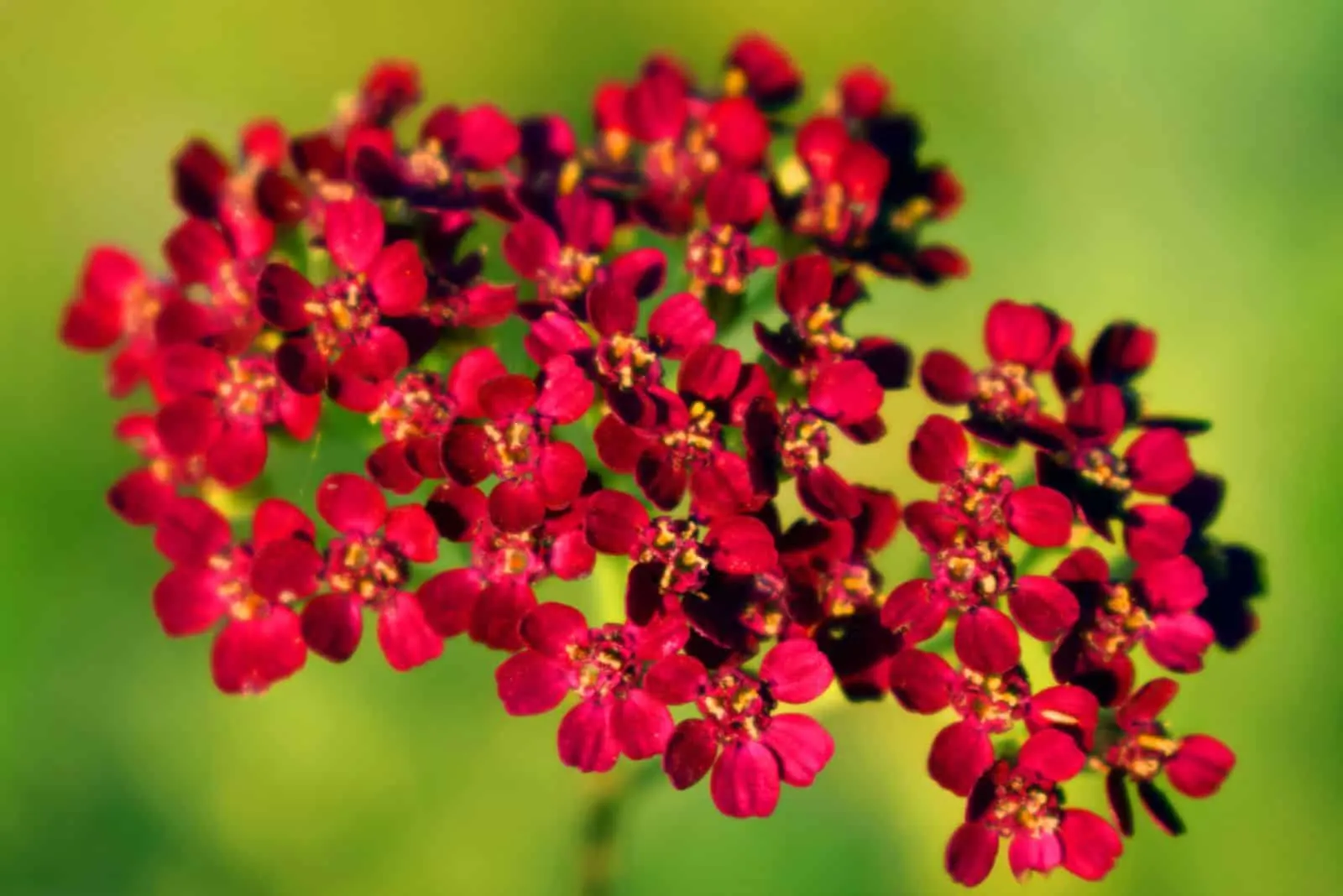 Yarrow is renowned for both its gorgeous blossom clusters and medical benefits. Even if planted in poor soils and affected by drought, these hardy perennials will generate blossoms until the middle of the fall.
14. Celosias
These annual flowers add a touch of beauty to every fall garden. Their vibrant colors will cheer you up during rainy weather. Purchase the seeds or transplants and plant your celosias in the middle of the summer. These flowers don't tolerate cold and require plenty of sunlight to thrive.
15. Aste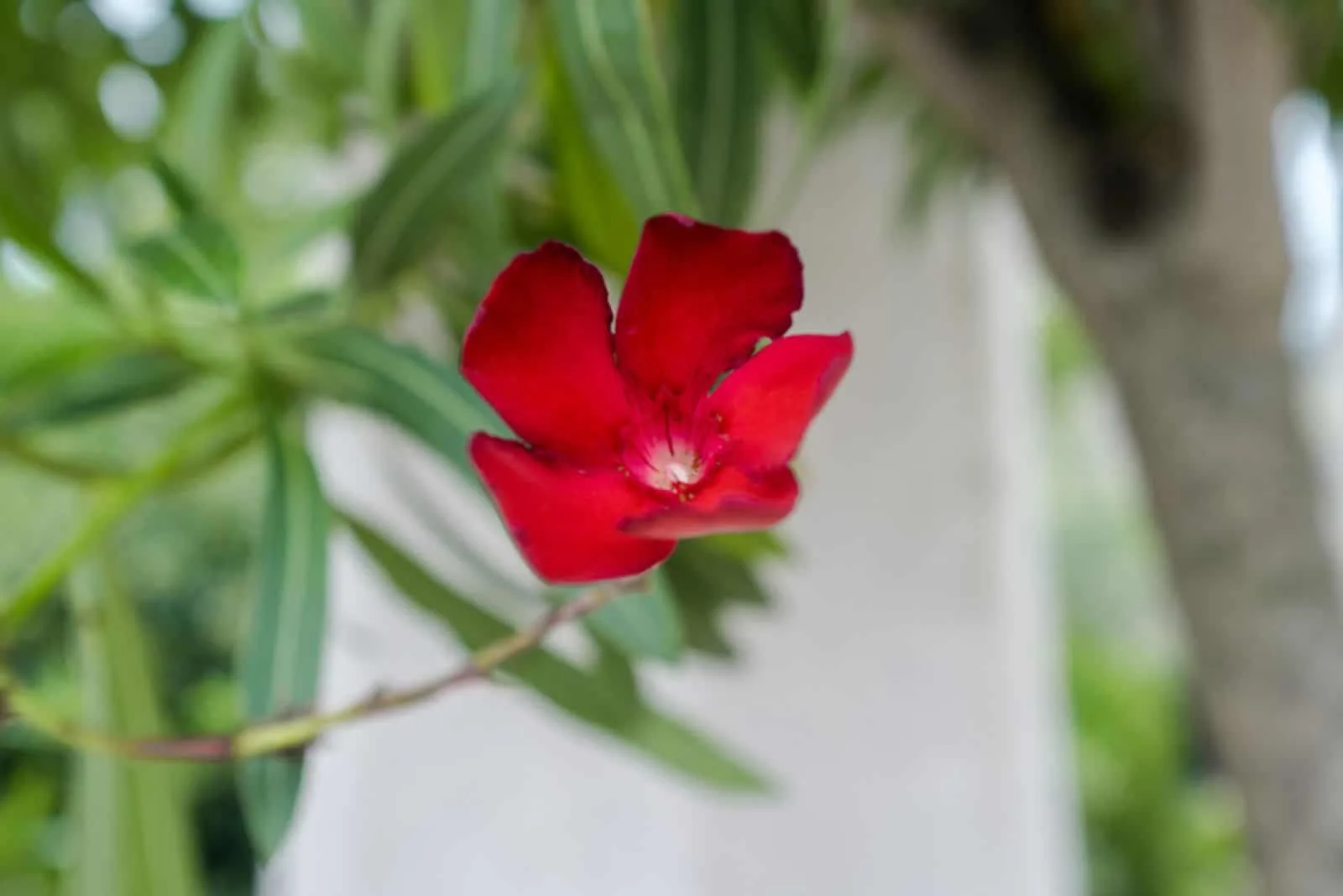 The daisy-like blossoms of asters will emerge in late summer and last through early fall. These flowers come in various hues and the clusters of their lovely blossoms attract pollinators. Asters are a cool temperature flower type and thrive in USDA zones 3-8.
16. Heleniums
Flamin helenium blossoms give any garden a cozy touch. The great thing about these plants is that there are many varieties to choose from, so you can grow taller or shorter cultivars, depending on your preferences and space.
They do best in free-draining soil types, enjoy full sun, and require frequent watering.
17. Chrysanthemums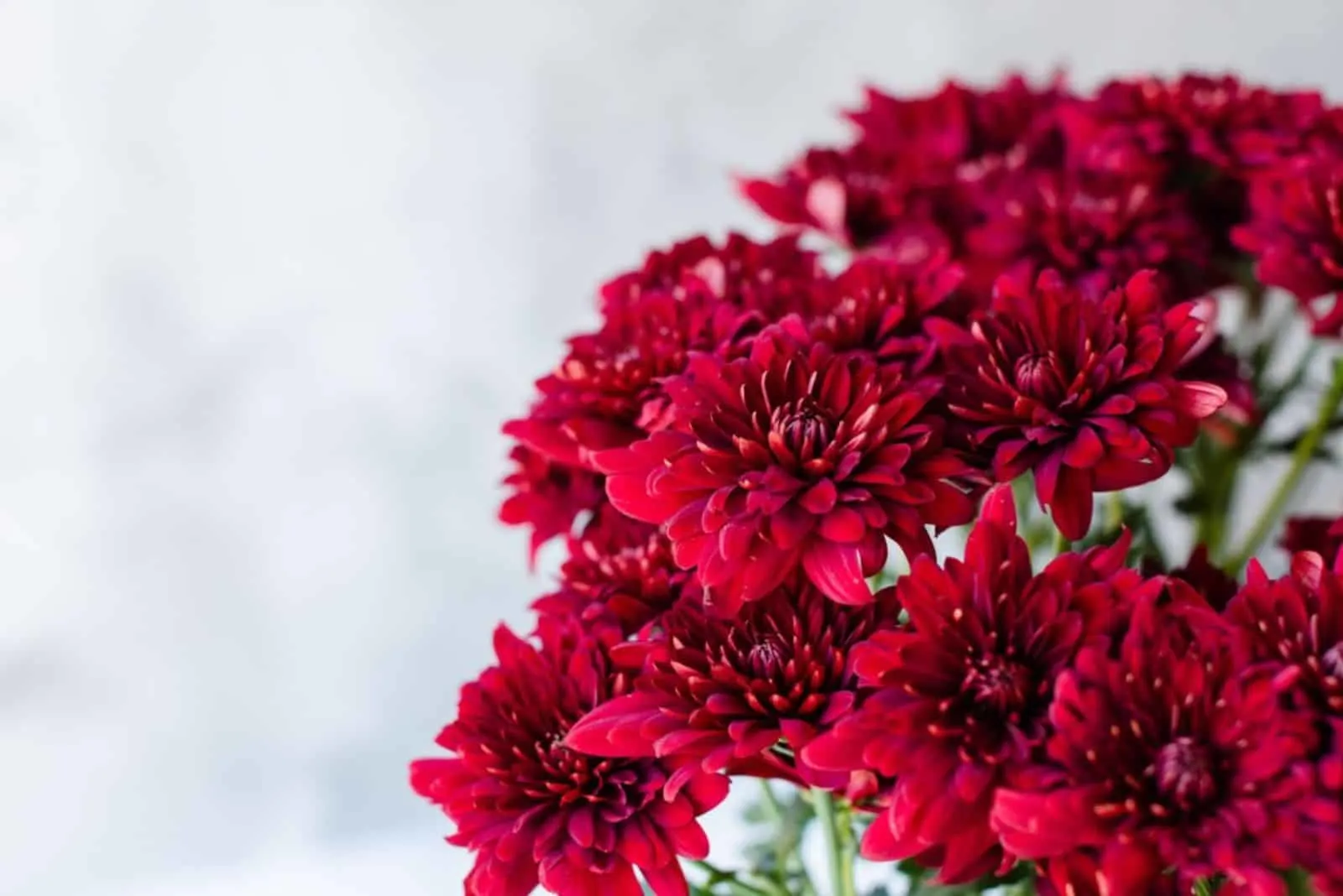 Tulips announce spring and chrysanthemums announce fall! These stunning plants tolerate cold and will produce blossoms when the majority of other plants finish their flowering season.
These flowers are super-easy to maintain and as long as they have enough sun and drainage, they'll grow perfectly.
18. Crotons
Vibrant variegated foliage ensure crotons a place in almost every outdoor garden. These flowers do best in warm and humid climates, and you can plant them at any time of year as long as the temperatures are between 70 to 80 degrees Fahrenheit.
Red Flowers For Winter
Most plants sleep, i.e., are dormant during winter. However, there are some red-flowered plants that will adorn your garden or home during winter, and some will even bloom during the holidays.
19. Heathe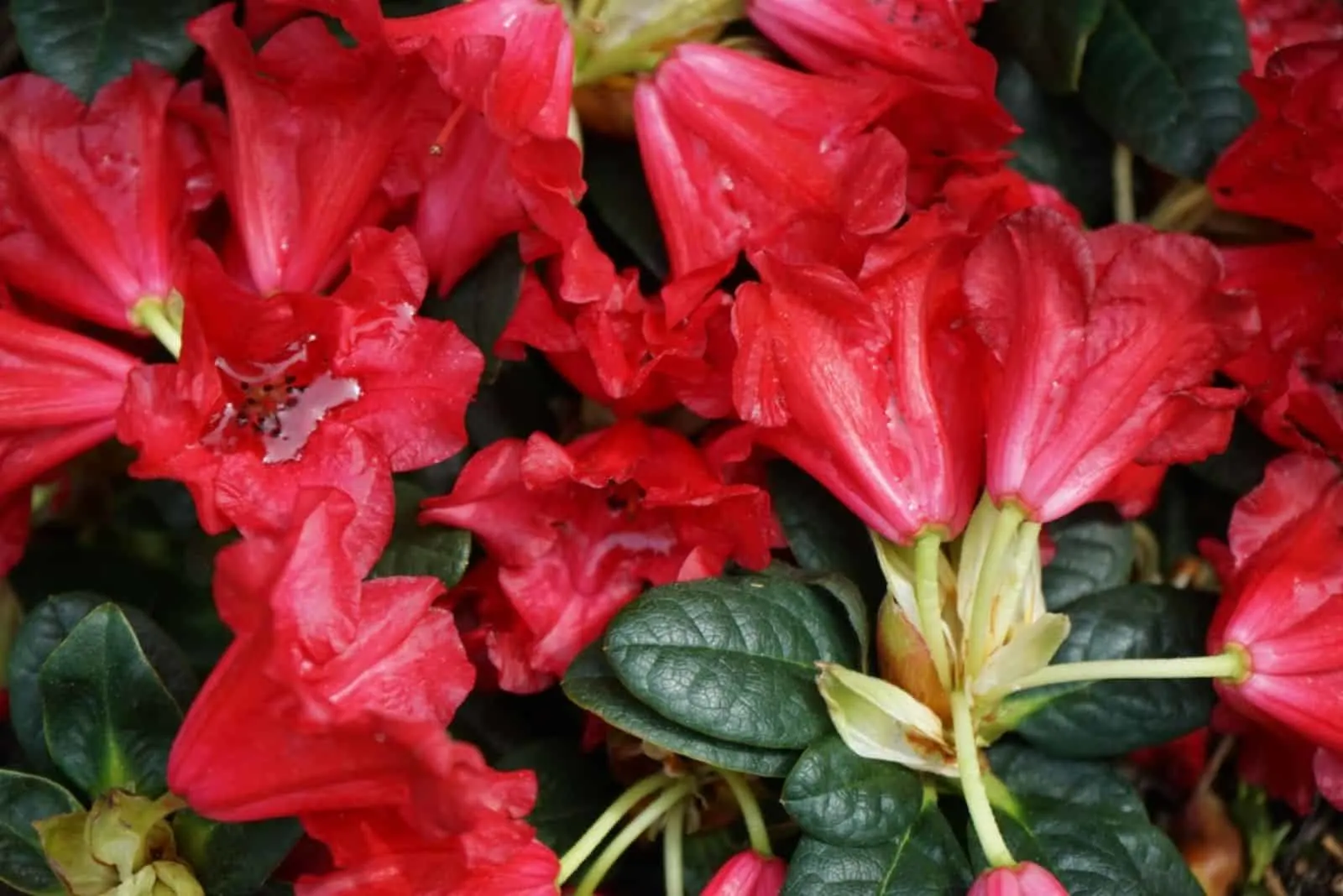 If you have a rock garden or your pathways need border flowers, heather will do the job perfectly. These hardy evergreen plants thrive in various soils but perform best in sandy and acidic types.
20. Poinsettias
A classic holiday flower! The most common varieties produce clusters of cute little yellow blossoms surrounded by red floral bracts. Well, some varieties develop bracts in other colors, but these come in red and are far more beautiful.
Although Poinsettias can bloom outdoors in warmer regions, they're mainly cultivated indoors.
21. Winter Roses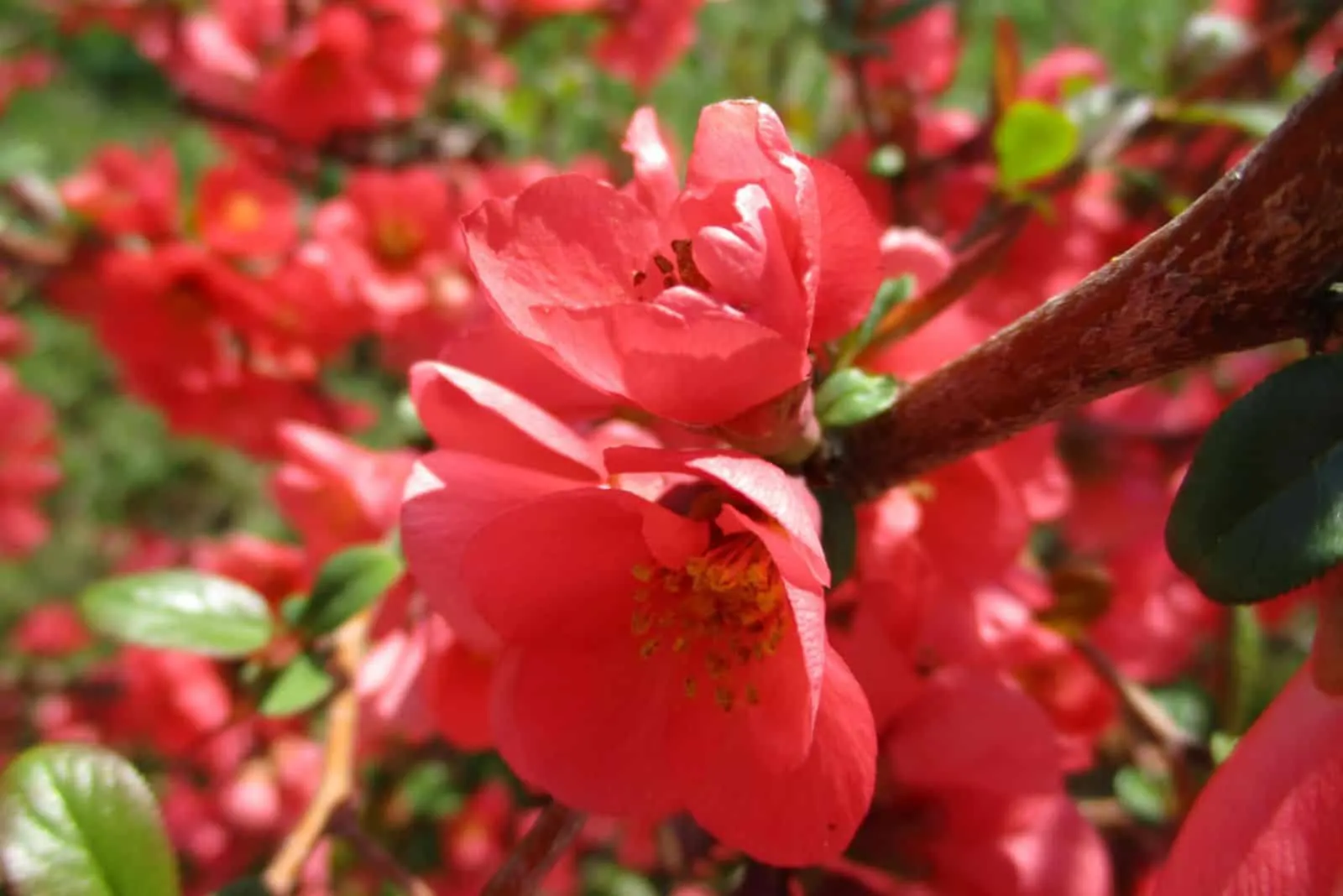 Growing hellebores, aka winter roses, is a worthy endeavor for gardeners. The appealing green foliage combined with distinctive flowers makes a perfect addition to winter gardens. Once your winter rose is fully established, it requires minimal care.
22. Carnations
These flowers stand for love and appreciation, and are super easy to maintain. When blossoms occur, deadhead them when they're spent and you'll get another set of blooms during the winter months.
23. Witch Hazel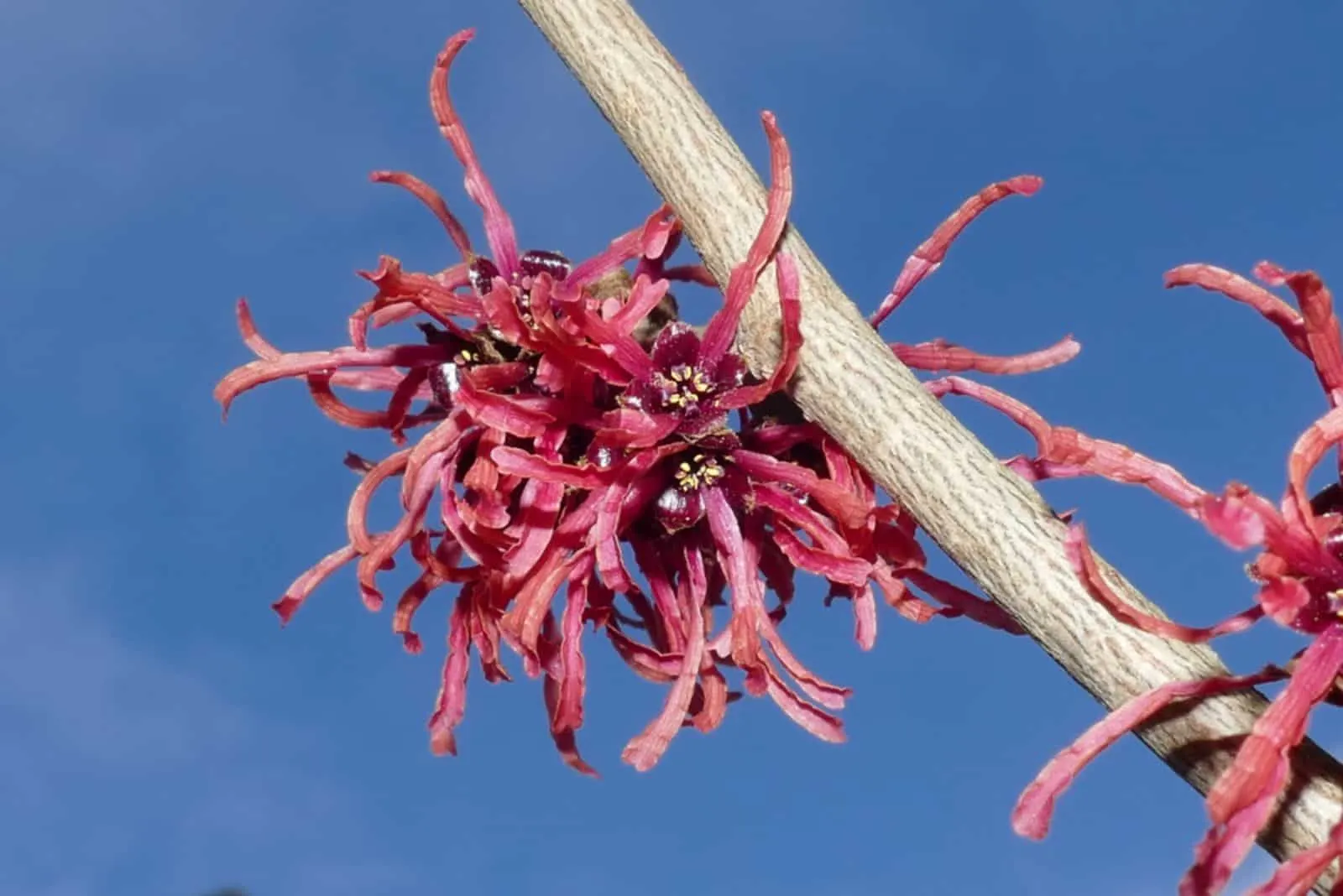 The crimson hues of witch hazel blossoms add a special touch of beauty to winter gardens. This plant won't generate blossoms until the temperatures are low enough.
Plant your witch hazel in rich soil, water it regularly throughout the summer, and add mulch to enhance water retention.
Red hues in the garden will definitely attract the attention of onlookers and make everyone happier. Flowers in all shades of red add a touch of beauty to gardens, so why not plant at least one for each season?