Positive Bloom is an Amazon Associate and we earn from qualifying purchases through these links at no extra cost to you.
Setting up an elevated garden bed has its perks, but it's not an easy task. You have to set up a whole structure using pallets, railroad ties (or some other material of your choice), and then line it with hardware cloth, canvas, plastic, or at least cardboard to prevent any chemical leakage.
There are some great non-toxic garden bed liner options on the market ideal for flower or vegetable gardens, and the choice really depends on your plant's requirements.
This article will also bring you some additional information about bed liners, their benefits and drawbacks, and even some DIY methods you can try if you forgot to grab a liner before reaching the store checkout!
10 Non-Toxic Garden Bed Liner Options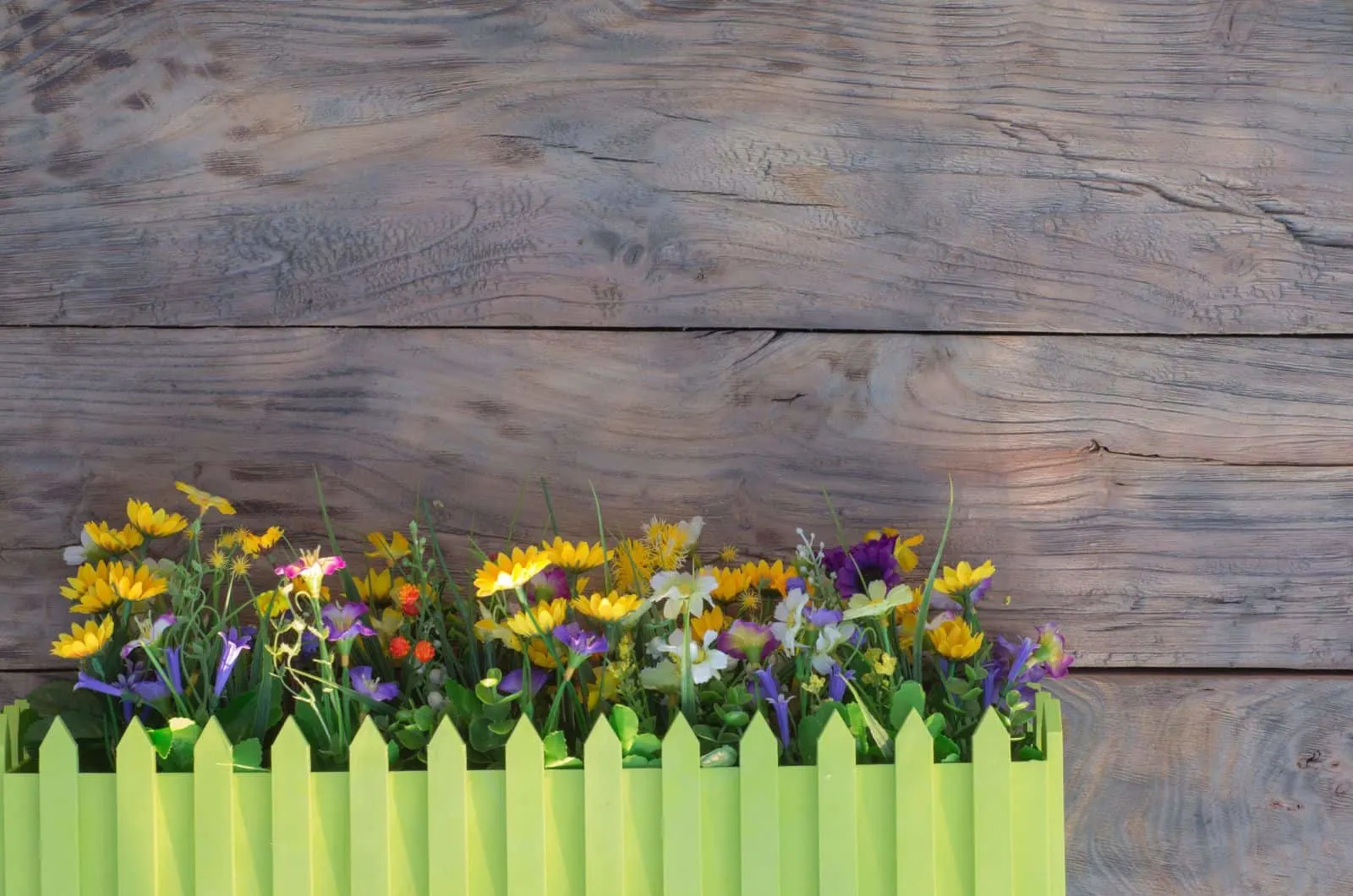 Some plants that grow in a summer greenhouse require raised beds, and putting a couple of pieces of wood together and filling it with soil isn't always enough.
Sometimes you have to use certain materials to keep the soil in one place, and that's where landscape fabric comes in handy.
There is no such thing as the best liner for all raised beds and garden boxes, which is why we have brought you so many great options to choose from.
They can be used in many different climates and will make growing veggies much less of a hassle because you won't have to weed or treat the area with herbicides all the time.
We'll also look at some quality grow bags you can use instead of building or purchasing an entire raised bed, which can save a lot of time and provide similar results.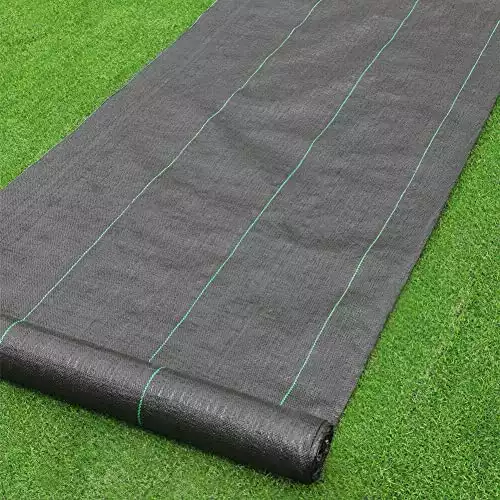 • Petgrow's • raised garden bed liner is an excellent weed barrier that allows your plant's roots to breathe. It doesn't restrict airflow and allows water to permeate, which prevents water-clogging.
This landscape fabric is a UV-stabilized eco-friendly alternative to herbicides and can last more than five years (even if exposed to direct sunlight), which makes it a great choice in the long run.
It is multifunctional, so you can use it to prevent weed growth and soil erosion, as an underlayer for driveways, a ground cover, etc.
However, it isn't completely water permeable, so you can't water your plants through it. But that's what makes it an excellent choice for a garden bed, as it keeps the soil in one place.
ECOgardener Weed Barrier Landscape Fabric
• Air and water permeable
• Made of polypropylene
• Customer review: 4.6/5
Pros:
Long-lasting and heavy-duty fabric

Prevents weed growth

Easy to install
Cons:
It can degrade due to heat exposure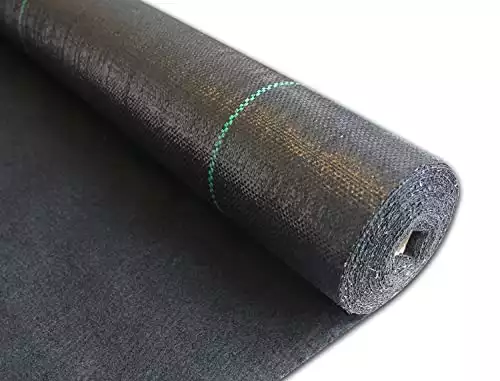 This plastic liner is an excellent choice for garden beds as it keeps critters, gophers, and weeds away from your plants.
It is made of polypropylene, but it still allows the air and water to flow so it won't suffocate your plants.
You can use this landscape fabric for lining raised or in-ground beds, and it is suitable for both beginner and expert gardeners.
This fabric is incredibly easy to install; you just have to cut it and cover the area with it. The good news is that it is light enough for you to carry but still heavy enough to keep weeds and unwanted pests at bay.
This product even has a 30-day full refund guarantee, so if you don't like it, you won't lose any money.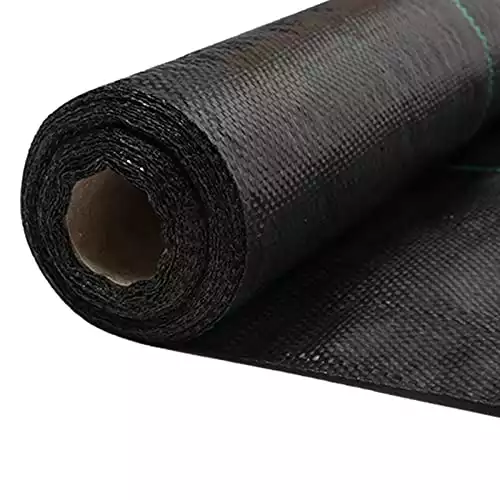 This liner will allow you to take care of your plants organically as it prevents weed growth and pest infestations in a chemical-free way.
Once you weigh up the advantages and disadvantages of wood chips and mulch and put one of them (or even rocks) on the liner, it will allow the water to penetrate through it and keep your plant's roots moisturized. It works as a water-retentive product as well because it slows down the evaporation rate.
It is ideal for raised planter boxes on patios, concrete slabs, etc., as it will keep all the soil in one place.
It even promotes healthier and faster plant growth by preventing weeds, so your flowers and veggies can use all the nutrients from the soil.
This product also keeps animals and pets at bay, which will protect your garden bed.
Finally, AGTEK garden landscape fabric is multifunctional, and you can use it to prevent weed growth, control erosion to some extent, for walkway underlay, and even for play areas.
HOOPLE Garden Weed Barrier
• Chemical-free
• Air and water permeable
• Customer review: 4.5/5
Pros:
Eco-friendly

Easy to use and multifunctional

Minimizes sunlight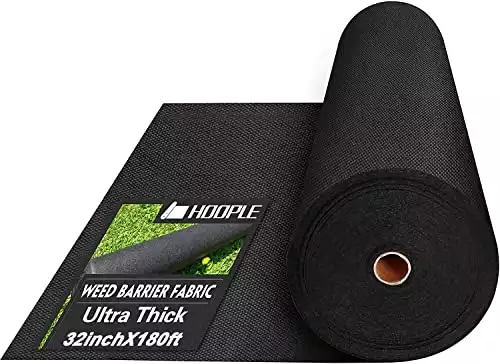 This product is an excellent way to keep your raised beds weed-free. It is easy to use, and all you have to do is roll it out, cut it, and cover the desired area.
This option is an eco-friendly way of preventing weed growth that also keeps the natural ecosystem balanced because it is free of harmful chemicals.
Another plus is that it lets water and air through, allowing your plants to breathe, grow, and develop.
This thick, non-woven fabric provides UV protection and makes it harder for weeds to grow.
You can use it for many gardening and landscaping projects, such as garden borders, raised beds, under pathways, mulch, etc.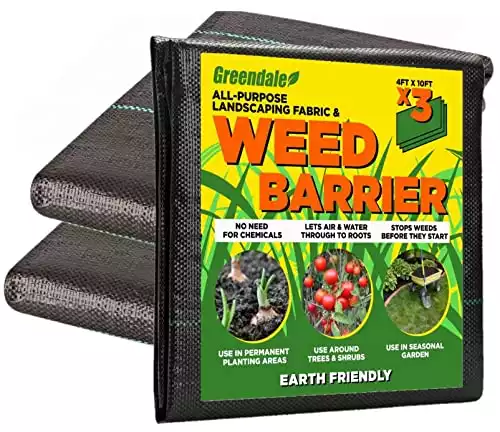 This UV-stabilized product prevents degradation and lasts longer under direct sunlight, which is why it's perfect for greenhouses and outdoor planting.
It is an organic alternative to chemicals and herbicides because it prevents weed growth. It lets air and water through and can even protect against soil erosion to a degree.
Growing vegetables has never been easier with a durable and easy-to-use fabric like this one!
You can place it on any hard surface, and it will keep the soil in one place, so it doesn't leave a mess and saves you lots of trouble.
Decorlife Coco Liner Roll
• Water and soil retention
• 100% natural
• Customer review: 4.5/5
Pros:
Multifunctional

Ideal for organic gardening

Easy to cut and shape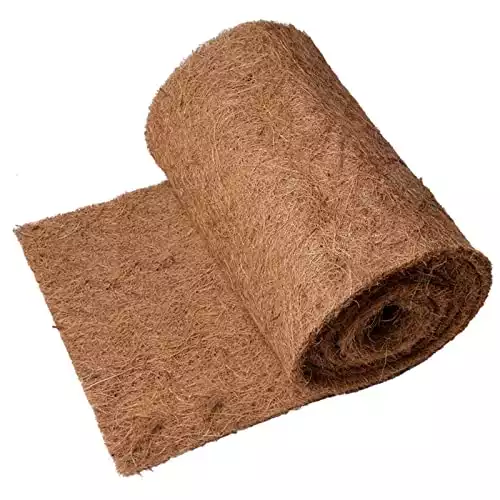 Coco liners are an excellent way to move one step closer to organic gardening. They are completely natural and can keep water and soil in one place.
This material has a wide range of uses and is ideal for smaller garden bed planter boxes growing microgreens, orchids, succulents, etc.
You can coat hanging baskets with it, make your own alternatives to moss poles with it, or even use it as a mat for your animals – the list is endless!
It is quite easy to cut through and shape this material, so you won't have to buy any additional tools to be able to use it.
Finally, it is durable and reusable, so you won't have to buy new liners any time soon.
Pannow Plant Grow Bag
• UV-resistant
• Good drainage
• Customer review: 4.4/5
Pros:
Space-saving design

Long-lasting

Easy to use and store
Cons:
It doesn't retain moisture that well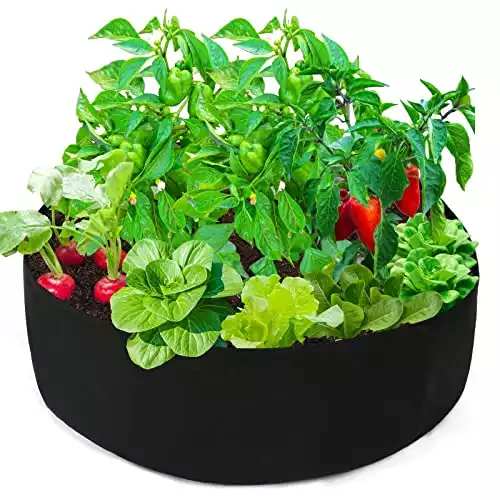 Grow bags aren't bed liners per se because they don't require beds and can be used on their own. They are ideal for growing shallow-rooted vegetables, you just have to find out what size of grow bag is best for tomatoes, cucumbers, herbs, and any other plants and veggies you want to grow.
This particular bag is ideal for all gardens as it doesn't take up too much space, is UV-resistant and durable, so you don't have to worry about premature degradation.
It is made of non-woven fabric and provides good air and water permeation, even without drainage holes.
It provides easier access to plants and makes weeding, pruning, and watering a piece of cake because you don't have to bend and stoop so much.
It is easy to install and use because it comes ready assembled – you just have to unfold it, fill it with soil, and plant whatever you want in it.
Another perk is that it can be used for both indoor and outdoor gardening, just place it on a flat surface.
It is as easy to fold as it is to unfold, simply empty the soil, fold it, and store it wherever you want.
SUNYAY Natural Coco Liner
• Weed barrier
• Water and soil retention
• Customer review: 4.4/5
Pros:
Pet and eco-friendly

Multipurpose

Easy to use and clean
Cons:
It can be very thin sometimes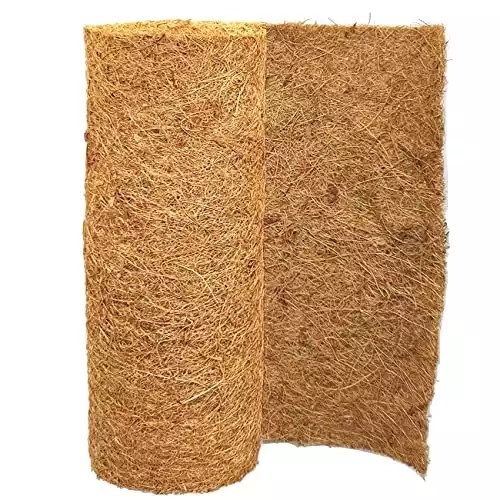 There are several benefits of using coco liner in your garden and landscaping. Primarily, it is an eco-friendly way of preventing weed growth in raised beds and planter boxes.
It also retains soil and moisture, so you won't have to deal with stains on your patio and pathways.
This material is the epitome of multifunctional as it can be used for lining planters, hanging baskets, as a weed barrier, ground cover, landscape decoration, and as a chicken cage mat!
You can also use it indoors for plants and reptile terrariums because it doesn't contain any chemicals that would hurt your pets and plants.
It is easy to cut, use, and clean, can fit a wide range of containers, and can last a long time.
Victory 8 Raised Garden Bed
• Made of AeroFlow material
• UV-resistant
• Customer review: 4.3/5
Pros:
Air and water permeable

Durable

Easy to use
Cons:
Sometimes doesn't hold its shape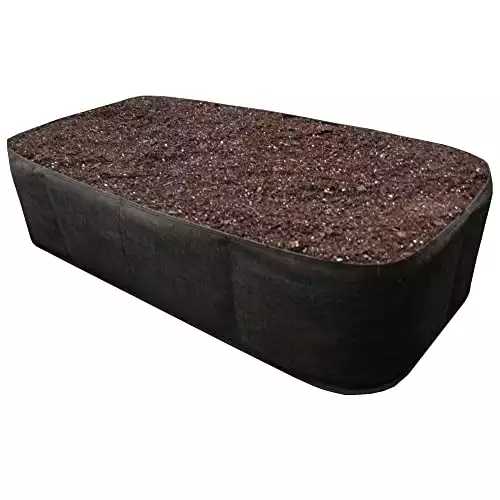 This grow bag is an excellent choice for people who want to avoid assembling a raised garden bed. You just have to take it out of the box, fill it with soil, and start planting.
It is made of AeroFlow material, which is a breathable fabric that allows for air circulation and drainage of excess water. It is durable and UV-resistant, which makes it a great long-term choice.
It is rectangular in shape, holds eight cubic feet of soil, and can be placed on any flat surface.
ANPHSIN Large Fabric Raised Planting Beds
• Strong and breathable fabric
• No assembly required
• Customer review: 4.2/5
Pros:
Air and water permeable

Durable and reusable

Easy to use and store
Cons:
Sometimes won't hold its shape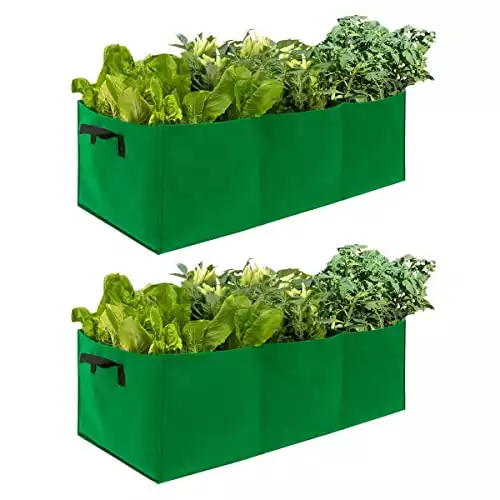 This grow bag is made of non-woven, strong, and breathable fabric, which means you can reuse it year after year. This material also provides air circulation and water drainage, so it won't suffocate your plant's roots.
It is quite large and has different grids, so you can separate your plants easily and grow different varieties simultaneously.
It comes pre-assembled, so you won't have to waste time figuring out how it works. You can easily store it after the growing season finishes and use it again in spring or any other time you need.
DIY Non-Toxic Garden Bed Liner Options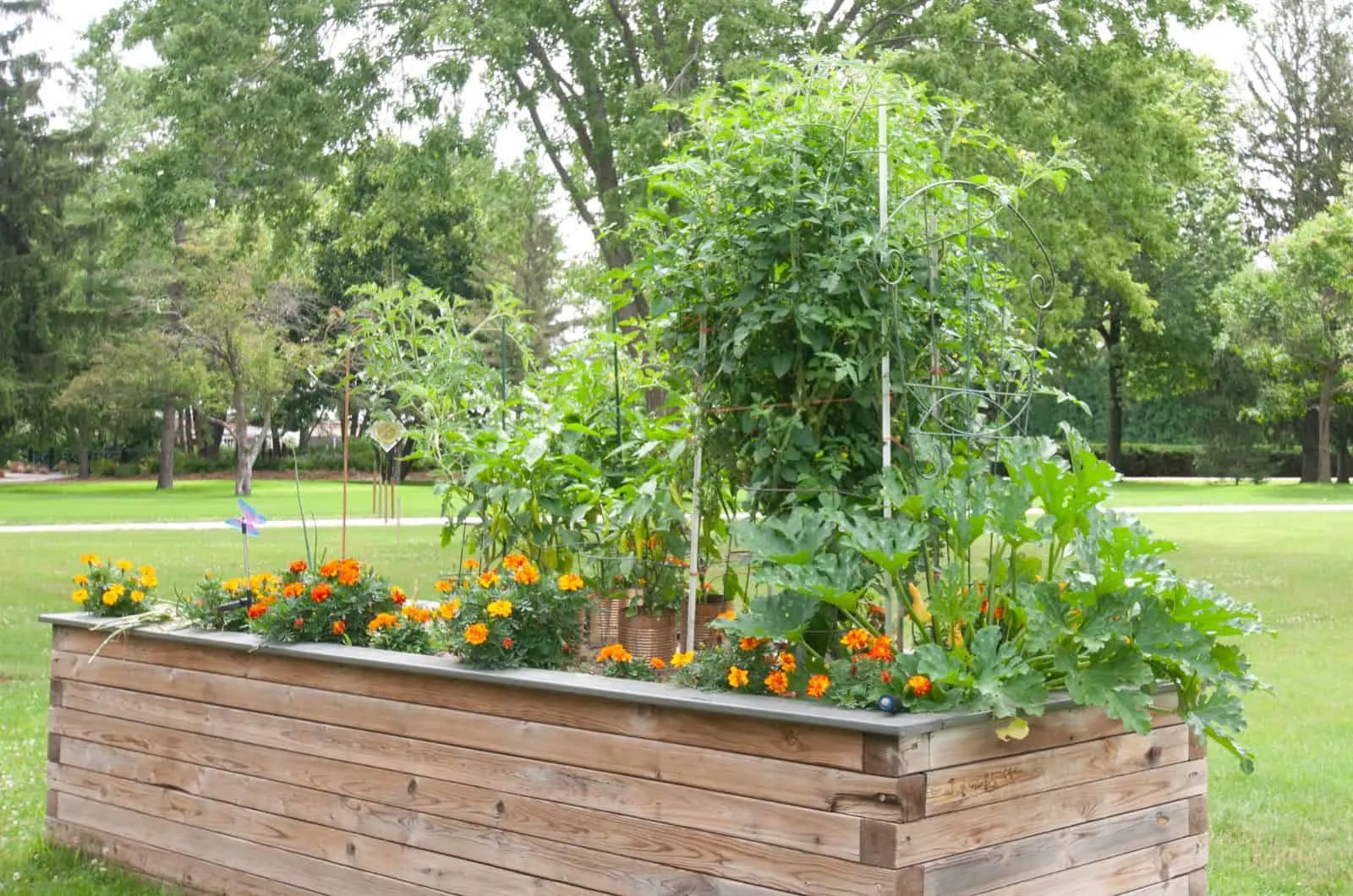 There are many options for lining your raised beds, and you can even recycle certain household materials to do so.
For instance, cardboard and other fabrics are excellent choices as they will keep the soil in one place, and you'll also get to declutter your storage room!
Cardboard
Cardboard is one of the most attractive DIY bed liners simply because it's free, eco-friendly, biodegradable, and really easy to work with.
It is an excellent choice for a weed barrier as weeds cannot grow through it.
Cardboard will moderate moisture but degrade quite quickly, so you can't reuse it. On the other hand, its degradation will only add more nutrients to the soil, making it richer and more suitable for your plants.
You should use clean boxes without any prints as artificial dyes and inks can leach chemicals into the soil. Of course, if you want your bed liner to last longer you should choose thicker, grooved cardboard, but that will also disintegrate at some point.
Fabric
Burlap and canvas are great materials for making a DIY bed liner. They are both made of organic materials and are ideal for organic gardening.
Canvas
Canvas is usually made of cotton and hemp and is quite durable. It's thick and difficult for moles and other animals to chew through.
The good thing about canvas is that water can permeate it easily, but it won't drain too fast, so you will only have to water your plants every now and again. It is an excellent alternative to both coco liner and plastic liners.
It degrades slower than coco liner and allows more water to permeate it!
However, it can be quite expensive, so gardeners usually stick to a cheaper option – burlap.
Burlap
This material isn't difficult to use, and you can get it in rolls or sheets, depending on your needs. However, it is loosely woven, which means that weeds can permeate it easily, so it won't provide protection in this sense.
On the other hand, water and air can also permeate it, so your plants won't suffocate. Another perk is the actual material it is made of – jute or sisal fibers.
These ingredients enrich the soil with nutrients as the burlap degrades to give your plants some extra food they might need.
You can also choose the perfect water for plants to promote healthy growth, just like the degrading fabric.
All in all, both options are non-toxic and provide additional nutrients to your plants when degrading, so it's up to you to decide which one fits your needs best.
Benefits Of Using Garden Bed Liners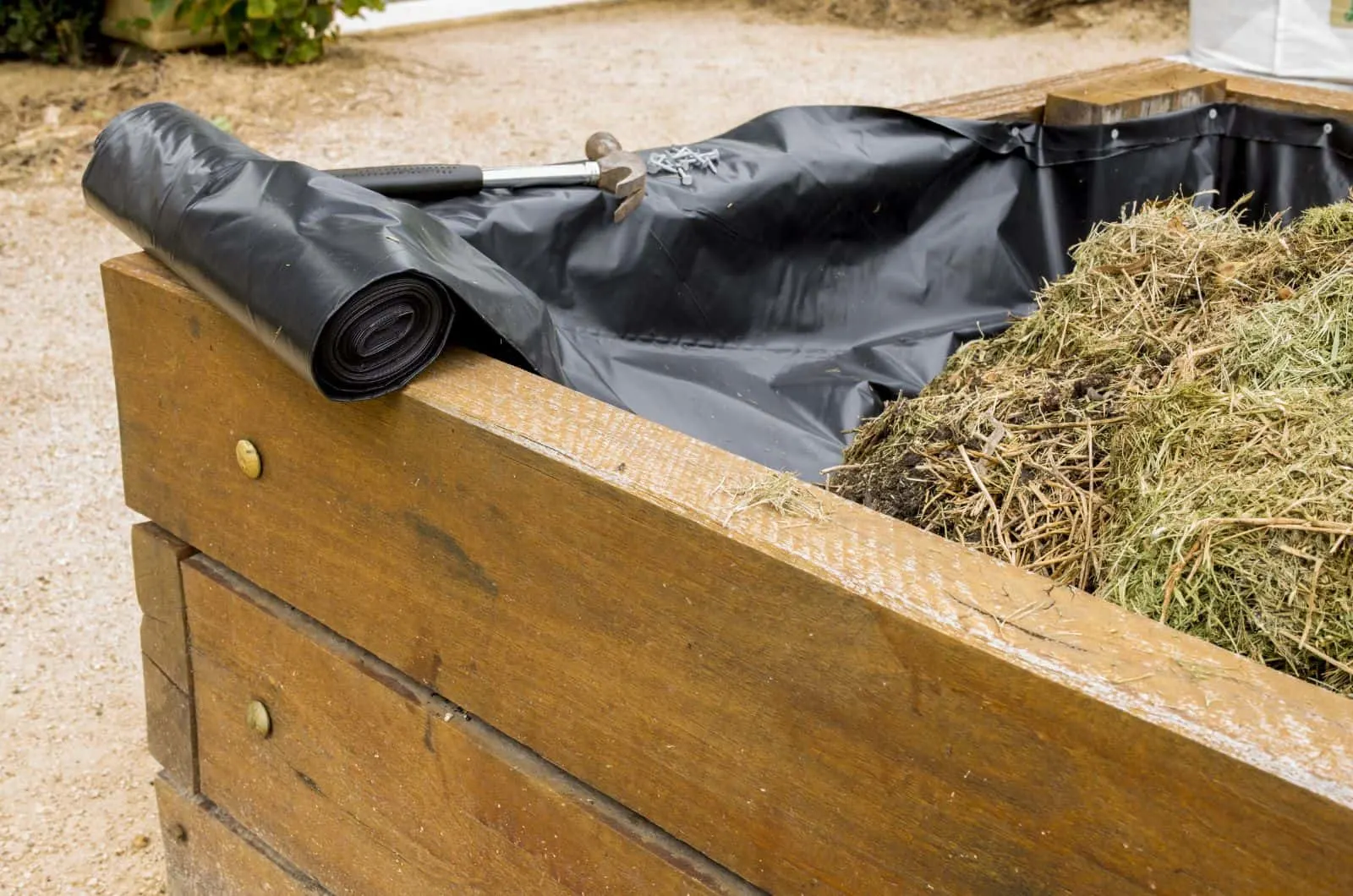 Now you know about loads of awesome, eco-friendly bed liners and their DIY alternatives, but are they truly necessary?
What is so good about them, and should you use them all the time?
Find out the answers down below.
Soil Insulation
Raised beds have issues with temperature regulation as they heat up and cool down faster than in-ground soil.
Liners can come in quite handy as it limits these changes and prevents your plants from suffering temperature shock.
A bed liner will keep your plant's roots cool during the midday heat and warm during the nighttime cold or morning frost.
Pest And Weed Control
Building a raised bed is an excellent method of keeping pests and weeds away from your plants, but what good does it do if it has no bottom?
Digging creatures such as moles and gophers can easily access it, and weeds can grow freely if there isn't anything to prevent them.
However, if you line the sides and bottom of the bed, pests and weeds will have a hard time getting through this barrier.
Keeping The Soil In Place
A garden bed liner can prevent washing away of the soil due to irrigation or precipitation. This may not seem like a big problem in the beginning, but it can really affect your plant's health over a period of time.
Important nutrients will be washed away with the soil, and your plant won't have enough minerals for further growth.
Lining the bottom and the sides of the bed with a good liner, such as plastic, cardboard, burlap, or canvas, can prevent this issue. The excess water will still drain through the material, but it won't take the soil with it.
Prevention Of Chemical Leakage
Garden bed liners are also an excellent way of preventing chemical leakage from reaching the soil.
You might be wondering where this leakage comes from.
Well, it doesn't happen all the time, but railroad ties, pressure-treated wood, pallets of unknown origin, etc., can contain certain chemicals that you don't want around your veggies.
When these wooden products come into direct contact with the soil, they may leach chemicals into it and hurt your plants. However, bed liners prevent this treated wood from touching the soil, so you won't have to replace the entire garden bed to keep your plants healthy.
Thankfully, there are organic materials like untreated wood, bricks, and stones that don't contain any harmful substances, and you don't have to line beds made from these elements if you don't want to.
Drawbacks Of Using Garden Bed Liners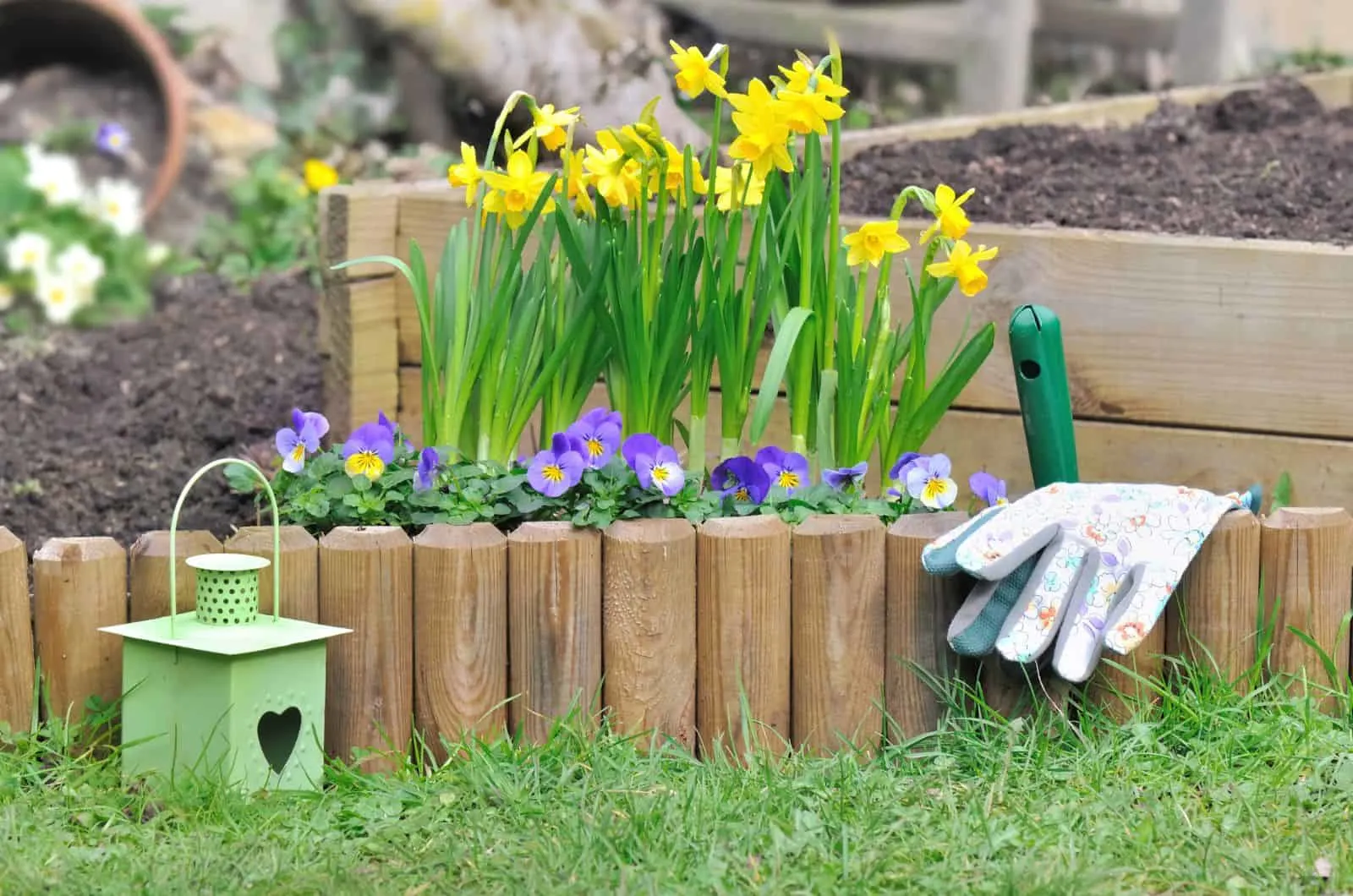 Alas, nothing is perfect in this world, and garden bed liners have their drawbacks too.
The only thing that's left is to weigh up the pros and cons to decide whether the benefits outweigh the drawbacks.
(And in most cases, they do!)
Inadequate Drainage
The main reason gardeners feel reluctant about putting plastic liners at the bottom of their raised beds is that they sometimes don't provide adequate drainage.
Such materials can clog the soil with water and lead to root rot, which may kill your plant.
However, we presented some amazing, water-permeable liners in the sections above, and you just have to choose the one that fits your plant's needs.
If you feel like your plant could use more drainage, you can always go with a coco or fabric liner.
Easily Damaged
Another drawback of bed liners is that you can easily damage them by digging, especially if they are thin.
Therefore, it's not really budget-friendly (or eco-friendly) if you have to replace them all the time.
There are some thicker liners that can withstand digging, but they are usually more expensive, which is something else to keep in mind.
One way to avoid making holes in liners (and creating free space for weeds to grow), is to examine the entire garden bed before planting and memorize the depth of the lining material.
You should also be careful and dig slowly in raised beds in order to prevent tears.
Difficult To Replace
Nothing in this world is eternal, not even plastic, which means that you will have to replace the liner at some point. This could be because of damage caused by digging or that the material has simply started degrading on its own.
Whatever the reason, you'll have to use a new liner in order to get your raised bed up and running.
However, replacing the old material isn't that easy. You have to remove all the soil, take out the old liner, put in a new one, and then refill the raised bed with a new growing medium.
It involves a lot of work, but you can plan ahead and save yourself some trouble.
For instance, you can use grow bags or research the longevity of different types of untreated wood outside to learn how long it will last. You can then choose a liner that lasts approximately as long as the wood, so you won't have to replace it.
Accelerate Wood Rotting
Unfortunately, covering untreated wood with plastic liners can trap moisture between the liner and the wood, which leads to faster rotting.
The pace of degradation is only sped up in hot and humid climates, but there is a cure.
You can use wood types that resist rotting, such as cedar, yew, redwood, etc., or coat the material with treatments that will prolong its lifespan.
However, you can avoid this hassle by simply using brick or stone instead of wood.
FAQ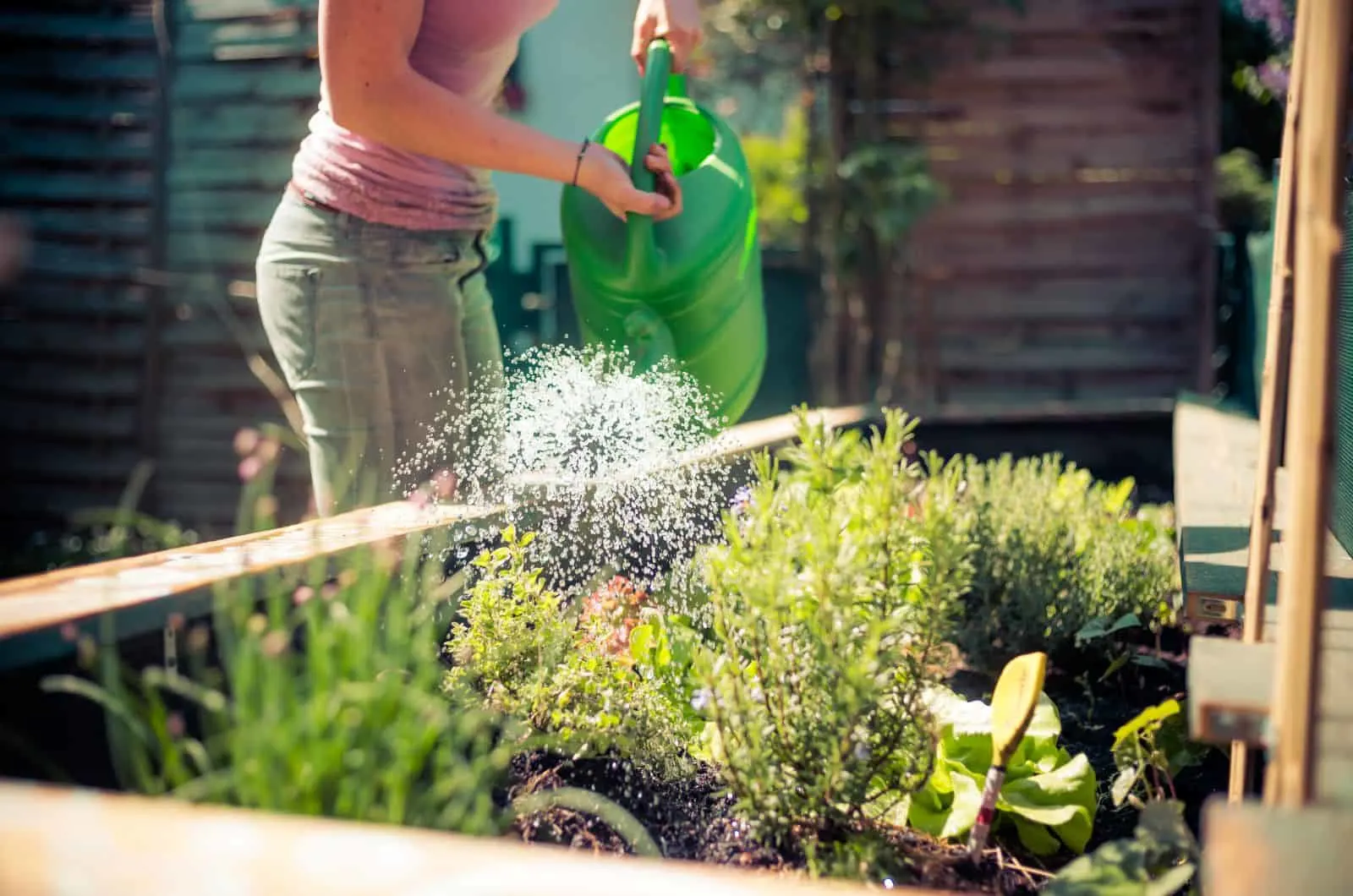 There are even more questions about raised beds and lining material that require our attention.
We haven't gotten a chance to answer them directly in the sections above, so we have done so in the following paragraphs:
What is the safest material for raised garden beds?
The safest materials for raised garden beds are untreated wood, stones, and bricks, as they are completely natural and don't contain any chemicals.
However, stones and bricks can get a bit expensive, so people often turn to cheaper alternatives such as pressure-treated wood, railroad ties, tires, etc.
However, the latter materials may contain certain chemicals that are harmful to your plants, so you should always strive for more natural options, especially if you don't put a liner in your raised bed.
Do raised gardens need a liner?
Generally speaking, no, you don't need to put a liner in your raised bed. However, there are many pros to it, such as keeping the soil in one place, preventing chemicals from coming into contact with your plants, insulating the soil, preventing weed growth, and stopping attacks from moles, gophers, etc.
If you don't feel like your garden bed needs a liner, you don't have to use one. You can simply make a raised bed of untreated wood (or some other natural material) and remove the weeds from time to time.
To Wrap Up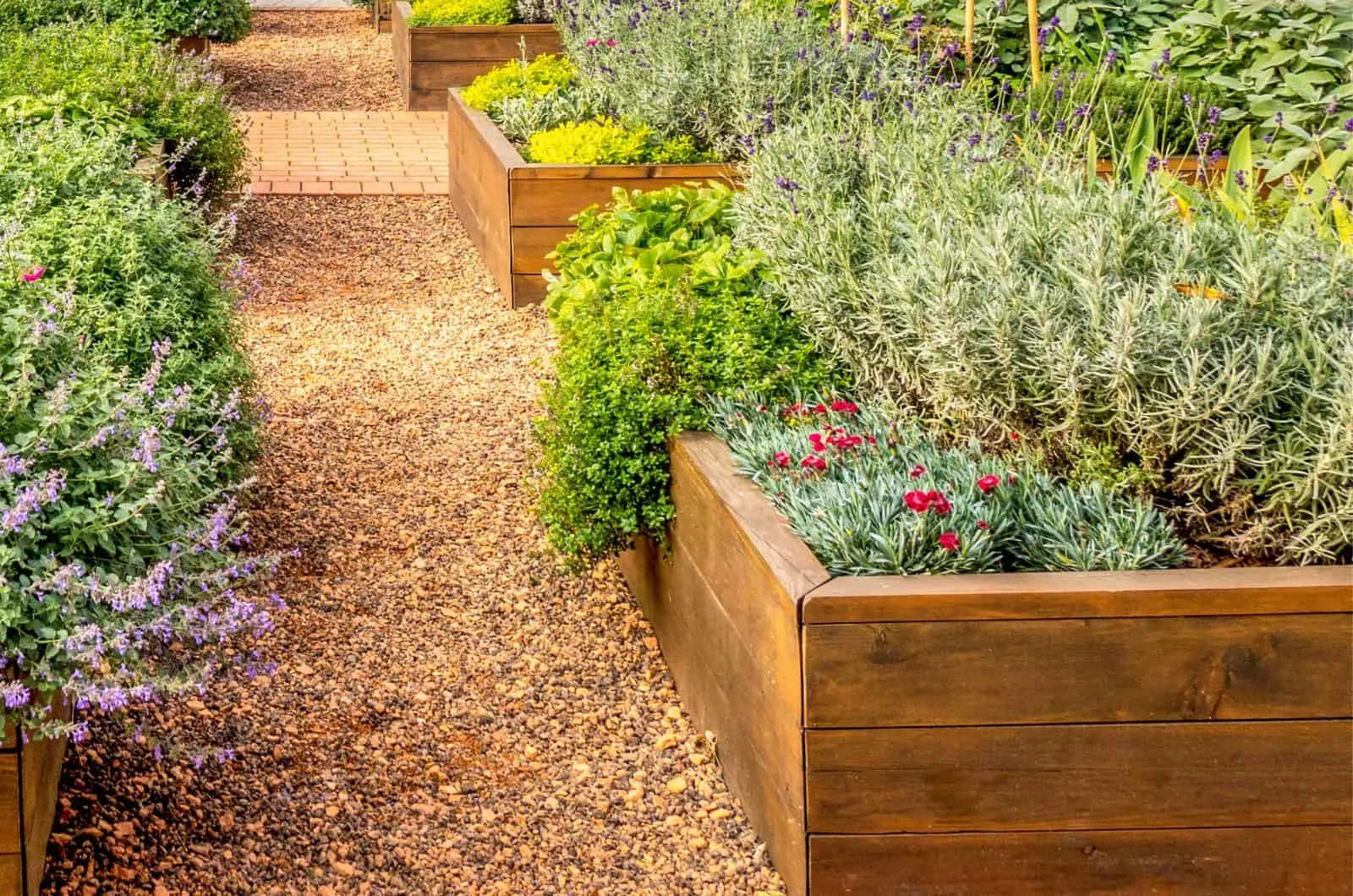 This article brought you ten non-toxic garden bed liner options you can use to improve your raised beds.
We also included some materials you can use to make your own liners for those who love arts and crafts.
This article also looked at the advantages and disadvantages of using bed liners in raised garden beds, so you can make a calculated decision on whether liners are worth the trouble.
Good luck, and until next time!